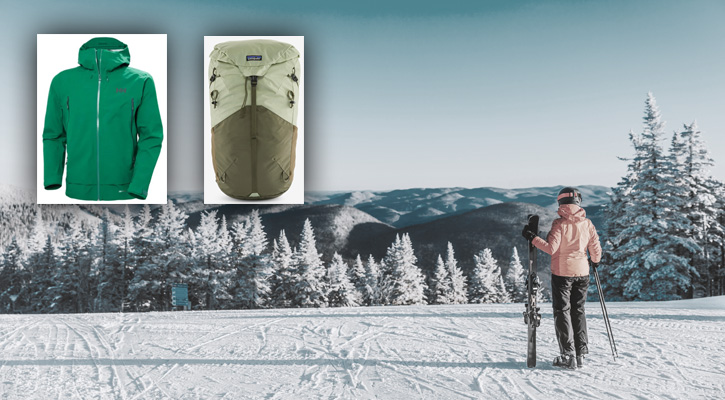 When it comes to outdoor gear, Patagonia and Helly Hansen are two of the most recognized and respected brands in the industry.
Both offer high-quality gear that is designed to withstand the most difficult outdoor activities, but they have different approaches to manufacturing and design.
Patagonia is famous for its environmentally friendly approach, while Helly Hansen is renowned for its reliable waterproof and breathable technologies.
With different brand histories, origins, and identities, it can be challenging to determine which brand is better.
In today's article, we will compare Patagonia and Helly Hansen, looking at their histories, manufacturing processes, prices, and product offerings, to help you decide which is the best fit for your outdoor adventures. Or at least make your ideas clearer…
So, let's begin!
1. Patagonia Outdoor Gear
History of the Brand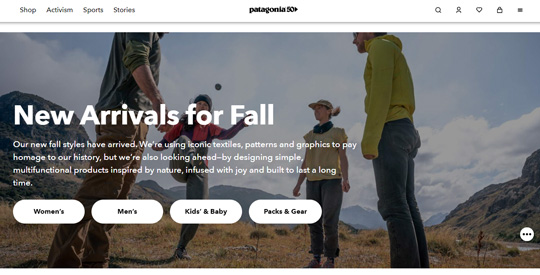 Patagonia official website
The history of Patagonia dates back to 1957 when the founder and climber Yvon Chouinard wanted to become a blacksmith. During the same year, he produced his first pitons, which he sold to other climbers.
Later on, Chouinard opened a small workshop in Burbank, where he manufactured his climbing products. He would then load these items into his vehicle and travel around California to sell them.
In 1965, Chouinard formed a partnership with Tom Frost, which led to the creation of Chouinard Equipment. In 1973, Chouinard established Patagonia as an apparel brand after the Chouinard Equipment company split.
Don't miss: 9 Brands Like Patagonia for Sustainable Outdoor Clothing
Materials, Fabrics, and Production Process
Patagonia is of the view that every action taken by an individual has a global impact on others. To this end, the brand utilizes recycled materials in the production of its premium clothing products.
The recycled materials are sourced from various items, including fishing nets, as well as used materials like cashmere, wool, polyester, and cotton.
Additionally, Patagonia incorporates Nylon and Polyester in their jackets and other gear, alongside advanced fabric technologies that include H2No and Gore-Tex. Recycled down is used for insulation against cold temperatures.
The fabrics made with these technologies undergo rigorous testing before they're used in the final product. You can read more about Patagonia's materials on their official website.
Patagonia is very famous in the outdoor community for its dedication to sustainability and fair labor practices and for the donation of a portion of the company's revenue to environmental causes.
Why Waste It? | Powder Bowl
The video will be loaded from YouTube.com, a third party. If you play it, you accept their terms of service, and their use of cookies.
Read also: 12 Best American Jackets and Outdoor Clothing Brands
Where is Patagonia outdoor gear made?
Patagonia's outdoor gear is mainly made in Vietnam, China, Sri Lanka, Mexico, Thailand, and other countries, with a small part being made in the USA.
Recommended Products
Patagonia Triolet Men's Jacket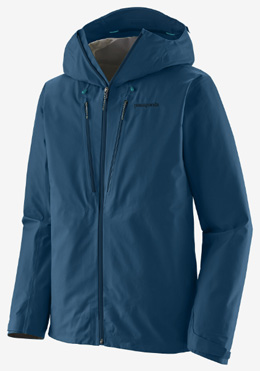 Image: patagonia.com
The Patagonia Triolet Men's Jacket is purposely designed to withstand cold and snowy weather conditions. It is crafted from a 3-layer GORE-TEX fabric that is waterproof, breathable, and windproof, with a 100% recycled polyester exterior for added durability.
The jacket is free from PFC and is produced in a factory that is certified by Fair Trade. It comes with a helmet-compatible hood, two chest pockets with watertight zips, two welted front pockets, and an interior drop-in pocket.
The jacket is also equipped with welted, watertight two-way pit zips for additional ventilation and a dual-adjust drawcord hem that effectively seals out weather elements. It has a concealed RECCO® reflector to make you searchable. The jacket is manufactured in Vietnam.
Patagonia Terravia 28L Pack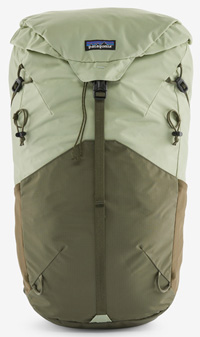 Image: patagonia.com
The Patagonia Terravia 28L Pack is a versatile backpack that is ideal for day trips or slightly longer hikes. It boasts a 28-liter capacity and is constructed from durable 100% recycled nylon, making it both robust and eco-friendly.
The backpack comes with a highly breathable back panel and shoulder straps, a front-loading stuff pocket, and a lid that shuts automatically when the drawstring is pulled. The suspended mesh back panel design ensures excellent airflow and prevents moisture for optimal comfort.
The Regulator® airmesh shoulder straps and hip belt provide a comfortable fit. The backpack also features easily accessible side pockets for securing small items and is hydration-compatible. It comes with a rain cover and has zippered lid and internal security pockets for safeguarding your belongings.
Prices
Patagonia is considered an expensive brand in the outdoor community. Their jackets start at around $130 and go up to $700. Their backpacks are in the $70-$300 range.
Are Patagonia's products worth the price?
We believe that the gear offered by Patagonia is worth the investment. The brand is committed to utilizing sustainable materials, promoting environmental protection, along providing you with durable, high-performance products.
Learn more: Why Is Patagonia So Expensive and Popular? Are Its Jackets Worth It?
2. Helly Hansen Outdoor Gear
History of the Brand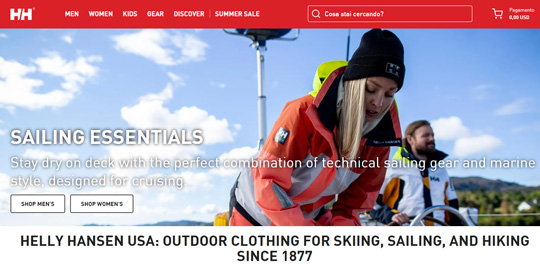 Helly Hansen official website
Helly Hansen, a Norwegian brand that was established in 1877 by Helly Juell Hansen, is renowned for its water and mountain gear.
Hansen, a sea captain, aspired to create superior gear that would safeguard sailors from harsh weather conditions. The brand has undergone significant transformation over the last 140 years, expanding its product range to cater to a broader range of disciplines beyond sailing.
Helly Hansen is a preferred choice among skiing enthusiasts, and many ski resorts utilize the brand to outfit their staff. The brand continues to be a global leader in sailing gear and apparel, as well as a popular choice among professionals and enthusiasts.
The brand also prioritizes the mountain gear sector, offering apparel and equipment for mountain activities such as mountaineering, hiking, skiing, and backpacking.
Must read:
9 Brands like Helly Hansen: Our Top Alternatives
10 Oldest Outdoor Clothing and Gear Brands
Materials, Fabrics, and Production Process
Helly Hansen utilizes water-repellent treatments in their apparel to ensure the safety of sailors and fishermen in some of the most aggressive ocean conditions.
Helly Tech is the brand's most prominent fabric technology, utilized in their jackets and other clothing. This material technology is both breathable and highly waterproof, which is a challenging combination to achieve. It is similar to Gore-Tex, which you may be familiar with.
The brand's other popular fabrics include Nylon, Polyester, Wool, and Fleece, many of which are recycled, and RDS-certified Down.
Helly Hansen acknowledges that the environment is the most valuable asset of the outdoor community. As a result, they prioritize environmental protection and the promotion of ethical values while manufacturing their products. You can learn more about the company's sustainability programs here.
Helly Hansen / Alive Since 1877 (full edit)
The video will be loaded from YouTube.com, a third party. If you play it, you accept their terms of service, and their use of cookies.
Read next:
10 Norwegian Jackets and Clothing Brands that You'll Love
3 Best Norwegian Backpack Brands: Our Top Picks
Where is Helly Hansen's outdoor gear made?
Helly Hansen manufactures their outdoor gear and clothing mainly in countries such as China, Cambodia, Vietnam, and Bangladesh. They also source their fabrics and materials from factories located in Asia and Europe. (more information here)
Recommended Products
Helly Hansen Verglas Infinity Men's Shell Jacket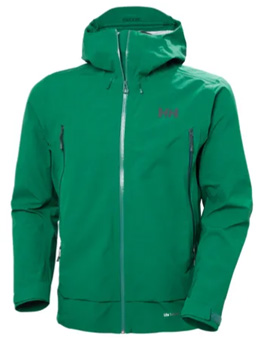 Image: hellyhansen.com
The Helly Hansen Verglas Infinity Men's Jacket is purposely designed with the input of professionals who encounter unpredictable weather conditions during extended periods in the mountains.
The jacket is ideal for backcountry skiing, trekking, and mountaineering, and it features the brand's highly waterproof/breathable LIFA INFINITY™ technology, which provides dependable protection without the use of chemicals.
The jacket is crafted with a recycled face fabric and a PFC-free durable water repellent treatment, making it an eco-friendly option. This hard shell offers maximum protection and has a helmet, backpack, and harness-compatible design.
The pit zips for ventilation, RECCO® transponder, and waist drawcord for added warmth in the wind are some of the other features that make this jacket stand out.
Helly Hansen Transistor Backpack Recco®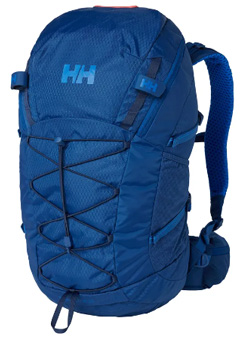 Image: hellyhansen.com
The lightweight 30L Transistor backpack is an excellent choice for any outdoor activity. It is designed with versatility and performance in mind, offering the features of a larger hiking backpack in a more compact size.
The backpack is made with several features, such as multiple pockets, full hydration compatibility, 3D air-mesh ventilation on the back, and a RECCO® reflector for increased safety.
Prices
Helly Hansen is another brand that has mid to high-range prices. The jackets cost between $75 and $2000. The backpacks start at $50 and can reach more than $250.
Are Helly Hansen's products worth the price?
Although this brand may appear costly and not affordable to everyone, it is challenging to find anything cheaper with similar quality and durability if you are seeking high-performance outdoor gear.
Learn more: Why is Helly Hansen so Expensive and Popular: Is It Worth It?
3. Which Brand is Better? Patagonia or Helly Hansen?
Both are reputable brands that offer excellent outdoor gear!
Patagonia is known for its sustainable and environmentally friendly approach to manufacturing. Helly Hansen, on the other hand, is recognized for its reliable waterproof technologies, while doing its part when it comes to sustainability.
Both brands are suitable for a wide range of outdoor activities, including hiking, mountaineering, and skiing. Helly Hansen has a long history also in sailing and is specialized in this activity.
In the end, we think Patagonia is a better choice if you prioritize eco-friendliness. There are many reviews on various online communities such as Reddit from people who choose Patagonia mainly for this reason.
On the other hand, we think Helly Hansen may be better in situations where waterproofness is important. Not saying Patagonia doesn't have waterproof options, but we'd choose Helly Hansen for its long experience in water activities.
As for prices, they're similar for most of the gear, with Helly Hansen being more expensive for the most technical and protective jackets.
We hope this helps make your ideas clearer because, in the end, the choice will depend on your specific needs and preferences!
Read next:
9 High-End, Expensive Hiking Brands for Clothing and Footwear
8 Best Sustainable Outdoor Clothing Brands: Our Top Picks