During most of your morning hike, you're probably looking up and admiring the view. You wouldn't want to be looking down and bothered by how uncomfortable your shoes are.
Finding the right hiking boots doesn't need to be a hassle. When buying any outdoor product, you might be checking the top brands and comparing them.
For example, you might be wondering which brand to choose between Hanwag and Meindl.
Well, continue reading to get an in-depth comparison between these two famous German footwear brands.
1. About Hanwag
This boot-making company has stood the test of time. Hanwag prides itself on applying its expertise from old traditions and continuously producing impeccable quality boots.
Their development story didn't rely on fast-paced commercialized growth. Instead, the brand remained on a steady road, going small steps forward.
Don't miss: 7 German Hiking & Winter Boot Brands: Our Top Picks
A Brief History of Hanwag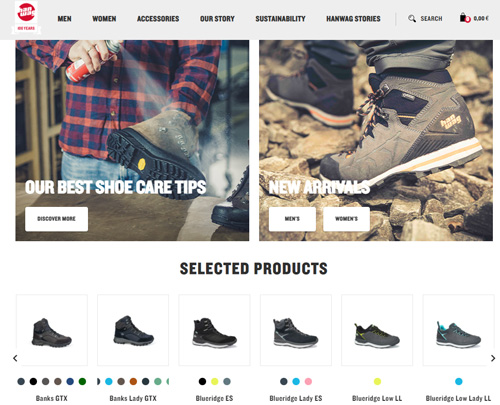 Hanwag official website
Hanwag's history is undeniably rich. The company is a hundred years old, originating in 1921. The old brand had its humble beginnings in a small boot-making workshop in Munich.
Hanwag's first 83 years were directed by Hans Wagner, a third-generation shoemaker, accompanied by his nephew, Josef Wagner.
The shoemaking brand branched out to make all kinds of boots for skiing, hiking, and long expeditions in most climates.
In present times, the company has been under new ownership since 2004. Josef Wagner made the executive decision to sell Hanwag to a Swedish organization, the Fenix, which specializes in outdoor lifestyle products.
The HANWAG Story: Our Production
The video will be loaded from YouTube.com, a third party. If you play it, you accept their terms of service, and their use of cookies.
Read also: 9 German Jackets & Outdoor Clothing Brands that You'll Love
Materials Used and Production Details
Did you know that Hanwag boots are made of over 100 parts? These components are extracted from numerous sources.
The company doesn't resort to your typical production. Instead, Hanwag's production is purely based in Europe to preserve its high-standard manufacturing process.
The corporation's main production value lies in its raw material extractions and human capital. The latter includes a large portion of skilled employees that have perfected the signature Hanwag shoe-making style.

A Hanwag Omega Boot
Hanwag implements a double-stitching technique in its shoe productions that may take years to master.
The main component of Hanwag shoes is leather. The material is procured from trusted sources such as a fourth-generation business supplier named Heinen tannery.
The shoe's sole material comes from the Italian company, Vibram, as well as the French rubber company, Michelin.
Meanwhile, the insoles of Hanwag shoes are entirely made of fleece along with 10% of recycled viscolatex foam for added comfort. Many of the shoelaces are 100% recycled polyester.
Handmade in Germany - A Shoe for Life | Made in Germany
The video will be loaded from YouTube.com, a third party. If you play it, you accept their terms of service, and their use of cookies.
You might also like: 10 Italian Hiking Boot Brands: Our Favorites
Best-selling Models
Hanwag offers boots for several activities such as hiking, mountaineering, backpacking, etc. Check out some of their best-selling boots below.
Hanwag Men's Alaska GTX Boot

Image from hanwag.com
Check it out at Hanwag.com
This Hanwag model will make your trekking trips an easier experience for your feet. The Alaska GTX has GORE-TEX linings, but what are those for?
Well, these linings will help maintain your feet' dryness and comfort. These boots will also provide you with better protection for your ankle area.
The boot's material is nubuck leather that won't go out of style anytime soon. You can use them to trek, travel, and hike wherever you want, making the Alaska GTX a versatile option.
Hanwag Alverstone II Lady GTX Boot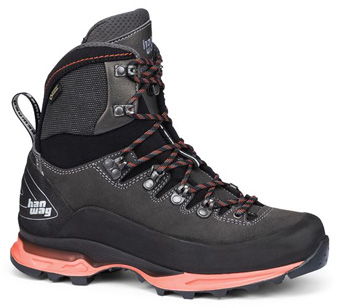 Image from hanwag.com
Check it out at Hanwag.com
Similar to the men's boot above, the women's Alverstone model also has a GORE-TEX lining making it ideal for most terrains. In addition, this Hanwag model also has a Lateral Flex (LFX) construction for optimized stability.
Interestingly, the Alverstone II is made to hike through the snowy trails of the Alps. This means that these boots can last for a long time before giving in to the stress of hiking.
Cost: Why Hanwag is Worth the Price?
Hanwag boots can range in price between $150 to $550, depending on which model you pick. The prices may seem high, nevertheless, you're also paying for time and quality.
Since the production value of Hanwag is exceptionally high, a higher price is needed. This points to the product's expensive price tag.
Hanwag is worth the price in our opinion. It offers premium materials and production techniques, not to mention a century's worth of expertise.
Read also: 8 European Hiking Boots & Shoes Brands: Our Top Picks
2. About Meindl
If you thought Hanwag had an impressive background, well Meindl might have more history to offer. Meindl's European roots have branched out to bring their boots to the US market and more.
Read on to learn more about how significant the Meindl name is in the boots industry.
Don't miss: Lowa vs Meindl Hiking Boots: Which is Better?
A Brief History of Meindl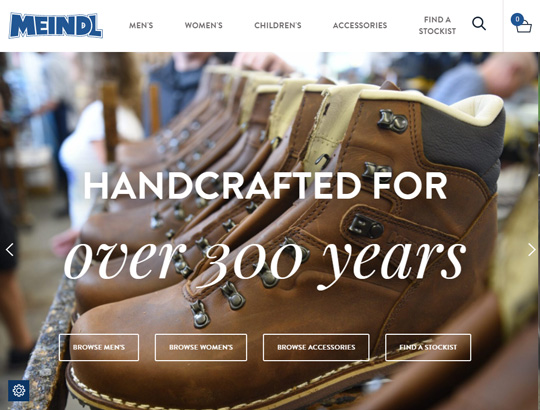 Meindl official website
This shoemaking business began in the year 1683, we're talking three centuries ago. That being so, Meindl's official present brand took off in 1928 by the German, Lukas Meindl.
Thanks to Meindl's son, Alfons, the company expanded to its present glory. After traveling the world and exploring what it takes to make the best boot, Lukas perfected the production process.
Materials Used and Production Details

Hiker wearing Meindl boots
The materials and manufacturing process is not far off from the company's main competitor, Hanwag.
The products use similar technology such as GORE-TEX lining, leather, and Vibram rubber. Having said that, Meindl uses also PrimaLoft which gives the boots durability, breathability, and weather protection.
Looking more into the design of the shoe, Meindl has an MFS Vakuum technology for safety and stability.
Once you wear the shoes, your feet are met with the Comfort Fit technology which keeps them comfortable in various conditions.
Meindl also uses DiGAfix® lacing mechanics to fasten the heels correctly and avoid too much pressure around the upper area of the boot.
Meindl X GORE-TEX Mountaineering EN
The video will be loaded from YouTube.com, a third party. If you play it, you accept their terms of service, and their use of cookies.
Read also: Scarpa vs La Sportiva Shoes: A Comparison
Best-selling Models
Curious about which Meindl boots to consider? Well, here are two of the most popular options Meindl has to offer.
Meindl Men's Vakuum Hunter Boot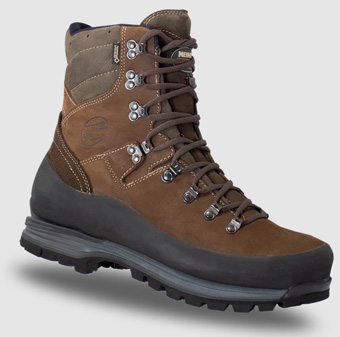 Image from meindlusa.com
Check it out at Meindlusa.com
The Vakuum Hunter model is a best-seller due to its exceptionally high-comfort fit. This boot can carry you through most tough terrains. It has GORE-TEX linings, making it waterproof.
The Vakuum Hunter can also help prevent blisters thanks to the MFS Vakuum foam panels.
Meindl Lady Vakuum GTX Boot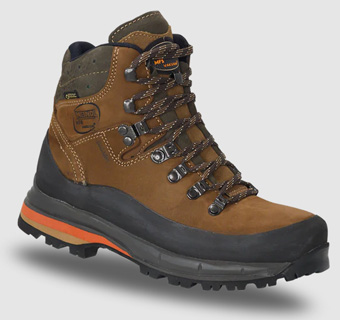 Image from meindlusa.com
Check it out at Meindlusa.com
The Lady Vacuum GTX boots are ideal for most outdoor excursions and are Made in Germany. The best part is that their design can match most of your wardrobe. The boots are made of nubuck leather, making them a timeless piece.
The polyurethane midsoles can give you extra support with each step of the way. Don't worry about slipping. The Vibram Multigriff outsoles will keep you steady.
Costs: Why Meindl is Worth the Price?
Meindl boots cost around $200 to $375. Compared to Hanwag, Meindl is considerably more wallet-friendly.
The shoes have gone through a great number of developments through continuous dedication and craftsmanship. Their abundant features and undeniable quality have earned them their high price tag.
3. Which One Should You Get? Which Brand is Better?
Both Hanwag and Meindl have proven themselves as the top brands in the outdoor boot industry. With years in the business, it's a hard choice to pick between the two.
That being said, we believe that Meindl might be the better option of the bunch. The prices are much more versatile as well as the products.
Meindl boots have almost the same quality as Hanwag but at a cheaper price, making it the more cost-effective choice as well.
Besides that, your choice can depend on more than price and quality, since you might prioritize the boot's appearance, style, color, comfort, and more. With that in mind, Hanwag might be worth considering depending on your specific needs.
Read next: Salewa vs Salomon Hiking Boots and Shoes: A Comparison