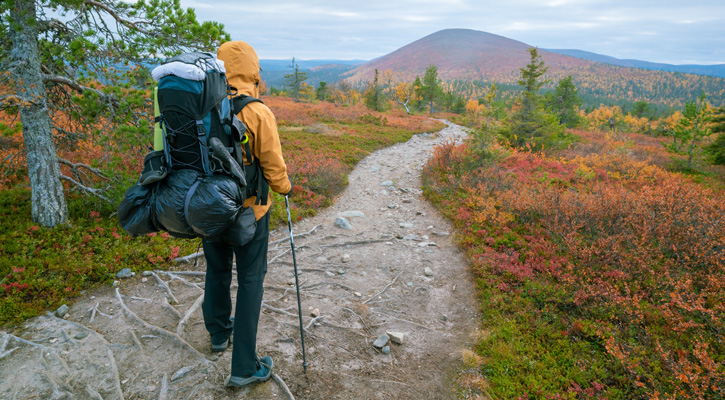 Finding good quality outerwear can be a little tricky. This is even more true if you like to spend most of your time outdoors.
From wanting new clothing options to wear-and-tear, there are so many choices.
You want the best quality possible, but you also don't want to break the bank.
With that in mind, today we'll continue with another list of brands from a single country. And this time it's Finland's turn!
We have selected 8 Finnish jackets and clothing brands for your outdoor adventures. Let's take a look!
Contents:
1. Halti

Halti official website
Established: 1976
Main products: Outerwear
Price range: Affordable
Halti launched about four decades ago with one main goal: to bring man closer to nature. Juhani Hyökyvaara started out as a sales assistant. Then, he noticed people looking for lighter and more functional gear. So, he started making his own.
This brand is for all the nature lovers out there. The clothes look good and they can handle being outdoors for long periods of time.
To create its products, Halti uses a blend of cotton and polyester. These materials are durable and as environmentally friendly as possible.
As for sustainability, Halti uses many recycled products and materials. The brand even breaks down plastic waste and turns it into fabric.
Don't miss: 8 Finnish Shoes and Boots Brands That You'll Love
2. Makia

Makia official website
Established: 2001
Main products: Outerwear
Price range: Affordable
If you ever visit Finland, you'll quickly notice that it has some of the harshest weather in the world. The Northern climate is cold, dry, and rough. So, to help people survive this weather, Makia has come up with clothing solutions.
The brand's motto is "Through the rough seas," and they deliver. The clothes Makia produces can withstand harsh weather for long periods. So, you could be stuck in a rainstorm and stay dry with Makia.
Makia produces most of its products from 75% environmentally conscious materials. This means that while the materials may not be 100% natural, they're not hurting the environment.
When it comes to sustainability, Makia has many plans. It plans to decrease carbon emissions by the year 2025. To do that, they're using recycled materials.
Read also: 9 Swedish Outdoor Clothing and Jackets Brands: Our Favorites
3. Reima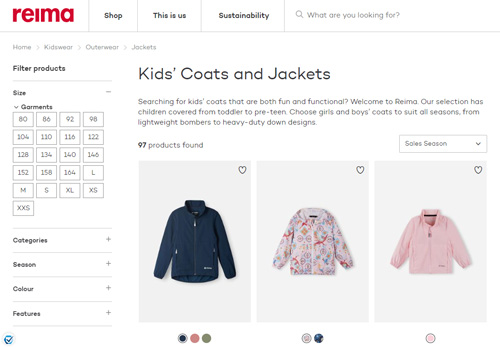 Reima official website
Established: 1944
Main products: Activewear for kids
Price range: Affordable
In 1944, Reima got its start repurposing old army uniforms. The main idea was to take something rough and turn it into something comfortable. Over the years, Reima has managed to do exactly that.
Reima uses Reimatec as a base for most of its products. This material is waterproof and breathable, making it perfect for any active child.
In addition to activewear, Reima also makes a variety of different outdoor gear. That includes shoes, snowsuits, and ski uniforms.
Reima has won a few different awards for the sustainability of its products. Not only are the materials safe for the environment, but they also last a long time.
Read next: 13 of the Best Scandinavian Jackets and Clothing Brands
4. Frenn

Frenn official website
Established: 2013
Main products: Menswear
Price range: Affordable
Jarkko Kallio and Antti Laitinen founded Frenn in 2013. The word Frenn comes from a combination of the words fresh and Nordic. This is because Laitinen and Kallio started the brand to give the world a fresh take on Nordic fashion.
The overall aesthetic of the brand is comfortable formal wear. It makes clothes that look presentable, but are still very comfortable.
To make its pieces, Frenn uses cotton blends to make sure the clothes are as breathable as possible. All the while, keeping the design simple and classic.
Recently Frenn changed its packaging to ensure that it's better for the environment. So, not only are the clothes recyclable but so are the packages.
You might also like: 6 Norwegian Boots and Shoes Brands: Our Top Picks
5. Sasta

Sasta official website
Established: 1969
Main products: Hunting and outdoor wear
Price range: Pricey
The founder of Sasta, Urpo Saastamoinen, was always a huge fan of hunting. He would go on long hunting trips as a child. That's how he figured out how important good quality equipment is.
When Sasta first started out, many of the clothes were wool. Wool is an excellent insulator, which makes it much easier to sit in one area for hours. However, nowadays, Sasta uses recycled polyester more than wool.
This makes Sasta ideal for any hunter, whether amateur or experienced. Their clothes can keep you warm outdoors. Some of them can even camouflage you in different environments.
Sasta has also been working on decreasing its carbon footprint. It started recycling most of its materials and cutting down on non-renewable energy.
Don't miss: 10 Norwegian Jackets & Clothing Brands to Try this Year
6. Luhta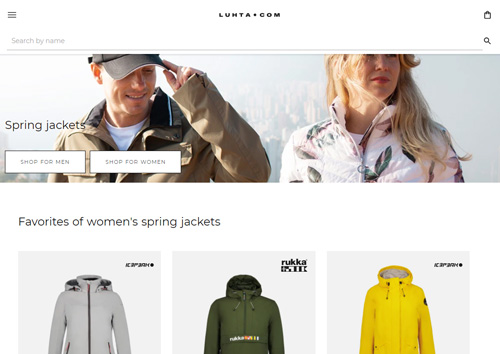 Luhta official website
Established: 1907
Main products: Sportswear
Price range: Affordable
Luhta is one of the oldest brands on our list. This brand combines dynamic designs and quality materials to make the best products.
Most of Luhta's focus is on giving the customer what they want. With this focus, Luhta has provided many sportsmen and women with comfortable apparel.
The brand offers a few different material choices to suit many sports applications. It offers both thermal and cool tech, so no matter what type of sport you prefer, there's an option for you.
To help out with sustainability, Luhta has taken a few steps. It ensures that it gets all its materials from environmentally friendly sources.
Read also: 9 German Jackets and Outdoor Clothing Brands: Our Favorites
7. Svala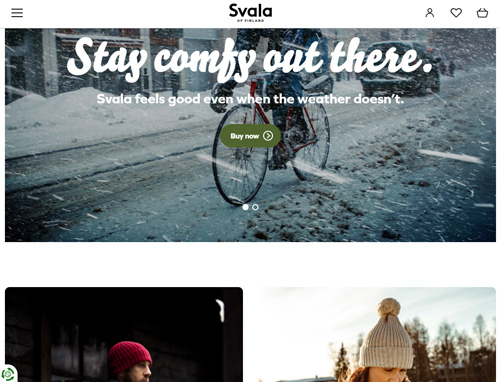 Svala official website
Established: 1955
Main products: Outerwear
Price range: Affordable
Remaining true to its roots – that's what Svala strives to do. In fact, when the brand was starting out, the Svala family would use their old clothes to make new, warmer clothes.
Most of the apparel in the Svala brand focuses on keeping you warm. That's why they have an entire section on the website dedicated to layering. To help keep you warm, Svala uses merino and other materials to trap warm air.
Svala has also cared about sustainability since its start. To cut down on material usage, Svala encourages its customers to repair clothes. You can even recycle them, rather than throw them away.
You might also like: 9 Italian Clothing and Jacket Brands for Outdoor Activities
8. R-Collection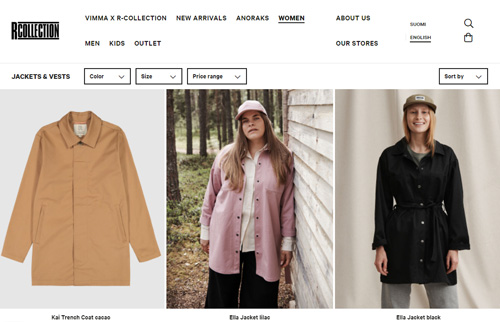 R-Collection official website
Established: 1978
Main products: Outerwear
Price range: Affordable
R-Collection has been around for many decades. Over the years, the brand has had more than one standout product. This has helped make it a household name. Though, it all started with Anorak jackets and the original Finland sweatsuit.
This brand mainly focuses on modern and fashionable clothes. Not only that, but they also have one of the widest product collections on our list. So, if you like to go out often, R-Collection should have an outfit option for you.
As the world becomes more environmentally conscious, so does R-Collection. The brand has been improving by slowly introducing recycled materials into its line.
Read next: 7 Swiss Jackets and Outdoor Clothing Brands: Our Favorites
Conclusion
There are many Finnish clothing brands out there that are worth checking out. Each one of the above-listed brands has left its mark on the outdoor clothing market. Some have even ventured out into more than just apparel.
With this article, we hope to have provided you with some new ideas if you're looking for clothes to wear in your city, for outdoor activities, or if you're planning to visit the Scandinavian peninsula.