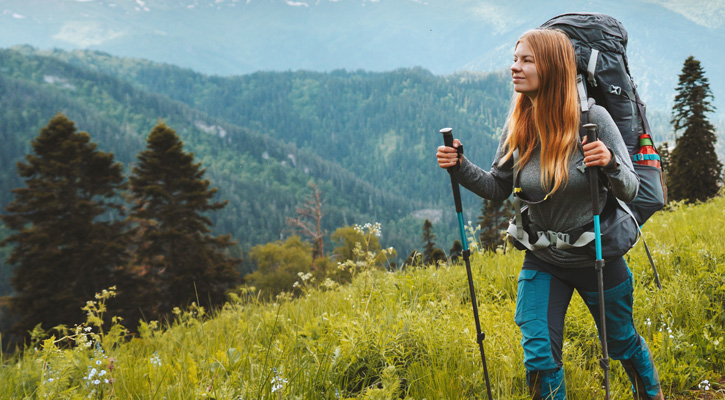 As of 2020, there are 57.81 million Americans who practice hiking regularly, which is almost double the number of those who practiced this fantastic outdoor activity in 2006.
Hiking has a lot of health and mental benefits, as it's one of the best ways to stay in shape and induce a sense of peace and calmness. And every hiker knows that buying the right gear will significantly impact the hiking trip, and on top of that list come the proper hiking boots.
Shopping for the best hiking footwear can be a little bit overwhelming since multiple brands on the market promise to deliver the best products. Good sports shoes might be comfortable, but they won't fit the right criteria if you're going hiking.
So, today we'll make your job a lot easier, and we won't overwhelm you with too many options.
Instead, we'll compare two famous brands, Oboz and Merrell, and take a closer look at their hiking boots to help you pick your next pair.
Ready? Let's dive in.
1. Oboz
Origins and Brand History
Oboz is operated by real outdoor enthusiasts. From trekking to hiking, angling, walking, biking, and running, the company focuses on providing footwear that a real outdoor lover would love to wear.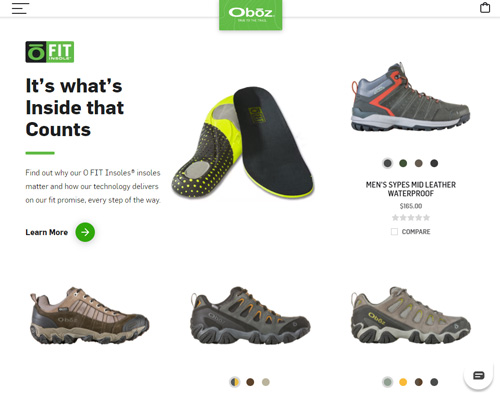 Oboz Men's Hiking Boots at the Brand's Official Website
While making amazing shoes, the company also focuses on giving back to the environment, planting a tree for every pair of Oboz footwear sold. It also cooperates with the Bonneville Environmental Foundation and uses 100% renewable wind energy to run its offices.
The company was founded in 2008, but its founder John Connelly has been in this industry for more than 40 years. The company's products are made in two factories in Vietnam but tested and sold through its office in California.
You might also like: Lowa vs Salomon Hiking Boots: A Comparison
Materials Used and Production Details
Oboz tests its designs where they'll be used after 140 talented workers handle each pair. Paying attention to the slightest details is the reason why this brand remains the top choice for many outdoor lovers.
This is why it built the O-FIT System after researching and studying thousands of real feet to come up with the most universally fitting and comfortable designs that would work for almost everybody.
It all starts with choosing the most comfortable pattern, and then the materials are selected to serve the boots' purpose. The shoe upper is either made of Nubuck leather, synthetic material, mesh, or another material to provide various options for multiple purposes and functionalities.
Each pair of Oboz footwear features insoles that are anatomically designed to provide maximum stability and support with triple-density EVA for more cushioning. Moreover, the shoes are made with forefoot and heels that absorb shock and reduce fatigue.
The midsoles are designed to provide a balance of light weight and durability. Finally, this brand's boots come with different outsole designs to provide the proper traction, grip, and balance for every design.
The video will be loaded from YouTube.com, a third party. If you play it, you accept their terms of service, and their use of cookies.
Must read: 10 Italian Hiking Boot Brands: Our Favorites
Our Favorite Pairs
Oboz offers a wide variety of outdoor footwear for every activity and occasion. Here are two models that caught our attention.
Oboz Men's Bridger Mid Waterproof Boot
A hikers' favorite, the Bridger Boots are made to help you tackle and conquer all terrains. With an O-FIT insole, these boots have a short break-in period and rubber toe guards for more comfort.
In addition, the B-DRY technology keeps your feet dry all day long. There's also a version for women.
Oboz Men's Bridger Mid Waterproof
The video will be loaded from YouTube.com, a third party. If you play it, you accept their terms of service, and their use of cookies.
Oboz Men's Sawtooth II 8″ Insulated Waterproof
Thanks to these well-insulated boots, hiking in winter is no longer a challenge. The Sawtooth II features a thermal O-FIT insole to keep your feet toasty, in addition to a 3M Thinsulate insulation, a fleece-lined collar, and B-DRY waterproofing technology.
Oboz Men's Sawtooth II Insulated Waterproof
The video will be loaded from YouTube.com, a third party. If you play it, you accept their terms of service, and their use of cookies.
Are Oboz Hiking Boots Worth the Price?
Most Oboz hiking boots are within the $150 and $200 price range. They're designed for hikers and outdoor lovers who need comfort, support, and reliability because these boots are designed to last for long. We think they're worth what you pay for them.
Read also: Salewa vs Salomon Hiking Boots and Shoes: A Comparison
2. Merrell
Origins and Brand History
Merrell was founded in 1981 in the USA by Clark Matis, Randy Merrell, and John Schweizer. It offers a wide variety of apparel from hiking boots to athletic footwear, clothes, and accessories.
Randy Merrell was already designing high-quality yet expensive boots, but together they all worked on offering durable yet affordable hiking boots that every outdoor lover could buy, and this is how the Moab Boots were developed.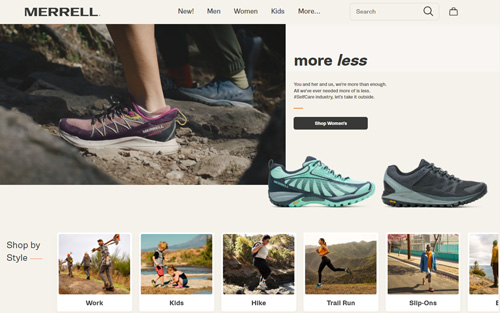 Merrell Official Website
The company was sold to new investors a couple of times but still holds its status as one of the most remarkable brands in the hiking boots market.
Don't miss: 7 German Hiking & Winter Boot Brands: Our Top Picks
Materials Used and Production Details
To offer the needed versatility and durability, Merrell combines various natural and synthetic recycled materials to create an affordable yet durable mix that would cover the needs of every outdoor adventurer.
The company has several manufacturing facilities in the USA, the UK, China, Vietnam, and the Dominican Republic. All these facilities follow the same guidelines to guarantee the quality of products.
Natural leather is used to make the boots' uppers and is used to give hiking boots the needed durability to tackle any trail. In addition, all upper materials are designed to be abrasion-resistant.
Moreover, the company's designers and engineers use innovative technology to make recycled polyester fabric from single-use water bottles, and to use recycled rubber and recycled EVA in the boots' soles and insoles. (source)
Merrell field-tests its footwear designs in the harshest conditions to guarantee that they'll stand the wear and tear test.
The Vibram rubber outsoles provide incredible cushioning and support and are designed to offer the right balance and grip on the most challenging terrains, making sure that your boots will last for long.
The company is a member of the Sustainable Apparel Coalition, using the Higg Index to track its manufacturing process and improve the practices that can help Merrell operate more sustainably.
The video will be loaded from YouTube.com, a third party. If you play it, you accept their terms of service, and their use of cookies.
Read also: Lowa vs Meindl Hiking Boots: Which is Better?
Our Favorite Pairs
Merrell offers several amazing models for men, women, and kids who are interested in hiking and other outdoor activities. Here are two models that we like.
Merrell Men's Moab 2 Mid GORE-TEX® Boots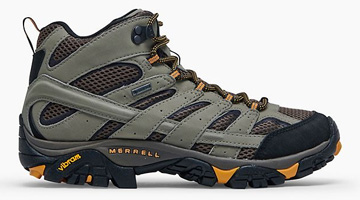 Image from merrell.com
Check it out at Merrell.com
These hiking boots come in two variations for men and women and are made using synthetic leather and a mesh upper for maximum breathability and comfort.
The GORE-TEX membrane keeps your feet dry, while the Vibram® TC5+ sole provides the best traction on slippery surfaces. The boots also feature an air cushion in the heel for support and a rubber toe cap for extra protection.
Merrell Men's Moab 2 Ventilator Hiking Shoes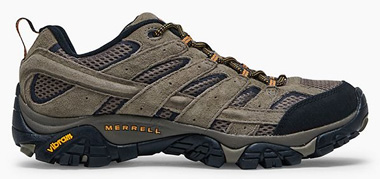 Image from merrell.com
Check it out at Merrell.com
The Moab 2 Ventilator boots are specifically made for those who like to take long hikes in hot weather, with also a version for female hikers. The upper is made of performance suede leather and mesh for better breathability.
In addition, the breathable mesh lining and EVA footbed will keep your feet comfortable during long hikes, while the Vibram® TC5+ sole keeps your foot stable on slick and wet surfaces.
Are Merrell Hiking Boots Worth the Price?
Merrell hiking boots are designed for those who need lightweight yet durable boots for every terrain. They're definitely worth the price, and they come in different shapes and colors to work for every outdoor enthusiast.
As a bonus, many models cost less than $150, so they'll work for you if you need affordable hiking boots.
3. Which One Should You Get? Which Brand is Better?
Both brands offer amazingly high-quality hiking boots, in addition to a lot of outdoor footwear for various activities. Moreover, they're both in the same price range, although Merrell's products are a little bit more affordable.
When it comes to durability and eco-friendliness, we believe Oboz scores a bit higher. The company has also maintained its same vision since it was founded, which explains the consistency in its production.
Merrell, on the other hand, offers versatile models of different shapes and colors, in addition to sports clothes and accessories.
Whatever your choice is, both brands are highly recommended because their products are designed to withstand the harsh conditions on every trail.
Read next: 8 European Hiking Boots & Shoes Brands: Our Top Picks