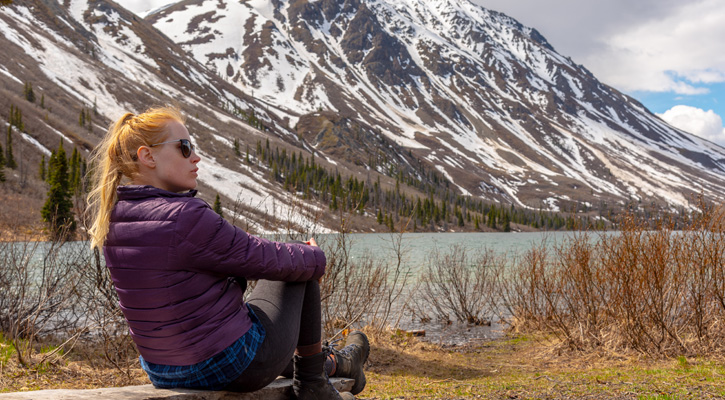 Columbia Sportswear has been around since 1938. The founders proudly describe their Oregon-based brand by saying: "Our apparel, footwear, and accessories reflect our Pacific Northwest heritage and indomitable spirit".
The high standards and innovative tech used in manufacturing their sportswear are behind the huge popularity of each one of their products.
The designers are all well aware of the company's principle: "It's perfect. Now make it better". And that definitely reflects on their phenomenal global sales.
If you like this brand, then chances are you'd also want to check out more brands like Columbia.
We've put together here the perfect list of apparel brands that share the same style, materials, quality, and commitment to sustainability as Columbia.
Contents:
1. Arc'teryx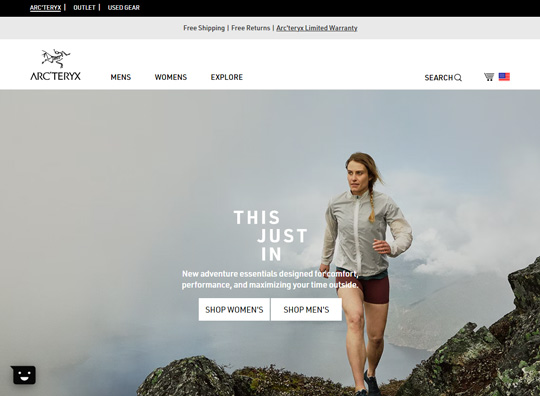 Arc'teryx official website
Arc'teryx is a Canadian brand with a global appeal. They make some of the best outdoor gear for skiing, hiking, and mountaineering. These activities were inspired by the breathtaking, but harsh, nature around Vancouver.
The founder, Dave Lane, created this brand to get better clothing for mountain climbing. That was based on a personal need but many customers welcomed his creations with open arms. Innovation is a core value for Arc'teryx, and so are sustainability and elegance.
The outdoor gear and sportswear on display, even though they come with high price tags, they're still hugely popular worldwide.
That's because these garments were carefully designed and manufactured. Whether that's done in the ArcOne factory, or in any of the satellite manufacturing sites. The same operations are replicated in China, Bangladesh, and El Salvador. It's always with a commitment to the highest standards of quality.
Arc'teryx Presents - Who We Are: A Design Company
The video will be loaded from YouTube.com, a third party. If you play it, you accept their terms of service, and their use of cookies.
Don't miss: 9 Outdoor Brands like Arc'teryx: Our Favorites
2. Helly Hansen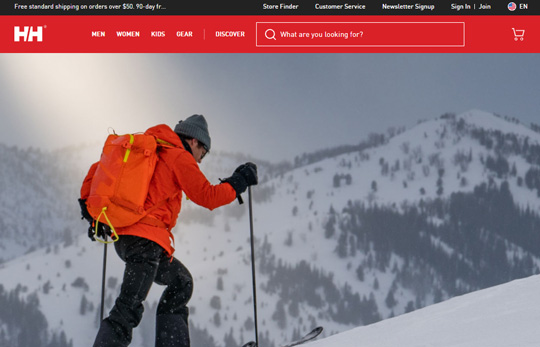 Helly Hansen official website
This is a brand that's definitely stood the test of time. It was founded in 1877 in Norway, so it's been in the business of creating outdoor gear for around 145 years.
Sea Captain Helly Juell Hansen had experienced the unforgiving might of the northern seas, and that's why he decided to make garments and apparel that could keep the sailors protected, functional, and comfortable.
The company has many award-winning garments that continue to wow customers worldwide. That's primarily a result of the patented technology they use in making their fabrics. For example, there's Helly Tech, Lifa, H2Flow, Lifaloft, and Lifa Infinity Pro.
The Helly Hansen outdoor gear and sportswear have high durability and longevity. Additionally, it is all made with sustainable processes. They'll keep you warm, and protect you from the wind, and rain, in addition to extreme temperature fluctuations. Plus, the garments are lightweight and breathable.
Read also: Helly Hansen vs The North Face Outdoor Gear: A Comparison
3. Jack Wolfskin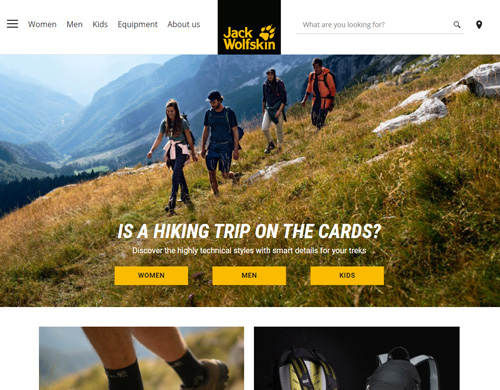 Jack Wolfskin official website
Jack Wolfskin is a German label that's a relative newcomer. It's the place you go to get 100% cotton sweaters, fully recyclable materials, and mosquito repellent clothing. On top of that, it's all made while implementing sustainable manufacturing processes.
The price of these hugely popular casual clothes, outdoor gear, and sportswear is another great feature. It's mostly accessible and some items are actually budget-friendly.
Read next: Jack Wolfskin vs The North Face Outdoor Gear: Which Brand is Better?
4. The North Face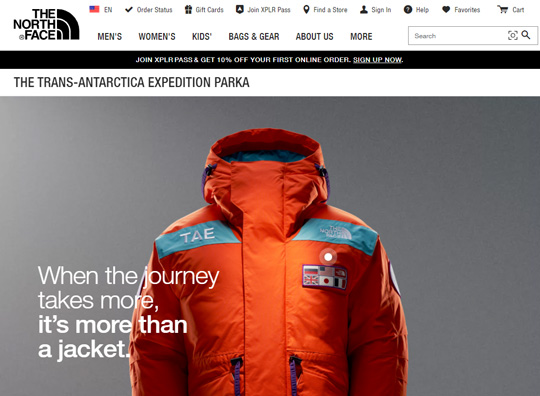 The North Face official website
The north face is the most dangerous side of a mountain in the Northern Hemisphere and the most difficult to climb. By choosing that label, this brand is already articulating what it stands for. "Never stop exploring" is what they say to the whole world.
In 1966, Doug Tompkins, who was a mountaineer, started a small business venture by opening a shop in San Francisco. It was the birthplace of many iconic outdoor products like backpacks and tents.
You can get all kinds of sportswear for men, women, and kids from this brand. In addition, The North Face also offers its customers a good warranty. This is a huge plus, and a sign of a confident brand.
In an effort to minimize textile and garment waste, The North Face pioneered an initiative; Clothes The Loop, to repurpose or recycle the clothes that you no longer need.
Whether you need to revamp your wardrobe, or you outgrew your old stuff, this is a brilliant way to feel that you're contributing to society and to nature in a meaningful way.
You might also like: 11 Brands like The North Face: Our Top Alternatives
5. Patagonia

Patagonia official website
A trip to Scotland that a young mountaineer took has sparked the whole idea behind Patagonia outdoor gear. In the early 1970s, Yvon Chouinard wore any clothes he could find to climb. But on that trip, he tried something new. A rugby shirt made all the difference.
The more rugged material helped him tremendously, and he decided to make better mountain climbing gear then and there. He was also committed to doing no harm to nature as he practiced his sport.
50 years later, Patagonia still stands for "romantic" outdoor adventures. It's a fine American brand that offers some of the best materials, designs, and variety.
The repair and replacement iron-clad guarantee that Patagonia offers is another great perk you'd get when you buy a Patagonia product.
Don't miss: Patagonia vs Marmot Outdoor Gear: Which is Better?
6. Berghaus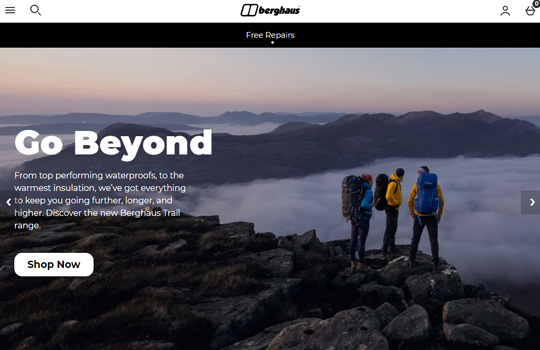 Berghaus official website
In 1966, Peter Lockey and Gordon Davison started Berghaus, which is the German word for "mountain house". It was a little shop in Newcastle, UK, that sold prime quality outdoor gear. In 1971, they started designing and making their own products.
That was when they revolutionized the backpack industry by introducing a Berghaus rucksack followed by the Cyclops rucksack. That was the very first backpack supported by an internal frame.
Another one of their extremely popular innovations is the lightweight, warm, comfortable, and totally breathable garments. Using the Gore-Tex tech they made light outerwear while the Nitro rucksack won the Millennium Product Award.
Berghaus is a brand that certainly reflects outstanding innovation. But along with that, they encourage young athletes to achieve the impossible.
The products are stylish, practical, lightweight, durable, and comfortable. As for the prices, they're a real catch!
7. Eddie Bauer
Eddie Bauer was an outdoorsman who wanted clothing and gear that would support his many adventures in nature. That wasn't readily available in the 1920s, so he made the stuff that he needed. Around 1940 he had already patented the first quilted down jacket.
The company changed hands several times and filed for bankruptcy at some point. However, in 2009 it bounced back, and the USA-based brand rose to full glory. Once again they sold innovative sportswear and outdoor gear that appealed to everyone.
Eddie Bauer Sport Shop: How It All Began
The video will be loaded from YouTube.com, a third party. If you play it, you accept their terms of service, and their use of cookies.
In 2013, Eddie Bauer joined the Otis Sustainability Alliance. This is an initiative that aims to advance the broadest facets of sustainability. Other brands that committed to that project are Patagonia, Nike, Disney, and Quiksilver.
Eddie Bauer has a wide range of prices, from lower-priced items to more premium gear that performs really well.
Read also: 9 Outdoor Brands like Eddie Bauer: Our Favorites
8. Fjällräven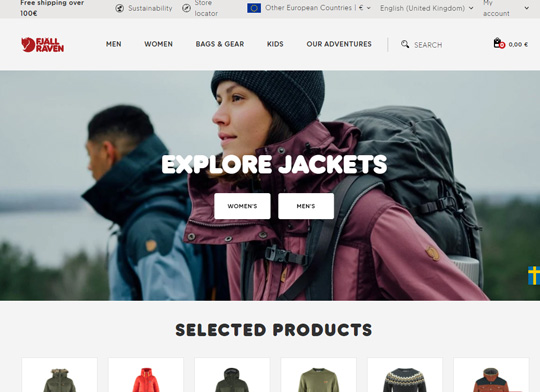 Fjällräven official website
This brand started making outdoor clothes 60 years ago. They started from Örnsköldsvik in Sweden, and then expanded their business into the whole world. As Scandinavian designers, they value simplicity, and practicality, in addition to total respect for the environment.
Their sustainability policies start with material selection and sourcing, but they don't stop there. They also adopt comprehensive reuse, repair, and recycle programs to minimize waste.
They use natural materials like cotton, down, and wool extensively. Simultaneously, they also have in-house labs that developed synthetic materials with outstanding properties.
For example, they produce Vinylon-F, a highly durable material used in their Kånken backpacks. Also, there's HC Lite, which is lightweight, resistant to harsh wind, and sustainable.
The outdoor gear you can get from Fjällräven is rugged, streamlined, and highly functional. The prices are a bit high though.
Must read: Why is Fjällräven so Expensive? Are Its Products Worth It?
9. Mammut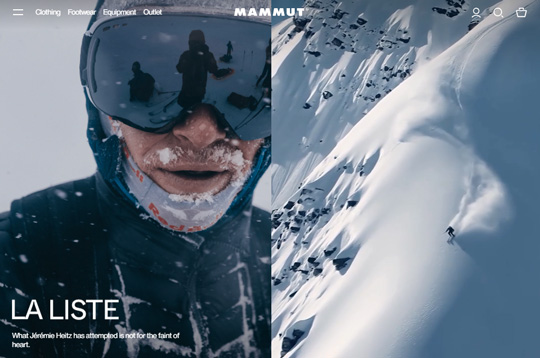 Mammut official website
The history of the Swiss brand, Mammut, goes back to 1862. This market leader and trailblazer makes some of the highest quality outdoor products. Their strongest gear and full focus are on mountain sports. But you can also get a variety of casual sportswear.
In addition to selling sportswear and outdoor gear, Mammut also has an exceptional project; the Mammut Alpine School. This is where they train athletes on mountaineering, glacier trekking, snowshoe touring, and even avalanche training.
The materials are mostly Gore-Tex based, as this is one of the best ways to get windproof, waterproof, breathable, and comfortable garments. As expected for such a high-end brand, the items are a bit pricey but totally worth the extra cash.
Don't miss: 7 Swiss Jacket and Outdoor Clothing Brands: Our Favorites
10. 66° North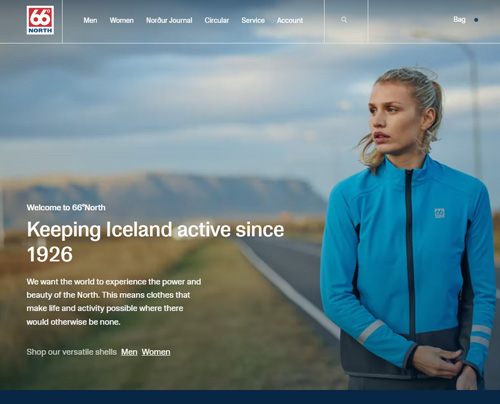 66° North official website
This Icelandic brand will soon celebrate its centennial, as it was founded in 1926. Hans Kristjánsson set out to make protective clothing for the fishermen of Iceland who had to brave cruel weather all year round.
66° North is the latitudinal line of the Arctic Circle that intersects Súgandafjörður. This is where the company was founded.
In addition to fishing clothes, 66°North also makes all kinds of protective garments for a daring and adventurous outdoor life. They primarily use revolutionary tech in making their textiles, and that's what eventually led them to win an award for the Snæfell Jacket.
The elegant, colorful, practical, and extremely durable products from 66°North are admittedly expensive. But the wide base of customers is living proof that the value is justified.
Read next: 13 Scandinavian Jacket and Clothing Brands that You'll Love
Conclusion
That was our carefully curated list of brands like Columbia. They're all exceptional in their styles, quality, and performance. Additionally, every single one of these manufacturers is fully committed to sustainability in its manufacturing operations.
Thus, the next time you need to buy new sportswear or outdoor gear, you can go to any one of these brands.