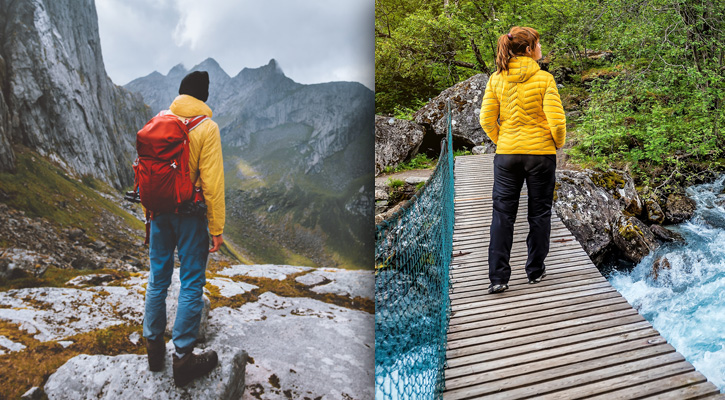 The Kühl brand is based in the United States and was founded decades ago with a passion for the mountains and outdoor activities.
Over the years, the company has expanded its line of products to include other products as well, for example, work and travel clothing.
If you're into outdoor activities or outdoor sports like we are, you've probably heard of this brand and you've likely tried some of their products and appreciated their quality.
To give you more outdoor wear options, today in this article we'll look at 9 more outdoor brands that produce clothes and equipment similar to Kühl when it comes to versatility and quality.
So, let's take a look!
Contents:
1. Helly Hansen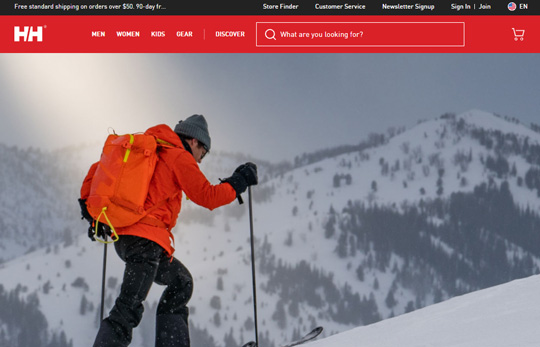 Helly Hansen official website
Helly Hansen is a company founded in Norway in 1877 by sea captain Helly Juell Hansen. Its first headquarters was in Moss, but today it is in Oslo.
In the first years, the founder aimed to produce only equipment for sailors, and only after a few years did the production turn to the outdoors in general, with particular reference to mountain sports.
A particular feature of the company is to research special technologies, such as the one born as early as 1980 and then perfected and called Helly Tech®. This technology makes the garments waterproof, but also breathable.
Don't miss: Helly Hansen vs The North Face Outdoor Gear: A Comparison
2. Patagonia

Patagonia official website
A trip to Scotland that a young mountaineer took sparked the whole idea behind Patagonia outdoor gear.
In the early 1970s, Yvon Chouinard wore any clothes he could find to climb. But on that trip, he tried something new. A rugby shirt made all the difference.
The more rugged material helped him tremendously, and he decided to make better mountain climbing gear then and there. He was also committed to doing no harm to nature as he practiced his sport.
50 years later, Patagonia still stands for "romantic" outdoor adventures. It's a fine American brand that offers some of the best materials, designs, and variety.
The repair and replacement iron-clad guarantee that Patagonia offers is another great perk you'd get when you buy a Patagonia product.
Read also: Patagonia vs Marmot Outdoor Gear: Which Brand is Better?
3. 66°North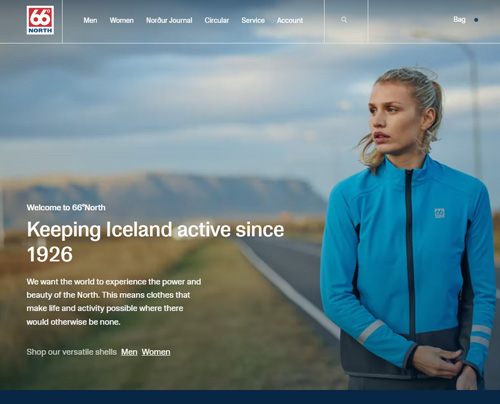 66°North official website
This Icelandic brand will soon celebrate its centennial, as it was founded in 1926. Hans Kristjánsson set out to make protective clothing for the fishermen of Iceland who had to brave cruel weather all year round.
66° North is the latitudinal line of the Arctic Circle that intersects Súgandafjörður. This is where the company was founded.
In addition to fishing clothes, 66°North also makes all kinds of protective garments for a daring and adventurous outdoor life. They primarily use revolutionary tech in making their textiles, and that's what eventually led them to win an award for the Snæfell Jacket.
The elegant, colorful, practical, and extremely durable products by 66°North are admittedly expensive. But the wide base of customers is living proof that the value is justified.
Read next: 13 Scandinavian Jacket & Clothing Brands that You'll Love
4. Berghaus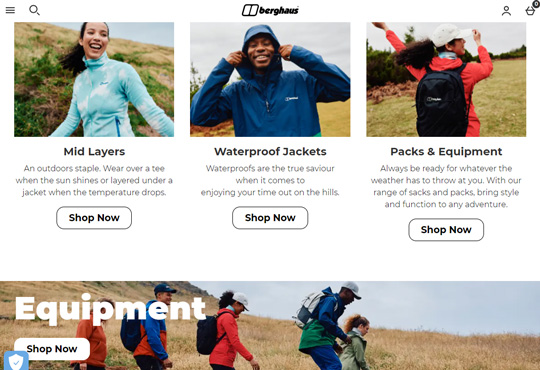 Berghaus official website
Berghaus is a company founded in 1966 in the northeast of England by Peter Lockey and Gordon Davison, with the aim of producing outdoor equipment.
The first location was a small shop called LD Mountain Center in Newcastle, UK.
From the beginning, the company philosophy has been based on the search for innovative and top-level solutions. In fact, in a short time, the founders managed to be very successful, especially in the outdoor wear sector, considered one of the best brands on the market.
Even today, one of Berghaus's goals is to stand out for quality and excellence, as can be seen from their many products.
You might also like: Berghaus vs The North Face Outdoor Equipment: A Comparison
5. The North Face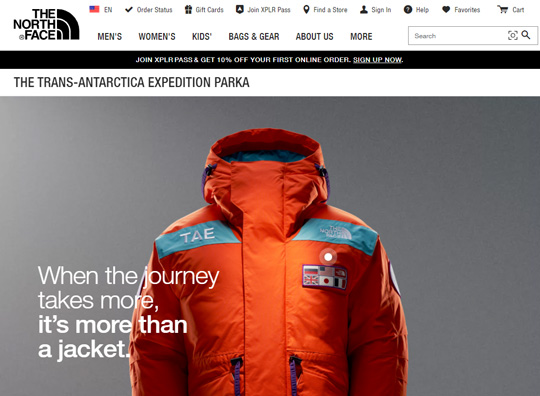 The North Face official website
Douglas Tompkins and his wife launched The North Face in San Francisco in 1968. Kenneth "Hap" Klopp, however, acquired it two years later. While The North Face makes clothing for everyone, they're also known for their bags and gear.
You'll find good sleeping bags that give you a good night's sleep during your travels. One of their best sleeping bags is the Eco Trail Bed Double 20. It is manufactured entirely of recycled shell fabric. If sleeping bags aren't your thing, tents are also available. Luggage, duffels, and technical packs are also sold.
The North Face makes an effort to use recycled and reusable fabrics in its products. They're currently working on packaging that can be easily recycled. However, by 2025, they intend to get rid of single-use plastic from their packaging.
Not only that, but their products contain recycled materials such as recycled polyester. The North Face is concerned about the ethical treatment of animals. They introduced the Responsible Down Standard to their manufacturing process.
From apparel to sleeping bags, The North Face has something for everyone. Their prices are moderately affordable, depending on what you decide to purchase.
Read also: 11 Brands like The North Face: Our Top Picks
6. Columbia Sportswear

Columbia Sportswear official website
Columbia Sportswear, established in Portland, Oregon, is an international outdoor brand. Paul Lamfrom created the company in 1938. Now, they have stores all over the world. The clothing line caters to adventure-seeking men, women, and children.
The Men's Point Park Insulated Jacket is one of their best-selling items. It's great because it's waterproof and heat-insulating. These features make the jacket ideal for hikes in difficult weather.
They have a wide range of nylon and polyester products. Furthermore, the down used in their products is certified by the Responsible Down Standard. This is a program that recognizes genuine and good practices in animal care.
Columbia Sportswear started a recycling initiative called ReThreads. This program invites customers to bring in their used apparel to make them wearable again.
They feature a wide range of products at moderately affordable prices.
Don't miss: 10 Brands like Columbia Sportswear: Our Top Alternatives
7. Carhartt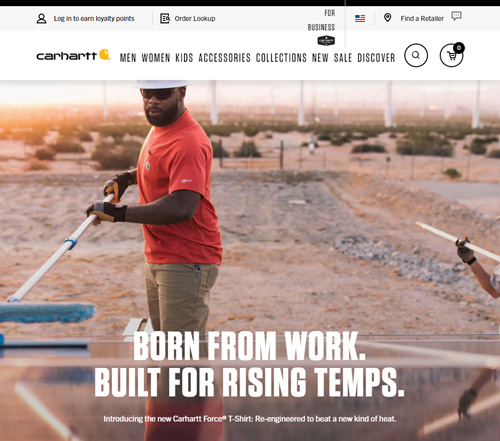 Carhartt official website
Carhartt was established by Hamilton Carhartt in 1889 in Detroit, US. The company started out producing workwear for railroad workers, soldiers, and marines. Afterward, the company began to expand and included a women's clothes line too.
Now, Carhartt is known for its quality work and outdoor clothes that are available in all sizes for all genders and ages. Carhartt has a wide selection of workwear, such as overalls, jackets, shirts, and pants, as well as outdoor outfits and accessories.
Their prices are budget-friendly despite the great quality they offer. Their materials differ based on the item you're going to buy, but they use cotton, nylon, elastane, and polyester, to name a few.
Read also: 11 Brands like Carhartt for Work and Outdoor Activities
8. RAB

RAB official website
RAB has British origins and was founded by the climber Rab Carrington, in 1981. Today its products dedicated to the outdoors are comfortable, and light, but also perfect for protecting against cold, humidity, rain, and strong winds.
The materials used are always selected to offer maximum durability. The prices range from affordable to expensive depending on the product you choose.
You might also like: Rab vs Patagonia Outdoor Equipment: A Comparison
9. Jack Wolfskin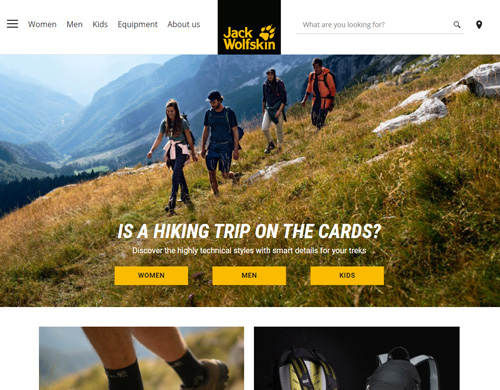 Jack Wolfskin official website
Inspired by nature while hiking, Ulrich Dausien established Jack Wolfskin in 1981. Ever since he was young, Dausien loved going on different adventures and camping.
That's why his main target when he started his business was to provide affordable expedition wear. And now Jack Wolfskin is one of the most famous outdoor wear companies in Germany.
Jack Wolfskin offers many clothing options, from tops, jackets, and bottoms to even hiking gear. They provide high-quality, sustainable clothes for all genders, sizes, and age groups. Their main products are directed at hikers and adventurers with both clothes and equipment available.
Their price ranges from expensive to budget-friendly, so no matter your budget, you'll surely find something that suits you!
Jack Wolfskin uses polyester, nylon, cotton, down, wool, merino wool, and elastane in its clothing products with different percentages, depending on which product you choose.
Read next: Jack Wolfskin vs The North Face Outdoor Gear: A Comparison