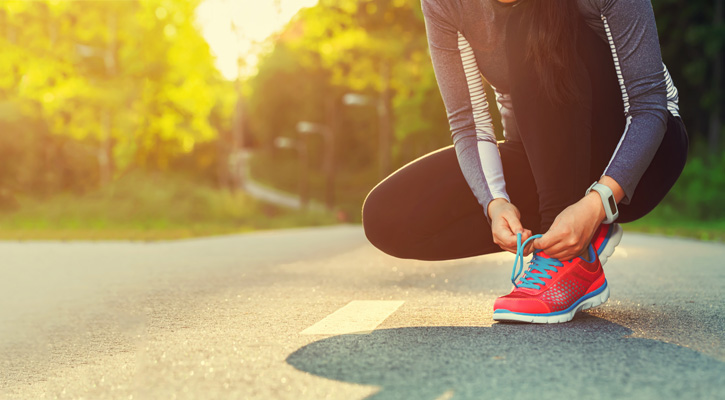 Italian sneakers are of high quality, flexible and breathable, very comfortable to wear, perfect for giving a greater boost during sports activities. There are different models, one for every taste.
Today we'll bring you a selection of 8 Italian Sneaker Brands, some of the best footwear companies from this European country in our opinion.
We'll take a look at their history, characteristics, and main products.
Let's begin!
Contents:
1. Kappa

Kappa official website
Kappa is an Italian company famous for the production of sportswear and among all the products, its sneakers are very well known. Its origin dates back to 1978 when Marco Boglione and Maurizio Vitale decide to start a brand from the company "Robe di Kappa" and called "Robe di Kappa Sport".
In the following years, this name was abbreviated to "Kappa" and the brand became famous due to the sponsorship of a well-known football team: Juventus. Another characteristic of Kappa is that the logo is the same from the beginning and represents two young people sitting together. Over the years, the characteristic wording "Kappa" has also been added to the logo.
The video will be loaded from YouTube.com, a third party. If you play it, you accept their terms of service, and their use of cookies.
Another typical element of the brand concerns the wide variety of products and Kappa's sneakers are colorful, sporty and at the same time some models are even elegant. In addition, they are very comfortable and this makes them special. The production is aimed at men, women, and children, especially those who practice sports.
Many people who get Kappa sneakers also wear them every day, to have a new age look. The materials of the shoes also make them very resistant, especially for the synthetic uppers and rubber soles. The prices are quite affordable and this is another reason that makes Kappa sneakers very popular.
Don't miss: Japanese Sneakers: Our 5 Favorite Brands
2. Lotto Sport Italia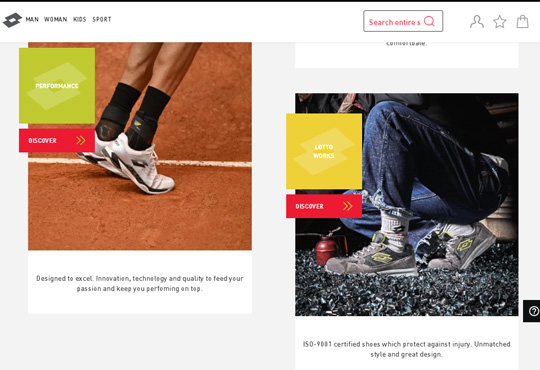 Lotto Sport Italia official website
Lotto Sport Italia was born in 1973 in Montebelluna, a city in the province of Treviso. The company has been producing sports shoes since its origins and initially only made tennis shoes, but then it also created footwear to wear for other sports.
The logo is very particular because it represents a double lozenge, that is a tennis court and a football field superimposed.
Over the years, the brand begins to produce not only shoes but also sportswear. One of the major features of Lotto Sport Italia is that there are many different models: sneakers for practicing sports, others for a casual style, others more elegant, with various colors and different materials.
The Runner - A King ADZ Film by Lotto Sport
The video will be loaded from YouTube.com, a third party. If you play it, you accept their terms of service, and their use of cookies.
In addition, each shoe has been designed to ensure maximum comfort and a certain resistance to those who use it. Another feature is that the fit is excellent thanks to the flexibility of the shoe. Those who wear Lotto Sport Italia sneakers will also notice their stability and breathability. The products of this company are aimed at women, men, and children, and their prices are quite affordable.
Read also: 5 Best Fabrics For Running Tops: Our Favorites
3. Fila

Fila official website
Fila is famous for the production of sportswear and sports shoes. It offers numerous models with different characteristics, to satisfy every customer's taste.
The brand was born in 1911 in Coggiola, in the province of Biella, a city in Piedmont and then in 2007, it was bought by the Fila Korea group, which is based in Seoul. In the early years, the company produced underwear for men and women, while in 1923 its headquarters was officially moved to Biella.
Here, in Viale Cesare Battisti, the factory began producing sports clothing for men, women, and children. This is the kind of audience the brand still caters to today. The company's success derives from a series of reasons: high-quality materials that are very resistant, the durability of the products, a wide choice of models, and comfort.
Fila's prices are affordable and it is possible to buy sports sneakers, but also others to wear every day.
You might also like: Are Nike Running Shoes Good for Walking?
4. Diadora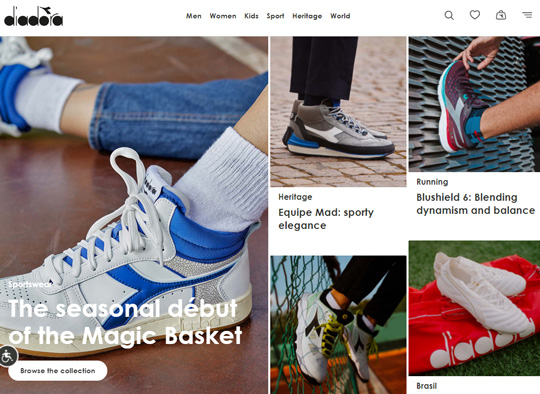 Diadora official website
Diadora is an Italian brand that produces sports accessories, sportswear, and footwear for practicing sports, but also for casual wear. The company was founded in 1948 with the aim of making trekking shoes and boots and only in 1970 did the brand decide to add sports shoes to its production.
Its products are aimed at men, women, and children and the prices are varied, but all affordable. One of Diadora's particularities is that it wants to make products that are not only comfortable and breathable but also highly safe.
In addition, thanks to their shape and the high quality of the materials, the sneakers can be worn with various looks.
#DiadoraAlpaca - SS20 | Woman
The video will be loaded from YouTube.com, a third party. If you play it, you accept their terms of service, and their use of cookies.
Read next: Is Polyester Good for Running?
5. Hogan

Hogan official website
Hogan is a brand born in 1986 by the Tod's group, of which it is part and created by the Della Valle family. In the same year of its foundation, the company produced the "Traditional" shoe, which had a particular design because it was inspired by the sport of cricket.
Today, a feature of Hogan is precisely that of making shoes with a model capable of attracting attention and curiosity, with its elegance and comfort at the same time. Hogan shoes are in fact comfortable, resistant, but also refined and for this reason, they can be used above all as casual wear, as well as sports shoes.
In addition to this type of product, however, the company also produces bags and accessories, clothing for men, women, and children. The prices are high and this is due to the high quality of the materials, such as different types of leather and suede, but also to the elegance of the design.
Don't miss: Adidas vs Nike Running Shoes: Which Brand is Better?
6. Superga

Superga official website
Superga was founded in Turin in 1911 and initially produced only rubber items, but also toys. The first name of the company was "Walter Martiny Limited Company", the name of the founder.
The term "Superga" was subsequently adopted, when the first shoes with a vulcanized rubber sole were created. The sneakers of the brand are very comfortable, soft, but at the same time also resistant and durable. In addition, they are perfect for practicing sports, but also for simple casual wear that can be used every day.
SUPERGA pillar manifesto | Design
The video will be loaded from YouTube.com, a third party. If you play it, you accept their terms of service, and their use of cookies.
Another feature of the company is that the styles of footwear are very varied and for this reason, customers always find what they are looking for at Superga. For example, sneakers go from a classic design to others of a contemporary type and combine with different outfits. Superga products are aimed at men, women, and children and their prices are affordable.
Read also: ASICS vs Nike Running Shoes: A Comparison
7. Sergio Tacchini

Sergio Tacchini official website
Sergio Tacchini produces sportswear, footwear, and sports accessories. Its logo is very particular, representing the initials "S" and "T" of the founder.
If the logo is capable of attracting attention, in reality even the company's products amaze everyone with their refinement, their comfort, their flexibility, and resistance. These are the main features of Sergio Tacchini sneakers.
This famous Milanese tennis player founded the company in 1966 and his aim was to make sports products that were comfortable and at the same time useful to be worn even in your free time. The renowned design, high-quality materials, and attention to detail make some of the brand's products quite expensive.
8. Scarpa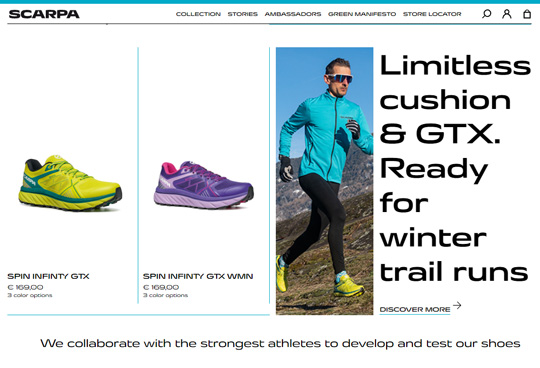 Scarpa official website
Scarpa produces colorful, high-quality sneakers perfect for practicing sports, but also for casual wear. The prices are high, but not exaggerated and its origin dates back to 1938, thanks to Rupert Edward Cecil Guinness.
The main purpose of the brand is to create perfect footwear for the outdoors, but there is no shortage of models to try for casual wear. Another characteristic element consists in the very bright colors, but also in the high comfort, breathability, and safety.