Welcome to another comparison! This time, we're putting two renowned brands of the outdoor gear industry against each other: Mammut and Arc'teryx, a Swiss and a Canadian company.
Both of these brands have built a reputation for producing high-quality gear that is perfect for outdoor enthusiasts.
In this article, we'll take a closer look at what each brand has to offer and help you decide which one is right for you. We'll explore their history, materials, prices, and a lot more.
So, let's get started!
Key Points:
Mammut is a Swiss company founded in 1862 that prioritizes sustainability in its production process. It makes a diverse range of products, including ropes, backpacks, jackets, footwear, and pants.
Arc'teryx is a Canadian company founded in 1989 and is renowned for its innovative products and for using high-quality, sustainable materials. It makes outdoor clothing and equipment, including jackets, pants, footwear, and backpacks.
Both are similar in terms of sustainability and prices.
The choice depends on personal preferences and the specific piece of gear needed.
We'd personally choose Mammut.
1. Mammut Outdoor Gear
History of the Brand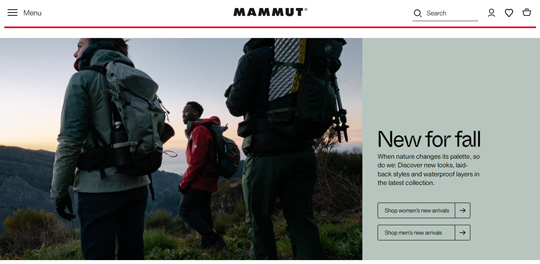 Mammut official website
Mammut is a top brand in the outdoor clothing industry. It's based in Switzerland and has been in existence since 1862 when Kaspar Tanner founded his ropeworks. Over time, the rope-manufacturing company grew to become a global clothing giant.
Despite being in operation for over 150 years, Mammut still produces ropes using advanced techniques, which generate significant revenue for the company.
In addition to ropes, Mammut's product range includes backpacks, jackets, hardshells, fleece jackets, softshell pants, and rain pants. Sustainability is at the core of the company's values, and it prioritizes high-quality materials for both clothing and rope production.
Don't miss: 8 Outdoor Brands like Mammut: Our Best Alternatives
Materials, Fabrics, and Production Process
Mammut prioritizes sustainability and adheres to the Bluesign® standard for its product range. The company employs environmentally friendly techniques and initiatives and is cautious in its production methods.
One such initiative is the recycling of disused outdoor equipment, and Mammut is actively working to replace PFCs (perfluorinated and polyfluorinated chemicals). The company also takes a stand against animal cruelty and uses techniques that do not harm animals.
This ethical approach is a testament to Mammut's values and commitment to sustainable practices.
For rope production, the company uses materials with a reduced carbon footprint, and its clothing meets the criteria set by the Fair Wear Foundation.
Some of Mammut's products feature Gore-Tex, the famous and top-of-the-line waterproof fabric technology. Mammut's dedication to sustainable practices makes it an excellent choice for environmentally-conscious outdoor enthusiasts.
The video will be loaded from YouTube.com, a third party. If you play it, you accept their terms of service, and their use of cookies.
Read also: 7 Swiss Jacket and Outdoor Clothing Brands: Our Favorites
Where is Mammut outdoor gear made?
Mammut produces a significant portion of its outdoor products in Asian countries, including Vietnam, China, and Bangladesh.
Recommended Products
Mammut Nordwand Advanced HS Hooded Men's Jacket

Image: mammut.com
The Nordwand Advanced hardshell jacket is the perfect all-rounder for your mountain excursions, delivering the necessary features to optimize your alpine movements.
It is lightweight, durable, and breathable, thanks to the innovative cut and GORE-TEX® PRO fabric technology. The jacket provides reliable, long-lasting protection from the elements while maintaining excellent breathability, making it the perfect balance of features, protection, and pack volume.
For anyone seeking an ideal jacket for their alpine adventures, the Nordwand Advanced hardshell is an excellent choice.
Mammut Trion Nordwand 28 Backpack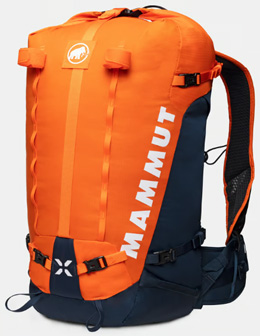 Image: mammut.com
Mammut's Eiger Extreme Collection features the Trion Nordwand 28, a robust and versatile alpine backpack. This backpack is constructed using high-quality Cordura material, making it both lightweight and durable.
It is not only built to last, but it is also exceptionally comfortable to wear. Top athletes, including Dani Arnold, Nico Hojac, and Stephan Siegrist, contributed to the development of this backpack, bringing their expertise and experience to the table.
The Trion Nordwand 28 is designed for high-performance individuals who demand the best from their equipment. Whether you're scaling a mountain or embarking on a difficult hike, this backpack is an excellent option to consider.
Prices
Mammut has a diverse product range that caters to people with varying budgets, making it accessible to a broad range of consumers. While some of their products are buyer-friendly, others are more expensive and contain advanced technology, making them high-performance designs.
For instance, while the average cost of Mammut's jackets ranges from $200 to $300, some of its most technical designs are priced at $900 and more.
Are Mammut products worth the price?
The higher price tag is reflective of the high-quality materials and advanced technology used in their manufacturing. With over 150 years of experience in the industry, Mammut has built a reputation for making exceptional products.
In our opinion, Mammut outdoor gear is worth the price. The quality and durability of their products make them a worthwhile investment for anyone seeking high performance.
Must read: 9 High-End, Expensive Hiking Brands for Clothing and Footwear
2. Arc'teryx Outdoor Gear
History of the Brand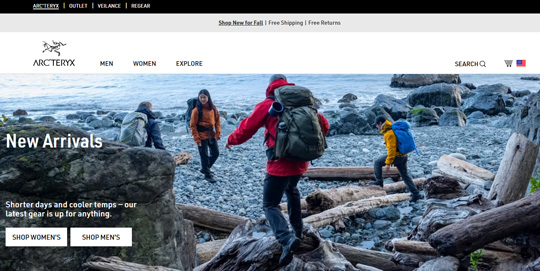 Arc'teryx official website
Founded in 1989 by Dave Lane, Arc'teryx is a well-known brand of outdoor clothing and equipment based in Canada.
The brand, initially named Rock Solid, specialized in producing climbing gear. In 1991, Dave Lane partnered with Blair Murdoch and Tim Duholke, and the official name "Arc'teryx" was established. The brand name is derived from the Archaeopteryx, the oldest known bird, symbolizing evolution and innovation.
Arc'teryx has developed several iconic products, including the innovative early designs of the Bora backpack and the Vapor harness. After acquiring the license to use Gore-Tex fabrics, the company expanded its product range to include outdoor clothing. Arc'teryx still uses Gore-Tex fabrics in many of its highest-performing pieces.
Although the brand initially focused on climbing gear, it now caters to hikers and climbers, as well as snowsport enthusiasts, producing some of the best snowsport clothing available in the market.
Read also: 9 Outdoor Brands like Arc'teryx: Our Favorites
Materials, Fabrics, and Production Process
Arc'teryx is renowned for its use of high-quality, sustainably and responsibly sourced materials. These materials are Bluesign® certified and undergo rigorous assessment through the Life Cycle Assessment protocols to determine the impact of the product life stages.
The brand uses a combination of natural and synthetic materials, depending on the design, to ensure that all finished products are of the highest quality.
The insulation used in jackets follows the Responsible Down Standard, which ensures the humane treatment of ducks and geese.
The brand primarily uses Coreloft for synthetic insulation blends and Gore-Tex for its membranes and fabric technologies in its clothing. For backpacks, Arc'teryx uses its own developed technology, the AC2.
The company prioritizes ethical manufacturing and sourcing of materials, which has contributed to its popularity over the years.
Arc'teryx Presents - Who We Are: A Design Company
The video will be loaded from YouTube.com, a third party. If you play it, you accept their terms of service, and their use of cookies.
Don't miss: Is Arc'teryx Sustainable? A Look at their Environmental Practices
Where is Arc'teryx outdoor gear made?
Arc'teryx products are manufactured in several countries, including Canada. However, the majority of their products are made in Asian countries such as China.
Recommended Products
Arc'teryx Atom Women's Hoody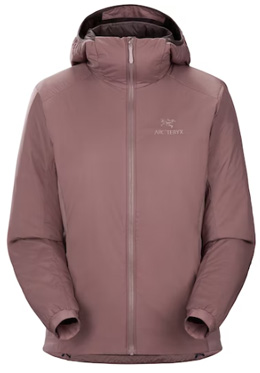 Image: arcteryx.com
The Women's Atom Hoody by Arc'teryx is a lightweight and functional jacket with synthetic insulation that can function as a mid-layer or standalone depending on the weather. It is part of the Atom Series, features Coreloft Compact insulation, and comes in a variety of colors and sizes.
This jacket is designed to perform well and is an excellent choice for outdoor enthusiasts seeking durable and versatile gear for activities such as trekking, climbing, or backpacking.
Arc'teryx Bora 65 Backpack for Men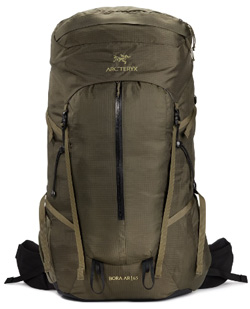 Image: arcteryx.com
The Bora 65 Men's Backpack by Arc'teryx is an excellent choice for outdoor enthusiasts planning a weekend or week-long trip. It features a comfortable carry that enables you to explore new places and push your limits.
The RotoGlide™ hipbelt moves with your body, providing better balance and added stability. The GridLock™ harness adjustability ensures a precise fit.
Constructed from high-tenacity Cordura® pack cloth, the backpack is durable for backcountry use. The lid features a Weather Vault that provides waterproof storage, while the main compartment is easily accessible from the top or side, with multiple external pockets.
This backpack is a reliable and durable option for outdoor enthusiasts seeking a comfortable and functional option for extended backcountry trips.
Prices
Arc'teryx is typically regarded as an expensive brand within the outdoor community, with jackets ranging from $150 to $1000 and backpacks costing between $50 and $350.
Are Arc'teryx products worth the price?
Despite the high prices, Arc'teryx products are worth the investment as they perform exceptionally well and last for years. We think that Arc'teryx gear is a valuable purchase if you're serious about mountain activities or snow sports.
While the prices may be prohibitive for some customers, the quality and durability of the products justify the cost.
Learn more: Why is Arc'teryx so Expensive and Popular? Is It Worth It?
3. Which Brand is Better? Mammut or Arc'teryx?
Both Mammut and Arc'teryx are respected brands with a wide range of products for different activities, customers, and budgets.
Mammut offers a product range for varying budgets. Some of their products are buyer-friendly and others are expensive, high-performance designs. Mammut is suitable for climbing, hiking, and backpacking. It also has a range of urban and casual wear.
On the other hand, Arc'teryx is renowned for its innovative designs for outdoor activities such as climbing, hiking, and snow sports.
Both have their sustainability programs in place. The prices are also very similar.
In the end, these two brands are very similar and the choice will depend on your personal preferences, budget, and the specific piece of gear you're looking for.
We'd personally choose Mammut as we like its designs and styles more. It also feels like a less-recognizable brand on the street even though it has a longer history.
Read next:
Haglöfs vs Arc'teryx Outdoor Gear: Which Brand is Better?
Arc'teryx vs Helly Hansen: A Comparison