Two popular brands that immediately come to mind when you think of outdoor gear are Haglöfs and Arc'teryx. Both companies are known for their high-quality products and commitment to sustainability.
However, each of them has its own unique strengths and weaknesses. In this article, we'll compare Arc'teryx and Haglöfs to help you decide which brand is better suited for your outdoor needs.
We'll look at their history, materials, manufacturing process, and prices.
So, whether you're a hiker or snowsport enthusiast, continue reading as it'll be an interesting comparison!
1. Haglöfs Outdoor Gear
History of the Brand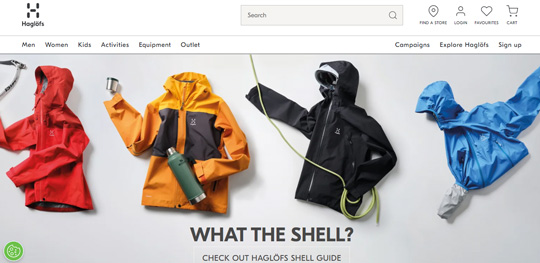 Haglöfs official website
In 1914, Wiktor Haglöf, a carpenter by trade, founded the Haglöfs brand in Sweden with the aim of creating a backpack that could withstand any conditions during travels through the country.
Over time, the company has grown and diversified its products, continuously striving to innovate and establish new benchmarks in craftsmanship. Haglöfs is dedicated to preserving the outdoors for future generations to enjoy.
The brand promotes exploration of the outdoors, both physically and mentally, and is convinced that everyone can experience nature, regardless of the weather.
Don't miss: 9 Swedish Outdoor Clothing and Jackets Brands: Our Favorites
Materials, Fabrics, and Production Process
Haglöfs is committed to reducing their carbon footprint by 50% by 2030. They are focusing on using lower-impact materials, renewable energy, improving energy efficiency, and engaging with consumers to reduce their impact.
The company is using recycled materials and natural materials such as organic cotton, hemp, and lyocell/tencel to create new products for outdoor activities and sports. Haglöfs is also using low-impact dyeing techniques and reducing the quantity of plastic bags used.
They are committed to responsible chemical, water, and energy management in their factories. The brand also uses the Higg Index to assess the sustainability of its products throughout their entire life cycle.
As for animal-based materials, Haglöfs is focused on getting them from suppliers that adopt best practices in relation to animal welfare and ecosystem and biodiversity protection. The natural down, for example, is certified by the Responsible Down Standard (RDS) to ensure no live-plucking or force-feeding of the birds has occurred in the supply chain.
Haglöfs also uses various technologies in its products for protection, warmth, and breathability. In its jackets, for example, the brand uses Recycled Polyamide (Nylon), Recycled Polyester, Mimic PLATINUM Ultracluster Graphene insulation, and GORE-TEX membranes, among others.
Haglöfs L.I.M - As Light as We Can Go
The video will be loaded from YouTube.com, a third party. If you play it, you accept their terms of service, and their use of cookies.
Read also: 7 Backpack Brands from Sweden: Our Favorites
Where is Haglöfs outdoor gear made?
Haglöfs products are mainly manufactured in Asian countries such as China and Vietnam and in European countries such as Poland and Romania. The brand's commitment to high-quality standards has contributed to its popularity in many countries, especially in Scandinavia.
Recommended Products
Haglöfs L.I.M GTX Active Men's Jacket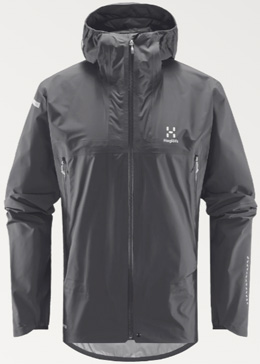 Image: haglofs.com
The Haglöfs L.I.M GTX Active Jacket is a lightweight technical shell designed for summer activities. It provides weather protection, breathability, and comfort with its durable mix of GORE-TEX Active 3 layer and GORE-TEX Paclite® Plus 2.5 layer fabric.
The jacket has an athletic fit, an adjustable hood, elastic cuffs and bottom hem for improved fit, reflective trims for safety, and two zippered hand pockets with mesh ventilation. It is recommended for trekking and hiking and is machine washable.
Haglöfs L.I.M 35 Hiking Backpack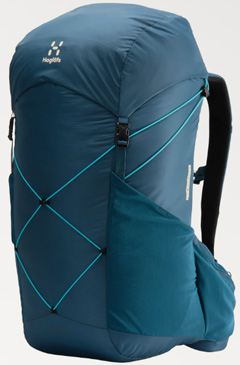 Image: haglofs.com
The Haglöfs L.I.M 35 Hiking Backpack is a lightweight backpack designed for trekking and hiking. It weighs 920 grams and has a volume of 35 liters.
The backpack features an Airback suspension system that ensures carrying comfort during intense activities by providing ventilation and airflow through the back contact zone. It includes elastic side pockets, zippered elastic hip belt pockets, and an elastic cord for compression and gear attachment.
The backpack is hydration system compatible and has a fixed top lid with a pocket, an adjustable sternum strap, a padded hip belt, and load lifters. The backpack is made from 70D*140D Diamond Rip-stop Polyamide, which is bluesign® approved.
Prices
Haglöfs prices are generally in the mid-range. Their jackets cost from $100 to over $600 for the most technical designs. The bags and backpacks have a price tag that starts at $60 and reaches $300.
Are Haglöfs products worth the price?
Yes, we think they are! With so many technologies, a focus on sustainability, and a wide range of outdoor gear, we believe this is a brand worth investing in.
Read next: 8 Swedish Boots and Shoes Brands that You'll Love
2. Arc'teryx Outdoor Gear
History of the Brand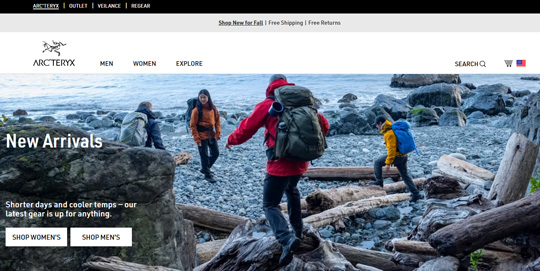 Arc'teryx official website
Arc'teryx is a well-known brand of outdoor clothing and equipment that was founded in Canada in 1989 by Dave Lane. Named initially Rock Solid, the brand specialized in producing climbing gear.
In 1991, Dave Lane partnered with Blair Murdoch and Tim Duholke, and the official Arc'teryx name was established. The name refers to the Archaeopteryx, the oldest known bird, which symbolizes evolution and innovation.
Arc'teryx has designed and developed numerous iconic products, including its innovative early designs of the Bora backpack and the Vapor harness.
After obtaining the license to use Gore-Tex fabrics, Arc'teryx expanded its product range to include outdoor clothing. The company still uses Gore-Tex fabrics in some of its highest-performing pieces.
While initially focusing on climbing gear, Arc'teryx now caters to hikers and climbers, as well as snowsport enthusiasts, making some of the best snowsport clothing on the market.
Must read: 9 Outdoor Brands like Arc'teryx: Our Favorites
Materials, Fabrics, and Production Process
Arc'teryx is recognized for using sustainably and responsibly sourced high-quality materials. The materials are bluesign® certified and undergo rigorous assessment through the Life Cycle Assessment protocols to determine the impact of the product life stages.
The brand uses both organic and synthetic materials depending on the design, ensuring that all finished products are of the highest quality. The insulation used in jackets follows the Responsible Down Standard to ensure humane treatment of waterfowl.
The brand mainly uses Coreloft for synthetic insulation blends. For membranes and fabric technologies, Arc'teryx primarily uses Gore-Tex for its clothing and its own developed technology, the AC2, mainly for backpacks.
The company prioritizes ethical manufacturing and sourcing of the materials, which have contributed to its popularity over the years.
Arc'teryx Presents - Who We Are: A Design Company
The video will be loaded from YouTube.com, a third party. If you play it, you accept their terms of service, and their use of cookies.
Related: Is Arc'teryx Sustainable? A Look at their Environmental Practices
Where is Arc'teryx outdoor gear made?
Arc'teryx products are made in various countries, with some being manufactured in Canada. The majority, however, is made in China and other countries in Asia.
Recommended Products
Arc'teryx Women's Atom Hoody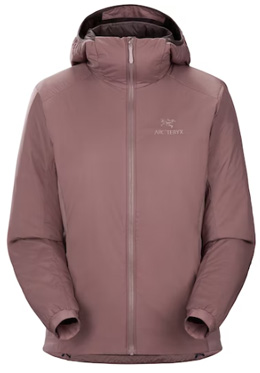 Image: arcteryx.com
The Arc'teryx Women's Atom Hoody is a functional and lightweight jacket with synthetic insulation that can be used as a mid-layer or standalone depending on the weather. It is part of the Atom Series, features Coreloft Compact insulation, and you can choose from a range of colors and sizes.
This jacket is designed to perform well and is an excellent choice for outdoor enthusiasts who need durable and versatile gear for hiking, climbing, or backpacking.
You might also like: 10 Best Canadian Winter Jacket Brands: Our Favorites
Arc'teryx Bora 65 Men's Backpack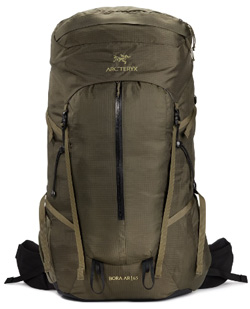 Image: arcteryx.com
The Arc'teryx Bora 65 Men's Backpack is an excellent choice for a weekend or a week-long trip. It has a comfortable carry that allows you to explore new places and push your limits.
The RotoGlide™ hipbelt moves with your body for better balance, and it locks out for added stability. The GridLock™ harness adjustability creates a precise fit.
The backpack is constructed from high-tenacity Cordura® pack cloth, making it durable for backcountry use. The lid features a Weather Vault that provides waterproof storage. The main compartment is easily accessible from the top or side, and there are multiple external pockets.
This is a reliable and durable option for outdoor enthusiasts who require a comfortable and versatile backpack for extended trips in the backcountry.
Prices
Arc'teryx is usually considered an expensive brand in the outdoor community. Their jackets fall in the $150 to $1000 range, while their backpacks cost between $50 and $350.
Are Arc'teryx products worth the price?
Although the prices of Arc'teryx may be too much for some customers, the investment is worth it as the products perform exceptionally well and last for years. We believe that Arc'teryx products are a valuable purchase for those who are serious about mountain activities or winter sports.
Learn more: Why is Arc'teryx so Expensive and Popular? Is It Worth It?
3. Which Brand is Better? Haglöfs or Arc'teryx?
Both Haglöfs and Arc'teryx are great outdoor clothing and gear brands if you ask us!
Haglöfs is committed to sustainability. It uses both recycled and natural materials, along with various technologies for protection, warmth, and breathability. Haglöfs is recommended for trekking, hiking, mountaineering, and backpacking, with prices that fall in the mid-range.
On the other hand, Arc'teryx uses sustainable and responsibly sourced materials, both organic and synthetic. They use technologies too, such as Gore-Tex and their own developed technologies. Arc'teryx products are recommended for hikers, climbers, and snowsport enthusiasts, and the brand is generally considered expensive!
In the end, we think Haglöfs is better if you prioritize sustainability and lower prices, while Arc'teryx is a good choice if you want durable materials and ethical manufacturing, and are willing to invest in expensive gear for mountain and winter sports.
We hope this helps with your decision!
Another comparison that you may like: Arc'teryx vs Helly Hansen Outdoor Gear: Which is Better?