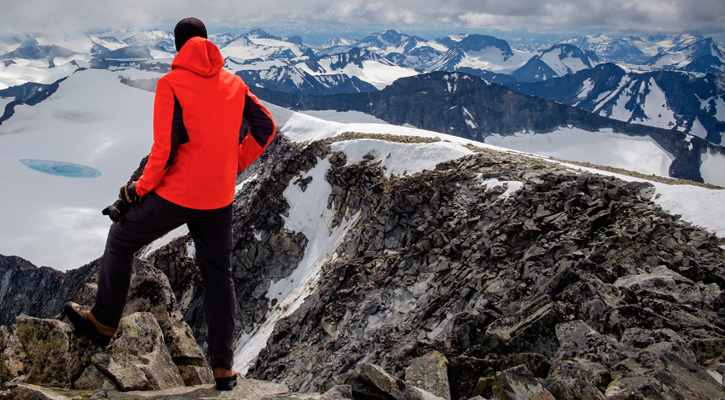 Are you a fan of Mammut, the outdoor brand from Switzerland known for its high-quality outdoor gear and apparel? If so, you might also be interested in exploring some alternative brands that offer similar products.
From Canada to France, in this article, we've selected 8 outdoor brands like Mammut that are worth checking out.
From Arc'teryx, a Canadian company that specializes in apparel for mountaineering and outdoor sports, to Patagonia, the American brand that is recognized for its eco-friendly products, to Millet, a well-known French brand that offers mountain gear, these companies provide a variety of products that cater to different needs and preferences.
Whether you're looking for high-end technical gear or budget-friendly options, we're sure you'll find them in these brands' collections!
Contents:
1. Arc'teryx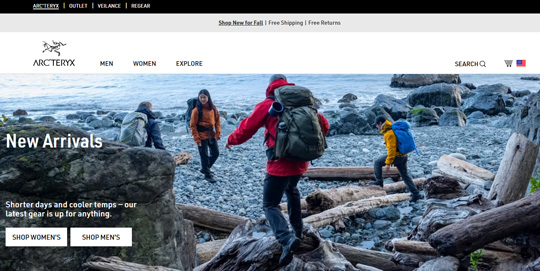 Arc'teryx official website
Arc'teryx is a famous company from Canada that produces excellent outdoor apparel and gear. The company was initially named Rock Solid when it was founded in 1989.
But, in 1991, the brand changed its name to Arc'teryx and focused on creating clothing and climbing equipment with Canada's Coast Mountains as inspiration. The company's headquarters is located in North Vancouver, British Columbia, and is famous for its technical apparel for mountaineering and outdoor sports, as well as accessories.
The company's name and logo are inspired by the Archaeopteryx, the oldest known bird, and a crucial moment in dinosaur evolution, which represents the brand's commitment to innovation.
Arc'teryx's products are categorized into various product lines, each named using the Greek alphabet, such as Alpha, Beta, Delta, and so on. The brand is famous for its waterproof and breathable Gore-Tex jackets, insulated jackets, backpacks, and footwear.
Arc'teryx has two other collections: Veilance, a streetwear retailer, and LEAF, for technical gear for law enforcement and military forces. The company has more than 80 branded stores and 3,000+ retailers worldwide.
The prices vary, but they usually are in the high-end range due to the brand's dedication to quality, technical performance, and sustainability.
Don't miss:
Why is Arc'teryx so Expensive and Popular? Is It Worth It?
9 Outdoor Brands like Arc'teryx: Our Favorites
Mammut vs Arc'teryx Outdoor Gear: A Comparison
2. Mountain Hardwear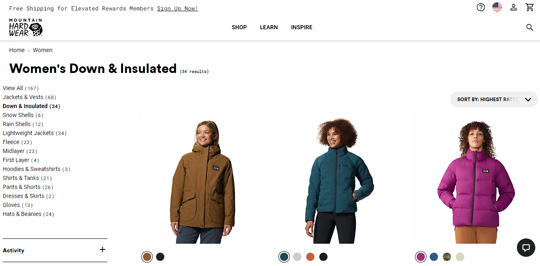 Mountain Hardwear women's down insulated jackets: official website
Mountain Hardwear is a company that specializes in creating and distributing high-quality apparel, equipment, and accessories for outdoor athletes and mountaineering enthusiasts. It is owned by Columbia Sportswear.
The brand was founded in 1993 by a group of former Sierra Designs employees and has collaborated with elite alpine athletes. Ed Viesturs, the first sponsored athlete of Mountain Hardwear, played a crucial role in the development of some of the company's products.
The company is headquartered in Richmond, California, with retail locations in Portland, Oregon, and Seattle, Washington.
Mountain Hardwear offers a range of products, including outerwear, sportswear, and equipment. The company has introduced several innovative technologies, such as Windstopper Fleece, Conduit waterproof/breathable membrane, and OutDry 3D lamination technology for gloves.
Mountain Hardwear has also sponsored many athletes, including skiers and alpinists.
The company has achieved significant milestones, including being acquired by Columbia Sportswear in 2003 and opening its first retail store in 2008. Its products are generally priced in the mid to high range.
Related: 12 Best American Jackets and Outdoor Clothing Brands
3. Patagonia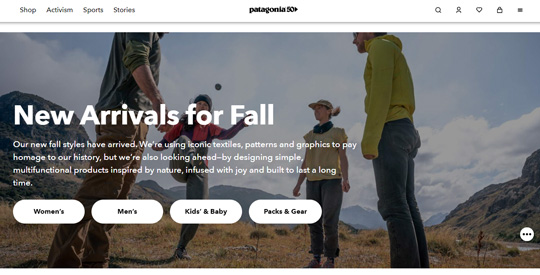 Patagonia official website
Patagonia is a renowned American company that specializes in outdoor clothing and is recognized for its superior quality, longevity, and environmentally friendly products.
Yvon Chouinard founded the company in 1973, and it has since been a pioneer in the outdoor industry, offering good products that are built to last.
Patagonia has a vast range of products, including insulated and rain jackets, pants, hats, shirts, and many more. The company is well-known for its commitment to sustainability, utilizing recycled materials in many of its products and donating a portion of its revenue.
Also, Patagonia has implemented rigorous supplier guidelines to ensure workers receive fair treatment and a living wage.
Patagonia offers durable and versatile products that are ideal for all types of outdoor activities. Their jackets, for example, are highly regarded for their quality and high performance and come in various options for different types of weather. The Nano Puff and Torrentshell are among the most popular jacket designs offered by Patagonia.
Read also:
8 Best Sustainable Outdoor Clothing Brands: Our Top Picks
Why Is Patagonia So Expensive and Popular? Are Its Jackets Worth It?
4. The North Face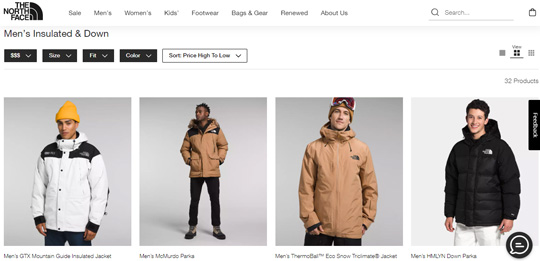 The North Face Men's Insulated and Down jackets: official website
In 1966, The North Face was established in San Francisco, California, by Douglas Tompkins and Susie Tompkins Buell. The company's logo is a stylized representation of Half Dome in Yosemite National Park and has become worldwide famous.
Currently, The North Face is owned by VF Corporation, which also owns various other outdoor brands. The North Face provides a wide range of outdoor products, including backpacks, down jackets, rain jackets, parkas, camping tents, sleeping bags, and trekking footwear.
The brand has created advanced technologies like DryVent and FUTURELIGHT™, which are breathable and waterproof fabrics. Despite being a high-end brand, The North Face also offers reasonably priced items.
In recent years, the company has taken measures to decrease its environmental impact and promote sustainability by using recycled materials.
The Thermoball jacket is a well-known product by The North Face because of its lightweight and packable synthetic-insulated material that keeps you warm even when wet. The Nuptse down jacket is another iconic product that is ideal for winter weather.
Read next:
The North Face vs Helly Hansen Outdoor Gear: A Comparison
11 Brands like The North Face: Our Top Alternatives
5. Helly Hansen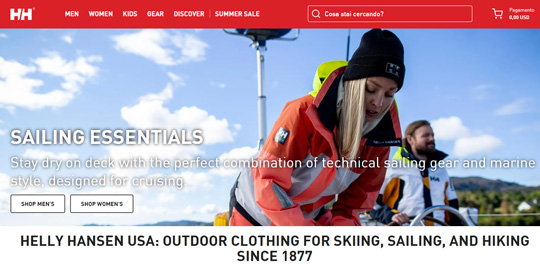 Helly Hansen official website
Helly Hansen is well-known for its water-resistant garments that are also breathable, highly comfortable, and versatile. Despite their ability to provide warmth and protection from cold weather, these jackets are also very lightweight.
The company was founded in 1877 by a Norwegian sea captain named Helly Juell Hansen. Although it initially manufactured equipment for sailors, the brand eventually shifted its focus to outdoor apparel, specifically outerwear for mountaineering.
At present, Helly Hansen serves a diverse range of activities and sports, such as snowboarding, skiing, hiking, climbing, and water sports. The product prices range from budget-friendly to expensive.
Don't miss:
Why is Helly Hansen so Expensive and Popular: Is It Worth It?
Arc'teryx vs Helly Hansen Outdoor Gear: Which is Better?
6. Millet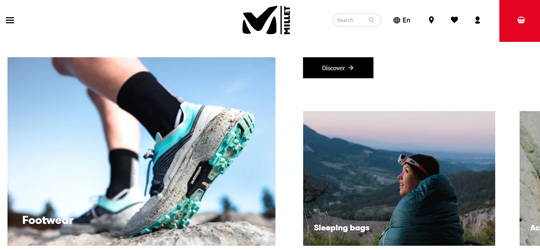 Millet official website
Millet is a well-known French company that specializes in producing mountain gear, clothing, and footwear. Marc Millet and his partner founded the company in Saint-Fons, close to the city of Lyon, in 1921.
Millet products are designed to withstand harsh conditions, including wind, rain, and low temperatures, while also being very durable. The company places a high priority on sustainability and carefully selects materials for its products.
Millet's products offer superior comfort and flexibility while also protecting from the elements. The brand is highly respected by outdoor enthusiasts and is renowned for its very good products.
Millet only uses top-quality materials and cutting-edge technologies, which contributes to the high cost of its products. In fact, some of Millet's jackets and shoes are priced at more than $200!
Related: 8 French Outdoor Clothing Brands: Our Favorites
7. Haglöfs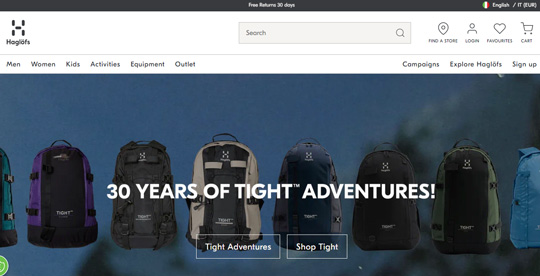 Haglöfs official website
Wiktor Haglöf founded Haglöfs in 1914 in Sweden. The company is known for its unique approach and profound respect for nature's serenity and beauty.
Initially, Haglöf's vision was to create a robust backpack, which he accomplished before moving on to designing high-quality clothing. Currently, the brand specializes in a broad range of equipment and accessories for outdoor enthusiasts, catering to men, women, and kids.
Haglöfs provides clothing suitable for various outdoor activities, including camping, trekking, sports, and work. Many of the materials used in their products are not only durable and able to withstand extreme conditions but also environmentally friendly. Consequently, their prices tend to be on the higher side, ranging from $150 to $400.
Read also: 9 Swedish Outdoor Clothing and Jacket Brands: Our Top Picks
8. 66°North

66°North official website
The Icelandic company 66°North was born in 1926. It has since grown into a prominent brand for outdoor clothing.
Originally, the company solely manufactured fishing equipment for fishermen in the North Atlantic region. Today, 66°North has diversified its production to encompass nearly the entire outdoor sector, making it a thriving brand.
Its product line features various types of gear and apparel, specifically designed with two key values in mind: longevity and safety. The brand also incorporates adaptability into these values, ensuring that its products cater to all the demands of outdoor enthusiasts.
Read next: 8 Icelandic Outdoor Clothing Brands that You'll Love