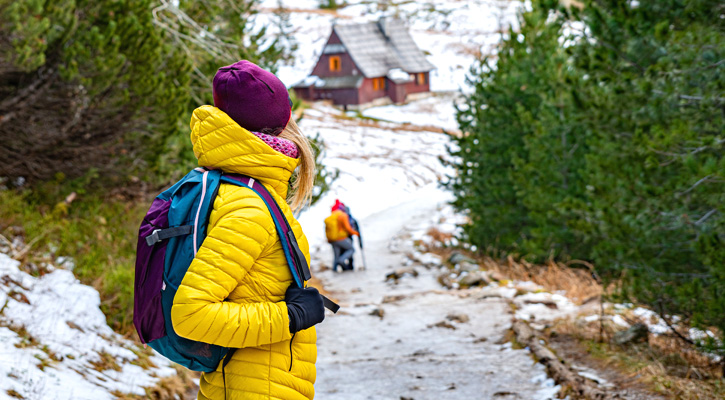 Are you a hiking enthusiast looking for high-end, durable, and stylish gear? Today's article is just for you!
We've compiled a list of 9 of the most expensive and high-end hiking brands that offer premium-quality clothing and footwear.
Apart from their exceptional quality, these brands are known for their innovative designs, and commitment to sustainability.
We'll explore Lowa, which has been manufacturing durable hiking boots since 1923, Arc'teryx, which is renowned for its technical jackets, Fjällräven, which offers great-looking outdoor gear, and many more.
Although these brands may come with a hefty price tag, we think their exceptional quality and durability make them worth the investment!
Contents:
1. Lowa

Hikers wearing Lowa boots
The origin of Lowa, a well-known German brand, dates back to 1923 near Munich. Presently, the company has production facilities in Germany, Slovakia, and Italy. Lowa is dedicated to sourcing materials solely from Europe, including fabrics and leather, and has strict regulations to ensure high standards.
Lowa is famous for manufacturing durable and supportive footwear that is great for hiking and mountaineering. The shoes are crafted meticulously using high-quality materials such as split leather, Nubuck leather, and recycled fabrics.
All midsoles are made from recyclable polyurethane or Dyna PU, which is a lightweight, eco-friendly, and more supportive alternative.
For the most challenging trails and technical terrains, Lowa's Renegade GTX boots are an excellent option. For less demanding hikes, the Taurus Pro GTX Mid is a better alternative.
Lowa's high-end hiking boots are priced between $200 and $250 and offer exceptional value for money.
Don't miss:
Lowa vs Meindl Hiking Boots: Which is Better?
7 German Hiking Boot Brands: Our Top Picks
2. Arc'teryx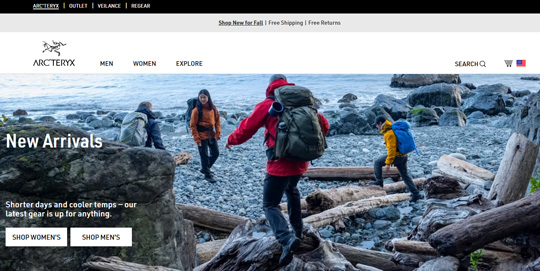 Arc'teryx official website
Arc'teryx is a widely recognized brand that specializes in outdoor wear and was established in 1989 in North Vancouver, British Columbia, Canada. Initially, the company focused on manufacturing climbing gear, but it later diversified its product line to include sportswear and backpacks.
One of the brand's early successes was the Vapor harness, which was well-received by customers. Arc'teryx then incorporated the Vapor technology into the design of the Bora backpack.
This brand is best known for its technical performance jackets, which are designed for activities such as climbing, trekking, and winter sports. Currently, Arc'teryx offers a vast selection of jackets that can be purchased in both physical stores and online. These jackets are priced between $300 and $1000.
Related:
Is Arc'teryx Sustainable? A Look at their Environmental Practices
10 Best Canadian Winter Jacket Brands: Our Favorites
3. Moncler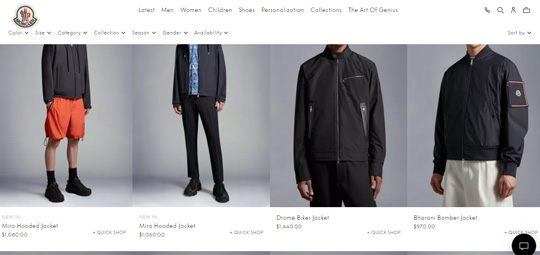 Moncler men's raincoats and windbreakers: official website
Moncler is a high-end brand born in France in 1952, now headquartered in Italy. The company specializes in manufacturing premium outdoor clothing, particularly its iconic down jackets that provide warmth and protection during cold winters.
Moncler's products combine fashion and functionality, making them a popular choice for fashion-conscious individuals and celebrities alike, whether they're exploring the city or hiking in the mountains.
Recently, Moncler has expanded its offerings to include a wide range of outdoor clothing and accessories for adventurers and enthusiasts worldwide. Moncler is also committed to promoting sustainability by using eco-friendly materials and production methods, as well as implementing initiatives to reduce their environmental impact.
The brand's jackets are well-known for their glossy and luxurious texture and are priced between $700 and $5000.
Read also:
9 Jacket Brands like Moncler: Best Alternatives for Winter
10 Italian Clothing and Jacket Brands for Outdoor Activities
4. Danner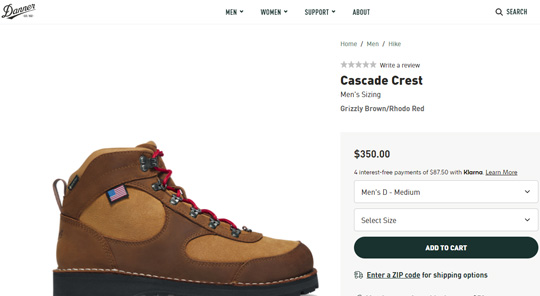 Danner men's Cascade Crest hiking shoes: official website
Danner was founded in 1932 in Portland, Oregon, USA, and is recognized as a trailblazer in craftsmanship. The company's initial objective was to create durable footwear that could withstand harsh conditions and challenging environments.
Danner continues to uphold this goal to this day, while also incorporating innovative technologies to enhance the comfort and style of its boots.
The brand is known for its premium quality and, as a result, their hiking boots are often priced higher than other brands, with some models exceeding the $300 mark. Danner offers a diverse selection of hiking boots, including both vintage and modern designs.
Read next: 10 Italian Hiking Boot Brands: Our Favorites
5. Patagonia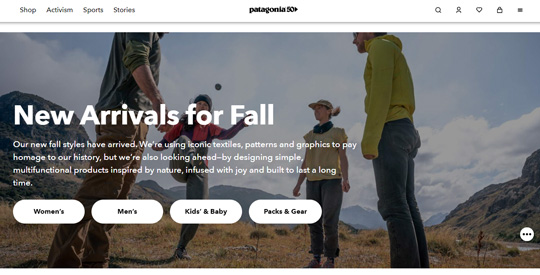 Patagonia official website
The outdoor clothing brand from the United States, Patagonia, is well-known for its exceptional quality, durability, and eco-friendliness.
The company was established by Yvon Chouinard in 1973 and has since become a leader in the outdoor industry, producing reliable and long-lasting products. Patagonia offers a wide range of clothing, including rain jackets, insulated jackets, pants, fleeces, shirts, etc.
The company is committed to sustainability and incorporates recycled materials into many of its products while also donating a portion of its revenue to environmental programs. Also, it has strict guidelines for its suppliers to ensure fair treatment of workers.
The company's products are versatile and sturdy, making them suitable for various outdoor activities, including hiking. Patagonia's jackets, such as the Nano Puff and Torrentshell, are highly regarded for their quality and performance, with prices ranging from $100 to over $300.
Don't miss:
Why Is Patagonia So Expensive and Popular? Are Its Jackets Worth It?
9 Brands Like Patagonia for Sustainable Outdoor Clothing
6. Canada Goose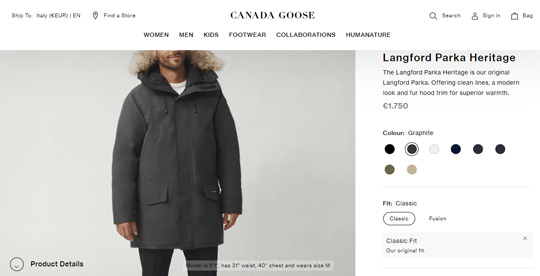 Canada Goose men's Langford parka heritage: official website
Canada Goose is a renowned Canadian brand that specializes in producing outdoor clothing that can withstand extreme weather. It was born in 1957 and is headquartered in Canada, with multiple stores in various countries and an online shop.
The brand offers a wide range of products, including top-quality parkas, insulated jackets, and accessories for men, women, and kids. Their jackets are insulated with natural down from ducks and geese and are specifically designed to keep you warm during cold weather activities, such as winter hiking.
Canada Goose coats are not only functional but also stylish, making them a popular choice among outdoor enthusiasts and fashion lovers. The company's iconic logo has gained global recognition due to its appearance in popular movies and effective marketing campaigns.
The Expedition Parka is one of Canada Goose's most popular coats, designed to keep you warm no matter the weather. It is made from durable fabric, is wind and water-resistant, and features high-quality down insulation suitable for temperatures as low as -30°C (-22°F).
Canada Goose winter jackets are priced between $1000 to $2000. The brand is also committed to ethical practices by responsibly sourcing its natural down and partnering with conservation organizations.
Related:
10 Best Expensive and Luxury Winter Jacket Brands
Why is Canada Goose so Expensive? Is It Worth It?
7. Fjällräven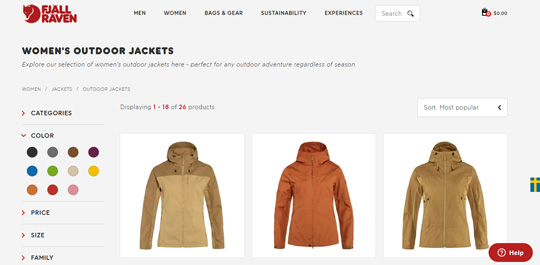 Fjällräven women's outdoor jackets: official website
In 1960, Åke Nordin founded Fjällräven in Sweden with the goal of designing a more comfortable hiking backpack. As local communities began to express interest in the backpack, the brand emerged.
The brand's name, "Fjällräven", which means "Arctic Fox" in Swedish, is reflected in the company's logo featuring a stylized fox.
In addition to the popular Kånken backpack, Fjällräven offers a wide range of high-quality coats and clothing suitable for mountaineering and hiking. The brand is known for its premium quality, with some of its jackets priced as high as $500.
Read also:
Is Fjällräven Ethical and Sustainable?
9 Swedish Outdoor Clothing and Jackets Brands: Our Favorites
8. Norrøna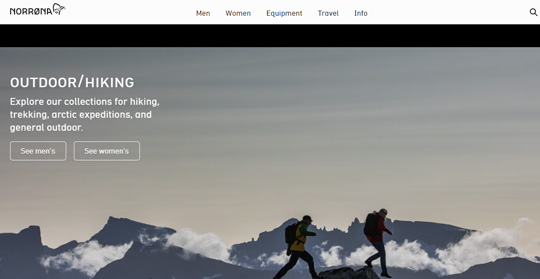 Norrøna official website
Norrøna is a renowned brand that provides a wide collection of outdoor products. The company prioritizes not only functionality but also sustainability. Since its establishment in Norway in 1929, Norrøna has been dedicated to producing superior-quality outdoor gear for more than nine decades.
Norrøna has created and now offers a vast array of products, including jackets, pants, backpacks, and accessories, suitable for different outdoor activities. The brand is famous for its inventive designs and employment of top-quality materials, ensuring its products' longevity and resilience.
Although Norrøna's products may be relatively expensive, the brand upholds its commitment to using premium and recycled materials in its production process.
Read next:
10 Norwegian Jackets and Clothing Brands that You'll Love
6 Norwegian Boots and Shoes Brands: Our Top Picks
9. RAB

RAB official website
RAB is a manufacturer of outdoor clothing and gear based in the UK. The brand is renowned for its high-quality gear designed for mountaineering and hiking enthusiasts. Since the 1980s, RAB has established a reputation for using exceptional materials and innovative designs.
The company's product line comprises jackets, pants, base layers, sleeping bags, and gloves that are lightweight, durable, and comfortable, making them ideal for outdoor enthusiasts who engage in strenuous adventures.
One of RAB's popular jackets is the Microlight Alpine jacket, made of compressible and lightweight down material that provides excellent warmth and protection. Its design is both practical and stylish and made of premium materials.
RAB is also focused on ethical manufacturing and sustainable processes, in addition to producing high-performance gear. If you're an outdoor enthusiast, RAB is a brand you should consider for its innovative designs, focus on quality, and attention to detail. Although the prices are high, we believe they are worth it!
Don't miss:
8 British Jackets and Outdoor Clothing Brands that You'll Love
7 Brands like RAB for Outdoor Adventures