Welcome to our latest brand comparison article, where we'll be taking a closer look at two of Canada's most popular outerwear brands: Pajar and Canada Goose.
Today we'll be examining the strengths and weaknesses of each brand, and helping you make a decision about which one is the right choice for your next winter jacket.
So, whether you're a fashion-conscious city dweller or a rugged outdoors enthusiast, continue reading as this will be an interesting comparison.
Let's get started!
Key Points:
Canada Goose is better for heavy-duty jackets for extreme cold, while Pajar is a good choice for more affordable jackets for milder temperatures.
Pajar was founded in 1963 in Montreal and initially focused on footwear. It gradually expanded into outerwear.
Pajar uses waterproof textiles and leathers, genuine or synthetic fur trims, water-repellent shells, ethical duck down, and Thinsulate synthetic insulation.
Pajar jackets are priced from around $300 to over $2000.
Canada Goose was founded in 1957. It offers a range of jackets, vests, gloves, hats, coats, parkas, and more.
Canada Goose uses blends of nylon, polyester, and cotton for its fabrics, and duck and goose down for insulation.
Canada Goose jackets' prices range from $1000 to $2000.
1. Pajar Jackets
History of the Brand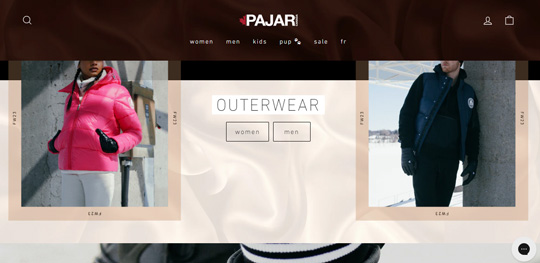 Pajar official website
Founded in 1963 in Montreal by Paul Golbert, who emigrated from France, this Canadian brand drew inspiration for its name from the first letters of Golbert's own name, his son's name, and his wife's name.
Initially, Pajar focused on importing footwear from Italy, France, and Spain, launching its showroom in 1967. Golbert is widely considered a pioneer in the Canadian footwear industry, and in 1973, he established his own factory.
In 1989, Pajar began providing products for the Canadian Alpine Ski Team and gradually expanded into outerwear.
Today, the brand is a leading manufacturer and retailer of high-quality footwear and outerwear for men and women in Canada. Pajar remains fully family-owned and is currently run by Jacques, Golbert's son, and Michel, his grandson.
While the brand is still well-known for its Apres Ski boot, the Zig-Zag, and other footwear, its winter coats and outdoor gear have also gained popularity.
Don't miss: 10 Best Canadian Winter Jacket Brands: Our Favorites
Materials, Fabrics, and Production Process
Pajar produces some of its products in Canada, while others are manufactured in global facilities located in Asia, Portugal, and Italy. Both the outerwear and footwear lines feature high-quality waterproof textiles and leather that are seam-sealed.
Pajar utilizes its proprietary Pajar-Tex waterproof technology to ensure warmth and comfort throughout the winter season.
Their jackets feature genuine or synthetic fur trims, as well as water-repellent shells and seam-sealed construction.
The brand uses ethical down for insulation that is both hypoallergenic and sterilized and takes great care to ensure that animal welfare is upheld throughout the production process. It also uses Thinsulate synthetic insulation in some jackets.
Pajar also offers a one-year warranty on its jackets, with protection against manufacturing defects.
PAJAR CANADA | FALL / WINTER 2021
The video will be loaded from YouTube.com, a third party. If you play it, you accept their terms of service, and their use of cookies.
Read also: 10 Best Expensive and Luxury Winter Jacket Brands
Recommended Products
Pajar Soren Men's Parka

Image: pajar.com
The Pajar Soren Parka is designed for men and features a fixed hood with detachable fur trim. It comes with a zip and snap front placket closure, double-entry patch pockets, and storm cuffs for added comfort. The hood tab is adjustable to ensure a perfect fit.
The parka is made with laminated Nylon Twill and Matte Nylon Taslon, and a 5k/5k laminate membrane against water and wind while maintaining breathability. The shell is made of Nylon and Spandex and the lining is 100% Polyester. The parka is filled with duck down with a 550 Fill Power and features a 4-layer construction.
It's water repellent, machine washable, and has a comfort rating of -20°C (-4°F), making it suitable for cold weather.
Pajar Solstice Women's Long Puffer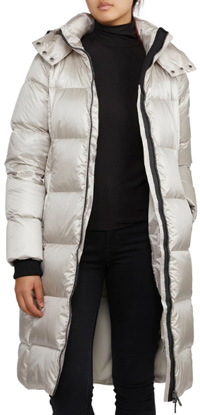 Image: pajar.com
The Pajar Solstice Women's Long Puffer features a concealed belt at the back and a removable hood, as well as an exposed front zipper and bottom pockets. The rib knit storm cuffs add extra comfort to the jacket. It has a comfort rating of -20°C (-4°F), making it suitable for cold conditions.
The shell of the jacket is made of 55% Polyester and 45% Nylon, with a pearl finish Ciré crisp, smooth fabric that has a slight sheen. The fabric is coated to repel water. The lining is 100% Polyester, and it is filled with duck down with a 550 Fill Power.
Prices
Pajar uses top-quality materials in their products, ensuring superior comfort and durability. The prices of their products vary, ranging from affordable to expensive, depending on the design and features. There are jackets available for around $300, as well as those that exceed $2000.
Are Pajar jackets worth the price?
Numerous online reviews suggest that they are indeed worth the investment, and we are of the same opinion. The jackets are not only stylish but also long-lasting, providing warmth and protection from the elements.
2. Canada Goose Jackets
History of the Brand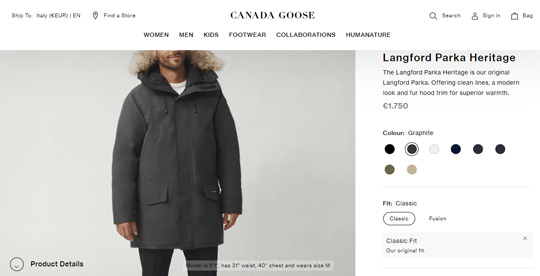 Canada Goose official website: Men's Langford Parka Heritage
Sam Tick founded the Canadian brand, Canada Goose, in 1957, working out of a small warehouse under the name Metro Sportswear Ltd. Initially, the company focused on manufacturing outdoor clothing such as raincoats, but in the 1970s, it shifted its focus to down-insulated outerwear, which quickly gained popularity.
As a result, Canada Goose began specializing in heavy-duty jackets, coats, and parkas, supplying outerwear to various organizations such as municipal workers, city police departments, and the Ministry of Correctional Services. The brand's popularity was further enhanced by celebrity and movie endorsements, which attracted those who valued both style and functionality.
Canada Goose expanded its reach internationally in 2010 and now offers a wide range of products, including jackets, vests, gloves, hats, coats, parkas, etc. It remains a highly renowned brand thanks to its functionality, durable designs, and various styles.
Read also: Jacket Brands like Canada Goose: 10 Alternatives for Winter
Materials, Fabrics, and Production Process
Canada Goose prides itself on its meticulous manufacturing process, which results in a superior finish. To maintain its high-quality standards, the brand employs a 13-step production process, carefully examining each product to ensure that clients receive the best possible quality.
Canada Goose utilizes top-quality materials such as nylon and polyester in its parkas and jackets, primarily for the shell and internal lining, guaranteeing their durability for many years of use. The majority of their winter coats use duck and goose down for insulation.
To ensure ethical sourcing, Canada Goose adheres to the Responsible Down Standard guidelines, which track the sourcing process and guarantee the ethical treatment of birds. In recent years, the company has also been replacing its Coyote fur with synthetic materials.
Striving For Excellence | Canada Goose
The video will be loaded from YouTube.com, a third party. If you play it, you accept their terms of service, and their use of cookies.
You might also like: Mackage vs Canada Goose: Which Brand is Better?
Recommended Products
Canada Goose Women's Expedition Parka Heritage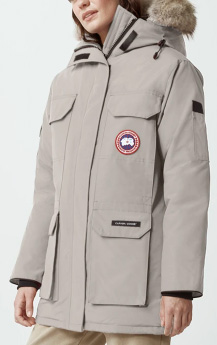 Image: canadagoose.com
The Expedition Parka Heritage for women is a timeless and original parka design that is perfect for cold climates and extreme weather conditions. It features a fur hood trim that adds to its appeal.
Initially created for scientists stationed at McMurdo Station, Antarctica, the parka has proven to be effective in harsh weather. It comes with a detachable fur ruff, a fleece-lined chin guard, and interior backpack straps for hands-free carrying.
The parka is filled with 625 Fill Power Responsibly Sourced Duck Down and is made from an iconic heritage textile called Arctic Tech®, which is a blend of 83% Polyester and 17% Cotton.
It is manufactured in Canada and has a mid-thigh length, an adjustable waist, a nylon elasticized snow skirt, a 2-way zipper with Velcro® closures, and 6 exterior pockets.
Canada Goose Men's Lawrence Puffer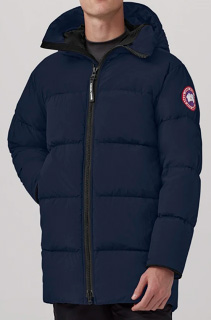 Image: canadagoose.com
The Canada Goose Men's Lawrence Puffer is a classic jacket that provides essential protection for everyday adventures. It is made with Recycled Enduraluxe, a water-repellent fabric with a durable soft finish.
The jacket features a quilted body and an adjustable hood. The two-way front zipper provides an added range of motion and venting. The hem is longer in the back for added protection and there is a reflective double-stripe grab strap on the back.
There are two exterior fleece-lined pockets and three interior pockets. The jacket is filled with 750 Fill Power Responsibly Sourced Duck Down and is made in Canada.
Prices
Canada Goose is a high-end brand with premium prices, particularly for its most protective parkas. The brand's winter jackets generally fall in the $1000 to $2000 range.
Are Canada Goose jackets worth the price?
In our opinion, Canada Goose jackets are worth the price if you live in a cold place due to their great quality, ability to withstand extremely low temperatures, and long-lasting durability.
Learn more: Why is Canada Goose so Expensive and Popular? Is It Worth It?
3. Which is Better? Pajar or Canada Goose?
Both Pajar and Canada Goose are well-known for their winter jackets, but they have some differences.
Canada Goose is a luxury brand that specializes in high-end, heavy-duty parkas and jackets for extreme cold. They are ideal if you live and work in areas with harsh winters and need a jacket that will provide exceptional warmth and protection.
Canada Goose is also popular among outdoor enthusiasts who enjoy activities such as mountaineering. For example, a mountaineer who is climbing a peak in the Himalayas would benefit from the warmth and durability of a Canada Goose jacket.
As for Pajar, it's a more affordable brand on average that offers winter jackets and parkas, puffers, and bomber jackets. They are suitable for customers who live in areas with milder winters and need a jacket that can provide warmth and comfort without being too heavy or bulky.
Pajar jackets are also popular among those who enjoy hiking, camping, and walking. For example, a hiker who is exploring a trail in the Rocky Mountains would benefit from the warmth and comfort of a jacket by Pajar.
In the end, Canada Goose is better if you need heavy-duty, high-performance jackets for extreme cold conditions. Pajar is a good choice if you prefer a more affordable jacket for milder temperatures.
Read next:
Canada Goose vs Kanuk Winter Jackets: A Comparison
Moose Knuckles vs Canada Goose Jackets: Which is Better?