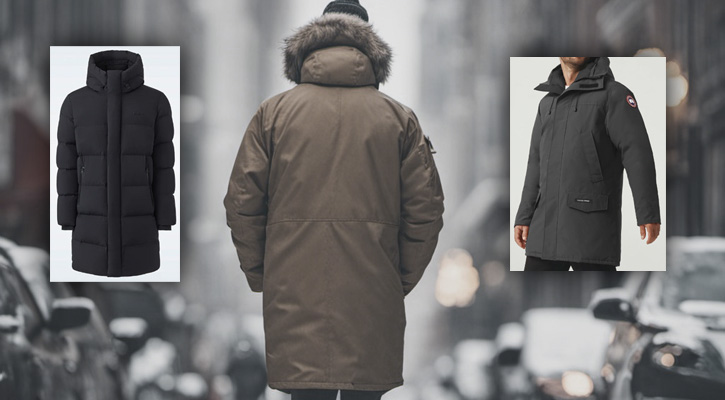 Are you ready to learn which brand is the best choice for your next winter jacket?
In this article, we'll be comparing two of the most popular Canadian brands when it comes to winter jackets and parkas: Mackage and Canada Goose.
While Canada Goose has a well-established reputation in the industry, Mackage is a newer brand that has been gaining popularity in recent years.
We'll take a closer look at each brand's history, style, and product offerings, and ultimately help you decide which brand is better suited for you.
So, whether you're looking for a new winter coat or simply curious about these two brands, read on as it'll be an interesting comparison!
Key Points:
Mackage is a newer brand known for its stylish jackets, while Canada Goose has had a good reputation for extreme weather protection since 1957.
Both brands use high-quality materials, including various types of fur, wool, down, and specialized fabric blends of nylon and polyester.
Mackage's winter parkas and jackets are priced between $700 and $1700, while Canada Goose's typically range between $1000 and $2000.
The choice depends on your priorities: Mackage, if you want a fashionable jacket with good protection, and Canada Goose if you need protection from extreme weather.
1. Mackage Jackets
History of the Brand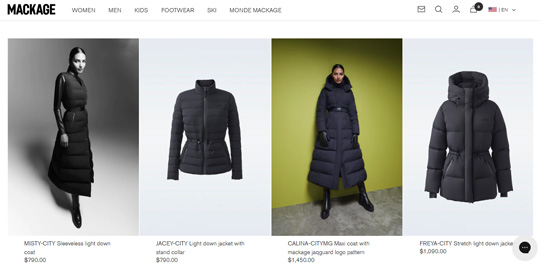 Mackage official website
Mackage was established in 1999 with the notion that outdoor clothing is not only a necessary part of dressing for the elements but also an essential component of fashion in one's wardrobe.
The brand's products are elegantly designed, showcasing intricate detailing and a blend of various fabrics and materials that distinguish them from typical outerwear brands.
Initially, Mackage focused on women's outerwear but expanded to include men's designs in 2008. Additionally, the brand launched a handbag collection in 2013. Mackage's popularity is due to its combination of high-quality products and contemporary, stylish designs.
Read also: 9 Brands like Mackage for Winter Jackets and Coats
Materials, Fabrics, and Production Process
Mackage's material selection is not restricted to standard nylon and polyester fabrics. Similar to Canada Goose, the brand incorporates various materials, including leather, wool, down, and fur trims.
The brand utilizes different types of fur, such as raccoon and fox fur, which are exceptionally soft. Wool is used for most jacket sleeve cuffs, while the shells and linings are weather-resistant and made of specialized fabrics and laminates.
The jackets are also down-proof to prevent shedding, and the duck down used consists of whole clusters with a minimum fill-power of 800 and a ratio of at least 90% down to 10% feathers.
Mackage also uses Nano Down, coated with Texcote™ Nano treatment, which enhances durability and loft, as well as making it fast-drying and more resistant to contaminants.
The down used by Mackage adheres to RDS standards and is 100% traceable and responsibly sourced. The brand's heavily insulated jackets can withstand temperatures as low as -31°F (-35°C), an impressive feat.
Don't miss: 10 Best Canadian Winter Jacket Brands: Our Favorites
Inspired by Unapologetic Confidence Mackage FW'21
The video will be loaded from YouTube.com, a third party. If you play it, you accept their terms of service, and their use of cookies.
Recommended Products
Mackage KINSLEE 2-in-1 Women's Parka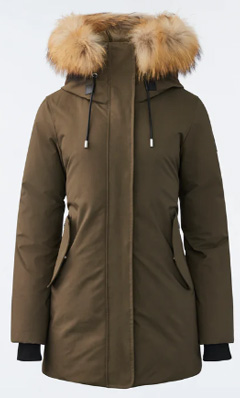 Image: mackage.com
The KINSLEE 2-in-1 Women's Parka is designed for deep winter and has a mid-length construction. It boasts recycled and traceable duck down with 800 fill power, which makes it ideal for temperatures as low as -20°C (-4°F).
The parka has a Nordic Tech weave for optimal warmth, side zip gussets for a versatile swing silhouette, and a detachable light down bib. The hood is adjustable with a storm visor and a detachable Finland raccoon fur trim.
It has a center front zip with a snap storm placket, hidden drawcord waist, and insulated zip waist pockets with flaps. The storm cuffs and signature M logo patch on the left sleeve add to its chic design. Its shell is made of 59% nylon and 41% polyester, and its lining is 100% nylon. The parka is water-repellent and water-resistant.
Mackage ANTOINE-CITY Men's Parka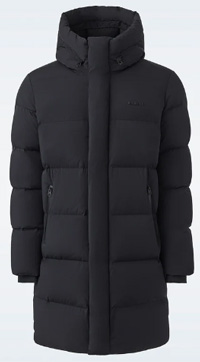 Image: mackage.com
The ANTOINE-CITY Men's Parka is a recycled-down parka specially designed for men. It is made of Agile-360 two-way stretch material to provide ease of movement and enhanced comfort.
The parka is engineered to provide warmth in extremely cold temperatures and is water-resistant and repellent, fully lined, and has a non-removable hood with an adjustable storm visor. The parka has 100% recycled traceable duck-down insulation with 800 fill power.
It can withstand temperatures as low as -25°C (-13°F). The parka has under-arm eyelets for ventilation, insulated pockets, and double-entry waist pockets.
Prices
In terms of pricing, Mackage is a luxury brand that falls into the high-end category in both quality and price range. Mackage's winter parkas and jackets are priced between $700 and $1700.
Are Mackage jackets worth the price?
The answer to this question depends on both the quality and style of the jacket. However, when taking into account performance, durability, and comfort, we think the price tag is justified.
Must read: 10 Best Expensive and Luxury Winter Jacket Brands
2. Canada Goose Jackets
History of the Brand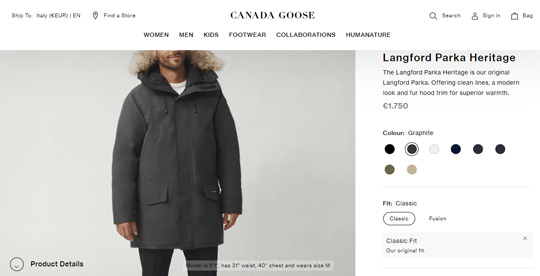 Canada Goose official website: Men's Langford Parka Heritage
The Canadian brand, Canada Goose, was founded in 1957 by Sam Tick in a small warehouse under the name Metro Sportswear Ltd. The company's initial focus was on producing outdoor clothing such as raincoats.
But in the 1970s, the brand shifted its focus to down-insulated outerwear, which quickly gained popularity. As a result, Canada Goose began to specialize in heavy-duty jackets and parkas, supplying outerwear to various organizations such as municipal workers, city police departments, and the Ministry of Correctional Services.
The brand's popularity was further boosted by celebrity and movie endorsements, attracting those who valued both fashion and functionality.
Canada Goose expanded internationally in 2010 and now offers a wide range of products, including jackets, vests, gloves, hats, coats, parkas, and more. Canada Goose remains a highly sought-after brand known for its functionality, long-lasting designs, and various styles.
Don't miss: Jacket Brands like Canada Goose: 10 Alternatives for Winter
Materials, Fabrics, and Production Process
Canada Goose's manufacturing process is meticulous, resulting in an excellent finish. To maintain its quality standards, the brand employs a 13-step production process, carefully examining all products to provide clients with the best possible quality.
Canada Goose uses top-quality materials such as nylon and polyester in its parkas and jackets, mainly for the shell and internal lining, ensuring their durability and longevity. The majority of their winter jackets use duck and goose down for insulation.
To ensure ethical sourcing, Canada Goose adheres to the Responsible Down Standard guidelines, which track the sourcing process and ensure the ethical treatment of the birds. In recent years, the brand has gradually been replacing its signature Coyote fur with synthetic materials.
Read also: Moose Knuckles vs Canada Goose Jackets: A Comparison
Our Commitment to Quality | Canada Goose
The video will be loaded from YouTube.com, a third party. If you play it, you accept their terms of service, and their use of cookies.
Recommended Products
Canada Goose Women's Expedition Parka Heritage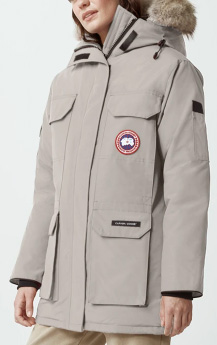 Image: canadagoose.com
The Expedition Parka Heritage for women is an original and timeless parka design that features a fur hood trim, making it ideal for cold climates and extreme weather conditions.
Originally designed for scientists stationed at McMurdo Station, Antarctica, the parka has proven to perform well in severe weather conditions. It comes equipped with a detachable fur ruff with a shaping wire, a high-pile fleece-lined chin guard, and interior backpack straps for hands-free carrying.
The parka is filled with 625 Fill Power Responsibly Sourced Duck Down and is made from an iconic heritage textile called Arctic Tech®, which is a blend of 83% Polyester and 17% Cotton.
It is manufactured in Canada and has a mid-thigh length, recessed rib-knit cuffs, an adjustable waist, and a nylon elasticized snow skirt. The parka features a 2-way zipper with Velcro® closures and storm flap, as well as 6 exterior pockets, including pockets on the sleeves.
Canada Goose Men's Langford Parka Heritage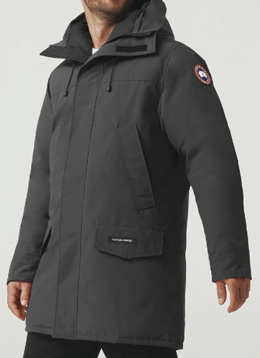 Image: canadagoose.com
The Langford Parka Heritage for men is a modern and stylish parka that is ideal for city life, offering excellent warmth and protection through its fur hood trim, storm flap, and 625-Fill-Power Duck Down filling. Its Arctic Tech® extreme conditions design ensures the parka's suitability for very cold weather.
It's produced in Canada and can be customized with interchangeable Hood Trim accessories. It features adjustable and detachable features, including the hood and fur ruff, as well as multiple pockets for convenience.
Prices
Canada Goose is a luxury brand that commands premium prices, especially for its most protective parkas. The brand's winter jackets typically range between $1000 and $2000 in price.
Are Canada Goose jackets worth the price?
Canada Goose jackets are renowned for their exceptional quality, ability to withstand very low temperatures, and long-lasting durability, making them a good investment in our opinion.
Learn more: Why is Canada Goose so Expensive and Popular? Are their Jackets Worth It?
3. Which is Better? Mackage or Canada Goose?
Both are high-quality brands that offer excellent winter jackets.
Canada Goose is known for its extreme weather performance, ideal if you live and work in areas with harsh winters and spend a lot of time outdoors. Canada Goose jackets are also popular among scientists and researchers who work in extreme conditions.
Mackage, on the other hand, is more famous for its stylish designs that are ideal for customers looking for fashionable winter coats that still provide warmth and protection.
So, in the end, if you live in areas with low temperatures that need a high level of insulation, Canada Goose is the best option, even though the brand is more recognizable on the streets and worn by many.
If you are looking for a winter jacket that performs well but primarily focuses on fashion, then Mackage jackets are some of the best on the market.
Read next: Canada Goose vs Kanuk Winter Jackets: A Comparison