Are you a fan of Passenger Clothing but looking for some alternatives? Today's article is just for you!
We've researched and compiled a list of 7 brands that offer similar high-quality outdoor clothing and gear.
From Patagonia, a well-known American brand that is at the forefront of the outdoor industry with its commitment to sustainability, to Finisterre, a British adventure-wear brand, to RAB which produces top-quality gear for mountaineering and climbing enthusiasts, this selection has all you'll need for your next adventure.
Among these 7 brands, you'll find the perfect alternative to Passenger Clothing!
Contents:
1. Patagonia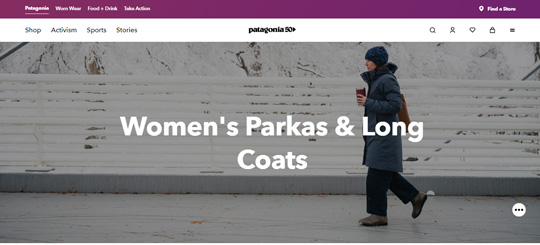 Patagonia women's parkas and coats: official website
Patagonia is a renowned American outdoor clothing brand that is recognized for its quality, durability, and commitment to sustainability. Established in 1973 by Yvon Chouinard, the company has been at the forefront of the outdoor industry, delivering top-notch products that are built to last.
Patagonia provides a diverse range of products, such as jackets, pants, shirts, hats, etc. The brand is well-known for its dedication to sustainability, using recycled materials in many of its products and contributing a portion of its earnings to environmental and social causes.
One of the key features of Patagonia is its unwavering commitment to ethical labor practices. The company has a strict code of conduct for its suppliers, ensuring that workers are treated justly and paid a livable wage.
Patagonia's products are designed to be functional and long-lasting, making them perfect for outdoor enthusiasts. The brand's jackets are particularly noteworthy for their quality and performance, with a variety of options available for various weather conditions.
The Torrentshell, Nano Puff, and Nano-Air are among the most popular jackets offered by Patagonia.
Don't miss:
9 Brands Like Patagonia for Sustainable Outdoor Clothing
Why Is Patagonia So Expensive and Popular? Are Its Jackets Worth It?
2. Finisterre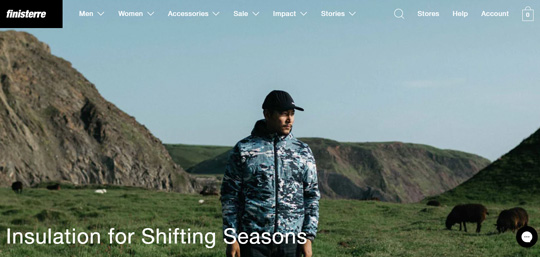 Finisterre official website
Since 2003, Finisterre has been a British adventure-wear brand that specializes in creating sustainable and long-lasting clothing for outdoor enthusiasts.
The company's primary objective is to utilize eco-friendly materials, including organic cotton and recycled polyester, and collaborate with suppliers who share their values of sustainability and ethical practices.
Finisterre's waterproof jackets are one of the main products of their collection. Recently, the brand introduced a line of waterproof jackets with a fluorocarbon-free (FC-Free) durable water repellent (DWR) finish, making the jackets both waterproof and environmentally friendly. Finisterre also offers a wide range of outdoor clothing, such as fleece jackets, base layers, and accessories.
Finisterre is not only committed to sustainability but also to community and education. The brand organizes events and workshops to educate people about sustainable living and outdoor activities. They also collaborate with organizations like Surfers Against Sewage to protect the environment.
Overall, for those seeking sustainable and long-lasting outdoor clothing, Finisterre is an excellent alternative to Passenger Clothing. With its dedication to eco-friendly materials and ethical practices, Finisterre is a brand that outdoor enthusiasts can confidently support.
Related: 8 British Jackets and Outdoor Clothing Brands that You'll Love
3. Montane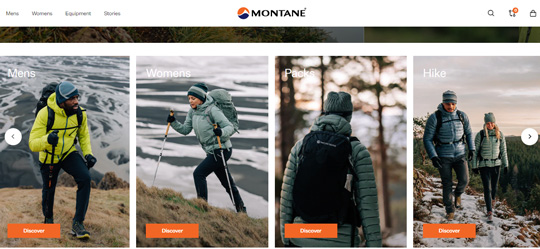 Montane official website
Montane is an English brand that was established in 1993 and specializes in high-quality outdoor clothing and equipment. The company is renowned for its technical expertise and innovative design, making it one of the top outdoor clothing brands worldwide.
Montane's products are built to be lightweight, durable, and capable of enduring bad weather conditions. The company offers a broad range of items, including jackets, pants, base layers, and accessories, all made from premium materials like PrimaLoft and Gore-Tex, providing excellent insulation and protection from the elements.
Moreover, Montane employs eco-friendly materials such as recycled polyester to minimize its environmental impact. The brand's gear is designed to be functional and versatile, suitable for a wide range of outdoor activities, including hiking, climbing, skiing, and camping.
Montane's products are also stylish, making them suitable for everyday wear in your city. Montane offers many affordable options, considering these products utilize the latest technologies. All in all, Montane is an excellent brand that offers high-quality outdoor clothing and equipment.
Read also: 11 European Brands for Outdoor Enthusiasts: Our Top Picks
4. Cotopaxi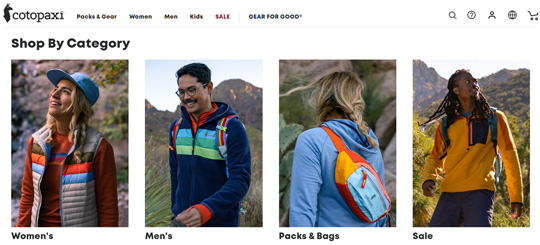 Cotopaxi official website
Cotopaxi is an outdoor gear and apparel brand based in Salt Lake City, Utah, USA, that was established in 2014. The brand derives its name from the Cotopaxi volcano in Ecuador and has a strong focus on producing high-quality outdoor gear while also supporting the community.
Cotopaxi has earned certification as a B Corporation, indicating that it adheres to stringent criteria for social and environmental performance, transparency, and accountability.
The brand prioritizes sustainability in its product development, utilizing recycled materials whenever feasible and collaborating with global organizations to promote humanitarian and environmental initiatives.
Cotopaxi's product line encompasses backpacks, jackets, pants, and other outdoor gear. The Teca Fleece, crafted from 100% recycled fleece and repurposed water-resistant polyester taffeta, is one of the brand's most popular offerings. It is available in multiple colors and is ideal for layering in chilly conditions.
In addition to its sustainability efforts, Cotopaxi is recognized for its one-of-a-kind and vivid designs. The brand's products feature bold patterns and bright hues that are sure to make a statement on any mountain trail.
Read next: 8 French Jackets and Outdoor Clothing Brands: Our Favorites
5. RAB

RAB official website
The UK-based RAB is a well-known manufacturer of outdoor clothing and equipment, with a focus on producing top-quality gear for mountaineering and climbing enthusiasts. Since the 1980s, the brand has gained a reputation for using high-quality materials and innovative designs.
RAB offers a wide range of products, including jackets, pants, gloves, and base layers, all designed to be lightweight, durable, and comfortable. These products are perfect for outdoor enthusiasts who demand the best from their gear.
The Microlight Alpine jacket is one of RAB's most popular products, with its lightweight and compressible down material providing exceptional warmth and protection in cold weather. The jacket's slim-fit design is both stylish and practical, and it's made from premium materials. RAB also produces high-quality sleeping bags.
In addition to making high-performance gear, RAB is committed to ethical manufacturing practices and sustainability. The brand uses recycled materials in many of its products and collaborates with suppliers who share the same values.
For those who love the outdoors, RAB is a brand that will impress you with its innovative designs and commitment to quality.
Don't miss: Rab vs Patagonia Outdoor Equipment: A Comparison
6. Columbia Sportswear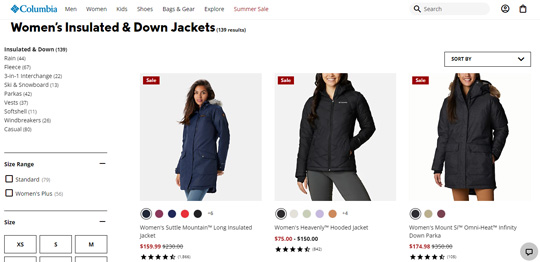 Columbia Sportswear women's insulated down jackets: official website
The American outdoor brand, Columbia Sportswear (also known as Columbia), was established in 1938 by a family that fled Germany. They provide a diverse range of outdoor clothing and equipment, including jackets, pants, shirts, and shoes.
Columbia is renowned for its superior quality products that are designed to endure the elements, as well as for offering you quality at affordable rates.
Columbia's similarity to Passenger Clothing comes from the fact that both offer comparable products at comparable prices. Also, both companies provide a broad range of outdoor gear that is crafted to keep you warm, dry, and comfortable in any weather, and they offer various sizes and styles to cater to any body type.
One of the other factors that distinguishes Columbia Sportswear is its commitment to sustainability. They utilize recycled materials in many of their products and are consistently working towards reducing their environmental impact.
Related: 10 Brands like Columbia Sportswear: Our Top Alternatives
7. Mountain Warehouse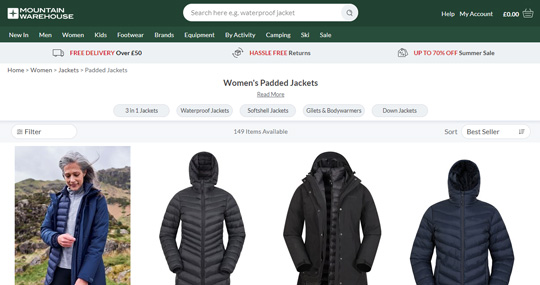 Mountain Warehouse women's padded jackets: official website
Since its establishment in 1997, Mountain Warehouse has been a reputable brand that produces functional gear, sportswear, and footwear.
The company has expanded its product line to include a variety of equipment and clothing for outdoor activities such as hiking, running, skiing, camping, cycling, and fitness.
With over 300 stores in North America, Europe, the UK, and New Zealand, Mountain Warehouse offers a vast range of jackets, tops, pants, shoes, and accessories at affordable prices, setting them apart from their competitors.
Read also: 9 Swedish Outdoor Clothing and Jackets Brands: Our Favorites