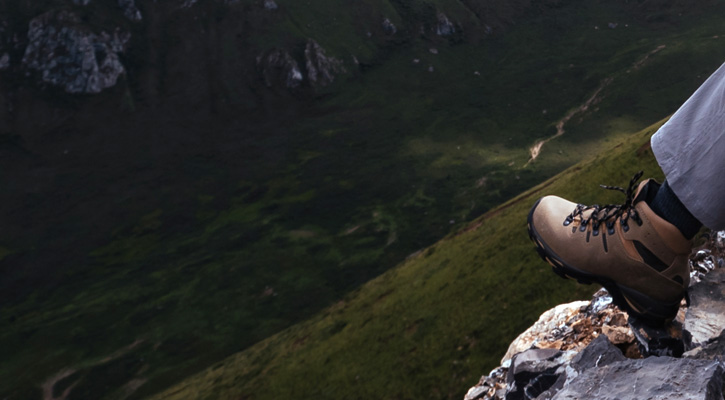 Having the right footwear is essential for any outdoor activity you're planning to do. Luckily, nowadays there are many shoes and boot brands in the market where you can shop for your next pair.
In this article, we'll move to Scandinavia and explore 8 of the best boot brands from these countries.
From Bergans of Norway which has been producing outdoor gear since 1908, to Haglöfs which offers comfortable and waterproof shoes, to Stutterheim which specializes in rain boots, you'll find your stylish and functional pair and be ready for any outdoor adventure.
Let's begin!
Contents:
1. Bergans of Norway

Bergans of Norway official website
Bergans of Norway, also known as Bergans, is a Norwegian brand that specializes in outdoor equipment and technical apparel for skiing, expeditions, and other outdoor activities.
The brand has a long history, having been founded in 1908 as a producer of backpacks. Today, Bergans offers a wide range of gear and equipment for various outdoor activities.
One of Bergans' popular footwear designs is the Krosshø Lady Trekking Boot, which is a lightweight boot that weighs only 460 grams. The boot features a high-quality water-repellent and breathable leather outer material, while its inner part is made of polyester fleece laminated with Dermizax®NX membrane.
The boot also uses Bergans' patented sole, which is made of a special rubber compound with adhesive for excellent grip on rugged terrain and wet surfaces.
The inner sole of the boot is made of an antibacterial and moisture-absorbing material, which can be removed for easy cleaning. The boot is available in different colors and is sold for approximately $200.
Don't miss: 6 Norwegian Boots and Shoes Brands: Our Top Picks
2. Haglöfs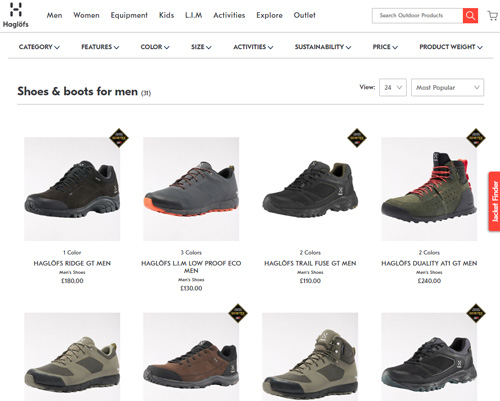 Haglöfs official website
In 1914, a carpenter named Wiktor Haglöf established the Haglöfs Swedish brand with the aim of enhancing people's lives by offering them equipment that could help them withstand the elements. The brand's footwear is a testament to this vision.
The Haglöfs Skuta Mid Proof Eco for men is a sturdy shoe suitable for modern trekking. The shoe has been designed to provide hikers with a comfortable experience by ensuring a wide forefoot fit and a waterproof membrane to keep them dry. The shoe is available in various colors and is priced at approximately $160 per pair.
Related: 8 Swedish Footwear Brands that You'll Love
3. Vagabond Shoemakers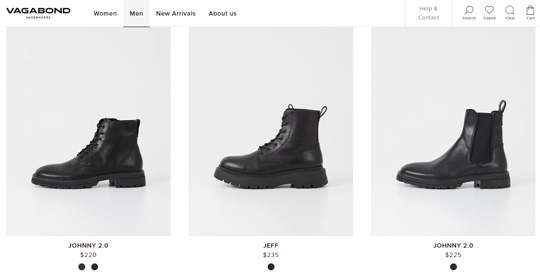 Vagabond Shoemakers official website
In 1973, the Swedish shoe brand Vagabond was established, but it was not until two decades later that they began producing footwear, ultimately evolving into the well-known brand we recognize today.
The company's objective was to create a fashion brand that would distribute quality shoes worldwide. Vagabond's headquarters and fully functional prototype production workshop and design studio are located in Varberg, Sweden, where all of the enchantment occurs.
Vagabond shoes can now be found in shops all across Europe, including their Johnny boot collection, which is one of their most well-known designs. These boots are designed for urban use during the cold season and are characterized by a heavy outsole, a casual yet timeless design, and a warm lining.
For example, their Johnny black leather boots feature a shaft that is set on rubber soles and is situated a bit higher to provide a metropolitan feel. The Johnny black leather boots are typically priced at about $200.
Read also: 8 European Hiking Boots and Shoes Brands: Our Top Picks
4. Helly Hansen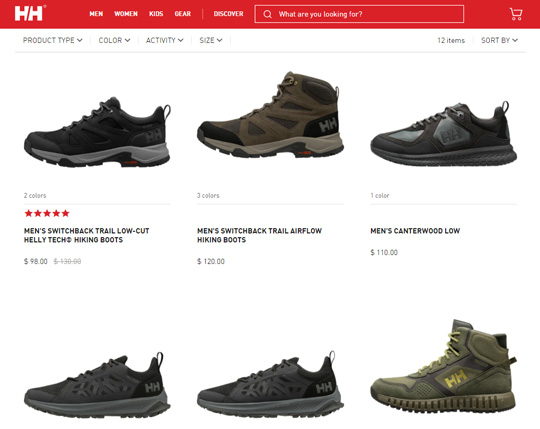 Helly Hansen official website
Helly Hansen was established with the aim of safeguarding sailors from the harsh Nordic climate, a shared goal of Captain Helly Juell Hansen and his spouse.
The company was founded in 1877 and has since become a globally recognized brand. Helly Hansen provides a wide range of outdoor equipment, including jackets, backpacks, and footwear.
The company's primary focus is to shield its customers from challenging weather conditions, which is why it prioritizes durability and practicality. However, they also offer comfort and sophistication.
An excellent example from their collection is the women's GARIBALDI VL boots, which strike a perfect balance between style and functionality. The boots are waterproof, lightweight, and feature warm faux fur lining that adds a touch of elegance.
Read next: 7 German Hiking and Winter Boot Brands: Our Favorites
5. Tretorn

Tretorn official website
Since 1891, Tretorn has been producing rubber shoes in Helsingborg. While rubber boots are their specialty, they also manufacture winter boots and sneakers.
Tretorn has a line of hybrid boots that are both water-resistant and suitable for everyday activities. The company is committed to sustainability and uses recycled materials to reduce waste.
Their products are designed with an aesthetic that highlights the beauty of city life, striking a balance between urban style and eco-friendly clothing. In addition, Tretorn's shoes are affordably priced.
Don't miss: 10 Italian Hiking Boot Brands: Our Favorites
6. Stutterheim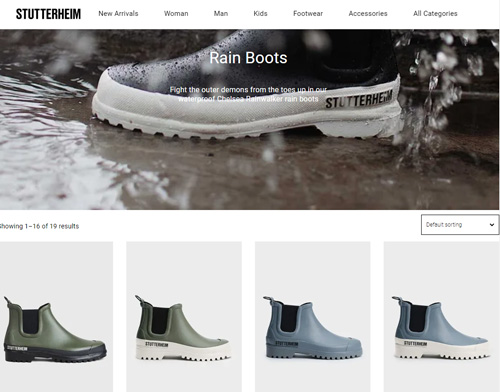 Stutterheim official website
In 2011, Alexander Stutterheim founded the Stutterheim brand in Stockholm, with a focus on the efficacy of proper clothing in the particular weather conditions of Sweden, particularly in rain.
The brand is dedicated to offering a range of rain boots and water-resistant sneakers to combat rainy weather. Stutterheim uses 100% natural rubber for the soles of their boots and sneakers, and organic cotton for their sneakers.
Their shoes are environmentally friendly and ideal for rainy days. The prices are reasonable, considering the quality they offer.
Related: 8 Finnish Shoes and Boots Brands that You'll Love
7. Didriksons

Didriksons official website
In 1913, Julius and Hanna Didrikson founded Didriksons in Grundsund. Their initial sales were raincoats to the local fishermen.
The Didriksons' mission was to encourage people to enjoy rainy weather as much as they did, which is why their products focus on safety and comfort in the rain. Their rain boots are 100% natural rubber, making them waterproof.
The company prioritizes sustainability and continues to work on sustainable projects. Didriksons' footwear is reasonably priced, with most boots priced under $120.
Read also: 5 Best French Hiking Boots and Shoe Brands
8. Ilse Jacobsen

Ilse Jacobsen official website
Ilse Jacobsen, a Danish brand, skillfully blends style and utility in all its offerings. Though relatively new, having been founded in 1993, it stands out among other footwear brands with its unique products.
A perfect example is the Black Ankle boots, which are timeless, chic, and functional in cold weather. Made of microfiber, the boots feature a faux fur flap for added warmth and comfort. The upper section is treated with a water-resistant coating, while the inner lining is soft to keep your feet cozy.
Read next: 7 Danish Outdoor Clothing and Jacket Brands: Our Favorites