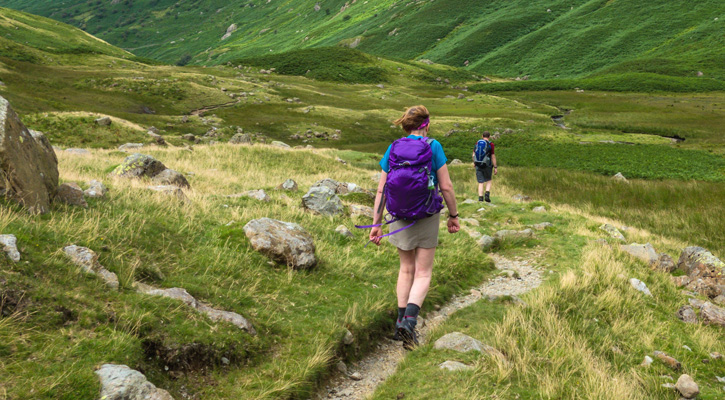 If you're looking for high-quality jackets and outdoor clothing brands, the UK has a lot to offer. From sustainable and eco-friendly brands like Finisterre and Montane to established brands like Berghaus and RAB, there's something for everyone.
Passenger Clothing that caters to those who love to travel and explore, Mountain Warehouse with its very reasonable prices, and Trespass which is a popular brand for outdoor enthusiasts and skiers, are some other brands that we'll explore today.
Whether you're looking for functional gear, stylish casual clothing, or sustainable products, we're sure among these 8 British outdoor clothing brands you'll find what you need for your next adventure!
Contents:
1. Passenger Clothing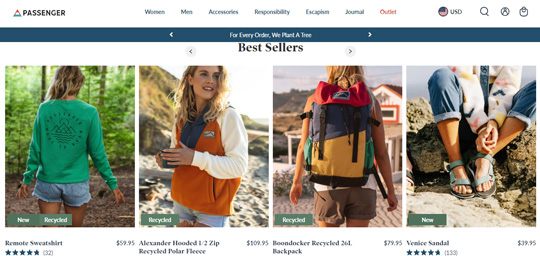 Passenger Clothing official website
Passenger Clothing is a UK-based company that specializes in designing clothing for individuals who enjoy spending time outdoors, whether it is at the beach, in the woods, or just taking a stroll in town.
Established in 2013 in New Forest, Passenger Clothing caters to those who love to travel and explore. The brand is dedicated to producing high-quality clothing that not only looks good but also feels comfortable.
Also, Passenger Clothing is committed to nature and has pledged to plant one tree for every order received, making it an environmentally conscious brand that you can feel good about supporting.
Don't miss:
11 European Brands for Outdoor Enthusiasts: Our Top Picks
7 Brands like Passenger Clothing: The Best Alternatives
2. Finisterre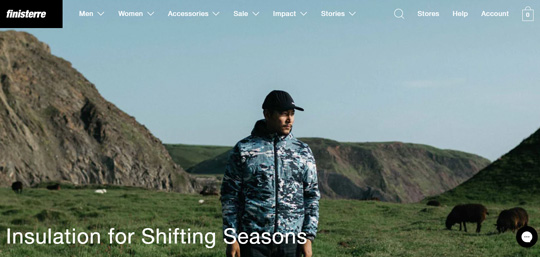 Finisterre official website
Since 2003, Finisterre has been an adventure-wear brand that aims to create sustainable and long-lasting clothing for outdoor enthusiasts.
The company is dedicated to using environmentally friendly materials, including organic cotton and recycled polyester, and collaborates with suppliers who share their values of ethical and sustainable practices.
Finisterre's waterproof jackets are a popular product, and the brand has recently introduced a line of jackets with an FC-Free DWR finish, making them both waterproof and eco-friendly. In addition to waterproof jackets, Finisterre offers a variety of other outdoor clothing, such as base layers, fleece jackets, and accessories.
Finisterre is also committed to community and education, hosting events and workshops to teach people about sustainable living and outdoor activities, as well as partnering with organizations such as Surfers Against Sewage to help protect the environment.
Related:
8 Brands like Finisterre: Best Alternatives for Outdoor Wear
8 French Jackets and Outdoor Clothing Brands: Our Favorites
3. Montane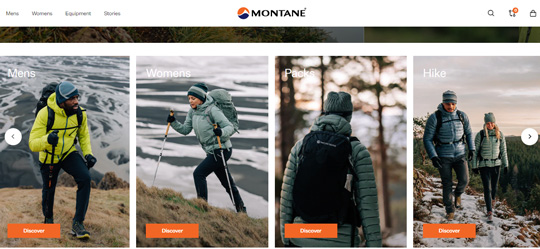 Montane official website
Montane is an English brand that was established in 1993 and specializes in manufacturing high-quality outdoor clothing and equipment.
The company is well-known for its technical expertise and innovative designs, which have earned it a reputation as one of the leading outdoor clothing brands globally. Montane's products are crafted to be lightweight, durable, and capable of enduring bad weather.
The company offers a broad range of products, including jackets, base layers, pants, and accessories. They are made from premium materials such as Gore-Tex and PrimaLoft, which provide exceptional insulation and protection from the elements. Also, Montane employs eco-friendly materials, such as recycled polyester, to minimize its environmental impact.
Montane's gear is designed to be functional and versatile, suitable for various outdoor activities such as hiking, climbing, skiing, and backpacking. The brand's products are also stylish and appropriate for everyday wear in urban areas.
Montane offers a wide range of prices, making its products accessible to many people, considering the latest technologies used. All in all, Montane is an excellent brand for anyone looking for high-quality outdoor clothing and equipment.
Read also: 9 Italian Clothing and Jacket Brands for Outdoor Activities
4. RAB

RAB official website
RAB is a renowned outdoor clothing and equipment manufacturer based in the UK, specializing in top-quality gear for outdoor activities like mountaineering and climbing. The brand has been in existence since the 1980s and is famous for its use of high-quality materials and innovative designs.
RAB offers a comprehensive range of products, including pants, jackets, base layers, hats, gloves, etc. Their products are designed to be lightweight, durable, and comfortable, making them perfect for outdoor enthusiasts who demand the best from their gear.
One of RAB's best-selling products is the Microlight Alpine jacket, which is a lightweight and compressible down jacket that provides exceptional warmth and protection in bad weather. The jacket is made from top-quality materials and features a slim-fit design that is both practical and stylish. RAB is also known for its top-quality sleeping bags.
Apart from its high-performance gear, RAB is committed to ethical manufacturing practices and sustainability. The brand uses recycled materials in many of its products and partners with suppliers who think the same way.
With its innovative designs and commitment to quality, RAB is a brand that will impress you if you love the outdoors.
Read next: Rab vs Patagonia Outdoor Equipment: A Comparison
5. Berghaus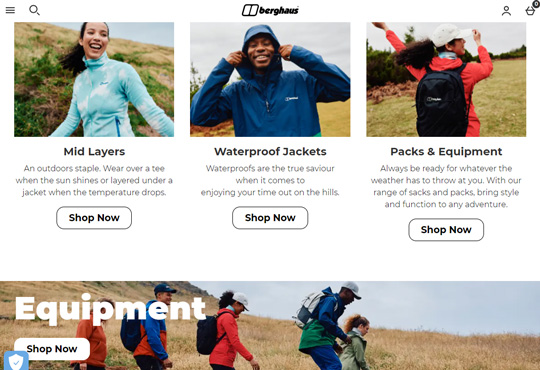 Berghaus official website
In 1966, Berghaus was founded by Peter Lockey and Gordon Davison. Berghaus is a German term meaning "mountain house". The small shop located in Newcastle, UK, specialized in selling high-quality outdoor gear.
The company began creating its own products in 1971, which included the revolutionary Berghaus rucksack and Cyclops rucksack, the first backpack with an internal frame. Berghaus also introduced lightweight, comfortable, warm, and breathable garments utilizing Gore-Tex technology. The Nitro rucksack was awarded the Millennium Product Award.
Berghaus is known for its innovative products and support for young athletes. The products are versatile, stylish, durable, lightweight, and comfortable. The prices are reasonable.
Don't miss: The North Face vs Berghaus Outdoor Equipment: A Comparison
6. Mountain Warehouse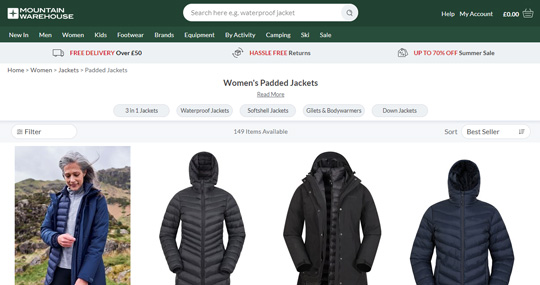 Mountain Warehouse women's padded jackets: official website
Mountain Warehouse is a well-known brand that has been producing functional gear, footwear, and sportswear since its establishment in 1997.
The company now offers a wide range of hiking, skiing, running, cycling, camping, and fitness equipment and clothing, and has over 300 stores across North America, Europe, New Zealand, and the UK.
Their product range includes various designs of jackets, tops, trousers, footwear, and accessories, all of which are available at very accessible prices, making them stand out from their competitors.
Related: 9 German Jackets and Outdoor Clothing Brands that You'll Love
7. Trespass

Trespass official website
Trespass, a popular brand for outdoor enthusiasts and skiers, was established in Glasgow, Scotland in 1984.
Their extensive product line includes apparel, jackets, footwear, equipment, and accessories for men, women, and kids. While they specialize in ski clothing and waterproof jackets, their other offerings are also noteworthy.
Read also: 7 Swiss Jacket and Outdoor Clothing Brands: Our Favorites
8. Lonsdale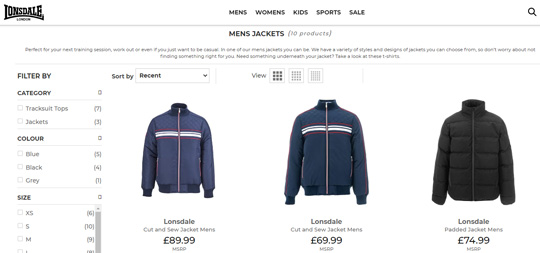 Lonsdale official website
Lonsdale is a brand based in London that has been in existence for six decades since its establishment in 1960. Unlike other selected brands, Lonsdale offers a range of sportswear, including mixed martial arts and boxing clothes.
The brand was created by Bernard Hart, a professional boxer, and has been worn by renowned fighters such as Muhammad Ali, Henry Cooper, and David Price.
Lonsdale's products are organized in categories related to sports such as Boxing and MMA or Footwear, as well as Sportswear, which includes casual and general outdoor wear.
The brand's website offers a variety of products, including hoodies, jackets, pants, and accessories suitable for different activities.
Read next: 13 Best Scandinavian Jacket and Clothing Brands You Should Try