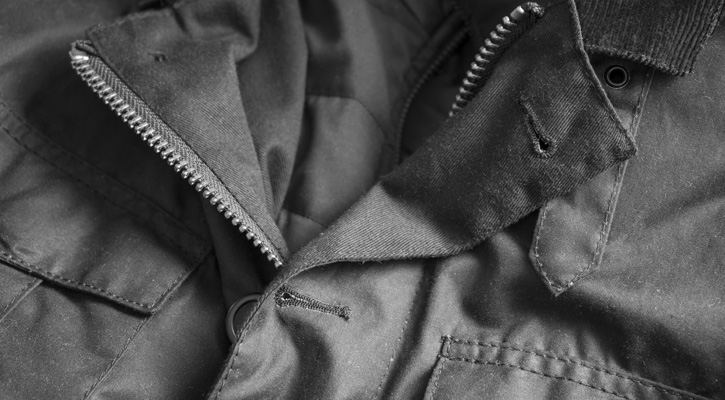 If you're looking for heritage outdoor jackets similar to Barbour, today's article is for you!
We've compiled a list of 12 brands that offer high-quality, durable, and stylish outerwear just like that of the British company, Barbour.
These brands have been around for decades, some even over a century, and have established themselves as leaders in the outdoor clothing industry.
From waterproof and breathable materials to sustainable collections, they offer a wide range of options for any occasion.
Be it a jacket for outdoor activities with friends, or a coat for everyday wear in your city, these brands have all you need!
So, let's get started!
Contents:
1. Belstaff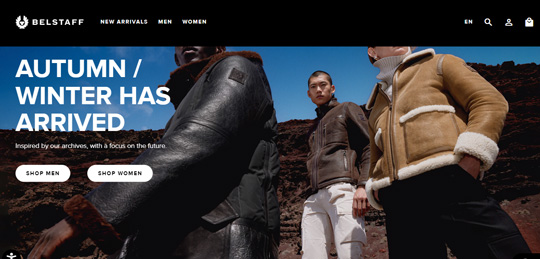 Belstaff official website
Belstaff, a fashion-forward outerwear brand, has been in business for almost a century since its establishment in the UK in 1924 by Eli Belovitch and his son-in-law.
From the outset, they focused on creating waterproof yet breathable materials, which led to their pioneering use of waxed cotton. They also incorporate a variety of cotton and wool blends into their products, which include jackets, gloves, and goggles.
Belstaff offers a wide range of luxury outerwear pieces for any occasion. Recently, the brand introduced a sustainable collection called Travelogue, which allows consumers to look stylish while being environmentally conscious.
Don't miss: 8 British Jackets and Outdoor Clothing Brands that You'll Love
2. Orvis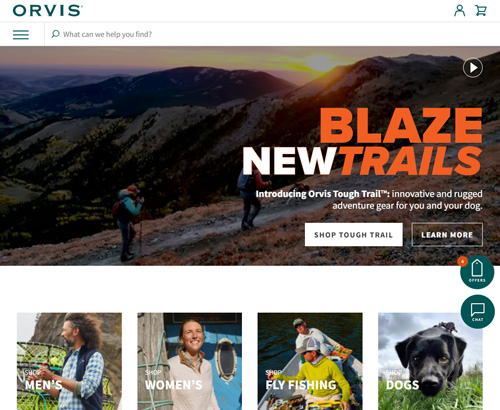 Orvis official website
Orvis is a brand similar to Barbour that offers clothing and accessories for outdoor activities and everyday wear. The company was founded in Manchester, Vermont in 1856 by Charles F. Orvis and initially produced fishing equipment.
Over time, it expanded its production to include outdoor equipment and a product line dedicated to dogs. Orvis is committed to supporting nature conservation and animal welfare, with a portion of its profits going towards these causes.
The brand's jackets are designed to be durable, lightweight, practical, and comfortable for outdoor adventures.
Related: 10 Brands like Orvis: Top Alternatives for Outdoor Adventures
3. Carhartt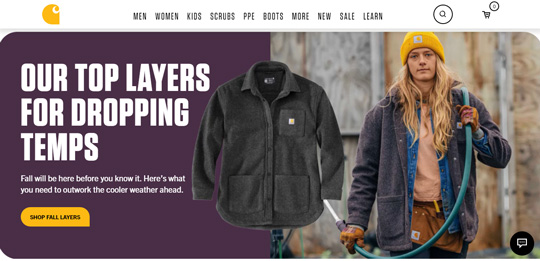 Carhartt official website
Carhartt was established in 1889 by Hamilton Carhartt in Michigan, United States, and has been family-owned since then.
The brand is known for producing a wide range of clothing, accessories, and footwear that are renowned for their durability and resilience. The company's owners have consistently strived to create unique and innovative designs to captivate customers and cater to their varied preferences.
Carhartt is also recognized for its use of high-quality materials in its products. Initially, the company produced clothing made of denim and duck canvas. Over time, it expanded its production to include other materials that ensure maximum comfort for its customers.
The jackets come with multiple pockets that enhance practicality, and the designs cater to various work sectors and activities in the outdoors.
Read also: 11 Brands like Carhartt for Work and Outdoor Activities
4. Filson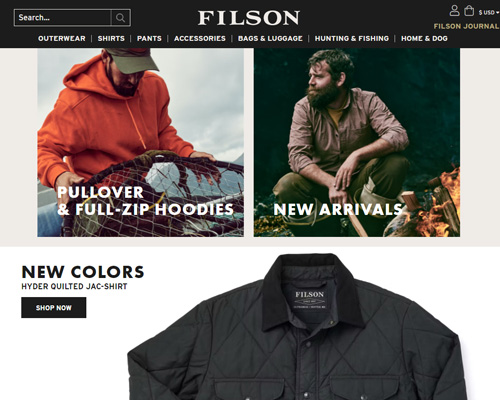 Filson official website
Filson, a Seattle-based company, was founded in 1897 by C. C. Filson, who founded "C. C. Filson's Pioneer Alaska Clothing and Blanket Manufacturers."
Today it produces clothing, shoes, and many accessories for men and women, with a dedication to outdoor activities. Their products are known for their high level of comfort, durability, and water resistance, with many items designed to protect against extreme cold.
Read next: 10 Brands like Filson: Our Best Alternatives
5. Fjällräven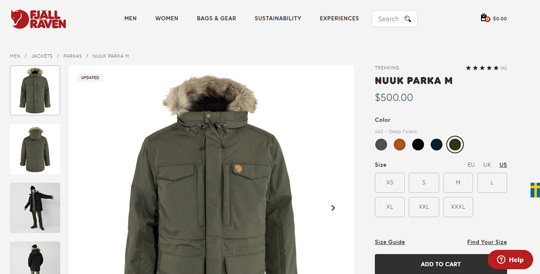 Fjällräven official website: Men's Nuuk Parka
The Swedish brand Fjällräven specializes in producing outdoor clothing and accessories, with a primary focus on making nature accessible to everyone.
The company was established by Åke Nordin in 1960, who was inspired to create a backpack that was both practical and spacious enough to accommodate his equipment. One of the brand's notable products is the Greenland Jacket, which boasts a timeless and minimalist design.
Don't miss:
Why is Fjällräven so Expensive? Are Its Products Worth It?
Is Fjällräven Ethical and Sustainable?
6. L.L. Bean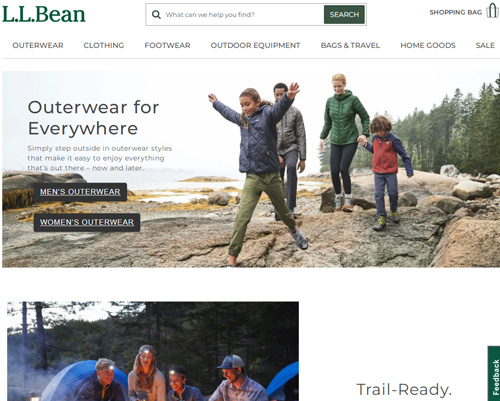 L.L. Bean official website
L.L. Bean, established in 1912 by Leon Leonwood Bean, specializes in manufacturing outdoor gear and clothing.
The founder's vision was to create a brand that not only prioritized the use of superior quality materials but also made products with unique features that set them apart from other brands in the market.
The brand places great emphasis on safety and offers a wide range of models to choose from. Their jackets are known for durability, comfort, and style, making them ideal for outdoor expeditions.
Related: 9 Quality Brands like L.L. Bean: Our Top Picks
7. Lands' End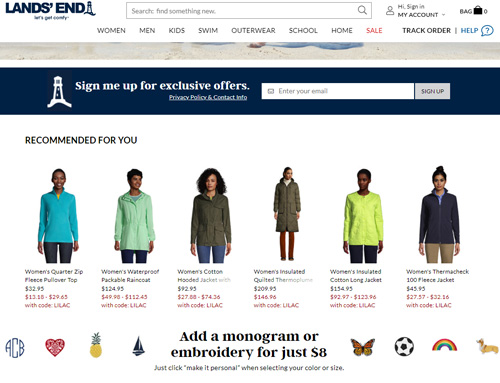 Lands' End official website
Lands' End is a popular clothing brand that caters to women, men, and children, with a focus on versatility and simplicity. The company was established in Chicago by Gary Comer in 1963 and initially specialized in selling sailboat equipment.
Over time, the brand's production evolved to include a range of clothes and accessories.
Originally, the company was named "Land's End," but due to financial constraints, the name was not corrected in the first catalog, resulting in the current spelling of "Lands' End." Today, the brand has gained international recognition and offers a wide variety of clothing options to its customers.
Read also:
9 Brands like Lands' End: Our Favorite Alternatives
Lands' End vs L.L. Bean Outdoor Gear: A Comparison
8. Rogue Territory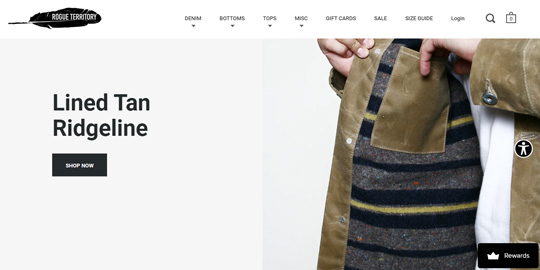 Rogue Territory official website
Rogue Territory is a unique clothing brand that stands out due to its combination of classic and modern design elements. The brand's clothing is crafted using only high-quality materials and is perfect for those who appreciate attention to detail and desire refined and polished attire.
The company was born in 2008 in Los Angeles and is identified by its black feather logo. This emblem is believed to represent the brand's focus on creating clothing that is both elegant and comfortable, while also being practical.
Read next: 12 Best American Jackets and Outdoor Clothing Brands
9. Dubarry of Ireland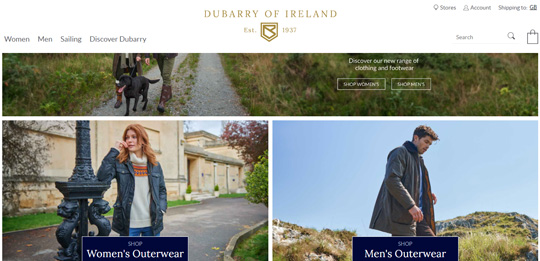 Dubarry of Ireland official website
Dubarry of Ireland was born in 1937 and specializes in offering clothing for both men and women. The brand has a specific category dedicated to the sailing sector.
The company's ethos is centered around combining Irish attributes with those of European traditions. The brand name is derived from the name of Louis XV's mistress, Madame du Barry, to create "Dubarry of Ireland."
Initially, the company gained recognition for its exceptional leather craftsmanship, which contributed to its growing reputation. The brand's jackets are known for their durability and elegance, providing high protection from cold weather, rain, and wind while still being stylish.
Don't miss: 11 European Brands for Outdoor Enthusiasts: Our Top Picks
10. Brooks Brothers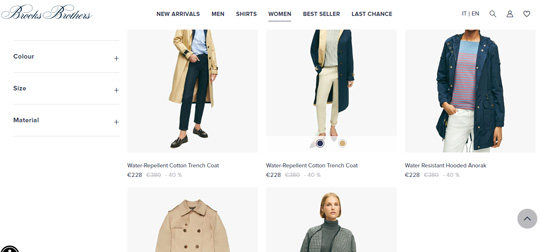 Brooks Brothers official website
Brooks Brothers was born in 1818 in Manhattan. The company specializes in producing clothing for men, women, and children, as well as home furnishings.
Its primary focus is on elegance, but its products are also designed with simplicity in mind. Customers highly value the jackets for their exceptional durability and comfort.
11. Boden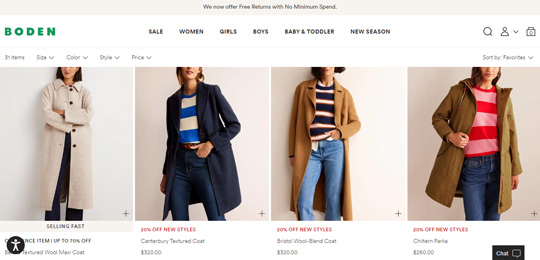 Boden official website
Boden is a renowned British clothing brand that was established in 1991.
Initially, it solely focused on producing men's clothing. However, with time, the brand has diversified its production, and now it offers clothing categories for women and children.
Johnnie Boden, the founder, was inspired by his wife Sophie to pursue this significant dream. The brand's clothing items are well-known for their comfort, elegance, vibrant colors, and versatility. The jackets are not only warm but also durable.
12. Regatta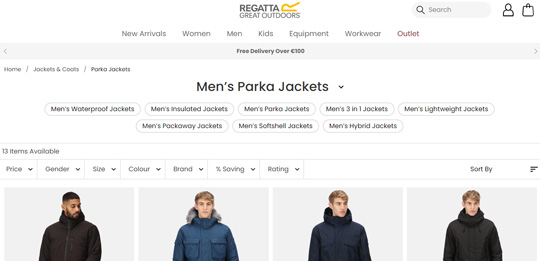 Regatta official website: Men's Parka Jackets
Regatta was established in 1981 in Manchester, England with just a dozen staff members. Over time, the company has expanded to trade with multiple countries across Europe, boasting a workforce of hundreds.
Regatta specializes in creating clothing for outdoor activities, incorporating stylish features for both adventure and sport. The brand's mission is to provide affordable products for all consumers.
Their jackets are designed to withstand various weather conditions and can be worn in a variety of settings.