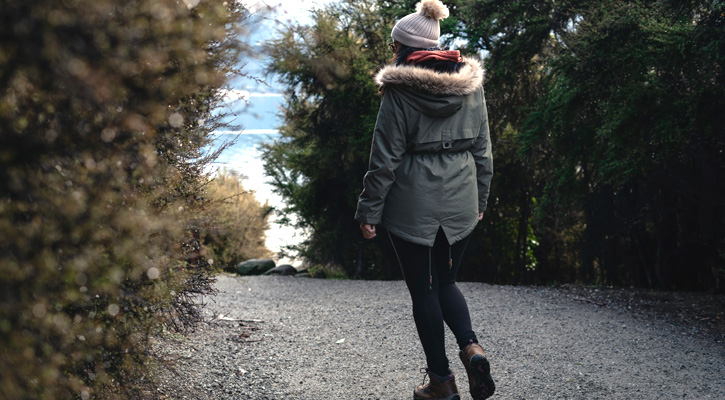 The United States is the birthplace of many outdoor clothing and gear companies that today have become very popular all over the world and are regarded as leaders in the outdoor market.
In this article, we have researched and selected 12 American outdoor clothing brands that we believe are the best for their quality, range of products, and sustainability.
Some of these names include The North Face, Cotopaxi, Eddie Bauer, Kühl, Filson, and many more.
Whether you are an expert mountaineer or simply someone who enjoys spending your free time outdoors, we're sure in this selection you'll find all you need for your next adventure out in nature.
Let's get started!
Contents:
1. Patagonia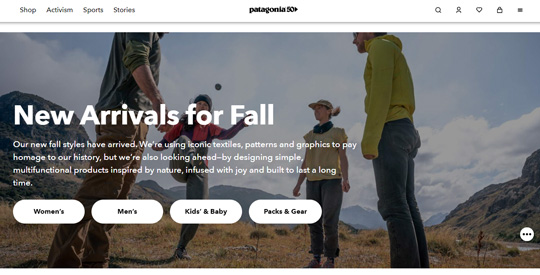 Patagonia official website
The famous rock climber Yvon Chouinard founded the California-based outdoor brand Patagonia in 1973.
The company is recognized for its environmentally sustainable and minimalist designs, offering a product range that includes jackets, pants, backpacks, hoodies, and T-shirts for men, women, and kids. Patagonia uses technical waterproof and breathable fabrics such as H2No and Gore-Tex to create their products.
While their products are generally pricey, they are highly regarded for their high performance by many of their customers. The Nano Puff jacket, a lightweight and packable synthetic insulated jacket made with recycled materials, and the Torrentshell jacket are among Patagonia's popular products.
Don't miss:
Why Is Patagonia So Expensive and Popular? Are Its Jackets Worth It?
9 Brands Like Patagonia for Sustainable Outdoor Clothing
2. Cotopaxi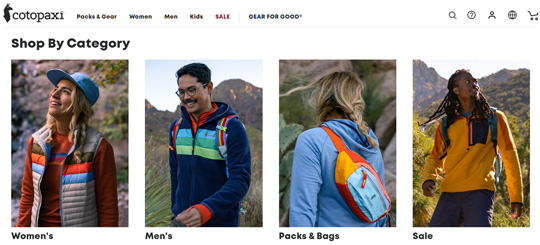 Cotopaxi official website
Cotopaxi is a famous producer of outdoor gear and clothing that was founded in Salt Lake City, Utah, USA, in 2014. The brand takes its name from Ecuador's Cotopaxi volcano and has a strong focus on creating high-quality outdoor gear while also supporting the community.
Cotopaxi has earned B Corporation certification, which certifies that it adheres to strict standards for social and environmental performance, transparency, and accountability.
The brand gives significant importance to sustainability in its product development, utilizing recycled materials whenever possible and collaborating with global organizations to promote humanitarian and environmental initiatives.
Cotopaxi's product line includes jackets, backpacks, pants, fleece jackets, and other outdoor gear. The Teca Fleece for example, which is made from 100% recycled fleece and repurposed water-resistant polyester taffeta, is one of this brand's most popular products. It is available in a variety of colors and is perfect for layering in cold weather.
Aside from its sustainability efforts, Cotopaxi is recognized for its unique and vivid designs. The brand's products showcase striking patterns and bright colors that are sure to make a statement on any mountain trail.
Cotopaxi | Women's Fuego Down Hooded Jacket | Spring 22
The video will be loaded from YouTube.com, a third party. If you play it, you accept their terms of service, and their use of cookies.
Related:
10 Brands like Cotopaxi for Sustainable Outdoor Clothing
11 European Brands for Outdoor Enthusiasts: Our Top Picks
3. The North Face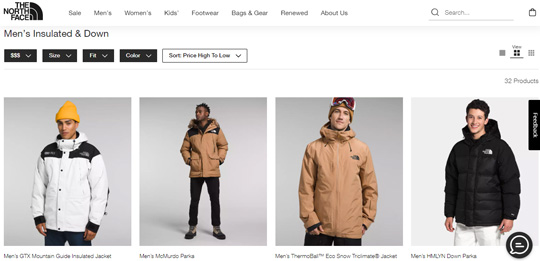 The North Face Men's Insulated and Down jackets: official website
The North Face, a worldwide popular brand, was established in 1966 by Douglas Tompkins and Susie Tompkins Buell in San Francisco, California. The brand's logo is iconic for its stylized representation of Half Dome in Yosemite National Park.
Currently, The North Face operates under VF Corporation, which is the parent company of various other outdoor brands. The North Face offers a wide range of products for outdoor activities, such as school or hiking backpacks, winter down-insulated jackets, camping tents, sleeping bags, and hiking footwear.
The brand has developed several technologies, like DryVent and Thermoball which are waterproof/breathable fabric and synthetic insulation that mimics natural down, respectively. Even though The North Face is generally considered a high-end brand, it also offers reasonably priced items.
In recent years, The North Face has taken significant measures to reduce its environmental impact and make use of recycled materials, demonstrating its commitment to sustainability.
Among The North Face's popular products, we can mention the Thermoball jacket, a lightweight, and packable synthetic-insulated jacket that provides warmth even when wet, and the Nuptse down jacket, ideal for winter weather.
Read also:
Why Is The North Face So Expensive and Popular? Are Its Jackets Worth It?
11 Brands like The North Face: Our Top Alternatives
4. Columbia Sportswear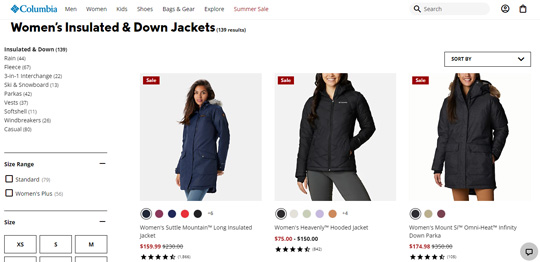 Columbia Sportswear women's insulated down jackets: official website
In 1938, a family that fled Germany and settled in Portland, Oregon founded Columbia Sportswear, also known as just Columbia.
Despite its global fame, Columbia has always maintained a family-owned business image. The brand offers a wide range of outdoor products that have gained popularity over time, partly due to their affordability which caters to every budget.
Columbia is comparable to other brands in terms of materials and technologies, having introduced various technologies over the years. For example, the Omni-Tech fabric is both waterproof and breathable, while the thermal reflective systems used in their winter jackets are highly effective in providing warmth.
Columbia is an excellent option for those who are looking for quality products at more affordable prices.
One of Columbia's notable products is the Arcadia II Rain jacket, which is waterproof and breathable. It features Columbia's Omni-Tech technology, an adjustable hood, and zippered pockets.
Read next:
10 Brands like Columbia Sportswear: Our Top Alternatives
Patagonia vs Columbia: Which Brand Offers the Best Outdoor Gear?
5. Marmot

Marmot official website
Marmot was founded in the United States in 1974 by three partners who shared a passion for the outdoors. Their initial goal was to create a jacket suitable for their outdoor pursuits.
Later, one of their puffer jackets, the Golden Mantle, gained popularity after being featured in Clint Eastwood's movie The Eiger Sanction in 1975.
Marmot is well-known for incorporating Gore-Tex into their products, which has influenced many other outdoor clothing brands. Marmot also offers high-quality backpacks and tents.
The brand primarily uses nylon and polyester in its products and is committed to sustainable sourcing practices to minimize environmental impact. They use PFC-free coatings in many of their gear and have developed their own Eco Featherless and EvoDry technologies to promote sustainability.
Marmot has also created the NanoPro and MemBrain technologies, which allow it to produce lightweight, durable, and breathable products.
Don't miss:
9 Outdoor Brands like Marmot: Best Alternatives
The North Face vs Marmot: Which Brand Should I Choose?
6. Mountain Hardwear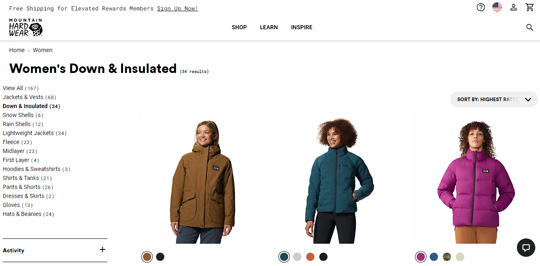 Mountain Hardwear women's down insulated jackets: official website
Mountain Hardwear was established in California in 1993 by a team of professionals who had previously worked for Sierra Designs. The company's success was largely due to the sponsorship of Ed Viesturs, the first American athlete to climb fourteen 8,000-meter mountains.
Mountain Hardwear has maintained its focus on mountain climbers and athletes, thanks to Viesturs' accomplishments.
In 2003, the company was purchased by Columbia Sportswear, and its first store opened in Portland, Oregon in 2008. That year, another store opened in Seattle. Today, Mountain Hardwear is known for its high-quality materials, innovative technologies, and mountaineering equipment.
While some products may cost more than $250, the brand also offers more affordable options. One of its most popular products is the Ghost Whisperer Down jacket, a lightweight and compressible jacket designed for cold weather. It features 800-fill-power down insulation, a water-resistant shell, and a slim-fit style.
Related: 13 Scandinavian Jacket and Clothing Brands that You'll Love
7. Eddie Bauer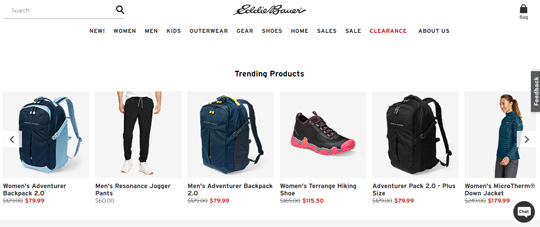 Eddie Bauer official website
In 1920, a renowned American brand was founded in Seattle, Washington, named after its founder. Eddie Bauer started with a patent for a quilted down jacket but later diversified its product range to include a variety of clothing options.
The brand has gained customer admiration for its casual and outdoor wear and is recognized for its commitment to originality. Eddie Bauer's products are distinctive and unique, with exceptional features that set them apart.
Despite their simple designs, each item has its own individual qualities that contribute to the brand's popularity.
Read also: 9 Outdoor Brands like Eddie Bauer: Our Favorites
8. L.L. Bean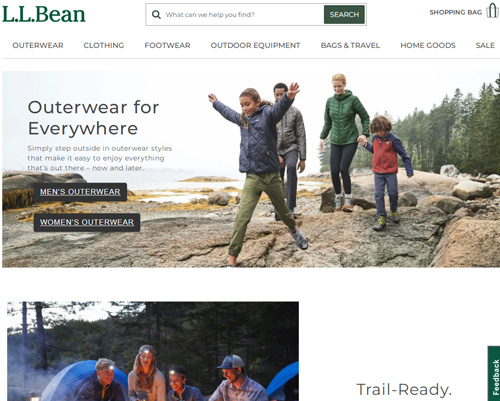 L.L. Bean official website
L.L. Bean is a famous retailer that sells a various range of products. The store offers exceptional fishing, hiking, cycling, and winter sports equipment for those who love being out in nature.
The brand has also an extensive collection of clothing for all ages, home decor items, and more.
The company was established by Leon Leonwood Bean in Freeport, Maine in 1912. L.L. Bean is dedicated to adopting eco-friendly processes while maintaining its high-quality standards. The company is continuously exploring new ways to enhance its green initiatives.
L.L.Bean is recognized for its superior quality and it has a variety of prices, with some products being more expensive than others. Despite this, L.L. Bean focuses on keeping its prices reasonable and accessible to all, distinguishing it from other expensive competitors.
Read next:
9 Quality Brands like L.L. Bean: Our Top Picks
Eddie Bauer vs L.L. Bean Outdoor Gear: A Comparison
9. Lands' End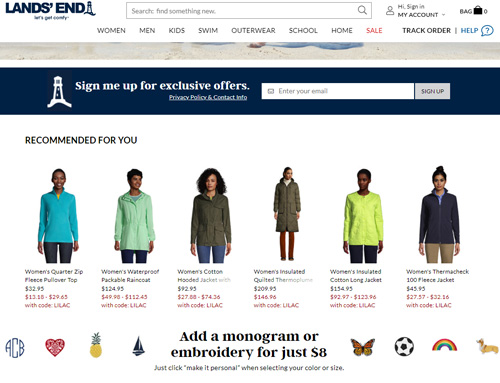 Lands' End official website
Lands' End is a clothing brand that focuses on safety and simplicity for men, women, and kids. The company was founded in Chicago in 1963 by Gary Comer and started as a retailer of sailboat equipment. Over time, the company's production line expanded, leading to a wide range of styles.
Initially, the brand was named "Land's End," but due to an error on the first catalog and financial constraints, it was changed to "Lands' End." Today, the brand is known globally and offers a wide range of clothing styles.
Don't miss:
9 Brands like Lands' End: Our Favorite Alternatives
Lands' End vs L.L. Bean Outdoor Gear: A Comparison
10. KÜHL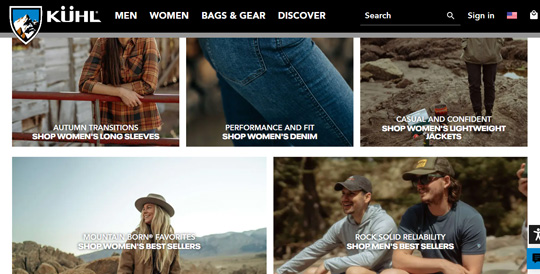 KÜHL official website
The Kühl brand has been in the market for several decades and is passionate about mountain and outdoor activities. Over time, the company has broadened its product range to include work and travel clothing.
If you have an interest in outdoor activities or sports, you may have heard of this brand and even used some of its products due to their exceptional quality.
Related: 9 Outdoor Brands like Kühl: Our Top Alternatives
11. Filson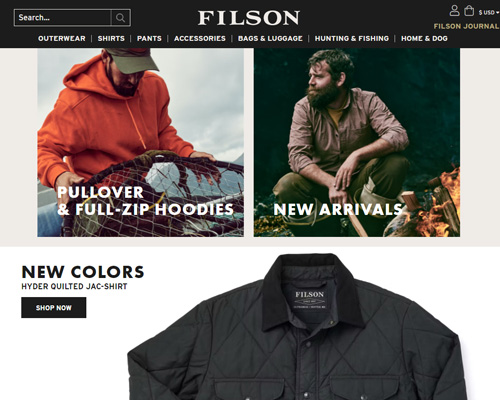 Filson official website
Filson has been a prominent manufacturer of clothing, accessories, and footwear for both men and women since its establishment in the United States in 1897. The company also offers a selection of dog accessories.
Originally known as "CC Filson's Pioneer Alaska Clothing and Blanket Manufacturers", the company is now famous worldwide for its excellent quality products.
Filson winter coats provide excellent protection against cold weather. The company takes into account all customer preferences and creates a variety of designs. Also, there are many waterproof and long-lasting items.
The fabrics are carefully chosen, and the clothes are functional and with many features that are useful when you're out in nature. Filson is also committed to the environment and uses sustainable and recycled materials in much of its apparel.
Read also: 10 Brands like Filson: Our Best Alternatives
12. Orvis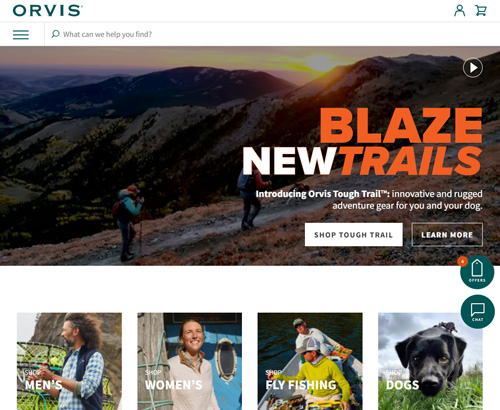 Orvis official website
The Orvis company was established in 1856 in Manchester, Vermont by Charles F. Orvis. The brand specializes in the production of outdoor equipment, as well as apparel and accessories for dogs.
Orvis has gained global recognition with over 80 retail stores worldwide, some of which are located in the US. The brand commonly utilizes cotton and polyester materials in its products.
Despite being considered expensive, Orvis is known for its high-quality items, with some of them being available even at the lower end of the price range.
Read next: 10 Brands like Orvis: Top Alternatives for Outdoor Adventures