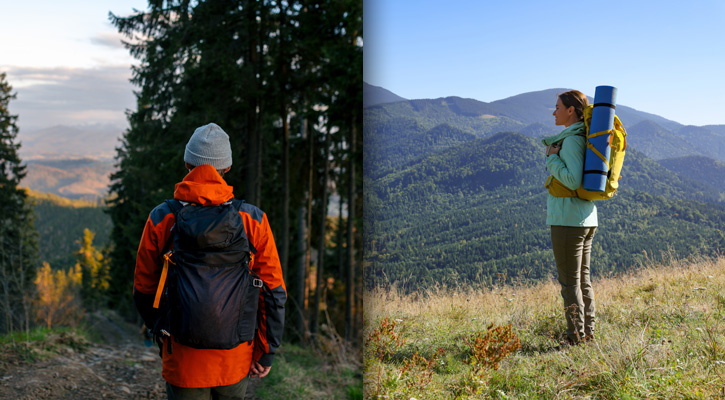 While Lands' End has been a staple for outdoor enthusiasts for decades, there are plenty of other brands out there that offer high-quality gear and apparel for your next adventure.
Whether you're into hiking, camping, or just enjoying the great outdoors, in today's article we'll explore some more options that are similar to Lands' End.
We've compiled a list of 9 brands like Lands' End that are worth checking out.
They come with sustainable materials and innovative designs and are sure to satisfy all your outdoor gear needs. Many of these brands also provide a comfortable daily wear option for city life.
So, if you're ready for a wide range of outdoor clothing and equipment, read on to discover our favorite alternatives!
Contents:
1. L.L. Bean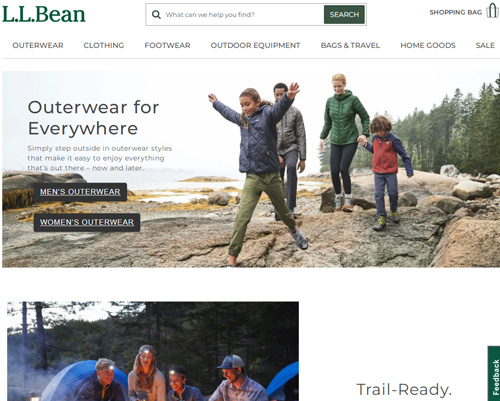 L.L. Bean official website
L.L. Bean is a well-known retailer that offers a wide variety of products. For those interested in fishing, the store provides top-notch equipment for a fishing vacation. Additionally, the brand offers home decor items, including lamps and blankets, as well as clothing for all ages.
The business was founded by Leon Leonwood Bean in Freeport, Maine in 1912. L.L.Bean is committed to becoming more environmentally friendly while maintaining high-quality standards. The company is continuously exploring ways to improve its green initiatives.
While L.L.Bean is known for its high quality, it is not a budget-friendly brand. The store offers a range of prices, and some items are more expensive than others. Despite this, L.L.Bean strives to keep its prices reasonable and accessible to everyone, setting it apart from other pricey competitors.
Don't miss:
9 Quality Brands like L.L. Bean: Our Top Picks
Lands' End vs L.L. Bean Outdoor Gear: A Comparison
2. Eddie Bauer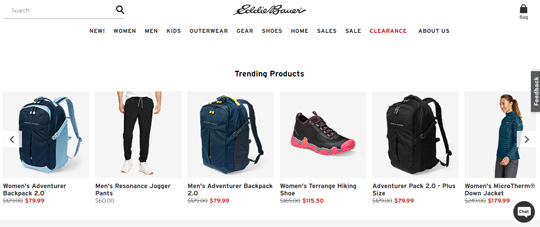 Eddie Bauer official website
In 1920, Eddie Bauer founded his eponymous company in Seattle, initially selling only tennis equipment. Over the years, the brand expanded its offerings to include sportswear and outdoor apparel, becoming the Eddie Bauer we know today.
Eddie Bauer specializes in outdoor clothing and sportswear, offering all sizes to cater to various customer bases. Their collection includes jackets, outerwear, pants, shirts, and more, with prices ranging from expensive to affordable, all while ensuring great quality and sustainability. The materials used in Eddie Bauer's products vary depending on the item.
Eddie Bauer and Lands' End are similar in that they are both American brands that specialize in outdoor and casual wear. They both offer a wide range of products with sizes available for all genders and ages. Also, both brands prioritize quality and sustainability in their products, and their prices range from affordable to expensive.
Must read:
9 Outdoor Brands like Eddie Bauer: Our Favorites
Eddie Bauer vs Lands' End Outdoor Gear: A Comparison
3. Patagonia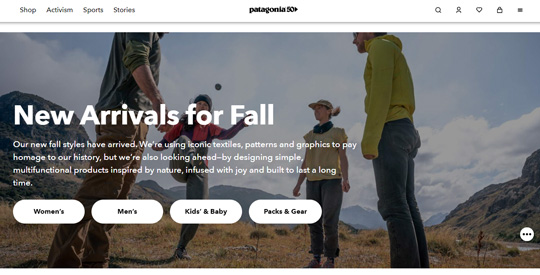 Patagonia official website
Patagonia is a renowned outdoor brand headquartered in Ventura, California, USA. Founded in 1973 by rock climber Yvon Chouinard, the brand is recognized for its minimalist designs and a strong commitment to environmental sustainability.
Patagonia offers a comprehensive range of outdoor wear, including jackets, pants, backpacks, T-shirts, and hoodies for all. The brand initially was for outdoor experts and continues to use technical fabrics such as H2No and Gore-Tex for their breathable and waterproof membranes.
Although Patagonia's products are often priced on the higher side, their exceptional performance and quality make them worth the investment, as many satisfied customers can attest.
Read also: Patagonia vs Columbia: Which Brand Offers the Best Outdoor Gear?
4. The North Face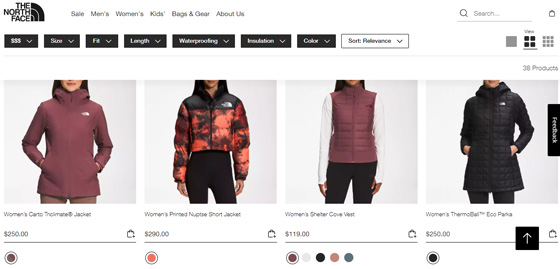 The North Face official website
The North Face is a brand from the USA established in 1966 in San Francisco, California by outdoor enthusiast Douglas Tompkins and his wife. The brand's logo features a stylized illustration of Half Dome in Yosemite National Park, California. Since 2000, The North Face has been a part of VF Corporation, which owns several other outdoor brands.
The North Face offers a comprehensive range of outdoor products, including winter down jackets, school and hiking backpacks, and quality hiking shoes, covering almost every outdoor activity.
The brand is known for its innovative use of technologies, such as DryVent and Thermoball, which they have launched over the years. DryVent is a waterproof and breathable membrane, while Thermoball is a synthetic insulation that imitates natural down.
While The North Face is considered a high-end brand, they do offer affordable items in their collections. Over the years, the brand has also taken steps to reduce its environmental impact and use recycled materials.
Read next: 11 Brands like The North Face: Our Top Alternatives
5. Columbia Sportswear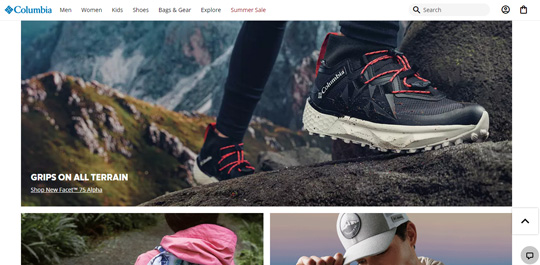 Columbia Sportswear official website
Columbia Sportswear, or simply Columbia, is an internationally recognized outdoor brand founded by Paul Lamfrom in Portland, Oregon in 1938. Today, the company has stores all over the world and offers a clothing line for adventurous men, women, and children.
One of Columbia Sportswear's best-selling items, the Men's Point Park Insulated Jacket, is both waterproof and heat-insulating, making it ideal for hiking in difficult weather conditions.
The company uses a variety of nylon and polyester materials in their products, and all down is certified by the Responsible Down Standard, which recognizes good practices in animal care.
Columbia has also launched a recycling initiative called ReThreads, which encourages customers to bring in their used apparel to be recycled. With a wide range of products and affordable prices, Columbia Sportswear caters to a diverse group of outdoor enthusiasts.
Don't miss: 10 Brands like Columbia Sportswear: Our Top Alternatives
6. Orvis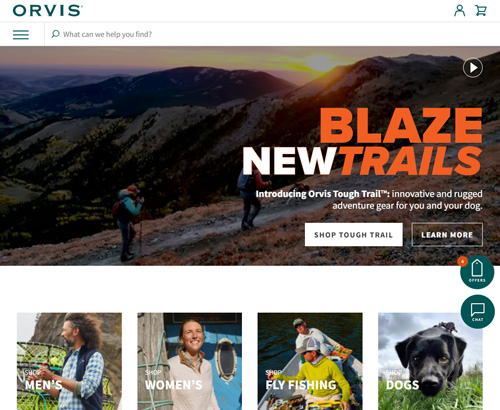 Orvis official website
Charles F. Orvis founded the Orvis company in Manchester, Vermont in 1856. The brand offers a various range of products, including apparel and dog accessories, and they specialize in hunting and sporting equipment.
With over 80 retail stores worldwide, including 10 outlets in the US, Orvis is a well-known name in the outdoor industry.
One of Orvis's popular items is the Outdoor Quilted Snap Sweatshirt, which provides warmth, durability, and style, making it perfect for cool weather.
The brand typically uses cotton and polyester materials in its products. Orvis is known for its high-quality items, even at the lower end of the price range, although their prices are generally considered expensive.
7. Filson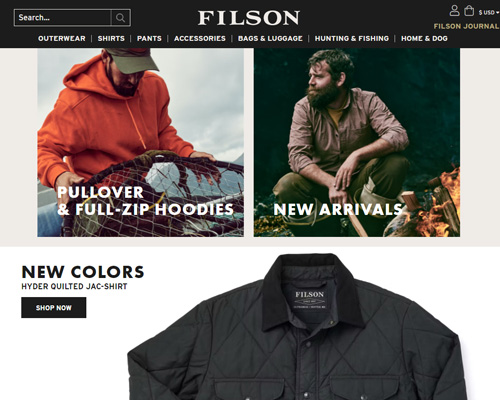 Filson official website
Filson is a renowned outdoor wear brand founded by C.C. Filson in Seattle in 1897. The company offers a wide range of products, including jackets, coats, sweaters, shirts, and more, all designed for outdoor activities.
While Filson's products are on the more expensive side, their durability and fashionable designs make them worth the investment. The brand uses a variety of materials, including polyester, cotton, nylon, and merino wool, among others, and offers all sizes to cater to a wide customer base.
Read also: 10 Brands like Filson: Our Best Alternatives
8. Carhartt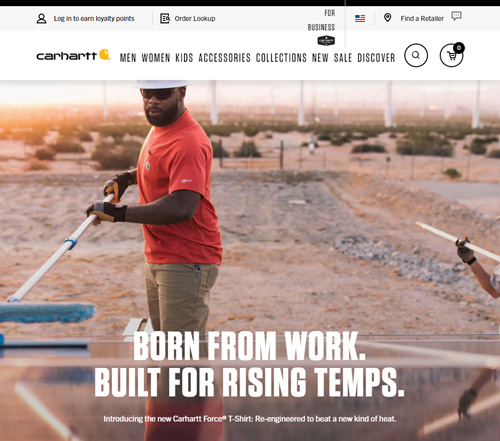 Carhartt official website
Hamilton Carhartt founded Carhartt in Detroit, US, in 1889. Initially, the company produced workwear for railroad workers, soldiers, and marines, but it later expanded to include a women's clothing line.
Today, Carhartt is recognized for its quality work and outdoor clothing, available in all sizes for all genders and ages. The brand offers a wide selection of workwear, including overalls, jackets, shirts, and pants, as well as outdoor outfits and accessories. Despite the high quality of their products, Carhartt's prices range from budget-friendly to affordable.
The materials used by Carhartt vary depending on the item, but they include cotton, nylon, elastane, and polyester, among others.
Don't miss: 11 Brands like Carhartt for Work and Outdoor Activities
9. Helly Hansen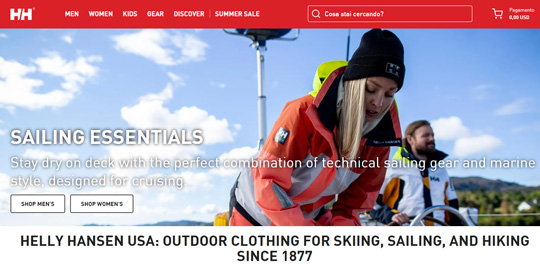 Helly Hansen official website
Helly Hansen is a Norwegian company founded by sea captain Helly Juell Hansen in 1877. Initially headquartered in Moss, the company is now based in Oslo.
In its early years, Helly Hansen focused solely on producing equipment for sailors before expanding into outdoor gear, with a particular emphasis on mountain activities.
One of the company's notable features is its dedication to researching and developing special technologies, such as Helly Tech, which was first introduced in 1980 and has since been perfected. This technology allows garments to be both waterproof and breathable.
Read next:
Why is Helly Hansen so Expensive and Popular: Is It Worth It?
9 Brands like Helly Hansen: Our Top Alternatives