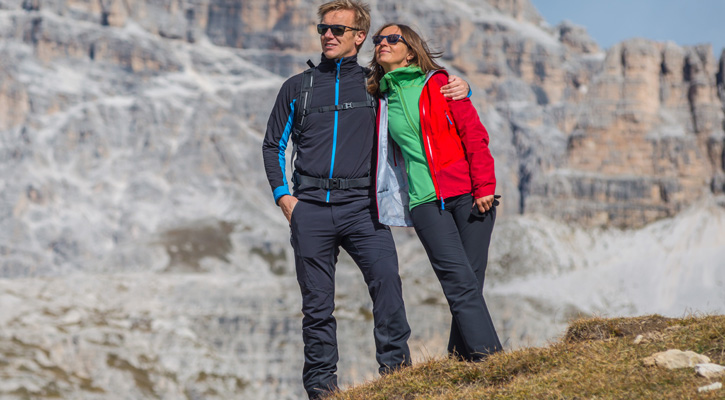 Filson is one of the most well-known outerwear brands. They make all sorts of outdoor gear and apparel.
If you spend most of your time outdoors, you may run out of outfit combinations quickly.
Filson has a great selection of high-quality clothing, but there are also many other companies in the market that are worth considering for your next purchase.
So, if you're looking for more designs, here's a list of 10 brands like Filson that we think you'll love.
Contents:
1. Belstaff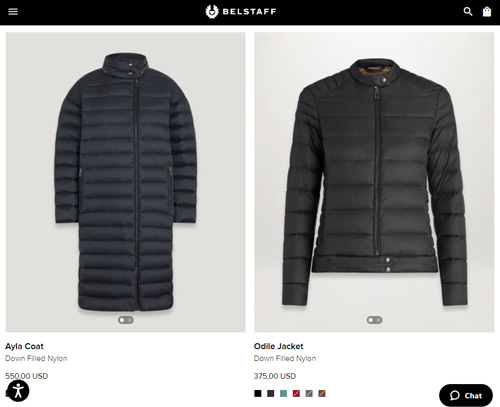 Belstaff official website
Country of origin: UK
Established: 1924
Main products: Outerwear
Price range: Pricey
Belstaff was launched almost 100 years ago by Eli Belovitch and his son-in-law. But, they kept up with the times, and to this day, they sell fashion-forward outerwear.
When they started, Belstaff began working on materials that were waterproof yet breathable. So, they were the first brand to produce items using waxed cotton. They also use various blends of cotton and wool.
They make many products like jackets, gloves, and goggles. Belstaff makes many luxury outerwear pieces for every occasion.
Recently, Belstaff came out with a sustainable collection called Travelogue, so you can look good and take care of the environment.
You might also like:
8 Best British Outdoor Clothing Brands
10 Norwegian Jackets & Clothing Brands that You'll Love
2. Carhartt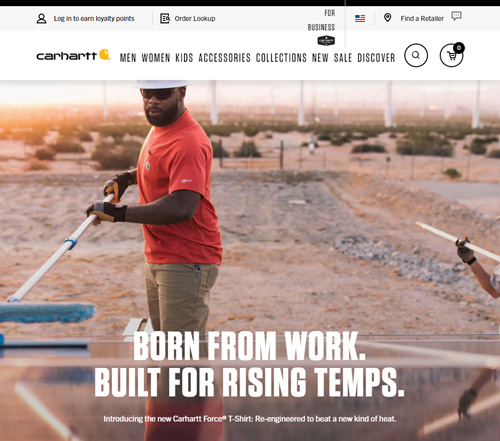 Carhartt official website
Country of origin: USA
Established: 1889
Main products: Outerwear
Price range: Affordable
Carhartt started with two sewing machines in a tiny Detroit loft. Hamilton Carhartt made overalls for railroad construction workers.
They design their clothes for an incredible amount of wear and tear. Carhartt makes gloves, bags, shoes, and even shoe insoles.
Mostly, Carhartt was for blue-collar workers. But, since 1990, Carhartt has become more popular among young teenagers.
Must read: 11 Brands like Carhartt for Work and Outdoor Activities
3. Barbour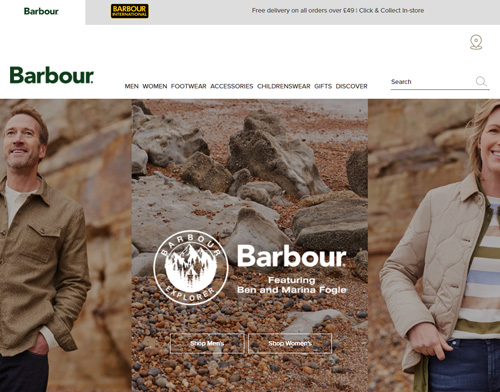 Barbour official website
Country of origin: UK
Established: 1894
Main products: Outerwear
Price range: Pricey
Barbour is an iconic English brand famous for its waxed cotton jackets. It was founded by John Barbour, a Scotsman, in 1894 in Market Place, South Shields, England.
The Bedale jacket launched in the 1980s is one of their well-known jackets. Barbour has also received three Royal Warrants so it can provide the royal family with its clothes.
Along with jackets, the brand makes other apparel and accessories such as dresses, shirts, blouses, trousers, etc.
Read also:
12 Brands like Barbour for Heritage Outdoor Jackets
9 German Jackets & Outdoor Clothing Brands
4. Orvis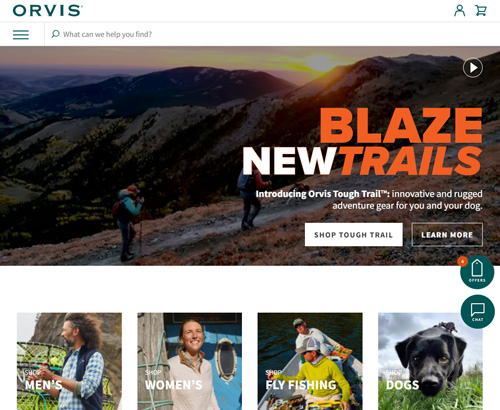 Orvis official website
Country of origin: USA
Established: 1856
Main products: Fly-fishing gear, outdoor equipment
Price range: Wide range
When it was first established, Orvis specialized in fly-fishing rods. And now, it makes some of the most impressive outdoor gear.
You can do almost any type of outdoor activity with Orvis. They have gear for everything, fly-fishing, climbing, etc. You can even get comfy loungewear at Orvis.
The best thing about this company is that they have products for any budget. If you go through their product list, you're sure to find something you like.
Orvis also uses sustainable materials, like cotton, to minimize their impact on the environment.
Read next:
10 Brands like Orvis: Our Top Alternatives
9 Italian Clothing & Jacket Brands for Outdoor Activities
5. Wrangler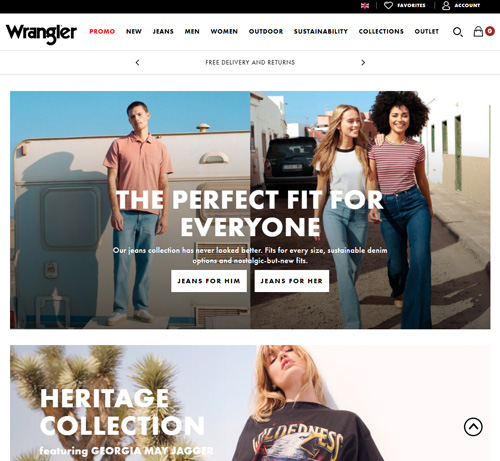 Wrangler official website
Country of origin: USA
Established: 1947
Main products: Workwear, jeans / denim
Price range: Affordable
If you're a fan of denim, this might be the brand for you. Wrangler promotes its products as everyday wear denim. And that couldn't be more true.
Wrangler makes some of the most durable jeans on the market. Other than jeans, Wrangler also makes casual t-shirts and pants for the whole family. They even make rodeo apparel for the cowboy on the go.
By 2025, Wrangler plans on making their clothes using 100% sustainable materials. And, they plan to do it using renewable energy.
You might also like:
12 Best American Outdoor Clothing Brands
7 Swiss Jackets and Outdoor Clothing Brands: Our Favorites
6. Timberland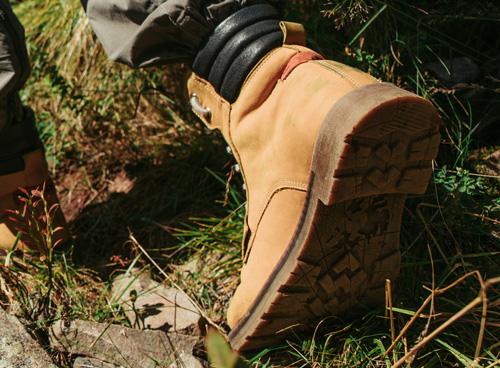 A Timberland Yellow Boot
Country of origin: USA
Established: 1952
Main products: Footwear
Price range: Pricey
Timberland started as a shoe manufacturing company. Until the founder Nathan Swartz, bought out the company and brought in his sons.
Because of the weather conditions where Swartz lived, shoes didn't live long. So, he set out to make waterproof shoes. And in 1973, he came out with "Timberlands", or as many call them, "Timbs".
Using injection molding, Timberland made the iconic yellow boots that handle the elements. When making their shoes, Timberland likes to use recycled plastic and rubber in many of its products. Turning trash into treasure.
Read also:
10 Boot Brands like Timberland that You'll Love
8 Finnish Shoes and Boots Brands
7. Eddie Bauer
Eddie Bauer Sport Shop: How It All Began
The video will be loaded from YouTube.com, a third party. If you play it, you accept their terms of service, and their use of cookies.
Country of origin: USA
Established: 1920
Main products: Outdoor gear
Price range: Pricey / Affordable
Eddie Bauer is a brand for outdoorsy people. The company started by selling sporting goods. And, it wasn't until Eddie Bauer, the founder, had a dangerous experience in the outdoors where he almost died of hypothermia that he started making clothes.
After almost freezing and barely surviving, Eddie decided to make an insulating jacket. Eddie Bauer had the patent to sell quilted down jackets for many years.
Since then, the brand has grown exponentially. Eddie Bauer makes clothes, blankets, and even bedding.
Don't miss: 9 Outdoor Brands like Eddie Bauer: Our Favorites
8. Lands' End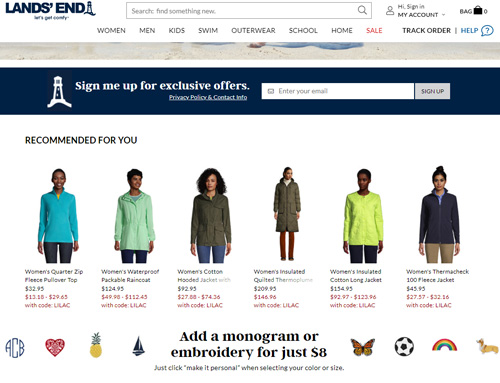 Lands' End official website
Country of origin: USA
Established: 1963
Main products: Swimwear, outdoor clothing
Price range: Affordable
Lands' End, established by Gary Comer, was initially supposed to sell sailing gear. Then by 1977, the brand shifted its focus to apparel.
Even though they have been focusing on sailing, Lands' End still has many apparel options. They make t-shirts, pants, pajamas, and even underwear.
One of their biggest selling points is quality. Their clothes are breathable and can last you a long time if you take care of them.
The brand also uses some recycled materials and has come up with a product cycle that's more sustainable.
Read also: 9 Brands like Lands' End: Our Favorite Alternatives
9. Dickies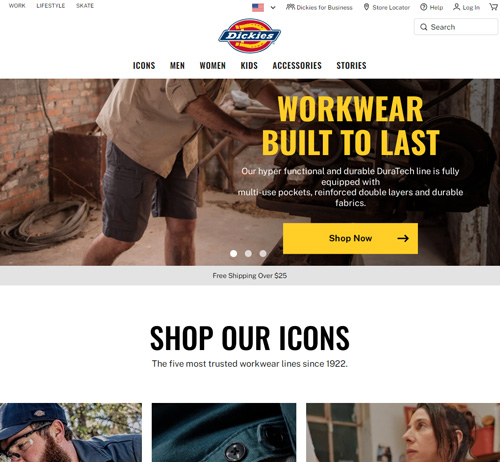 Dickies official website
Country of origin: USA
Established: 1922
Main products: Workwear
Price range: Affordable
Dickies began making bib overalls in 1922 in Texas. Then quickly started expanding into everyday apparel.
They went on to make all sorts of accessories like bags, socks, and wallets. They have sections for work uniforms, making different types of workwear.
Today, Dickies is popular all over the world for its high quality and durable work apparel at affordable prices, not only in the US but also in Europe and the Middle East.
Read also: 10 Brands like Dickies for Work and Outdoor Wear: Our Favorites
10. Woolrich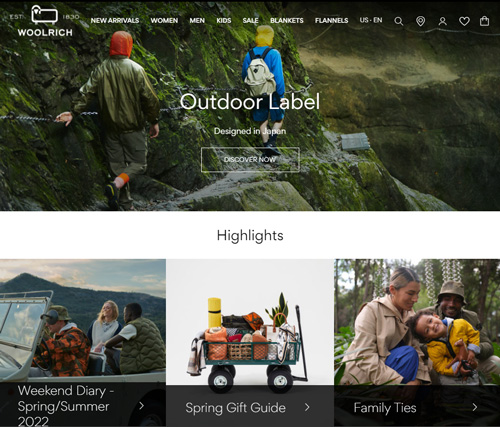 Woolrich official website
Country of origin: USA
Established: 1830
Main products: Outerwear
Price range: Pricey / Affordable
One of the oldest American outerwear brands, born in Pennsylvania, Woolrich has stayed a major player for many years. John Rich started with a humble wool mill producing clothes.
Their first major hit was the Buffalo Check shirt, which introduced flannel into a new market. Since then, they've added many items to their catalog. They make shoes, hats, and some dog accessories.
Woolrich is dedicated to using sustainable materials and has strict rules when it comes to animal-derived materials.
Read next: 8 Brands like Woolrich: Best Alternatives for Winter Jackets
Conclusion
It doesn't matter where you're going, or what the weather is going to be like. With the brands on this list, you'll likely find an outfit for you.
Filson is a great high-quality brand, and it's in good company. Every brand on our list hosts a large variety of designs at many different price points.