When you're in the market for quality outdoor clothing and workwear, Dickies might be your first thought.
And rightfully so considering Dickies is one of the most popular workwear brands in the world!
However, there are cases where you won't be able to find a Dickies store near you, or maybe you can't find that particular shirt on their collections at that moment.
If that's the case, today we have compiled 10 excellent brands similar to Dickies that we're sure you'll love!
Contents:
1. L.L. Bean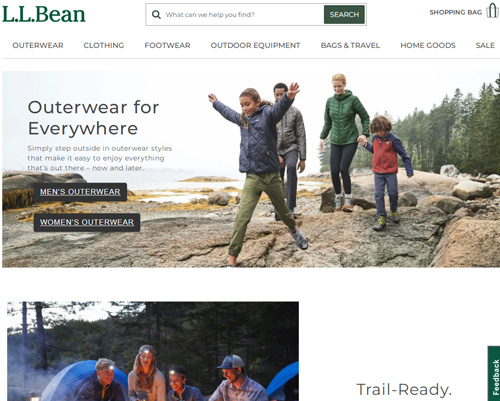 L.L. Bean official website
First up on our list, we have L.L. Bean. Founded by Leon Leonwood Bean in 1912 in Maine, US, L.L. Bean has produced outdoor wear for over a hundred years.
To ensure the durability of their products, L.L. Bean tests their clothes in several fields in order to guarantee the best quality and experience for their customers.
L.L. Bean's products include clothes for men, women, as well as kids. Available in all sizes, they offer a vast collection of outfits for activities such as hiking, camping, fishing, etc. Their collections include jackets, shirts, pants, and many accessories.
They use a lot of materials in their clothes, including wind and water-resistant fabrics, spandex, cotton, nylon, and polyester.
Their prices are quite affordable so if you're looking for quality outdoor outfits for a good price, this is the place to go!
Don't miss: 9 Quality Brands like L.L. Bean: Our Top Picks
2. Filson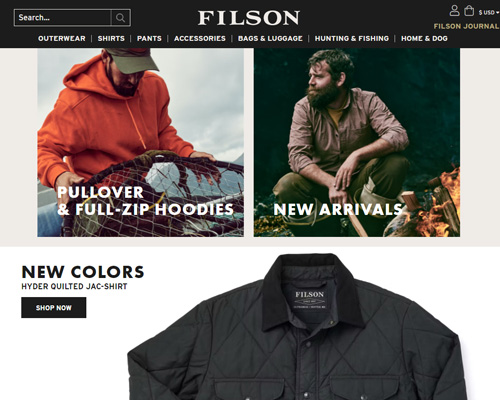 Filson official website
Next up is Filson! Established in Seattle by C.C Filson, Filson has been stable in outdoor wear since 1897.
Filson products are mostly intended for outdoor activities with a large selection of jackets, coats, sweaters, shirts, and a lot more!
Their prices are on the more expensive side, but with how fashionable and durable they are, they're definitely worth it.
They have all sizes available and use polyester, cotton, nylon, and merino wool among many other materials in their products.
Must read: 10 Brands like Filson: Our Best Alternatives
3. Carhartt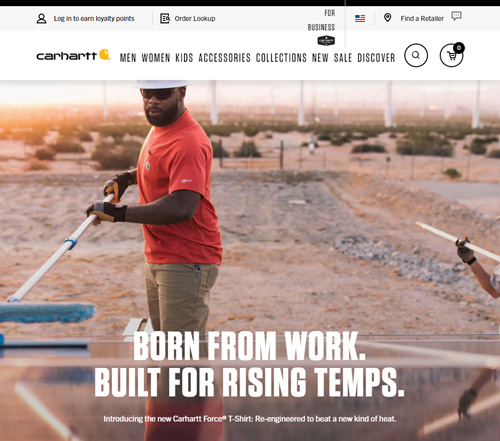 Carhartt official website
Carhartt was established by Hamilton Carhartt in 1889 in Detroit, US. The company started out producing workwear for railroad workers, soldiers, and marines. Afterward, the company began to expand and included a women's clothes line too.
Now, Carhartt is known for its quality work and outdoor clothes that are available in all sizes for all genders and ages.
Carhartt has a wide selection of workwear, such as overalls, jackets, shirts, and pants, as well as outdoor outfits and accessories. Their prices range from budget-friendly to affordable despite the great quality they offer.
Their materials differ based on the item you're going to buy, but they use cotton, nylon, elastane, and polyester, to name a few.
Read also: 11 Brands like Carhartt for Work and Outdoor Activities
4. Lands' End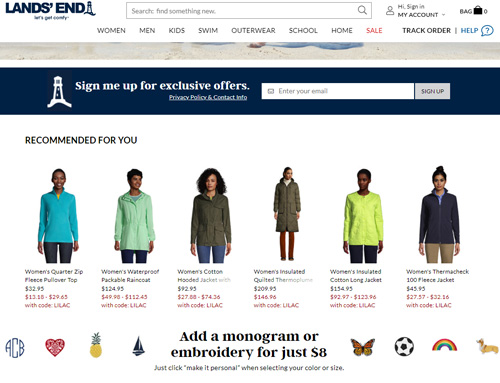 Lands' End official website
Founded in 1963 by Gary Comer in Chicago, Lands' End initially sold sailing gear but changed up to selling clothes in 1977.
Their products focus on outdoor wear but they also have work-appropriate options in their collection. Not only that, but they also have a wide selection of school uniforms you can find for great prices for your kids.
Lands' End is very inclusive with their products so no matter the size you're looking for, you'll find it here.
They have a large variety of outdoor wear available, such as jackets, polo shirts, pants, shorts, and they even have a sportswear collection. Their prices are affordable, while their materials include cotton, polyester, spandex, and more.
Read next: 10 Norwegian Jackets & Clothing Brands that You'll Love
5. Orvis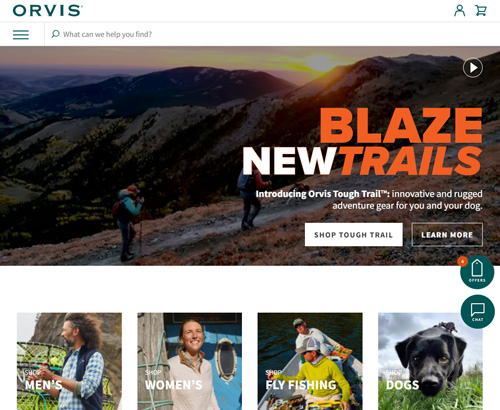 Orvis official website
Orvis was founded by Charles F. Orvis in 1856 in Vermont. For more than 160 years, Orvis has produced many outfits intended for outdoor activities such as fly fishing and hunting.
Their collection includes clothes for men and women with all sizes available for purchase. Other than all the fly fishing and hunting equipment you may need, Orvis has a pretty vast selection of jackets, shirts, hoodies, pants, and many other durable outfits to wear on your adventures.
Their prices are a little high, but the quality makes up for it big time. Cotton, nylon, and polyester are a few of the materials they use in their products.
You might also like: 9 German Jackets & Outdoor Clothing Brands
6. Timberland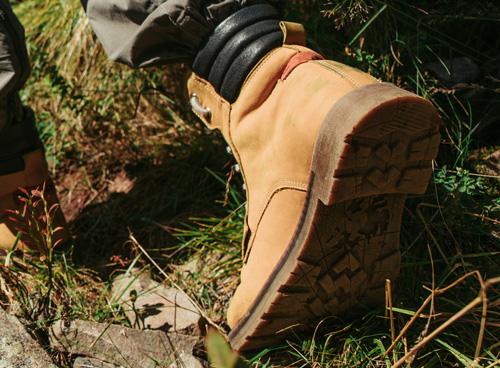 A Timberland Yellow Boot
Founded in 1952 by Nathan Swartz in the US, Timberland has produced durable, high-quality shoes for 70 years now. In addition to their popular shoes and boots, Timberland also provides clothes for men, women, and kids available in all sizes.
Timberland mostly focuses on producing sustainable work boots, but other than that, they offer work and outdoor clothes like jackets, shirts, pants, and coats.
If you're looking for durable workwear for your job, or simply clothes you can wear while going on a hike without worrying about their sustainability, then Timberland is the brand to choose.
Their prices are a little expensive, with many materials used in making their clothes. Nylon, polyester, elastane, and leather are a few material examples.
Don't miss: 10 Boot Brands like Timberland that You'll Love
7. Wrangler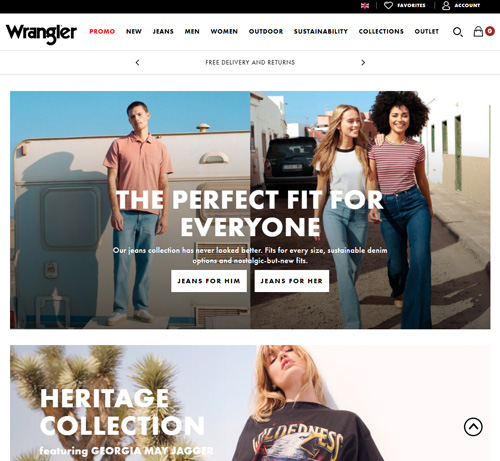 Wrangler official website
Established in 1904 by C.C Hudson and his brother Homer in the US, Wrangler started out selling overalls before moving on to jeans in 1947.
Now, jeans are Wrangler's signature product, but they've also included T-shirts, blouses, and sweaters in their collection.
Wrangler's collections work perfectly as work and outdoor wear and are available for women, men, and children of all ages and sizes.
Their prices are mostly affordable, so you'll definitely find something that fits your budget. Their fabrics use different percentages of cotton, polyester, spandex, and denim.
Read also: 9 Italian Clothing & Jacket Brands for Outdoor Activities
8. Eddie Bauer
Eddie Bauer Sport Shop: How It All Began
The video will be loaded from YouTube.com, a third party. If you play it, you accept their terms of service, and their use of cookies.
Eddie Bauer established and named the company after himself in 1920 in Seattle. At first, the brand only sold tennis equipment before expanding throughout the years until it became the Eddie Bauer we know today.
Eddie Bauer specializes in sportswear and outdoor apparel with all sizes available. Their collection includes jackets, outerwear, pants, shirts, among many others. Their prices range from expensive to affordable while guaranteeing great quality and sustainability.
They use different materials depending on the item you're purchasing.
Must read: 9 Outdoor Brands like Eddie Bauer: Our Favorites
9. Levi's

Levi's official website
Levi's was founded in 1852 by Levi Strauss in San Francisco. His main goal was to produce durable clothes for manual labor workers and that's how the first Levi's jeans were born.
Their main products are their famous jeans, but they also include many other items such as T-shirts, jackets, and sweatshirts.
Levi's collections include outdoor clothes for all, with all sizes available. As for their prices, depending on the item you're choosing, the price can be either affordable or a little expensive. Their materials consist of recycled polyester, cotton, and denim.
Read also: 7 Swiss Jacket and Outdoor Clothing Brands: Our Favorites
10. Duluth Trading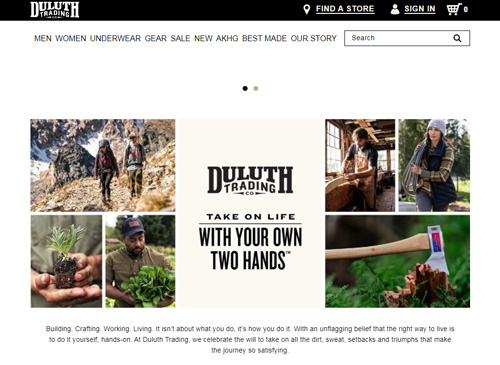 Duluth Trading official website
Established in 1989 in the US, Duluth Trading specializes in making practical workwear for both men and women with all sizes available.
Their collection includes jackets, pants, shirts, and shoes just to name a few. Other than being comfortable and great for work, Duluth Trading's clothes can also be used as outdoor wear.
Their products are budget-friendly so they're a great brand with various options to choose from. Cotton, linen, and polyester are just a few of the materials they use in their many products.
Conclusion
With the many options above, finding the perfect work and outdoor wear for you shouldn't be hard.
If you can't find a Dickies nearby, or if you're interested in trying out different brands, the brands we discussed in this post are guaranteed to meet your needs.