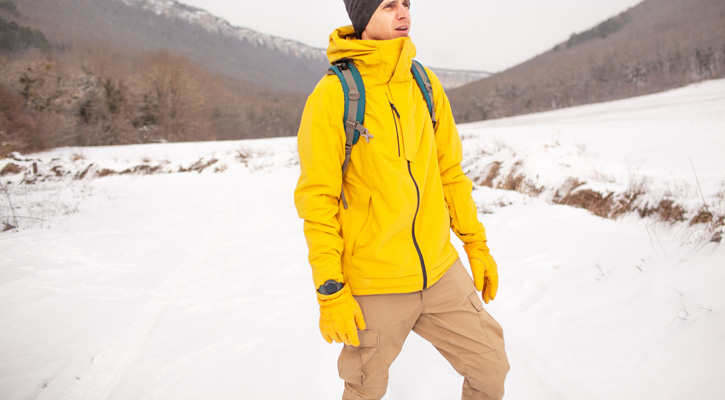 If you're a fan of Helly Hansen and looking for similar outdoor brands, in this article, we'll introduce you to 9 alternatives to this brand.
From well-known companies like Patagonia and The North Face to lesser-known ones like 66°North and Haglöfs, we'll provide you with a variety of options to choose from.
Whether you're into hiking, skiing, or any other outdoor activity, these brands offer a range of products to meet your needs.
Let's take a closer look at our top picks for brands similar to Helly Hansen!
Must read: Why is Helly Hansen so Expensive & Popular: Is It Worth It?
Contents:
1. Norrøna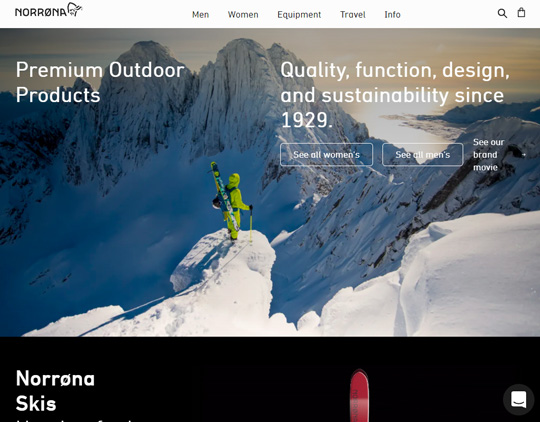 Norrøna official website
Norrøna is a brand similar to Helly Hansen that offers a range of outdoor products. The brand is not only focused on functionality but also on sustainability. It was founded in Norway in 1929 and has been producing high-quality outdoor gear for over 90 years.
Norrøna offers a wide range of products, including jackets, pants, backpacks, and accessories, for various outdoor activities. The brand is known for its innovative designs and use of high-quality materials, which make its products durable and long-lasting.
Norrøna's prices are generally on the higher side, but they are committed to sustainability and the use of recycled materials in their products.
Don't miss:
Norrøna vs Arc'teryx Women's Ski Jackets: Which Brand To Choose?
11 European Brands for Outdoor Enthusiasts: Our Top Picks
2. Bergans of Norway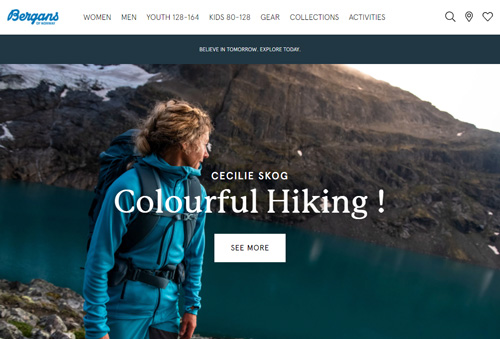 Bergans of Norway official website
Bergans of Norway has a long history of innovation in the outdoor market since its founding in 1908. They have been credited with the invention of the modern backpack, which was used in famous expeditions by polar explorers like Amundsen.
Today, Bergans of Norway remains committed to outdoor life and is a significant reference point not only in the Norwegian market but also in Europe and the USA with its expanding stores.
The brand offers a wide range of products for various outdoor activities, including hiking, fishing, skiing, and expeditions. Bergans of Norway is well-known for its high-quality and durable products, making it a worthwhile consideration for anyone looking for outdoor gear similar to Helly Hansen.
Must read: 10 Norwegian Jackets & Clothing Brands that You'll Love
3. Patagonia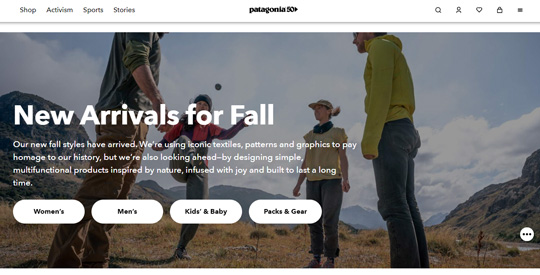 Patagonia official website
Patagonia is a well-known outdoor brand based in Ventura, California, USA. Established in 1973 by Yvon Chouinard, a rock climber, the brand is recognized for its minimalist designs and focus on environmental sustainability.
Patagonia offers a comprehensive range of outdoor wear in its collections, including jackets, pants, backpacks, T-shirts, and hoodies for men, women, and children.
The brand initially catered to outdoor experts and continues to use technical fabrics such as H2No and Gore-Tex for their breathable and waterproof membranes.
Although Patagonia's products are often priced on the higher side, they are known for their exceptional performance, as many of their satisfied customers attest.
Read also: Patagonia vs Columbia: Which Brand Offers the Best Outdoor Gear?
4. Haglöfs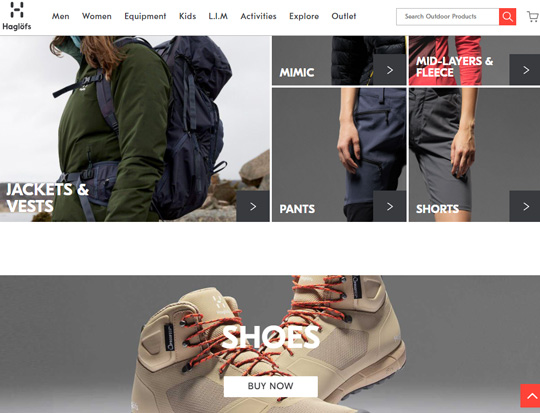 Haglöfs official website
Haglöfs, a Swedish brand, was founded by Wiktor Haglöf in 1914. The company is known for its unconventional approach and a deep appreciation for the beauty and tranquility of the outdoors.
Haglöf started with a vision to create a sturdy backpack, which he accomplished before moving on to designing high-quality clothing. Today, the brand specializes in a wide range of equipment and accessories for outdoor enthusiasts, including products for men, women, and children.
Haglöfs offers clothing suitable for various outdoor activities, including camping, hiking, sports, and work.
Many of the materials used in their products are not only durable and able to withstand extreme conditions but also eco-friendly. As a result, their prices tend to be on the higher side, ranging from 150 to 400 USD.
Read next: 9 Swedish Outdoor Clothing and Jackets Brands: Our Favorites
5. The North Face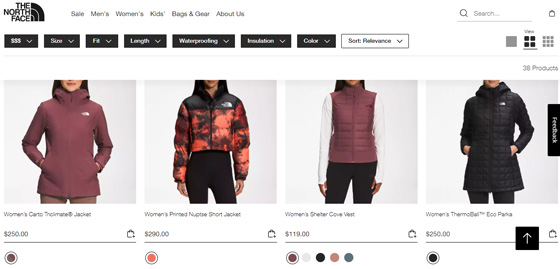 The North Face official website
The North Face, an American brand founded in 1966 in San Francisco, California, was established by Douglas Tompkins, an outdoor enthusiast, and his wife.
The brand's logo features a stylized illustration of Half Dome in the Yosemite National Park in California. Since the year 2000, The North Face has been a part of VF Corporation, which also owns several other outdoor brands.
The company offers a comprehensive range of outdoor products, including winter down jackets, school and hiking backpacks, and high-quality hiking shoes, covering almost every outdoor sport.
The North Face is known for its innovative use of technologies, such as DryVent and Thermoball, which they have introduced over the years. DryVent is a waterproof and breathable fabric, while Thermoball is a synthetic type of insulation that imitates natural down.
While The North Face is generally an expensive brand, they offer affordable pieces in their collections. In recent years, the brand has also taken steps to reduce its environmental footprint and incorporate recycled materials into its products.
Don't miss: 11 Brands like The North Face: Our Top Alternatives
6. Mammut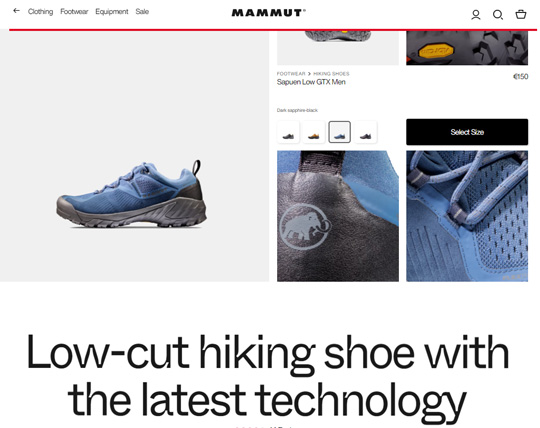 Mammut official website
Mammut, a Swiss brand, has a long history dating back to 1862 and offers a variety of outdoor products. The brand prides itself on using only the highest quality materials to ensure customer satisfaction.
With a wide range of models available, customers are sure to find what they're looking for from Mammut. The brand is dedicated to creating products that protect against adverse weather conditions, as demonstrated by their jackets.
Mammut jackets are not only suitable for outdoor adventures but also versatile enough to wear on different occasions.
Read also: 7 Swiss Jacket and Outdoor Clothing Brands: Our Favorites
7. 66°North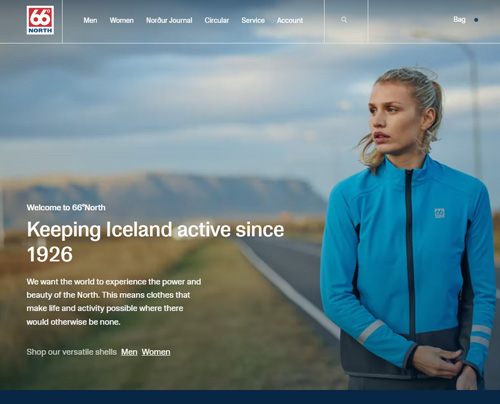 66°North official website
66°North, an Icelandic company founded in 1926, has become a significant brand for outdoor clothing. Initially, the company only produced fishing equipment, which was sold to fishermen in the North Atlantic area.
Over time, 66°North has expanded its production to include almost the entire outdoor sector, making it a successful brand today.
The company offers a comprehensive range of gear and apparel for various outdoor activities, all designed with two fundamental principles in mind: safety and durability.
Additionally, the brand adds versatility to these two principles, ensuring that their products meet the needs of outdoor enthusiasts.
Must read: 13 Scandinavian Jacket & Clothing Brands that You'll Love
8. Jack Wolfskin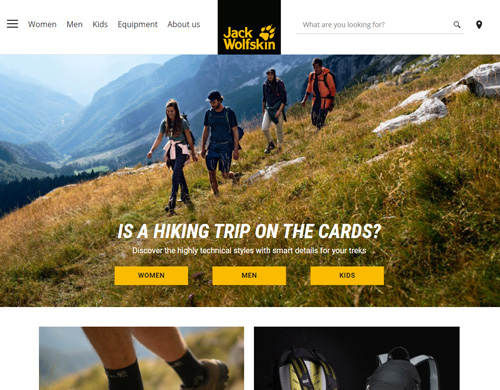 Jack Wolfskin official website
Jack Wolfskin is a German outdoor wear company that was established in 1981 by Ulrich Dausien, who was inspired by nature while hiking. Dausien's love for adventure and camping led him to start his business with the aim of providing affordable expedition wear.
Today, Jack Wolfskin is one of the most well-known outdoor wear companies in Germany and Europe.
The brand offers a wide range of clothing options, including tops, jackets, bottoms, and hiking gear, all made with high-quality and sustainable materials suitable for all genders, sizes, and age groups.
Their main products are designed for hikers and adventurers, with both clothes and equipment available.
Jack Wolfskin's prices range from expensive to budget-friendly, ensuring that there is something for everyone, regardless of their budget. The brand uses a variety of materials, including polyester, nylon, cotton, down, wool, merino wool, and elastane, in its clothing products, with different percentages depending on the product.
Read also: 9 German Jackets & Outdoor Clothing Brands that You'll Love
9. Columbia Sportswear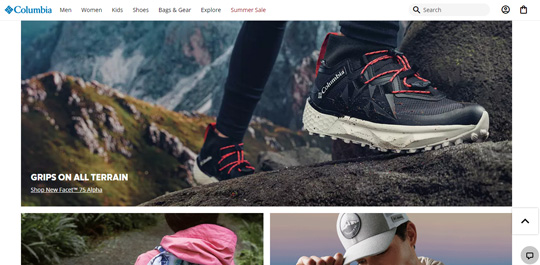 Columbia Sportswear official website
Columbia Sportswear, an international outdoor brand that is also known as just Columbia, was established in Portland, Oregon by Paul Lamfrom in 1938. Today, the brand has stores all over the world and offers a clothing line for adventure-seeking men, women, and children.
Columbia Sportswear uses a wide range of nylon and polyester products, and the down used in their products is certified by the Responsible Down Standard, which recognizes good practices in animal care.
The brand has also launched a recycling initiative called ReThreads, inviting customers to bring in their used apparel so it can be recycled.
Columbia offers a vast selection of products at affordable prices, making them accessible to a wide range of customers.
Read next: 10 Brands like Columbia Sportswear: Our Top Alternatives