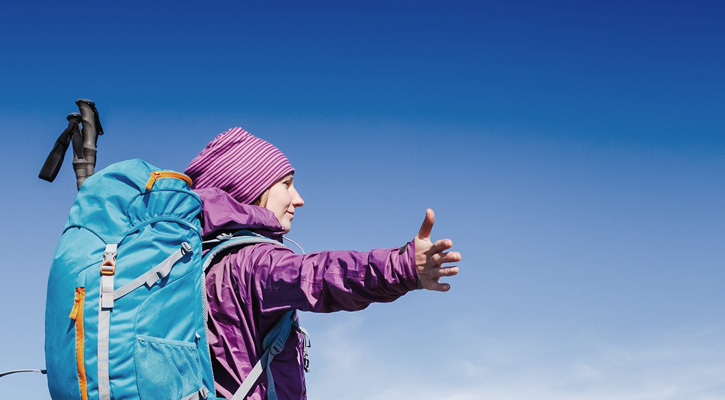 Are you a fan of Finisterre's outdoor wear but looking for some alternative brand options? In this article, we've researched and selected 8 brands that offer similar high-quality, sustainable, and stylish outdoor clothing.
We'll explore Cotopaxi, a brand named after Ecuador's Cotopaxi volcano, that offers distinctive and vibrant designs, Passenger Clothing, a UK-based company that plants a tree for every order received, Montane that produces lightweight, durable, and versatile outdoor gear using eco-friendly materials, and many other brands.
All these companies have caught our attention because each of them is very particular in its own way.
So, let's get started!
Contents:
1. Patagonia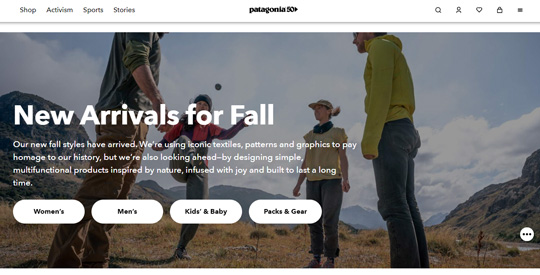 Patagonia official website
Patagonia is a well-known American brand that specializes in outdoor clothing. The company is recognized for its high-quality products and commitment to sustainability, which has made it a leader in the industry since its establishment in 1973 by Yvon Chouinard.
Patagonia offers a wide variety of products, including jackets, pants, shirts, and hats, among others. The brand is famous for its eco-friendly approach, using recycled materials in many of its products and donating a portion of its profits to environmental and social causes.
One of Patagonia's most notable features is its strong commitment to ethical labor practices. The company has a strict code of conduct for its suppliers, ensuring that workers are treated fairly.
Patagonia's products are designed to be functional and long-lasting, making them ideal for outdoor enthusiasts. The brand's jackets, in particular, are renowned for their quality and performance, with a range of options available for different weather conditions.
The Torrentshell, Nano-Air, and Nano Puff, are some of Patagonia's most popular jackets.
Don't miss:
Why Is Patagonia So Expensive and Popular? Are Its Jackets Worth It?
9 Brands Like Patagonia for Sustainable Outdoor Clothing
2. Cotopaxi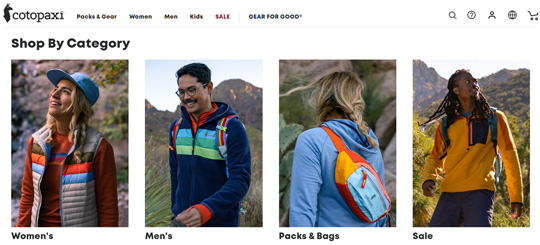 Cotopaxi official website
Cotopaxi is a renowned outdoor gear and apparel brand that originated in Salt Lake City, Utah, USA, in 2014. The brand was named after Ecuador's Cotopaxi volcano and has a strong emphasis on producing high-quality outdoor gear while also supporting the community.
Cotopaxi has received B Corporation certification, which indicates that it adheres to strict standards for social and environmental performance, transparency, and accountability.
The brand places a high priority on sustainability in its product development, utilizing recycled materials whenever possible and partnering with global organizations to promote humanitarian and environmental initiatives.
Cotopaxi's product range includes backpacks, jackets, pants, and other outdoor gear. The Teca Fleece, made from 100% recycled fleece and repurposed water-resistant polyester taffeta, is one of the brand's most popular products. It is available in a variety of colors and is ideal for layering in cold weather.
In addition to its sustainability efforts, Cotopaxi is known for its distinctive and vibrant designs. The brand's products feature bold patterns and bright colors that are sure to make a statement on any mountain trail.
Cotopaxi | Women's Fuego Down Hooded Jacket | Spring 22
The video will be loaded from YouTube.com, a third party. If you play it, you accept their terms of service, and their use of cookies.
Related: 11 European Brands for Outdoor Enthusiasts: Our Top Picks
3. Passenger Clothing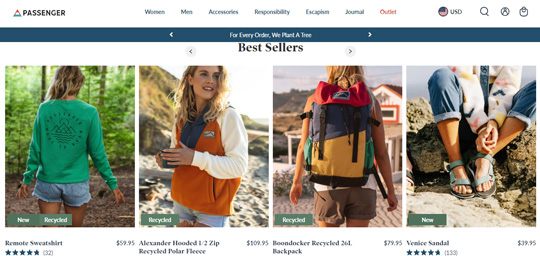 Passenger Clothing official website
Passenger Clothing is a company situated in the United Kingdom that focuses on crafting clothing for people who love spending time outside, whether it be at the beach, in the forest, or just walking around town.
Born in 2013 in New Forest, Passenger Clothing serves people who like traveling and discovering new places. The brand is devoted to creating premium-quality garments that are both stylish and comfortable.
Also, Passenger Clothing is environmentally conscious and has promised to plant a tree for every order received, making it a brand that you can feel proud to support.
Read also: 7 Brands like Passenger Clothing: The Best Alternatives
4. Montane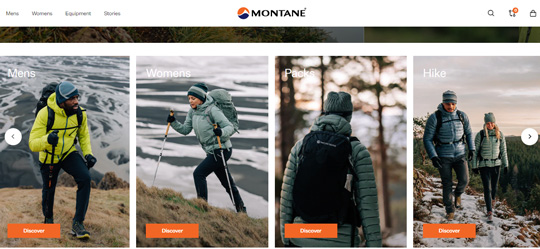 Montane official website
Montane is a well-known English brand that has been operating since 1993. The company specializes in producing excellent outdoor clothing and equipment. Montane is famous for its innovative designs and technical know-how, which makes it a leading brand in the outdoor clothing industry worldwide.
Montane creates products that are lightweight, durable, and capable of withstanding bad weather conditions. The brand offers a wide range of items, including jackets, pants, base layers, and accessories, all crafted from premium materials and fabric technologies such as PrimaLoft and Gore-Tex. These materials provide excellent insulation and protection from the elements.
In addition, Montane is committed to minimizing its environmental impact by using eco-friendly materials like recycled polyester. The brand's gear is designed to be functional and versatile, suitable for various outdoor activities such as hiking, climbing, skiing, and camping.
Montane's products are also fashionable and suitable for everyday wear in your city. The brand offers many affordable options despite utilizing the latest technologies.
Read next: 8 British Jackets and Outdoor Clothing Brands that You'll Love
5. RAB

RAB official website
RAB is a renowned UK-based manufacturer of outdoor clothing and equipment that specializes in producing premium gear for mountaineering and climbing enthusiasts. The brand has built a reputation for employing exceptional materials and innovative designs since the 1980s.
The product line of RAB is vast and includes jackets, pants, gloves, and base layers, all of which are designed to be lightweight, durable, and comfortable. These products cater to outdoor enthusiasts who demand the best from their gear.
RAB's Microlight Alpine jacket is a highly sought-after product due to its compressible and lightweight down material that offers great warmth and protection in cold weather. The slim-fit design of the jacket is both practical and stylish, and it is made from premium materials. RAB also manufactures high-quality sleeping bags.
In addition to producing high-performance gear, RAB is committed to ethical manufacturing practices and sustainability. The company uses recycled materials in many of its products and collaborates with suppliers who share the same values.
If you're an outdoor enthusiast, RAB is a brand that will impress you with its innovative designs and dedication to quality.
Don't miss: RAB vs Patagonia Outdoor Gear: Which Brand is Better?
6. Lands' End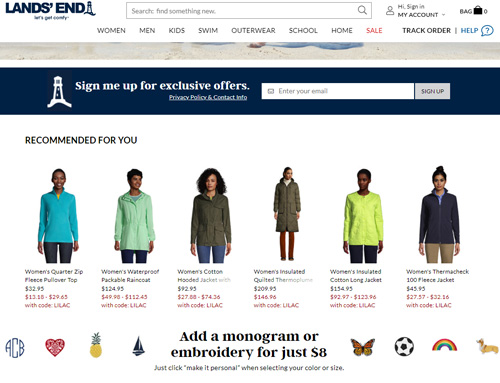 Lands' End official website
Lands' End is a well-known American brand that specializes in producing clothing for men, women, and children. The brand's focus on safety and simplicity is evident in all of its products.
The company was founded by Gary Comer in Chicago in 1963, originally selling sailboat equipment. As the company evolved, so did its production.
Interestingly, the brand was initially named Land's End, but a printing error on the first catalog resulted in the name being changed to Lands' End.
Today, this is a globally recognized brand that offers consumers a vast array of styles to choose from. Whether you're in search of comfortable and casual clothing or something more formal, Lands' End is an excellent choice.
Related: 9 Brands like Lands' End: Our Favorite Alternatives
7. Helly Hansen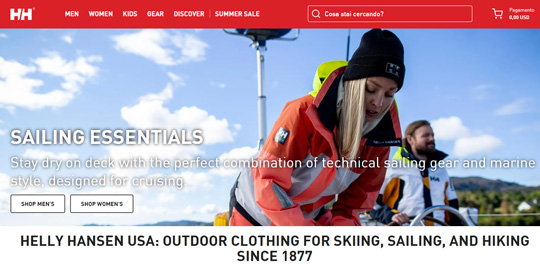 Helly Hansen official website
Helly Hansen is well-known for its waterproof apparel, however, it also provides breathable, comfortable, and versatile jackets. These jackets are lightweight and can protect you from bad weather while keeping you warm.
The brand was established by Helly Juell Hansen, a Norwegian sea captain, in 1877. At first, the company solely manufactured sailing equipment but eventually expanded its production to include various outdoor clothing, particularly outerwear suitable for mountain activities.
Nowadays, Helly Hansen offers a broad range of products for different sports and activities, such as skiing, snowboarding, hiking, climbing, and water sports. With a variety of price ranges, Helly Hansen has something for everyone.
Also, their gear is known for its high quality and durability, ensuring that it will last for many outdoor adventures.
Read also:
Why is Helly Hansen so Expensive and Popular: Is It Worth It?
9 Brands like Helly Hansen: Our Top Alternatives
8. Fjällräven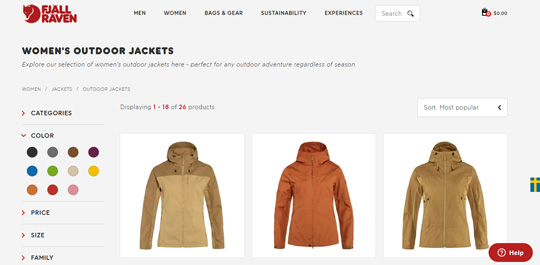 Fjällräven women's outdoor jackets: official website
Fjällräven is a renowned Swedish brand specializing in outdoor clothing and equipment, with a mission to make nature accessible to all.
In 1960, the founder Åke Nordin designed a backpack that was both spacious and comfortable to carry around. This backpack featured an aluminum frame, which was a first of its kind at the time.
Today, Fjällräven is committed to sustainability and safety as it produces a diverse range of gear that caters to all its customers' needs. The brand's focus is to ensure that all its customers feel at ease when exploring nature with its products.
Fjällräven's jackets have a classic, yet straightforward style, and are highly durable, making them ideal for outdoor expeditions in difficult conditions and low temperatures.
Read next:
Why is Fjällräven so Expensive? Are Its Products Worth It?
9 Outdoor Brands like Fjällräven: Our Favorites