Are you a fan of the rainwear Danish brand, Rains, but looking for some alternatives?
In today's article, we've researched and compiled a list of 11 brands that offer similar styles and quality outdoor apparel.
From Tretorn from Sweden to Patagonia from the USA to Barbour from England to 66° North from Iceland, there's something for everyone.
So, whether you're looking for eco-friendly materials, durable outerwear, or stylish backpacks, these brands are the perfect alternatives to Rains and will provide you with all you need!
Let's get started!
Contents:
1. Tretorn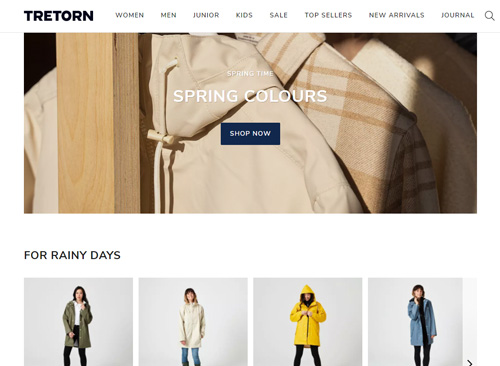 Tretorn official website
Tretorn began in 1891 as a rubber company that produced shoes in Helsingborg, Sweden. As time passed, they expanded their merchandise to include clothing for all ages and genders.
The brand's focus is on crafting long-lasting outdoor apparel with a chic urban vibe, providing the best of both worlds.
Tretorn caters to a particular demographic of individuals who enjoy outdoor activities but prefer a city aesthetic. Their garments are versatile enough for both a night out and camping trips.
While their main expertise is in footwear, their clothing is equally dependable and top-notch. They utilize recycled materials that are waterproof, sturdy, and eco-friendly. Tretorn's prices range from $70 to $200, making it an affordable option.
Don't miss: 9 Swedish Outdoor Clothing and Jackets Brands: Our Favorites
2. Stutterheim

Stutterheim official website
Alexander Stutterheim established the Stutterheim brand in Stockholm in 2011, with a focus on creating effective clothing for the specific weather conditions of Sweden, particularly for rainy weather.
The brand is committed to providing a variety of rain boots, water-resistant sneakers, jackets, and raincoats that are suitable for use in rainy weather.
The brand's products are made from natural materials such as cotton and rubber, as well as synthetic materials such as polyester, and are perfect for rainy days.
Although the prices are somewhat high, ranging from $200 to $400, we believe that they are justified by the brand's high quality.
Related: 8 Swedish Boots and Shoes Brands that You'll Love
3. Didriksons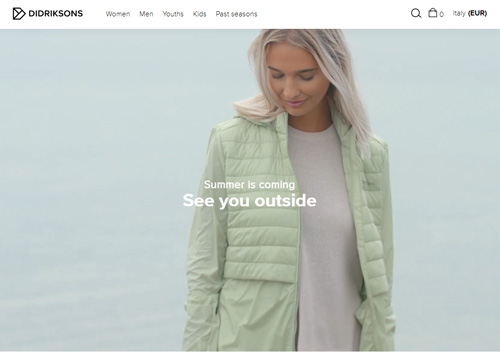 Didriksons official website
Julius and Hanna Didrikson established Didriksons in 1913 in Grundsund, Sweden, with a focus on producing long-lasting and eco-friendly coats for fishermen.
The brand specializes in creating waterproof clothing for men, women, and kids, making it a top choice for those living in rainy areas. Didriksons is committed to sustainable projects that explore materials that are gentle on the environment and have long durability.
Their products are priced between $100 and $300, reflecting their durability and affordability in the long term.
Read also: 13 Best Scandinavian Jacket and Clothing Brands
4. Norse Projects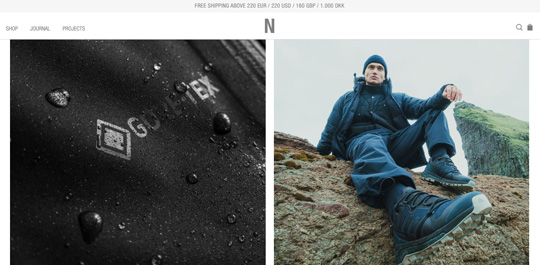 Norse Projects official website
Norse Projects was established in 2005 by Anton Juul and Mikkel Gronnebaek. Their designs represent the authentic Danish style, which is characterized by its simplicity, cleanliness, and modernity.
Norse Projects provides a sophisticated and stylish clothing collection that caters to all your wardrobe needs. Their selection includes a variety of items such as jackets, pants, beanies, socks, gloves, T-shirts, knitwear, and footwear.
This extensive range ensures that you can effortlessly create your favorite outfits without having to search too hard or spend too much time.
Their jackets are built to withstand harsh weather and difficult conditions. For those who require sportswear and work jackets, Norse Projects has a range of options made with Gore-Tex technology.
Read next: 7 Danish Outdoor Clothing and Jacket Brands: Our Favorites
5. Patagonia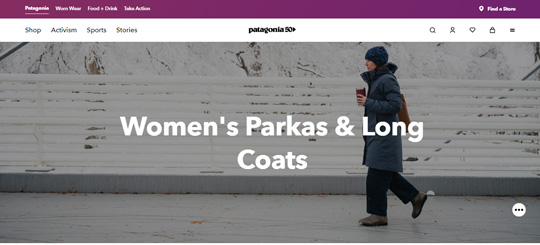 Patagonia women's parkas and coats: official website
Patagonia is a well-respected American brand that specializes in outdoor clothing, renowned for its exceptional quality, longevity, and eco-friendliness. Founded in 1973 by Yvon Chouinard, Patagonia is a pioneer in the outdoor industry, delivering top-notch products that are built to endure.
The company offers a vast selection of outdoor apparel, including jackets, pants, hats, shirts, etc. Patagonia is known for its commitment to sustainability, incorporating recycled materials into many of its products and donating a portion of its profits to environmental causes.
Moreover, the company has established stringent guidelines for its suppliers, ensuring that workers are treated well and paid fairly.
Patagonia's products are designed with practicality and durability in mind, making them well-suited for outdoor enthusiasts. The company's jackets, in particular, are highly regarded for their quality and performance, with a wide range of options available to accommodate various types of weather conditions.
Some of Patagonia's most popular jackets include the Torrentshell and Nano Puff.
Don't miss:
Why Is Patagonia So Expensive and Popular? Are Its Jackets Worth It?
12 Best American Outdoor Clothing Brands
6. Barbour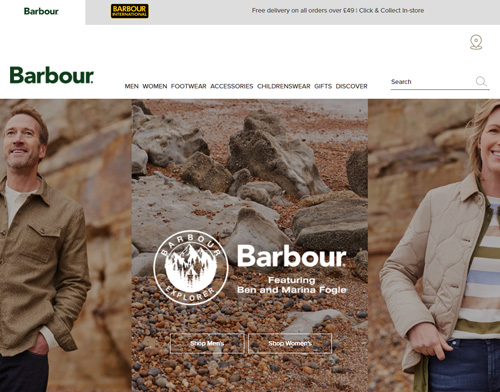 Barbour official website
Barbour is a family-owned clothing company that was founded in South Shields, England, in 1894. The brand has been offering a range of outdoor clothing for many years, including motorcycle wear for British International teams.
In 2014, Barbour expanded its product line by partnering with luxury car manufacturer Land Rover to provide premium clothing for both men and women. This collaboration resulted in a surge in popularity and pricing for the brand.
Barbour's products were featured at London Fashion Week in 2015 and gained a significant following on social media.
One of Barbour's most sought-after items is its waxed jackets. These outdoor jackets are constructed of heavyweight, Sylkoil waxed cotton and are perfect for outdoor activities. The usage of this genuine material distinguishes Barbour from its competitors and validates the brand's higher pricing for its products.
Related: 8 British Jackets and Outdoor Clothing Brands that You'll Love
7. Lands' End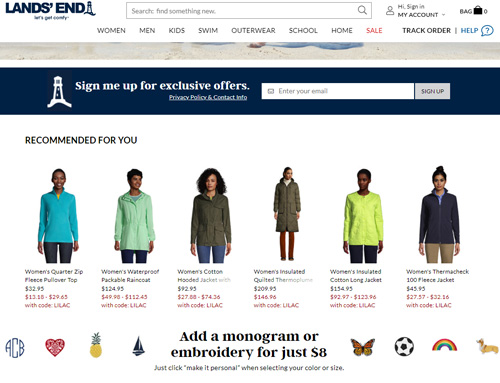 Lands' End official website
Lands' End is a clothing brand that prioritizes safety and simplicity for its men's, women's, and children's lines. It was founded in Chicago in 1963 by Gary Comer, who initially sold sailboat equipment. As the company grew, so did its product lines.
Originally named "Land's End," a typo in the first catalog and a lack of funds to correct it resulted in the brand's current name, "Lands' End."
Nowadays, the brand is renowned globally and offers a wide variety of styles and designs.
Read also: 9 Brands like Lands' End: Our Favorite Alternatives
8. Helly Hansen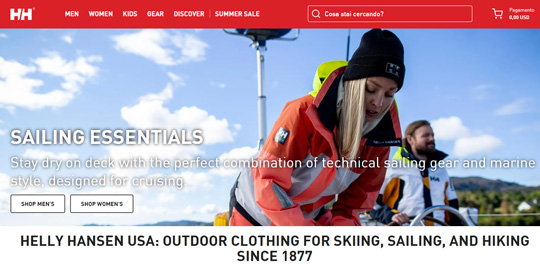 Helly Hansen official website
Helly Hansen is a renowned brand that specializes in waterproof clothing and also provides breathable, functional, and comfortable jackets. These lightweight jackets offer protection against cold and rainy weather while ensuring warmth.
The company was established by Helly Juell Hansen, a Norwegian sea captain, in 1877, and initially focused on producing sailing equipment. It later expanded to include outdoor clothing, especially outerwear suitable for mountain activities.
Helly Hansen currently offers a wide range of products for various sports and activities, including skiing, snowboarding, hiking, mountaineering, and water sports, as well as everyday casual wear, available at different price points.
The Scandinavian brand has various sustainability programs that prioritize protecting the natural environment, including its manufacturing processes, materials, and working conditions.
Read next:
Why is Helly Hansen so Expensive and Popular: Is It Worth It?
10 Best Norwegian Jackets and Clothing Brands
9. 66°North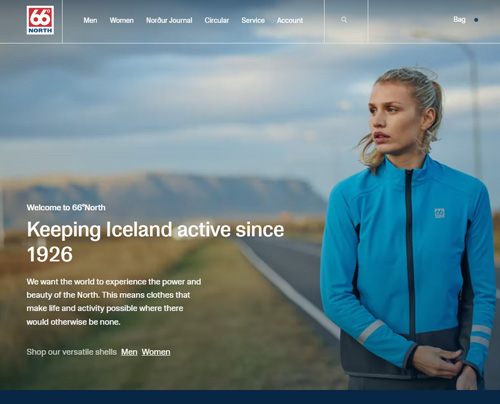 66°North official website
Hans Kristjánsson established 66° North in 1926, a brand that served the needs of Icelandic fishermen who required durable clothing that could endure harsh weather and seas.
Over time, the brand has broadened its selection of designs for both professional and amateur outdoor activities, earning a reputation for manufacturing high-quality and practical clothing.
The Snaefell jacket has been highly praised, and 66° North is committed to sustainable production through ethical sourcing of materials. The brand encourages customers to properly maintain their products and provides repair services to prolong the lifespan of their designs and decrease environmental impact.
66° North is one of the top Icelandic brands in the outdoor clothing industry, primarily producing in Europe with some handmade products in Iceland, including the premium Sölvhóll Collection.
Don't miss: 8 Icelandic Outdoor Clothing Brands: Our Favorites
10. Fjällräven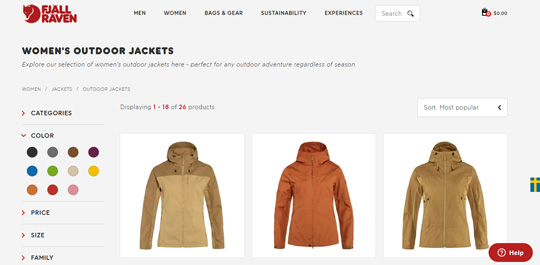 Fjällräven women's outdoor jackets: official website
The Swedish outdoor brand Fjällräven has been operating since 1960 and is known for its exceptional gear and clothing, with a focus on backpacks and jackets.
The company is committed to using eco-friendly materials in its production process such as G-1000, a blend of recycled polyester and organic cotton, and Eco-Shell.
One of Fjällräven's most popular products is the Kånken backpack, which comes in various sizes and colors. The backpack is made of Vinylon F material, which is highly durable, and features a spacious main compartment and front pocket, as well as comfortable shoulder straps and a top handle for easy carrying.
The Kånken is popular among school children and as an everyday accessory.
Fjällräven also offers a range of clothing, including jackets, shirts, and pants, designed to withstand bad outdoor conditions while keeping you comfortable and protected.
For those valuing high-quality, environmentally-friendly outdoor gear and clothing, Fjällräven is an excellent alternative to Rains. Their products are sleek and minimalist in design and built to last for many years.
Related:
Why is Fjällräven so Expensive? Are Its Products Worth It?
9 Outdoor Brands like Fjällräven: Our Favorites
11. Makia

Makia official website
In case you ever travel to Finland, you'll quickly realize that its climate is among the most severe in the world. The weather up north is chilly and arid. To assist people in surviving this climate, Makia has created clothing solutions.
The brand was founded in 2001 and its slogan is "Through the rough seas,". And they deliver! Makia's clothing can endure harsh weather for extended periods. Thus, you could be caught in a downpour and remain dry with Makia.
Makia uses eco-friendly materials in the production of many of its products and has many plans for sustainability.
Read also: 8 Finnish Jackets and Clothing Brands for Outdoor Adventures