Sneakers are a versatile outdoor wear item. They can be used for running, training, traveling, and also with casual outfits every day in the city.
There's an entire and very active market where sneaker enthusiasts buy and sell famous designs of these shoes.
If you're a runner or sneaker aficionado, today's article is for you! We have compiled a list of 8 of the best sneakers and running shoe brands from France that will enrich your footwear collection.
From Hoka One One and its thick soles to Salomon's stylish and functional designs, to Aigle's sophisticated sneakers, there's something for everyone in this selection.
So, let's get started!
Contents:
1. Hoka One One

Hoka One One official website
Hoka One One is a well-known producer of running shoes and sneakers that has gained popularity by creating footwear with a thick sole, providing runners with the necessary boost.
The brand has gained a reputation for its attention to detail, making its shoes unique. Established in Annecy, France, in 2009, the company has since moved its headquarters to Goleta, California.
The brand's creators started by focusing on shoes that would help runners increase their speed and later prioritized practicality and comfort for all types of customers, from professional athletes to non-competitive runners and beginners.
Hoka is a premium brand, with sneaker prices starting at around $150 and reaching as high as $250 for some high-performance designs.
Don't miss: 8 European Running Shoe Brands: Our Top Picks
2. Salomon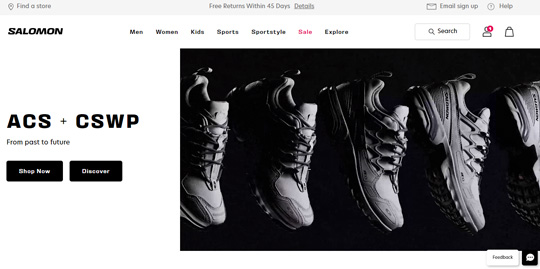 Salomon official website
Salomon, a brand that has recently gained popularity, has been producing top-quality sneakers since the early 2000s. The brand originated in Annecy, France in 1947 as a family workshop that specialized in wood saws and ski edges.
Although Georges Salomon initially focused on skiing equipment, the brand expanded over the years to include all kinds of outdoor gear for hiking, climbing, backpacking, and trail running, as well as fashionable sneakers for everyday use.
Salomon's success is attributed to its ability to blend stylish design with functionality. Generally, Salomon's sneakers are priced between $100 and $200.
Related: 9 Shoes and Boot Brands like Salomon for Outdoor Activities
3. Decathlon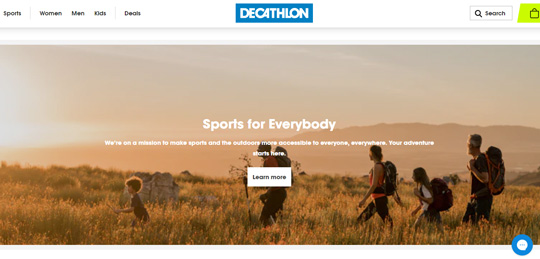 Decathlon official website
Decathlon is a group of brands that comprises multiple subsidiaries. The company was founded by Michel Leclercq in Lille, France in 1976 and rapidly expanded worldwide, with more than 1500 stores in over 40 countries and an official website for online purchases.
The brand's subsidiaries are dedicated to a specific sport or activity, such as fishing, golf, fitness, and others. Decathlon is focused on providing reasonably priced, high-quality products that are built to last.
Decathlon offers a range of designs for sneakers and running shoes, including options for running, walking, and hiking, as well as a selection of urban-style sneakers. The brand prioritizes the use of sustainable materials wherever possible, and prices for their products range from $40 to $100.
Read also: 8 Italian Running Shoe Brands: Our Favorites
4. Lacoste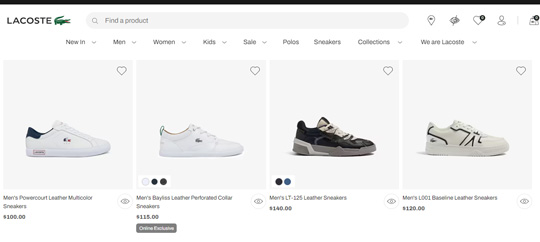 Lacoste men's sneakers: official website
René Lacoste and André Gillier founded Lacoste in 1933 in Troyes, France. The brand primarily focuses on sports-related products, as its founder was a tennis player.
However, they also offer a variety of other items, including clothing, footwear, accessories, and eyewear. Lacoste is recognized by its crocodile logo and is available both in physical retail stores worldwide and online.
Lacoste has established partnerships and connections, including the Lacoste Foundation, which aims to help children play sports in their schools. The brand has successfully merged fashion with sports clothing, producing stylish and comfortable designs.
Regarding sneakers, Lacoste offers several designs in different colors and styles, including canvas, textiles, and leather. They are suitable for various occasions, such as playing tennis or going out, and feature smooth and breathable fabrics for comfort and durability. The signature crocodile logo is included on each pair.
Lacoste sneakers range in price from $40 to $200, accommodating different budgets.
Read next: Are Nike Running Shoes Good for Walking?
5. Aigle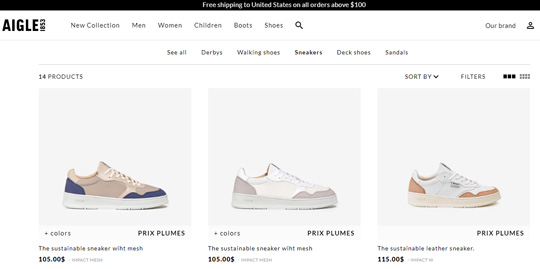 Aigle women's sneakers: official website
Aigle was founded in 1853 in Montargis, France. The brand is widely recognized for its Wellington boots, however, they have expanded their product line over the years. They now offer a diverse selection of clothing suitable for all seasons and activities.
Aigle is known for its high-quality and long-lasting raincoats. The brand's jackets are also recognized for their exceptional design and quality. Additionally, Aigle provides a range of accessories and footwear options for all ages and genders.
Aigle's sneakers have a unique and sophisticated style, despite the limited selection. These shoes are crafted using premium materials and a stitched or glued construction, ensuring comfort and durability during city exploration in any weather. Prices range from $80 to $200.
Don't miss: ASICS vs Nike Running Shoes: Which Brand is Better?
6. Millet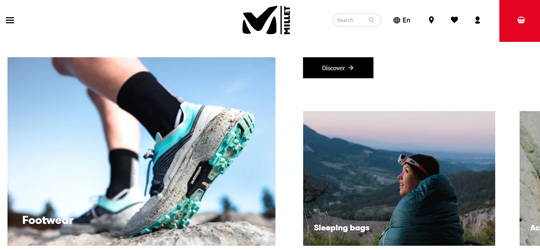 Millet official website
Millet is a renowned brand that specializes in producing high-quality sportswear and footwear, particularly for mountain activities.
Its origins date back to 1921, when Marc Millet and his spouse established a workshop in Saint-Fons, situated close to Lyon, to manufacture shopping bags and haversacks.
Gradually, the company's production expanded to include a wide range of products that offered protection against difficult weather conditions such as cold, rain, and wind, emphasizing durability and resilience. Millet prioritizes safety and is committed to promoting sustainability.
Millet's collection of shoes and sneakers is primarily designed for mountaineering, trekking, and trail running, with prices ranging from around $100 to over $200.
Related: Adidas vs Nike Running Shoes: Which Brand is Better?
7. Lafuma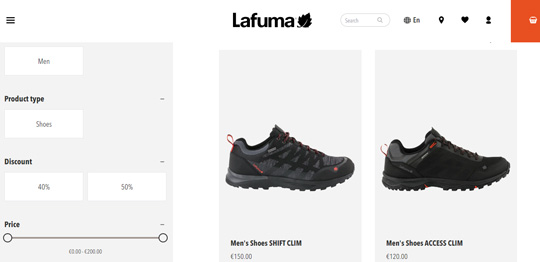 Lafuma men's shoes: official website
Lafuma was founded in 1930 by Victor, Gabriel, and Alfred Lafuma. The company initially produced climbing backpacks and later introduced its own metal-frame backpack, which proved to be a major success.
Over time, Lafuma expanded its product range to include a variety of outdoor gear and clothing, with a particular emphasis on hiking and climbing.
Although Lafuma is widely recognized for its backpacks and footwear, its other products are of comparable quality to those of other well-known outdoor clothing brands, like Columbia, Patagonia, etc. Lafuma is also a group with several subsidiaries.
Lafuma's footwear designs are primarily geared toward mountain activities and feature advanced technologies such as Gore-Tex for waterproofing and breathability. Some casual sneakers are also available, with prices ranging from $80 to $180.
Read also: 8 European Sneaker Brands that You'll Love
8. Le Coq Sportif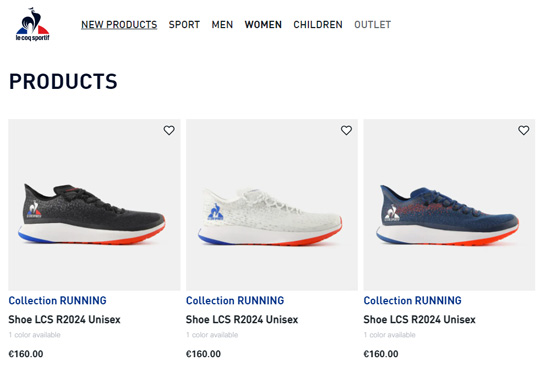 Le Coq Sportif running shoes: official website
Le Coq Sportif is a well-known brand that creates athletic wear, accessories, and shoes for sports enthusiasts. This brand has been around for over 140 years, founded in 1882 by Émile Camuset, making it one of the oldest brands in the market.
Over the years, Le Coq Sportif has sponsored different sports teams, including football (soccer), cycling, basketball, boxing, and more. The brand is globally recognized by its Rooster logo and offers a range of products suitable for both casual wear and sportswear.
Le Coq Sportif's footwear collection includes sneakers and running shoes for men and women, with some unisex designs, and some models are inspired by 1990s tennis styles. The shoes are designed for comfort, with supportive uppers and outsoles. The brand's logo is typically embroidered on the tongue.
Le Coq Sportif's sneakers are a fashionable and comfortable choice for those who prefer classic, retro-inspired designs. The prices range from $50 to $150, making it an accessible brand.
Read next: 8 Italian Sneaker Brands for Outdoor and Casual Wear