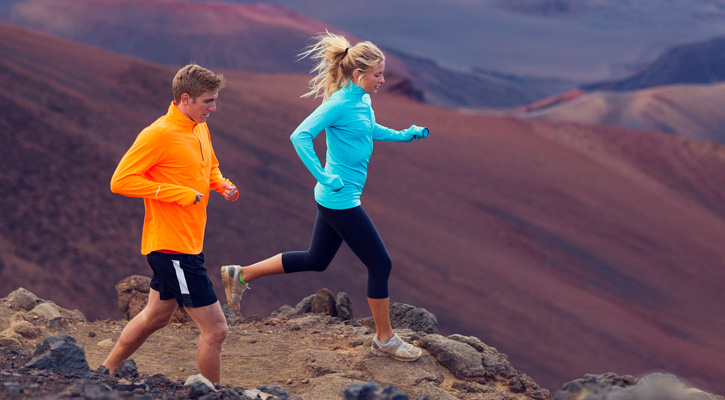 If you're a runner looking for high-performance, stylish, and comfortable running shoes, Italy is home to some of the best running shoe brands in the world. In this article, we'll explore 8 of them!
From Diadora to Lotto to La Sportiva, these brands offer a wide range of options for men, women, and children, with prices to suit every budget.
Whatever your preferred type of running, be it running in your city park or up there on mountain trails, these Italian brands have all you need.
We'll take a look at their history, types of products, and prices.
Contents:
1. Diadora

Diadora official website
Diadora is an Italian manufacturer that specializes in producing sports accessories, sportswear, and footwear for various sports activities, including running, as well as for casual wear.
The company was established in 1948 with the primary objective of designing trekking shoes and boots. However, it was not until 1970 that the brand decided to expand its production to include sports shoes.
Diadora caters to men, women, and kids, and their prices are diverse, yet affordable. One of the unique features of Diadora is its commitment to making products that are not only comfortable and breathable but also highly safe.
Moreover, due to the quality of the materials used and the design of the runners and sneakers, they can be worn with different outfits.
Don't miss: 8 European Running Shoe Brands: Our Top Picks
2. Lotto Sport Italia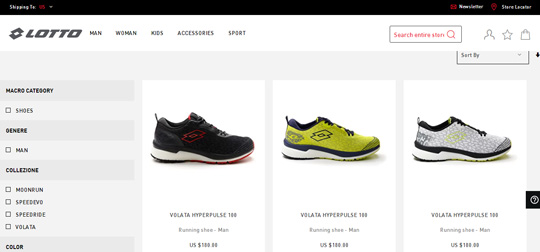 Lotto Sport Italia running shoes: official website
Lotto Sport Italia originated in Montebelluna, a city in the province of Treviso, in 1973. Since its inception, the company has been manufacturing sports shoes, initially focusing on tennis shoes before branching out to other sports.
The brand's logo is distinctive, featuring a double lozenge that represents a merged tennis court and football field.
Over time, Lotto Sport Italia expanded its product range to include sportswear in addition to footwear. The company offers a wide variety of shoe models, including sneakers for sports, casual wear, and more formal occasions, available in various colors and materials.
Each shoe is designed to provide you with maximum comfort and durability, with a flexible fit that ensures stability and breathability.
Lotto Sport Italia's products cater to women, men, and children, and are priced affordably.
Related: 8 Italian Sneaker Brands for Outdoor and Casual Wear
3. Kappa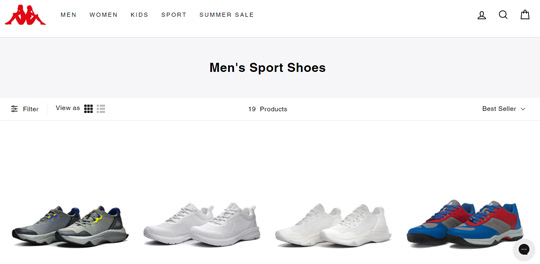 Kappa men's sports shoes: official website
Kappa is a renowned Italian company that specializes in sportswear production. Among its various products, Kappa's sports shoes are widely recognized.
The brand was born in 1978 by Marco Boglione and Maurizio Vitale as a part of the Robe di Kappa company. The name was later shortened to "Kappa," and the brand gained popularity through its sponsorship of the Juventus football team.
The brand's logo, which features two young people sitting together, has remained unchanged since its inception, with the addition of the "Kappa" wording over the years.
Kappa's sneakers are known for their colorful and sporty design, with some models having an elegant touch. The shoes are highly comfortable, making them ideal for sports enthusiasts, men, women, and children alike. Many people also wear Kappa sneakers on a daily basis for a trendy look.
The shoes are made from durable materials such as synthetic uppers and rubber soles, making them long-lasting. Also, Kappa sneakers are reasonably priced, contributing to their widespread popularity.
Read also: Is Polyester Good for Running?
4. Fila

Fila official website
Fila is a well-known brand that specializes in the production of sports shoes and sportswear. The company offers a wide range of models that cater to the needs and preferences of different customers.
Founded in 1911 in Coggiola, Piedmont, Fila was later acquired by the Fila Korea group in 2007, which is based in Seoul. Initially, the company produced underwear for both men and women, before officially moving its headquarters to Biella in 1923.
Today, the brand produces sports clothing for men, women, and kids, and is known for its high-quality materials, durability, and comfort. Fila's products are reasonably priced, and customers can choose from a variety of sports sneakers, but also casual shoes.
Read next: Are Nike Running Shoes Good for Walking?
5. Sergio Tacchini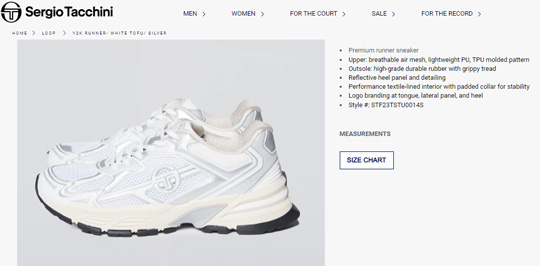 Sergio Tacchini running sneaker: official website
Sergio Tacchini is a manufacturer of sportswear, sports accessories, and footwear. Its logo is distinctive and comprises the initials "S" and "T" of its founder.
While the logo is eye-catching, the company's products are equally impressive, characterized by their sophistication, comfort, flexibility, and durability. Sergio Tacchini's sports sneakers embody these qualities.
The company was established by Sergio Tacchini, a famous Milanese tennis player, in 1966 with the objective of creating sports products that were both comfortable and suitable for casual wear.
The brand is known for its exceptional design, premium materials, and meticulous attention to detail, which contribute to the high cost of some of its products.
Don't miss: Adidas vs Nike Running Shoes: Which Brand is Better?
6. Scarpa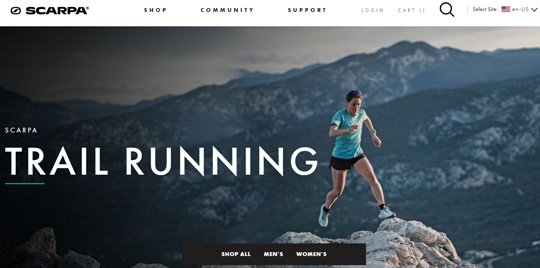 Scarpa trail running shoes: official website
Scarpa is a well-known Italian brand that specializes in producing high-quality footwear suitable for various activities such as hiking, mountaineering, climbing, trail running, and urban outdoor activities.
The brand was founded in 1938 by Rupert Edward Cecil Guinness, 2nd Earl of Iveagh, and has been known for its exceptional products since its inception. In 1956, the Parisotto family acquired the company, and since then, Scarpa has become an internationally renowned brand.
Scarpa was the first Asolan brand to sell in the USA in the 1960s. The brand is currently family-owned and has multiple offices in northern Italy.
Scarpa has always been committed to creating footwear that is not only of excellent quality but also lightweight and comfortable. The brand offers a wide range of models to cater to the diverse tastes of its customers.
Scarpa's running shoes are mainly designed for trail running, which involves running on uneven terrain on mountain trails.
Related: Scarpa vs La Sportiva Shoes: A Comparison
7. Salewa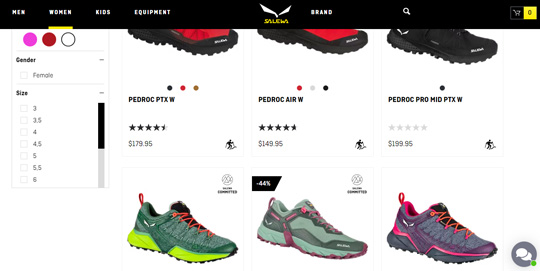 Salewa women's speed hiking shoes: official website
Salewa is a renowned Italian brand that specializes in designing sportswear for mountain-based activities. The company is headquartered in Bolzano, Italy, and was founded by Josef Liebhart in Munich, Germany, in 1935.
Over the years, Salewa has become a significant player in the production of hiking, mountaineering, and biking gear. The company caters to a diverse customer base, including men, women, and children.
When it comes to running in particular, Salewa offers a variety of shoes for speed hiking, with prices starting at approximately $150.
Read also: ASICS vs Nike Running Shoes: Which Brand to Choose?
8. La Sportiva

La Sportiva running shoes: official website
La Sportiva is a company that specializes in producing top-quality accessories, footwear, and outdoor sports clothing, with a particular emphasis on mountain sports.
Founded in 1928 by Narciso Delladio, the company was originally known as Calzoleria Sportiva before changing its name to La Sportiva.
The brand has always been committed to providing maximum comfort and high-quality products, a philosophy that has remained unchanged over the years. Delladio started his shoemaker business in the 1920s, producing leather boots and wooden clogs for farmers and lumberjacks before expanding into other areas.
Today, La Sportiva's main objective is to design products that make outdoor activities more enjoyable, reducing fatigue and ensuring comfort, practicality, and lightness. While the brand is primarily focused on mountain activities, it also offers a range of trail running shoes for those who enjoy running.