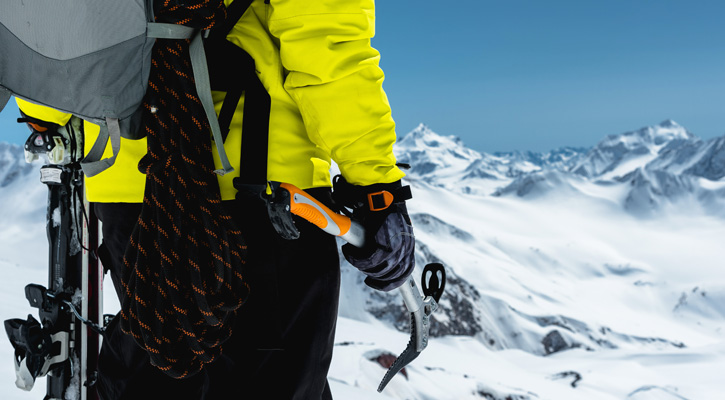 If you're an outdoor enthusiast, you're probably familiar with Marmot, a well-known American brand that offers high-quality outdoor gear, including jackets, backpacks, tents, and sleeping bags.
However, buying all your gear from the same brand can become limiting at a certain point, and you may be looking for other options that offer similar quality and a wider range of products.
In today's article, we'll explore 9 outdoor brands like Marmot that offer a large collection of products for various outdoor activities, including mountaineering, camping, and hiking.
Some of these names are very popular like The North Face and Patagonia, while others are less known like Berghaus, Mammut, and Millet: nevertheless, all these brands offer excellent quality!
We'll go through each brand's history and main products, and in the end, you'll have many options to choose from.
Contents:
1. RAB

RAB official website
In 1981, Rab Carrington founded RAB in Sheffield, South Yorkshire, England. Carrington, an experienced climber, developed a sleeping bag that became popular among the local mountaineering community.
Today, RAB offers a wide range of high-quality mountain products for both men and women, including jackets, backpacks, sleeping bags, and accessories. Although RAB's products can be expensive, they are well-known for their excellent quality and superior performance, earning them a loyal customer base worldwide.
Notable products include the RAB Microlight Alpine Jacket, a lightweight and versatile jacket designed for cold weather conditions, and the RAB Ascent 900 Sleeping Bag, a high-performance sleeping bag built for extreme conditions, featuring durable and windproof Pertex Quantum fabric, 650 fill power down insulation, and a trapezoidal boxwall construction for warmth.
Don't miss: 8 British Jackets and Outdoor Clothing Brands that You'll Love
2. The North Face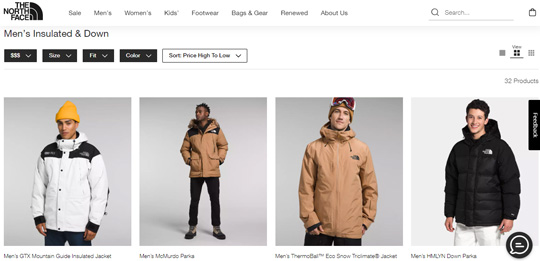 The North Face Men's Insulated and Down jackets: official website
The North Face is a brand founded in 1966 by Douglas Tompkins and Susie Tompkins Buell in San Francisco, California. Its iconic logo features a stylized depiction of Half Dome in Yosemite National Park.
The brand now operates under VF Corporation, which owns multiple outdoor brands. The North Face offers a broad range of products for various outdoor activities, including winter down parkas, school or hiking backpacks, sleeping bags, camping tents, and hiking shoes.
The brand has introduced DryVent and Thermoball technologies, which are waterproof/breathable fabric and synthetic insulation that mimics natural down, respectively. While The North Face is generally considered a high-end brand, it also offers affordable items.
In recent years, The North Face has taken significant steps towards sustainability by reducing its environmental impact and using recycled materials.
Some of The North Face's popular products include the Thermoball jacket, a lightweight and packable synthetic insulated jacket that provides warmth even when wet, and the Recon backpack, a versatile and durable backpack designed for both outdoor and urban use, featuring a padded laptop sleeve and multiple pockets for organization.
Related:
Why Is The North Face So Expensive and Popular? Are Its Jackets Worth It?
11 Brands like The North Face: Our Top Alternatives
3. Berghaus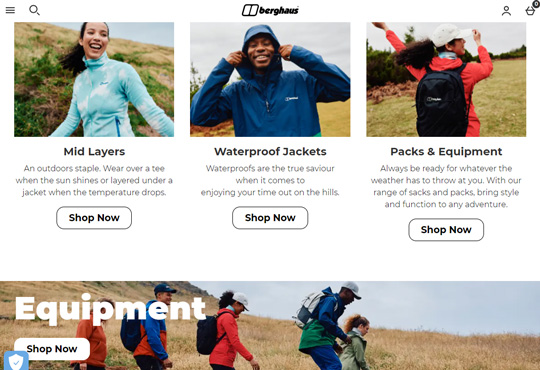 Berghaus official website
In 1966, two mountaineers established Berghaus as a distributor of top-notch outdoor equipment. The company's initial store was situated in Newcastle, England, and gained a reputation for introducing iconic gear to the UK market.
The brand's name, which means "mountain house," derives from German. In 1971, the founders opened a new factory and developed the Berg 172, the first Berghaus rucksack. Three years later, they introduced the groundbreaking Cyclops rucksack, which was the world's first rucksack with an internal frame.
The Cyclops rucksack continues to be in demand and is still a popular choice. Berghaus relies on Gore-Tex as its primary waterproofing fabric for clothing and was one of the earliest European outdoor brands to use this technology.
The company has also introduced other material innovations such as Hydroshell, Freeflow, and Argentium. Berghaus provides a wide range of items, including jackets, backpacks, and footwear.
While their waterproof jackets may be costly, we believe that the quality of Berghaus products justifies the price.
Read also: 8 Outdoor Brands like Berghaus: Our Favorites
4. Mammut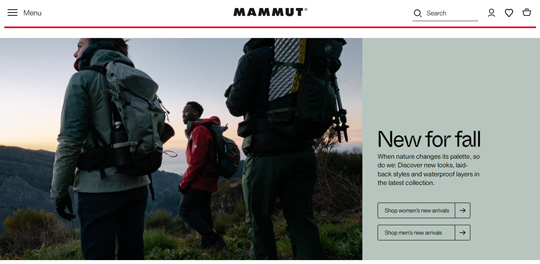 Mammut official website
Mammut is a Swiss company that has been in existence for over a century. It was founded by Kaspar Tanner in 1862 as a manufacturer of ropes.
Today, Mammut is a global outdoor brand that offers a wide range of products for mountaineering, camping, and hiking. These products include footwear, clothing, and equipment, both technical and casual.
Despite their high prices, Mammut products are known for their cutting-edge technology and stylish designs that perform exceptionally well.
Some of the brand's most popular products include the Mammut Eiger Speed ML Hybrid Hooded jacket, which is designed for mountaineering, trail running, and ski touring, and the Mammut Nordwand Pro Gloves, which are technical gloves designed for mountaineering and skiing. These gloves feature Gore-Tex Grip and PrimaLoft Gold insulation for water resistance and protection.
Read next: 7 Swiss Jacket and Outdoor Clothing Brands: Our Favorites
5. Columbia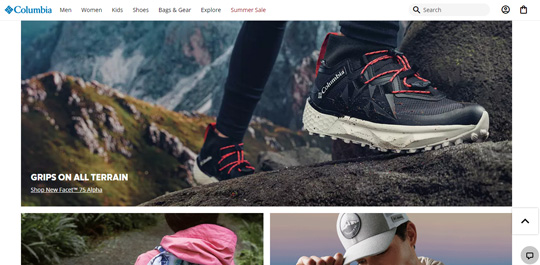 Columbia official website
Columbia Sportswear, also known as Columbia, was founded in 1938 by a family who fled Germany and settled in Portland, Oregon. Even though globally famous, Columbia has always had a family-owned business image.
The brand provides a wide range of outdoor products, and its popularity has grown over time, partly due to its affordable prices that cater to every budget.
Columbia is comparable to other brands on this list in terms of materials and technologies, having introduced various technologies over the years. For instance, the Omni-Tech fabric is both waterproof and breathable, while the thermal reflective systems used in their winter jackets are very effective in providing warmth.
All in all, Columbia is an excellent alternative to Marmot, offering similar quality products at more affordable prices.
Notable products include the Columbia Arcadia II Rain jacket, a waterproof and breathable rain jacket featuring Columbia's Omni-Tech technology, an adjustable hood, and zippered pockets.
The Columbia Redmond Hiking shoe is another versatile product made with leather and mesh materials, featuring Columbia's Omni-Grip technology for traction on various surfaces.
Don't miss:
Patagonia vs Columbia: Which Brand Offers the Best Outdoor Gear?
10 Brands like Columbia Sportswear: Our Top Alternatives
6. Millet

Millet official website
Millet is a renowned French company that specializes in the production of mountain gear, clothing, and footwear. The company was founded in 1921 by Marc Millet and his partner in Saint-Fons, near the city of Lyon.
Millet products are designed to endure extreme conditions such as wind, rain, and cold temperatures, while also being highly durable. The company prioritizes sustainability, meticulously selecting materials for its products.
Millet's products provide exceptional comfort and are flexible, while also offering protection from the elements. The brand is highly regarded by outdoor enthusiasts and is known for its premium quality products.
Millet employs only the finest materials and technologies, which increases the pricing of its products. In fact, some of Millet's jackets and shoes are priced over $200!
Related: 8 French Jackets and Outdoor Clothing Brands: Our Favorites
7. Arc'teryx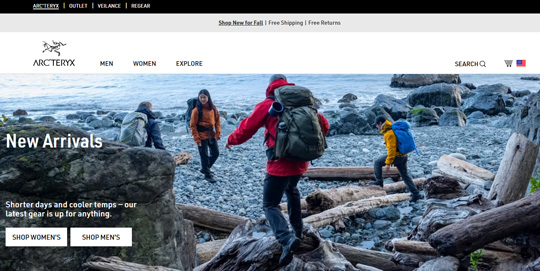 Arc'teryx official website
The inspiration for the Arc'teryx brand is drawn from the vast Canadian wilderness, including mountains and lush landscapes. The brand originated in 1989 when mountaineer Dave Lane recognized the need for better outdoor clothing.
The brand has since grown from a small Vancouver factory to one of Canada's largest design and manufacturing plants, with a global presence.
The Archaeopteryx, the oldest known bird and a pivotal moment in the evolution of dinosaurs inspired the brand's unique logo and name. This symbolizes the founders' focus on fearless innovation.
The Arc'teryx design center functions like a lab, with outdoor simulations used to thoroughly test their products. The brand's products are designed to be durable, comfortable, and environmentally friendly, with many materials from sustainable sources.
Arc'teryx has collaborated with leading technology producers like Gore-Tex and has also developed its own technologies, including Coreloft and AC2. These technologies significantly contribute to the durability, waterproofing, breathability, and windproofing of the brand's materials.
Read also:
Is Arc'teryx Sustainable? A Look at their Environmental Practices
Why is Arc'teryx so Expensive and Popular? Is It Worth It?
8. Patagonia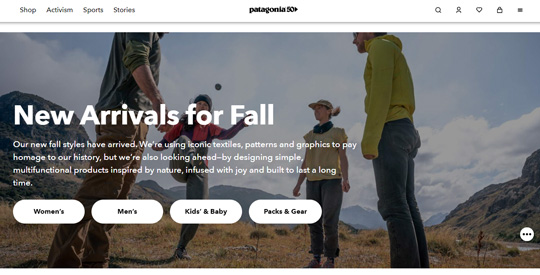 Patagonia official website
California-based outdoor brand Patagonia was founded in 1973 by Yvon Chouinard, a renowned rock climber. The company is known for its environmentally sustainable and minimalist designs.
Patagonia's product range includes jackets, pants, backpacks, hoodies, and T-shirts for women, men, and kids, and it uses technical waterproof and breathable fabrics such as H2No and Gore-Tex.
While the brand's products are generally expensive, they are known for their high performance, according to many of its customers.
Some of Patagonia's popular products include the Nano Puff jacket, a lightweight and packable synthetic insulated jacket made with recycled materials, and the Black Hole Duffel, a durable and water-resistant duffel bag made with recycled materials that features multiple handles and straps for easy carrying and organization.
Read next:
9 Brands Like Patagonia for Sustainable Outdoor Clothing
Why Is Patagonia So Expensive and Popular? Are Its Jackets Worth It?
9. Mountain Hardwear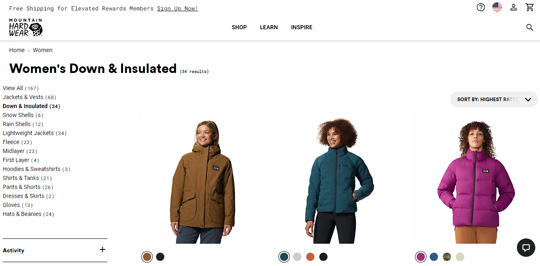 Mountain Hardwear women's down insulated jackets: official website
A group of professionals who had previously worked for Sierra Designs established Mountain Hardwear in 1993 in California.
The company's success was significantly influenced by Ed Viesturs, the first American athlete to ascend fourteen 8,000-meter mountains, who sponsored it. Mountain Hardwear has maintained its engagement with mountain climbers and athletes due to his accomplishments.
In 2003, Columbia Sportswear purchased the company, and the first Mountain Hardwear store opened in Portland, Oregon in 2008. Another store was opened in Seattle the same year.
Today, Mountain Hardwear is renowned for its mountaineering equipment, high-quality materials, and innovative technologies. Although some products may exceed $250, the brand also offers more affordable options.
Mountain Hardwear's renowned products include the Ghost Whisperer Down jacket, which is a lightweight and compressible jacket designed for cold weather. It's made with 800-fill-power down insulation and has a water-resistant shell and a slim fit style.
The Trango 2 Tent is another high-performance product designed for extreme conditions. It's made of waterproof materials and offers a spacious interior.
Don't miss: 11 European Brands for Outdoor Enthusiasts: Our Top Picks