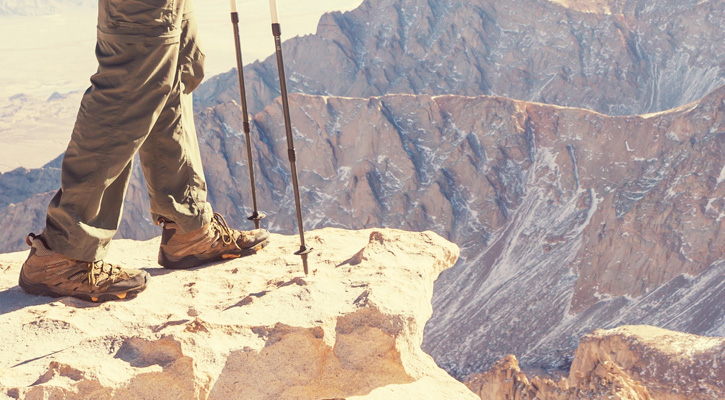 If you're planning a hiking trip or a camping adventure, choosing the right footwear is essential. With so many brands and models on the market, sometimes it can be overwhelming to find the perfect pair.
Salomon is a good brand to shop from for your next pair. But what if you needed other brand options to explore?
That's what we're here for today! The brands that we're going to discuss in this article are just like Salomon if you need high-quality shoes or boots for your outdoor activities, be it hiking, camping, or mountaineering.
Millet, La Sportiva, Lowa, Scarpa, Hanwag, Merrell, Aigle, Helly Hansen, and Mammut are some of the most popular options when it comes to footwear that is similar to that of Salomon.
They offer a wide range of options for outdoor enthusiasts, with unique features, materials, and technologies that cater to different needs and preferences.
From waterproof and breathable membranes to eco-friendly materials, these brands provide a variety of shoes for everyone to explore. Let's take a look!
Contents:
1. Millet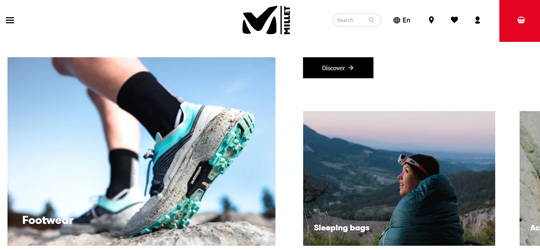 Millet official website
Millet is a French brand that operates out of Annecy and was established in 1921 by Marc and Hermance Millet. The brand initially focused on producing shopping bags, but has since expanded its product line to include outdoor gear, clothing, and shoes.
Millet is renowned for its mountaineering products, which are available in a wide range of colors, designs, and features.
If you're in the market for a new hiking shoe, we recommend trying the Men's G TREK 5 GORETEX from Millet. This shoe is constructed from high-quality Nubuck leather and is both durable and comfortable, with padding around the ankle. It also features a Gore-Tex membrane and Vibram outsoles.
Don't miss: 8 European Hiking Boots and Shoes Brands: Our Top Picks
2. La Sportiva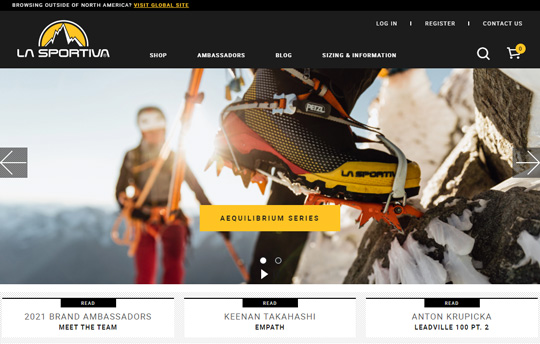 La Sportiva official website
La Sportiva, a company that originated in Italy in 1928, continues to manufacture most of its footwear in Italy while also having factories in China and Vietnam.
In addition to sportswear and ski equipment, La Sportiva offers eco-friendly options such as the Mythos Eco and Cobra Eco, which are made from biodegradable leather and recycled nylon. The brand is committed to sustainability and aims to achieve zero waste in its manufacturing facility.
La Sportiva also offers vegan models, while other models like the Nucleo High II GTX utilize Nubuck leather for durability and breathability. The brand's Gore-Tex® Surround technology ensures dry feet in warm weather.
La Sportiva's hiking boots range in price from $100 to $200 and are designed for trekking and hiking in challenging conditions throughout the year.
Related: 10 Italian Hiking Boot Brands: Our Favorites
3. Lowa

Hikers wearing Lowa boots
Lowa is a renowned German brand that was born in 1923 near Munich. At present, the company has various factories situated in Germany, Slovakia, and Italy.
Lowa is very particular about using only European-sourced materials from leather to fabrics and has strict regulations in place to ensure this.
The brand is famous for producing durable and supportive footwear that is ideal for hiking and mountaineering trips. The shoes are crafted using high-quality materials such as split leather, Nubuck leather, and recycled fabrics.
All the midsoles are made using recyclable polyurethane or Dyna PU, which is lighter, more supportive, and environmentally friendly than other types of midsoles.
Lowa's Renegade GTX Boots are perfect for hiking on the most challenging trails and technical terrains. For less demanding hikes, the Taurus Pro GTX Mid is a better option. These boots are reasonably priced for the quality they offer, with most models available for less than $250.
Read also:
7 German Hiking and Winter Boot Brands: Our Top Picks
Lowa vs Salomon Hiking Boots: A Comparison
4. Scarpa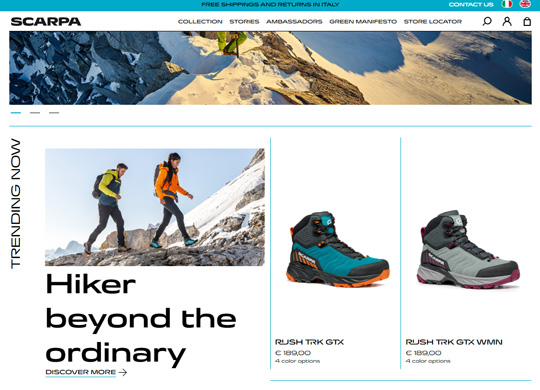 Scarpa official website
Scarpa is an Italian brand that has been in the footwear industry since 1938. The company is family-owned and still manufactures its outdoor and hiking boots in Italy.
Scarpa became the first company to export its footwear to the US in 1956 after realizing the needs of the mountaineering culture in Northern Italy.
Scarpa offers a wide range of footwear models for various outdoor activities such as hiking, mountaineering, climbing, skiing, and trail running. The company is committed to sustainability and uses both synthetic and natural rubber to make most of its footwear. In addition, Scarpa minimizes waste during the production process by using knitted fabric.
One of Scarpa's popular boots is the Zodiac Plus GTX for men, which is made of primary suede and leather and has waterproof and breathable protection. The Rush Women's Boots, on the other hand, are made of polyester, mesh, PU, and Nubuck, making them extremely lightweight for day hikes.
Scarpa's boots are affordably priced and suitable for hiking in challenging European terrains.
Read next: Scarpa vs La Sportiva Shoes: A Comparison
5. Hanwag

Hanwag Omega boot
Hanwag is another German brand that we have selected for this collection. It was established near Munich in 1921 by Hans Wagner, who initially produced and mended shoes.
The company later developed the double-stitching shoemaking technique that it still employs today. Hanwag currently provides high-quality, long-lasting shoes and boots made in Europe for mountaineering, hiking, traveling, and other activities.
Its main materials and technologies consist of leather, G-Loft, Gore-Tex, Eco-Shell, and Bio Ceramic. The Alaska line is one of Hanwag's most popular, and it is a comfortable, durable, and adaptable boot that is suitable for all sorts of outdoor activities.
Don't miss: Hanwag vs Meindl Boots: A Comparison
6. Merrell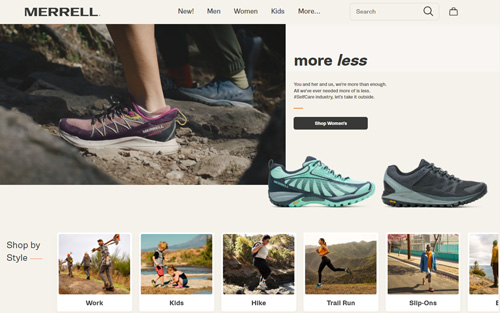 Merrell official website
Merrell was founded in 1981 by Clark Matis, Randy Merrell, and John Schweizer in the United States. Prior to founding Merrell, Randy Merrell had already achieved success in the footwear industry.
Clark Matis and John Schweizer had previously worked at the Rossignol ski company. Their goal was to create a top-quality outdoor boot that was affordable and accessible to everyone.
Despite being acquired by multiple companies over the years, Merrell has remained true to its original vision. The brand's shoes feature Vibram soles, Gore-Tex membranes, leather, and synthetic uppers, as well as Merrell's proprietary technologies such as M-Select GRIP and M-Select DRY.
One of Merrell's most iconic shoes is the Moab, which is currently in its third iteration. It is available in various options and is ideal for hiking and mountain activities.
Related:
Merrell vs Salomon Hiking Boots: Which Brand is Better?
Oboz vs Merrell Hiking Boots: A Comparison
7. Aigle

Aigle boots: official website
Founded by Hiram Hutchinson in Montargis in 1853, Aigle is a renowned French brand that specializes in creating clothing, footwear, and accessories for men, women, and children.
The brand is best known for its rubber rain boots, which are both stylish and functional, but it also offers a range of high-performance walking and hiking shoes.
Aigle products are characterized by their simplicity and elegance, and they are designed to perform well in any weather conditions. The brand uses only the highest quality materials and employs exceptional manufacturing techniques, which is reflected in its premium pricing.
Aigle waterproof shoes incorporate the latest technologies and expertise of the brand, providing both comfort and durability for long hikes in nature.
Read also: 8 Swedish Boots and Shoes Brands that You'll Love
8. Helly Hansen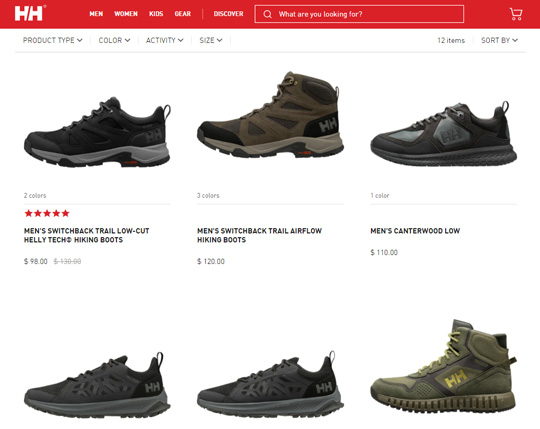 Helly Hansen official website
Founded in 1877, Helly Hansen is a Norwegian brand that specializes in producing outdoor and sailing gear.
The company has expanded its product line to include high-quality hiking and casual footwear for men, women, and kids, as well as outerwear, and accessories for outdoor activities.
Helly Hansen is committed to selecting suppliers carefully and testing materials to ensure top-notch quality. The brand sources from manufacturers in Asia and Europe, with the majority of products made in China, followed by Bangladesh and Vietnam.
The brand's hiking boots are crafted from various materials, depending on their intended use. For instance, the Switchback Trail Low-Cut Helly Tech® Hiking Boots are lightweight and waterproof, made from suede, while the Cascade Mid Helly Tech® Hiking Boots feature the HELLY TECH® membrane for durability and breathability.
Despite their premium quality, most Helly Hansen models are priced below $150, making them affordable for outdoor enthusiasts.
Read next: 6 Norwegian Boots and Shoes Brands: Our Top Picks
9. Mammut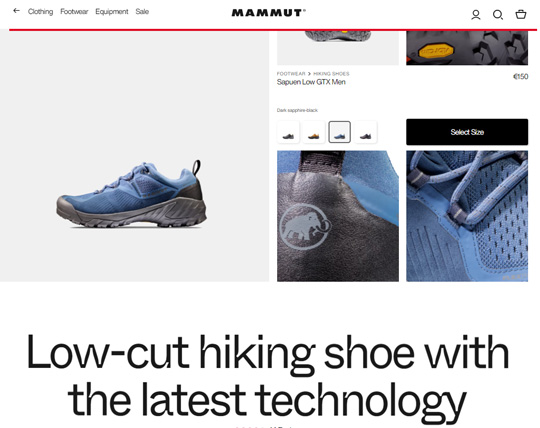 Mammut official website
Mammut was born in Switzerland in 1862 and continues to design its products there. The brand offers a variety of shoes for hikers and outdoor enthusiasts, as well as sportswear, mountaineering gear, sleeping bags, and climbing ropes.
Mammut prioritizes creating durable hiking and mountaineering boots that provide ample support for heavier loads. The GORE-TEX technology ensures dry feet, and the Vibram outsoles provide optimal traction.
The brand is committed to producing more sustainable products through the use of recyclable materials, clean production with minimal emissions, and ethical treatment of animals. The Mammut's products are usually highly-priced, with some hiking and mountaineering items exceeding $500.
Don't miss: 8 Finnish Shoes and Boots Brands That You'll Love