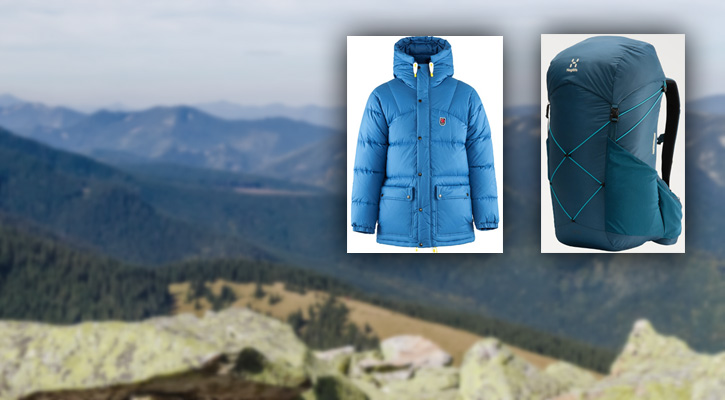 Haglöfs and Fjällräven are two Swedish brands that have been setting the standard for outdoor gear, with Haglöfs being in business for over a century.
In today's article, we'll compare these two brands, exploring their histories, production processes, sustainability efforts, main products, and prices.
From backpacks to jackets, we'll take a closer look at the features that make these products stand out in the crowded outdoor gear market.
Whether you're planning a hike on a mountain trail or a weekend camping trip with friends, this comparison will help you make the right decision about which of these two brands is right for you.
So, let's get started!
Comparison Table:
| | Haglöfs | Fjällräven |
| --- | --- | --- |
| Founded | 1914, Sweden | 1960, Sweden |
| Product Range | Jackets, backpacks, shoes, and other equipment for mountain and lifestyle activities. | Jackets, backpacks, and other gear for mountain and lifestyle activities. |
| Materials | Nylon and Polyester (some of it recycled), Organic cotton, RDS down insulation, Mimic synthetic insulation, Gore-Tex membrane, etc. | Nylon and Polyester (some of it recycled), Organic cotton, traceable down insulation, Eco-Shell membrane, G-1000 waxed fabrics, etc. |
| Sustainability | Focuses on reducing carbon footprint, utilizes sustainable materials and renewable energy, prioritizes animal welfare for animal-based materials. | Uses sustainable and recycled materials, focuses on animal welfare, encourages product repair and recycling, eco-friendly production and packaging. |
| Production Locations | Asia (China, Vietnam, etc.), Europe (Poland, Romania, etc.). | Asia (China, South Korea, Vietnam) |
| Prices | Mid to high: jackets $100 – $600+, backpacks $60 – $300. | Mid to high: jackets $150 – $1000, backpacks $60 – $400. |
| Decision | Better for those who prioritize lower prices, functionality, and ethical production. | Better for those who prefer minimalist, retro designs, highly-insulated coats, and eco-friendly fabrics. |
1. Haglöfs Outdoor Gear
History of the Brand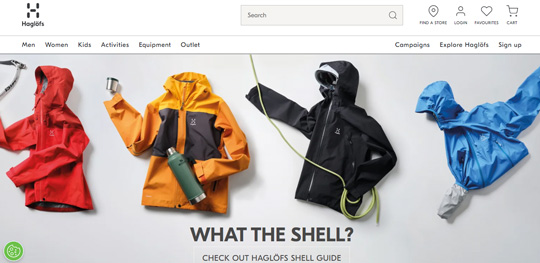 Haglöfs official website
Wiktor Haglöf established the Haglöfs brand in Sweden in 1914. He aimed to produce a backpack that could endure any conditions during travel throughout the country.
The company has since expanded and diversified its offerings, consistently seeking to innovate and set new standards in manufacturing.
Haglöfs is committed to preserving the environment for generations to come, promoting outdoor exploration both mentally and physically, and believing that nature can be experienced by every one of us, regardless of the weather, conditions, and experience level.
Don't miss:
9 Swedish Outdoor Clothing and Jackets Brands: Our Favorites
7 Backpack Brands from Sweden: Our Favorites
Materials, Fabrics, and Production Process
Haglöfs has set a goal of reducing its carbon footprint by 50% before the year 2030. To achieve this, the company is focusing on using materials with lower environmental impact, improving energy efficiency, incorporating renewable energy, and working with consumers to reduce their overall impact.
The brand is utilizing recycled and natural materials, such as organic cotton, hemp, and lyocell/tencel, to create new products for outdoor activities and sports. In addition, Haglöfs is using low-impact dyeing techniques and reducing plastic bag usage, while maintaining responsible chemical, water, and energy management in their factories.
The sustainability of their products is assessed throughout their entire life cycle using the Higg Index. When it comes to animal-based materials, Haglöfs is committed to sourcing from suppliers that prioritize animal welfare and ecosystem and biodiversity protection.
The natural down insulation, for instance, is certified by the Responsible Down Standard (RDS) to guarantee that the birds are treated ethically in the entire supply chain.
Haglöfs also incorporates various technologies in its products for protection, warmth, and breathability, including Recycled Polyamide (Nylon), Recycled Polyester, Mimic PLATINUM Ultracluster Graphene insulation, and GORE-TEX membranes, among others.
Haglöfs L.I.M - As Light as We Can Go
The video will be loaded from YouTube.com, a third party. If you play it, you accept their terms of service, and their use of cookies.
Read also:
Haglöfs vs Helly Hansen: Which is Better for Outdoor Gear?
Haglöfs vs Arc'teryx Outdoor Gear: A Comparison
Where is Haglöfs outdoor gear made?
Haglöfs gear is mainly produced in Asia (China, Vietnam, etc.), as well as Europe (Poland, Romania, etc.). The brand's dedication to maintaining high standards of quality has played a significant role in its widespread popularity, particularly in Scandinavia.
Recommended Products
Haglöfs L.I.M GTX Active Men's Jacket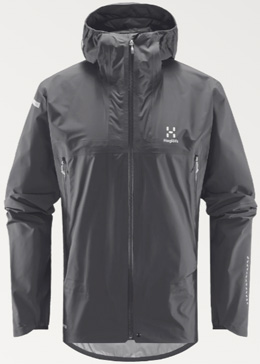 Image: haglofs.com
Check it out at Haglofs.com
The lightweight technical shell, L.I.M GTX Active Jacket, is ideal for summer activities and offers weather protection, breathability, and comfort.
It is made of a durable blend of GORE-TEX Active 3-layer and GORE-TEX Paclite® Plus 2.5-layer fabric and features an athletic fit, elastic cuffs and bottom hem for better fit, an adjustable hood, reflective trims for safety, and two zippered hand pockets with mesh ventilation. It is suitable for trekking and hiking and can be easily washed.
Haglöfs L.I.M 35 Hiking Backpack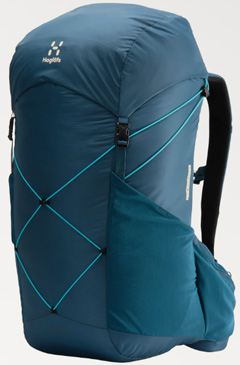 Image: haglofs.com
Check it out at Haglofs.com
The L.I.M 35 Hiking Backpack is an ideal backpack for hiking adventures that is lightweight and easy to carry. With a weight of 920 grams and a capacity of 35 liters, this backpack is perfect for outdoor activities.
The Airback suspension system ensures that you remain comfortable during intense activities by providing ventilation and airflow through the back contact zone. This backpack also features elastic side pockets, zippered elastic hip belt pockets, and an elastic cord for gear attachment and compression.
It is compatible with hydration systems and has a fixed top lid with a pocket, an adjustable sternum strap, a padded hip belt, and load lifters. The backpack is made from 70D*140D Diamond Rip-stop Polyamide, which is bluesign® approved, ensuring its high quality and durability.
Prices
Haglöfs offers products in a moderate to high price range. The jackets are priced between $100 and over $600, with the most advanced designs being the most expensive. The bags and backpacks start at around $60 and go up to $300.
Are Haglöfs products worth the price?
We believe that this brand is worth considering and investing in due to its many innovative technologies, focus on sustainable practices, and wide range of outdoor clothing and gear.
Read next: 11 European Brands for Outdoor Enthusiasts: Our Top Picks
2. Fjällräven Outdoor Gear
History of the Brand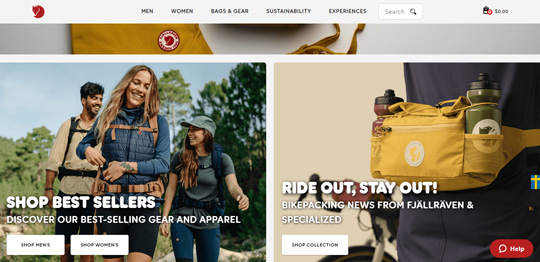 Fjällräven official website
Fjällräven, a Swedish company, derives its name from the Arctic Fox and features it in its beautiful logo. The company was founded in 1960 by Åke Nordin, an avid hiker who aimed to create a backpack that could bear heavier loads without adding too much pressure on the back.
After successfully designing and selling his backpack locally, he realized the need for lightweight and supportive backpacks and established Fjällräven to fill the gap in the market. In the 1970s, the company invented the Kånken backpack to address the back problems faced by Swedish school children due to the inadequacy of proper backpacks.
The Kånken backpack is now one of Fjällräven's most popular products, not only used by school children but also as a fashionable daily item.
Fjällräven has since launched numerous other products for outdoor activities, including insulated jackets, hiking pants, trekking backpacks, and camping tents, making it a one-stop-shop for outdoor enthusiasts.
Don't miss: 9 Outdoor Brands like Fjällräven: Our Favorites
Materials, Fabrics, and Production Process
Fjällräven has gained a reputation for creating durable jackets and backpacks that have a long lifespan, making them a popular choice in the outdoor community. The brand's production process is characterized by meticulous attention to detail, which is immediately apparent when handling its products.
The materials utilized in their products are carefully chosen, including the breathable and durable G-1000 fabric that can be waxed for versatility in various weather conditions.
The company ethically sources natural down from ducks and geese, which is used in their winter parkas and insulated jackets due to its excellent insulation properties in harsh temperatures.
Fjällräven also incorporates synthetic materials such as Polyester and Nylon in their products, with a significant portion of the Polyester being made from recycled materials. Additionally, recycled polyester is utilized in the creation of technical fabrics like Eco-Shell, a lightweight, weather-resistant material, as part of the company's sustainability efforts.
Johan Jonsson | Above the tree line x Bergtagen | Fjällräven
The video will be loaded from YouTube.com, a third party. If you play it, you accept their terms of service, and their use of cookies.
Read also: Is Fjällräven Ethical and Sustainable?
Where is Fjällräven outdoor gear made?
Fjällräven makes most of its clothing and gear in different Asian countries, such as China, South Korea, and Vietnam. (more information here)
Recommended Products
Fjällräven Expedition Men's Down Jacket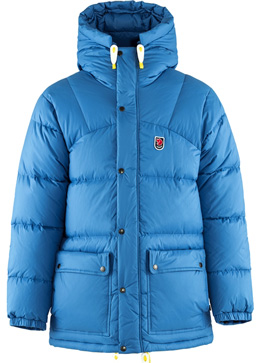 Image: fjallraven.com
Check it out at Fjallraven.com
The Expedition coat is a renowned item from the 1970s, made of Nylon and Polyester and filled with ethically sourced down insulation. True to its name, it's an extremely warm coat, ideal for the toughest expeditions.
The coat's premium price reflects its outstanding quality, and we wouldn't anticipate anything less for this kind of item. A lower price would make us doubt its authenticity.
Fjällräven Classic Kånken Backpack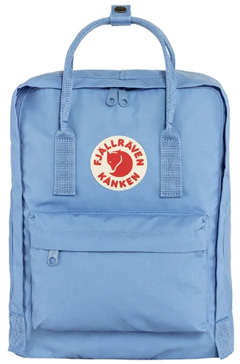 Image: fjallraven.com
Check it out at Fjallraven.com
The Kånken backpack is made from Vinylon F, a durable and sturdy material composed of 100% vinylal. Its meticulous attention to detail and water-resistant features make it an exceptional quality backpack.
It can be used for school or as a casual accessory to carry books, laptops, and tablets.
Prices
Fjällräven is a high-end brand that provides a range of mid-to-high-priced products, including backpacks priced from $60 to $400 and jackets that start at around $150 and go up to $1000. Among their offerings, their insulated winter parkas are the most expensive.
Are Fjällräven products worth the price?
In our opinion, yes. We love their minimalistic designs, and the durability of their gear is highly appreciated by customers all over the world. The insulation is excellent and the build is indestructible.
Learn more: Why is Fjällräven so Expensive? Are Its Products Worth It?
3. Which is Better? Haglöfs or Fjällräven?
Both Haglöfs and Fjällräven are reputable brands. If you're an outdoor enthusiast you can't go wrong with either. Here are a few points to consider that we think will help you decide:
Haglöfs uses mainly the Gore-Tex membrane, while Fjällräven has developed its own fabric technology, the sustainable Eco-Shell.
Haglöfs uses both natural down insulation and Mimic synthetic insulation for its winter coats, while Fjällräven uses mainly natural down.
We think Haglöfs is better for hardshells and rain jackets having a wider range of these items. Fjällräven is better for waxed jackets: it has developed its own G-1000 fabric and perfected it over the years.
We'd also choose Fjällräven for high-performance, insulated down jackets such as the Expedition parka.
As for designs, Haglöfs has more modern and streamlined styles, while Fjällräven comes with more classic and retro styles.
Prices are very similar with both brands offering mid to high prices. Fjällräven is more expensive for winter down-insulated jackets.
We hope this helps!
Read next: Fjällräven or Arc'teryx: Which is Better?