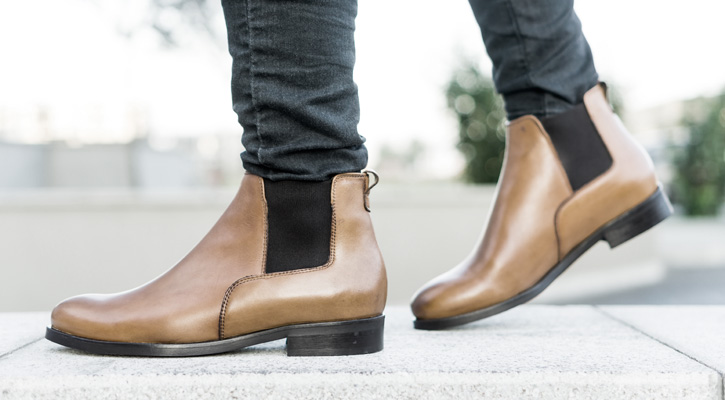 Red Wing Shoes is a brand that you may be familiar with if you value durable and rugged boots, that are comfortable at the same time.
This American company with its heritage boots is great for work and outdoor activities!
Today we'll give you even more options if you're looking for this type of boot. We've researched and selected 12 of the best footwear brands that are similar to Red Wing for their design and quality.
From the iconic yellow boots of Timberland to the fine leather of R.M. Williams, these brands have gained immense popularity for their exceptional build quality, unique styles, and durability.
Whether you prioritize functionality over style or vice versa, we're sure you'll find the pair that fits your lifestyle and budget from these brands.
Let's explore them all!
Contents:
1. Timberland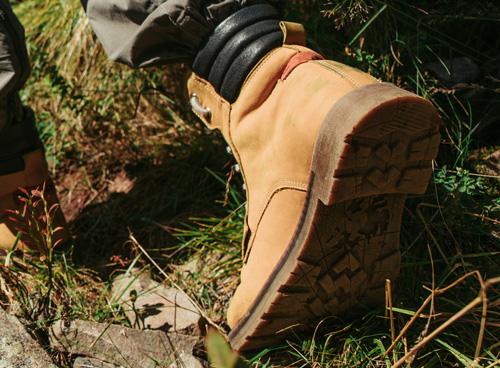 Timberland official website
In 1952, a Massachusetts-based brand called Timberland was born. It became a household name in the following years thanks to its durable and comfortable boots.
Timberland is renowned for producing some of the best work and safety boots in the market, owing to their robustness and functionality. The brand has gained immense popularity due to its iconic yellow boots, which have become synonymous with the Timberland name.
Although Timberland boots are relatively expensive, their exceptional build quality and unique styles make them a good investment.
Timberland can be seen as similar to Red Wing as their focus on quality and durability is a common thread that ties the two brands together.
Don't miss: 10 Boot Brands like Timberland that You'll Love
2. Thorogood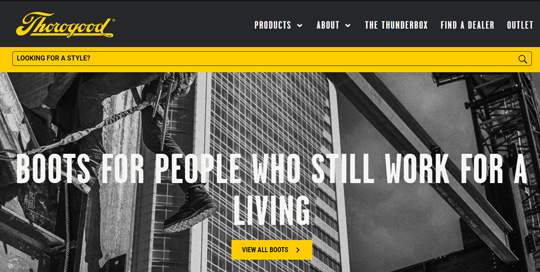 Thorogood official website
In 1892, Albert Weinbrenner founded Thorogood, a company committed to serving American workers who built the nation. The brand originated in Milwaukee, Wisconsin, and continues to proudly produce its products in the United States.
Thorogood specializes in creating durable footwear suitable for a wide range of heavy-duty jobs. Their boots are designed for individuals who prioritize functionality over style. Despite this, Thorogood has managed to strike a balance between comfort and toughness.
Unlike other work boots, Thorogood's boots are significantly lighter in weight. We recommend checking out their moc toe boots.
Related: 7 German Hiking and Winter Boot Brands: Our Top Picks
3. Danner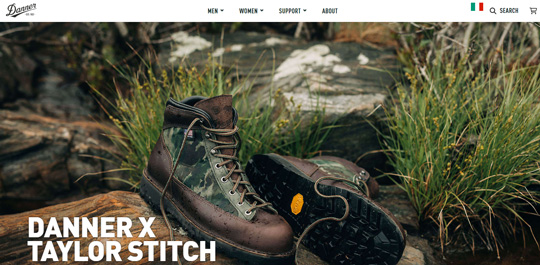 Danner official website
Danner, a renowned brand in the footwear industry, was established in Portland, Oregon, USA, in 1932. The company has been recognized as a trailblazer in the art of shoemaking, and its original goal was to create durable and weather-resistant footwear.
Danner continues to uphold its founding principles and has incorporated advanced technologies to enhance the comfort and style of its boots. The brand's products are highly priced due to their exceptional quality and reputation.
Their vintage-looking hiking boots for example are not only functional but very beautiful too!
Read also:
9 Boot Brands like Danner (Best Alternatives)
10 Italian Hiking Boot Brands: Our Favorites
4. Blundstone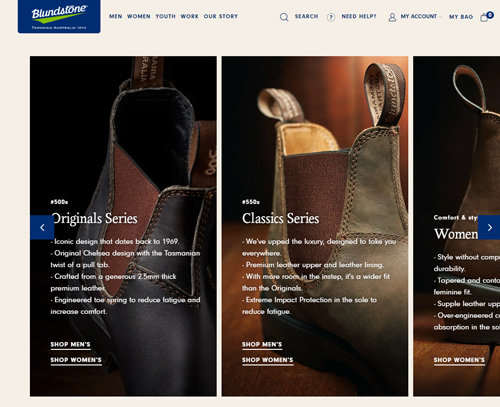 Blundstone official website
Blundstone, an Australian-based company, has been crafting boots for over 150 years since its inception in 1870. While not all of its current manufacturing takes place in Australia, the company's reputation for comfortable design remains intact.
Regardless of your profession, you'll find a pair of boots that fits your lifestyle from Blundstone. These boots are not only comfortable but also water-resistant, keeping your feet dry and warm while allowing for breathability.
With a lifespan of 5+ years, Blundstone boots are a durable investment, albeit slightly pricier than other brands. Nonetheless, they remain affordable options for work and casual boots.
Read next: 8 European Hiking Boots and Shoe Brands: Our Top Picks
5. Chippewa Boots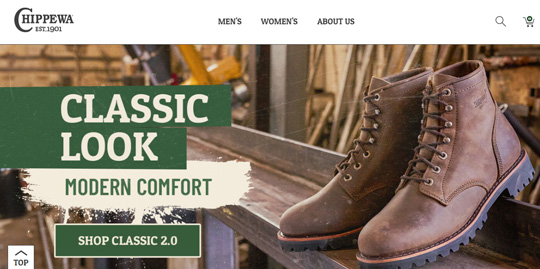 Chippewa Boots official website
Chippewa Boots originated in Wisconsin, USA in 1901. The brand is recognized for creating durable and robust boots for outdoor activities, as well as stylish and elegant boots for indoor use.
Chippewa Boots provides a wide range of products for various activities, such as work and outdoor pursuits.
The designs of Chippewa Boots are influenced by the loggers and mountain climbers who inspired their initial appearance, while also integrating contemporary technology to ensure comfort and practicality.
This brand's boots are priced in the middle range, making them accessible to different budgets. Their products are known for quality and durability.
Don't miss: 8 Finnish Footwear Brands That You'll Love
6. Wolverine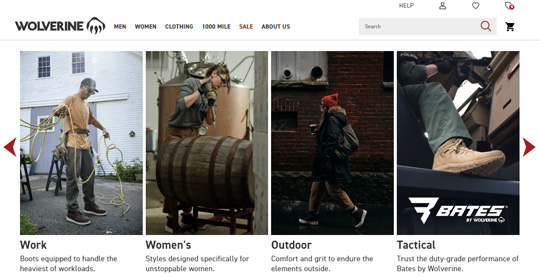 Wolverine official website
The establishment of Wolverine Worldwide took place in Michigan, USA, in 1883. G.A. Krause, the founder, initiated the company as a small leather tannery with a limited number of employees. The brand has been expanding ever since and has become very popular.
Wolverine is recognized for its persistent craftsmanship, creating gloves and boots that are sturdy and resilient for challenging work, yet comfortable.
During the 1910s, Wolverine introduced its original "1000 Mile" working boot, named after its ability to last 1000 miles of wear. The boot was highly appreciated by workers due to its soft and long-lasting horsehide leather.
The "1000 Mile" model remains the company's heart and soul, and Wolverine still handcrafts it using the same techniques to this day.
Wolverine provides a range of boots and gloves for both men and women. The company has also diversified its collection with other clothing options such as hats, t-shirts, and jackets.
Related: 8 Scandinavian Boot Brands for Hiking and Outdoor Wear
7. Dr. Martens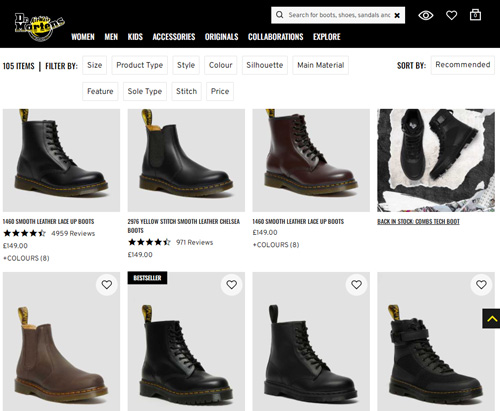 Dr. Martens official website
For decades, Dr. Martens has been a well-known name in the footwear industry, renowned for its exceptional design, durability, functionality, and comfort. Their boots are among the most comfortable you'll ever wear, thanks to their air-cushioned sole.
In 1945, Dr. Klaus Maertens created an air-cushioned sole that was softer than traditional leather soles to help him recover from a foot injury. He teamed up with his university friend, Dr. Herbert Funk, to start a business, which later caught the attention of the Griggs company from England.
This led to the creation of the iconic 1460 design we know today. The brand, which started modestly for the working class, gained popularity after Pete Townshend of The Who was spotted wearing it.
Dr. Martens boots are perfect for active and fashionable people. The air-cushioned soles and soft leather provide excellent comfort and support, making them perfect for heavy use that can last for years. As a result, their prices are on the higher side. The UK-based brand is also famous for its vegan Dr. Martens boots.
Read also: 8 Swedish Boots and Shoes Brands that You'll Love
8. Thursday Boots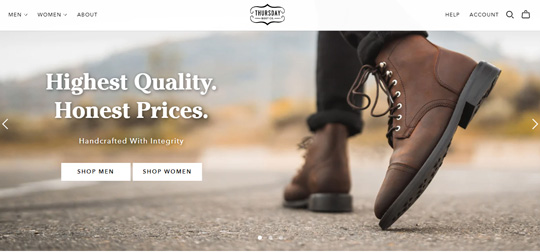 Thursday Boots official website
Thursday Boot Co. is a relatively new player in the boot industry, having been established in New York, USA in 2014. Despite its youth, the brand has quickly gained recognition as one of the top players in the industry.
The company blends traditional craftsmanship with contemporary fashion trends to create its own unique style of high-quality footwear. While their products are priced higher than some of their competitors, they still offer premium quality boots at a more affordable rate.
If you're in search of a versatile, modern boot for any occasion, Thursday Boot Co. is definitely worth considering.
Read next: 6 Norwegian Footwear Brands: Our Top Picks
9. Grenson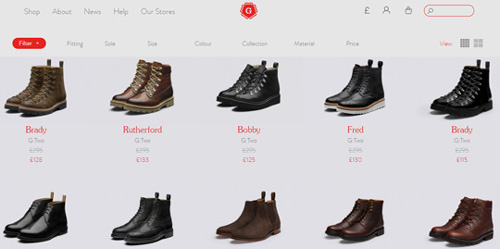 Grenson official website
Grenson, a footwear brand established in 1866 by William Green in Northamptonshire, England, is one of the oldest and most renowned brands in the industry.
The brand's boots are famous for their British details and high-quality materials, which have been emulated by many brands. Despite this, Grenson's unique approach and designs are still recognizable and iconic and are considered top-of-the-line in the footwear industry.
During WWI, Grenson produced highly durable and comfortable boots for soldiers and this reputation still holds true today. Although Grenson boots come at a premium price, you can be confident that you are investing in a quality English label that has stood the test of time.
10. Irish Setter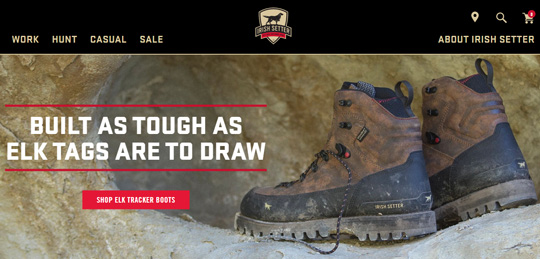 Irish Setter official website
The establishment of Irish Setter dates back to 1950. It was initially created with the intention of producing outdoor footwear that showcased the same Red Russet leather color as the Irish Setter hunting dogs, after which the brand was named.
Over time, American construction workers began to appreciate the practical features of Irish Setter boots, leading to an increase in their popularity.
Currently, Irish Setter continues to manufacture some of the most exceptional footwear for those who enjoy outdoor activities. The brand offers a broad range of performance hunting boots, fishing shoes, and even casual boots, making it the ideal choice for anyone.
11. R.M. Williams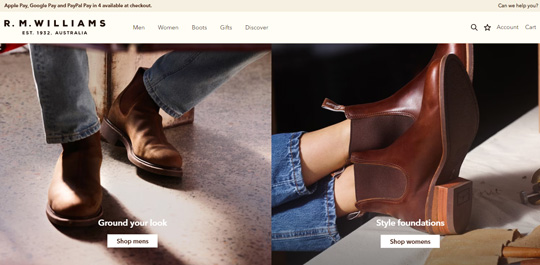 R.M. Williams official website
R.M. Williams, a renowned Australian boot brand, was established in 1932 by Reginald Murray Williams.
The brand's boots have gained immense popularity for their unique Australian style and appearance, making them an ideal choice for those seeking such designs. The RM Chelsea Boot is the brand's signature product, known for its superior quality leather and exceptional craftsmanship.
Recently, the brand has diversified its offerings, now providing a variety of shoe styles and clothing options.
12. Eastland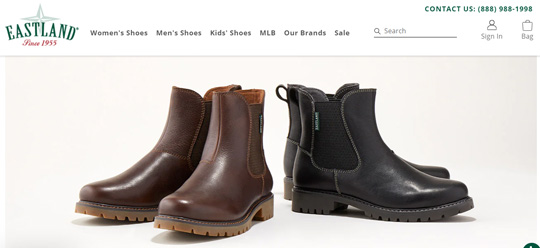 Eastland official website
Eastland, a family-owned company for generations, was established in Maine, USA, in 1955.
They have been using premium leather quality and their fine craftsmanship, which they have acquired over many decades in the industry. In addition to boots, the brand provides various types of footwear suited to different styles and preferences.