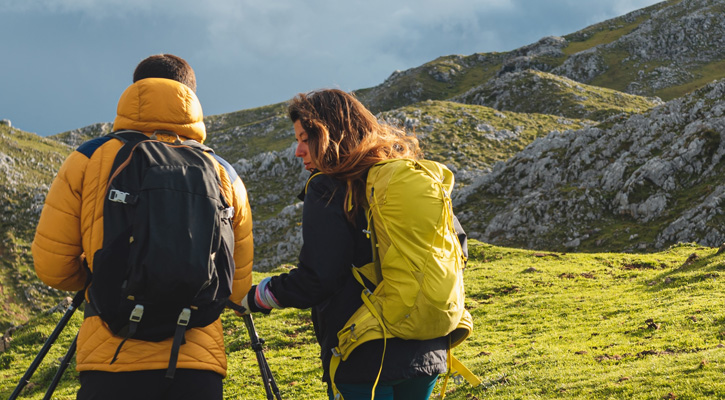 Sweden is known for being the country where many high-quality backpack brands are born. These companies provide backpacks that are both functional and stylish.
Fjällräven, known for its classic and durable products, Sandqvist, famous for its outdoor designs, and Haglöfs which provides lightweight backpacks, are only a few of the brands that we'll explore today in this selection of 7 of the best Swedish backpack brands.
These brands offer various bags and backpacks that are not only stylish but also durable and versatile, making them perfect for everyday use and outdoor activities.
So, let's take a look!
Contents:
1. Fjällräven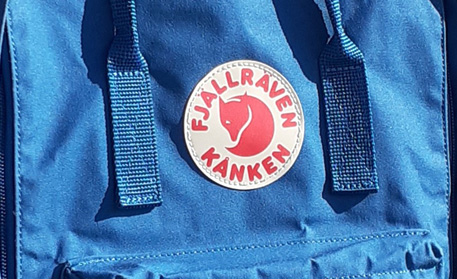 Fjällräven logo on a Kånken backpack
Fjällräven, a brand that initially specialized in designing backpacks, was established in the 1960s. Over time, the company diversified its product line to include outdoor gear suitable for various activities such as trekking, mountaineering, and camping.
The brand offers a wide range of accessories, tents, sleeping bags, and backpacks that can be used for everyday purposes.
The company is committed to using sustainable materials in its products. They use organic cotton, wool, and other recycled materials. One of their popular products is the Classic Kånken backpack, which is made of Vinylon fabric. This backpack is durable and water-resistant, making it ideal for use in different weather conditions.
The backpack features a foam cushion in the inside back pocket to provide comfort and prevent back pain. It has a main compartment, two side pockets, and a small front pocket. The bag comes in different colors and measures 38×27 cm. It can be carried using the top handles or as a regular backpack.
The backpack's design is simple yet functional, making it suitable for everyday use and travel. We highly recommend the Classic Kånken backpack from Fjällräven for its durability, water resistance, and comfort.
Fjällräven - Kånken Art Laptop
The video will be loaded from YouTube.com, a third party. If you play it, you accept their terms of service, and their use of cookies.
Don't miss:
Why is Fjällräven so Expensive? Are Its Products Worth It?
9 Outdoor Brands like Fjällräven: Our Favorites
2. Sandqvist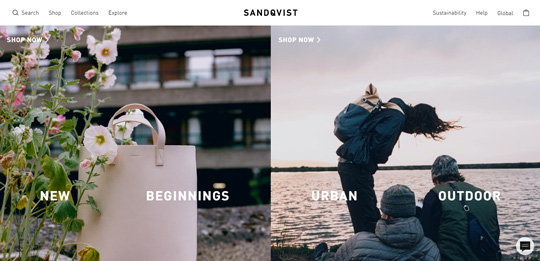 Sandqvist official website
Sandqvist is a company that was established in 2004. The organization specializes in producing bags of all kinds, including backpacks, purses, wallets, and others.
They have a goal of creating well-designed and dependable products while also promoting sustainability. The brand uses organic cotton, recycled polyester, recycled nylon, and leather in their materials.
One of our recommended products from Sandqvist is the Harald backpack, which is designed for outdoor use. It is water-resistant and made of polyester.
The backpack has a laptop pocket located at the back, two bottle pockets on the sides, a mesh pocket, and two slip pockets inside the main compartment. Also, there is a pocket on top of the lid.
For added comfort, the shoulder straps are padded, and the patches on the bag are made of leather, giving it a contemporary appearance. The backpack can be easily closed with a drawstring and then secured with the lid and buckles for extra safety.
Related: 9 European Backpack Brands for Hiking and Outdoor Activities
3. Haglöfs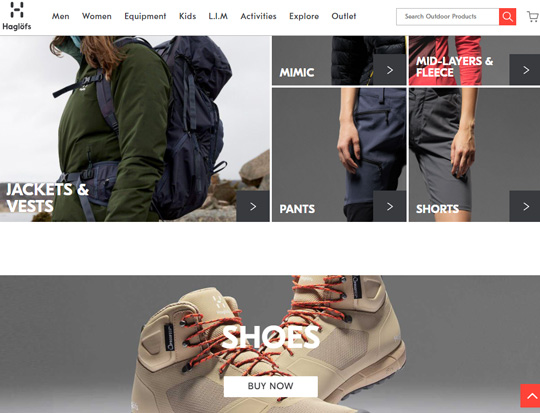 Haglöfs official website
Haglöfs provides a wide range of products including outfits, gear, and accessories for skiing, hiking, and mountaineering.
Victor Haglöf established the company in 1914 and it now has a focus on using materials such as cotton, wool, Nylon, Polyester, and recycled fabrics to design products that can withstand difficult weather conditions.
The Haglöfs L.I.M. 25 backpack is an excellent choice for hiking due to its lightweight Diamond Ripstop Polyamide fabric that ensures durability. The backpack features an Air-back suspension system that provides ventilation and airflow for added comfort.
Moreover, it has a padded hip belt, adjustable sternum strap, and top lid. The backpack also includes 2 elastic side pockets, two elastic hip belt pockets, and an extra pocket on top. External cords are available for attaching extra gear.
Read also: 8 German Backpack Brands that You'll Love
4. Tretorn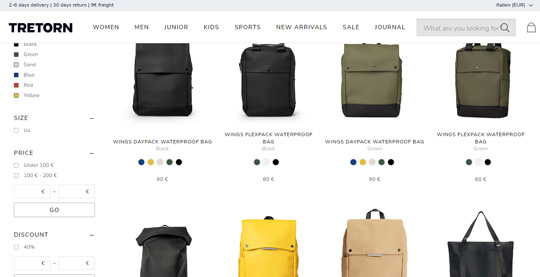 Tretorn official website
Tretorn, a brand born in 1891, primarily focuses on making products that are capable of enduring the harsh weather conditions of Scandinavia. Their emphasis is on creating well-designed and functional products.
Tretorn offers an array of products such as sneakers, boots, raincoats, and backpacks. The Wings Daypack backpack is a recommended option. Constructed from polyester, this backpack is water-resistant and features a padded shoulder strap for optimal comfort.
This backpack comes with an internal laptop pocket, along with a small pocket for your keys or wallet. In addition, the backpack has two pockets on either side, equipped with drainage holes for quick drying after rain.
It also has a main zipper, which is covered with a lid and a concealed buckle for added safety. This backpack is both practical and stylish, with a carrying capacity of up to 16 liters.
Read next: 8 Italian Backpack Brands for Outdoor, Travel, and Casual Wear
5. Klättermusen

Klättermusen official website
Klättermusen has been manufacturing mountaineering equipment since 1975. The company was founded by experienced climbers who were in search of materials that could withstand the unpredictable weather conditions encountered outdoors.
The brand is committed to offering products that are both durable and environmentally sustainable. They use organic cotton and recycled fabrics such as polyester, polyamide, and wool. Additionally, they incorporate waterproof materials into their designs.
Klättermusen offers a range of products including backpacks and other outdoor gear. One of their backpacks, the Grip 3.0, is a 40L pack that is designed with the Carry-on-Bone system featuring the Butterfly Bridge® technology, which allows for increased carrying capacity without straining muscles.
The backpack is made up of 60% recycled polyamide (nylon) and has a top pocket, 2 side pockets, and an additional front pocket.
You'll also like: 9 Swedish Outdoor Clothing and Jackets Brands: Our Favorites
6. Pinewood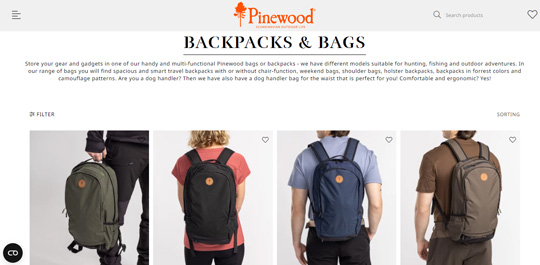 Pinewood official website
Pinewood was founded in the 1990s as a small business in a garage. Presently, the company offers a wide range of clothing for outdoor activities such as hunting and fishing, including rainwear and boots.
In addition, Pinewood provides various accessories and bags. The brand prioritizes quality to ensure that its products can withstand harsh outdoor conditions. One recommended product is the Pinewood Scandinavian Outdoor Life 1909 backpack, which is wind and water-resistant.
Made of polyester, the backpack is highly durable. It features multiple pockets, including two on both sides, a small front pocket, and a top pocket. There is also a hidden pocket inside the bag, as well as a designated compartment for carrying a laptop during your trip.
Don't miss: 8 Swedish Boots and Shoes Brands that You'll Love
7. Peak Performance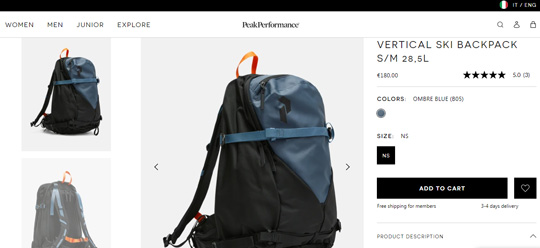 Peak Performance backpack: official website
Peak Performance was founded in 1986 by a group of skiers who aimed to create practical yet stylish skiing garments.
In addition to skiing apparel, the company now offers clothing for golf and training, as well as accessories, bags, and jackets. Sustainability is a key focus for the company, with the use of materials such as organic cotton in their manufacturing process.
One of their recommended backpacks is the X Extended Rucksack, which is made of polyester. The backpack has a military-style design and multiple pockets for storage, including a large front pocket with a key hook, two large side pockets, and a hidden pocket on the lid covering the main compartment.
The backpack also features a laptop compartment, magnetic buckles, sternum straps, and carabiner loops on the shoulder straps for attaching additional items.
Related: 13 Scandinavian Jacket and Clothing Brands that You'll Love