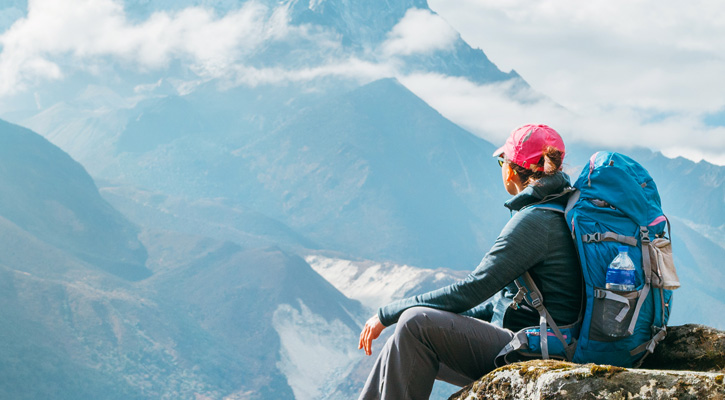 What do Marmot, RAB, and Arc'teryx have in common? Well, apart from being famous outdoor gear brands, they are also similar to Berghaus when it comes to quality products to withstand bad weather.
Today, we'll explore 8 brands like Berghaus, all with their particular features, rich histories, and excellent outdoor clothing and equipment.
Not only that, but they're all committed to sustainability and ethical manufacturing processes.
So, let's take a look because we're sure you'll find some new ideas for products to use in your next outdoor adventure!
Contents:
1. RAB

RAB official website
RAB is a well-known manufacturer of outdoor clothing and equipment based in the UK that specializes in creating great gear for climbing and mountaineering enthusiasts. The company has established a reputation for using exceptional materials and innovative designs since the 1980s.
RAB offers a wide range of products, including jackets, pants, base layers, and gloves all of which are designed to be lightweight, durable, and comfortable. These products are ideal for outdoor enthusiasts who practice demanding activities.
One of RAB's most popular products is the Microlight Alpine jacket, which is highly sought after for its compressible and lightweight down material that provides excellent warmth and protection in cold weather. The jacket's slim-fit design is both practical and fashionable, and it is made from premium materials. RAB also produces high-quality sleeping bags.
Aside from producing high-performance gear, RAB is committed to ethical manufacturing practices and sustainability. The company employs recycled materials in many of its products and collaborates with partners who share the same values.
If you're an outdoor enthusiast, RAB is a brand that will impress you with its innovative designs, dedication to quality, and attention to detail.
Don't miss: Rab vs Patagonia Outdoor Equipment: A Comparison
2. Arc'teryx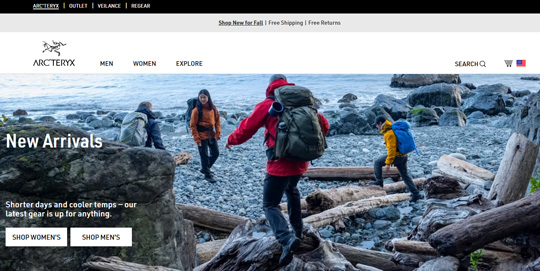 Arc'teryx official website
The Arc'teryx brand draws its inspiration from the vast wilderness, mountains, and lush landscapes of Canada.
The brand was born out of a need for better outdoor clothing by mountaineer Dave Lane in 1989. From a small factory in Vancouver, the brand has grown to become one of Canada's largest design and manufacturing plants, with a global market.
The brand's unique logo and name are inspired by the Archaeopteryx, the oldest known bird and a turning point in the evolution of dinosaurs, symbolizing the founders' focus on fearless innovation.
The Arc'teryx design center is similar to a lab, with outdoor simulations used to thoroughly test their products. The brand's products are designed to be durable, comfortable, and environmentally friendly, with many materials sourced sustainably.
Arc'teryx has collaborated with leading technology producers and developed its own technologies, such as Gore-Tex, Coreloft, and AC2 technology, which contribute significantly to the durability, waterproofing, windproofing, and breathability of their materials.
Related:
Why is Arc'teryx so Expensive and Popular? Is It Worth It?
Is Arc'teryx Sustainable? A Look at their Environmental Practices
3. Millet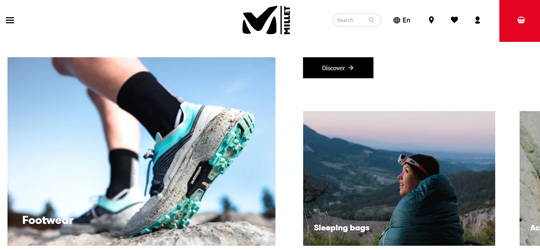 Millet official website
Millet is a company based in France that specializes in the production of mountain gear, footwear, and clothing. It was established in 1921 by Marc Millet and his partner in Saint-Fons, which is located near Lyon.
Millet's products are designed to withstand extreme weather conditions, including wind, rain, and cold temperatures, while also being highly durable. The brand places a high emphasis on safety and sustainability, carefully selecting the materials used in its products.
Millet's products provide excellent comfort and flexibility, while also offering protection from the elements. The brand is well-regarded by outdoor enthusiasts and is known for producing high-quality products.
Millet is a premium brand that employs top-of-the-line materials and technologies, which is reflected in their pricing. In fact, some of Millet's products cost more than $200!
Read also: 8 French Jackets and Outdoor Clothing Brands: Our Favorites
4. Marmot

Marmot official website
In 1974, Marmot was founded in the United States by three outdoors enthusiasts who aimed to create a jacket suitable for their outdoor adventures.
The Golden Mantle, one of their puffer jackets, gained popularity after being featured in Clint Eastwood's The Eiger Sanction in 1975.
Marmot is a leader in utilizing Gore-Tex in their products, and many other outdoor clothing brands have followed suit. In addition to outdoor clothing, Marmot offers very good backpacks and tents.
The brand typically employs nylon and polyester as the primary materials in its products and is committed to being environmentally responsible by sourcing materials sustainably.
PFC-free coatings are used in many of its products, and the company has developed its own Eco Featherless and EvoDry technologies to enhance sustainability. Also, Marmot has patented NanoPro and MemBrain technologies that enable them to produce lightweight, durable, and breathable products.
Read next: Marmot vs Patagonia Outdoor Gear: Which Brand is Better?
5. Patagonia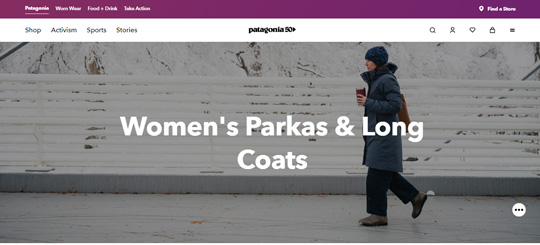 Patagonia women's parkas and coats: official website
Patagonia was born in 1973 in California under Chouinard Equipment, a manufacturer of climbing gear. Afterward, it became an autonomous brand of outdoor gear.
The company is dedicated to creating exceptional products that have minimal environmental impact. Patagonia employs nylon, polyester, and Gore-Tex as the primary materials for its outdoor gear.
Patagonia has also unique patented technologies, including Deluge DWR finish and H2No technology, which contribute to its clothing's waterproofing, durability, and breathability.
Patagonia uses weather-resistant fabrics that undergo extreme weather simulations. The company's primary source of materials is recycling, and it uses alternative ethical and sustainable sources when recycling is not practical. Patagonia avoids non-biodegradable materials, aligning with its sustainability mission.
Don't miss:
9 Brands Like Patagonia for Sustainable Outdoor Clothing
Patagonia vs Columbia: Which Brand Offers the Best Outdoor Gear?
6. Montane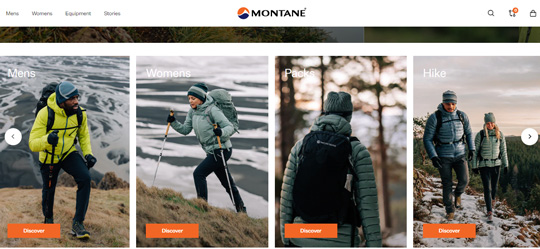 Montane official website
Montane is a well-known brand based in England that has been operating since 1993. It specializes in producing high-quality outdoor clothing and equipment.
The brand is recognized globally for its innovative designs and technical expertise, making it a leading name in the outdoor clothing market.
Montane creates lightweight and durable products that can withstand difficult weather. The brand offers a wide range of items, including jackets, pants, base layers, and accessories, all made from premium materials such as Gore-Tex and PrimaLoft technologies, providing excellent insulation and protection during outdoor activities.
Montane is also dedicated to reducing its environmental impact by using eco-friendly materials like recycled polyester. The brand's products are practical and versatile, suitable for various outdoor activities such as trekking, camping, and mountaineering.
Montane's products are also stylish and can be worn on different occasions every day in the city. Despite using the latest technologies, the brand has many affordable products in its collections.
Related: 8 British Outdoor Brands that You'll Love
7. Fjällräven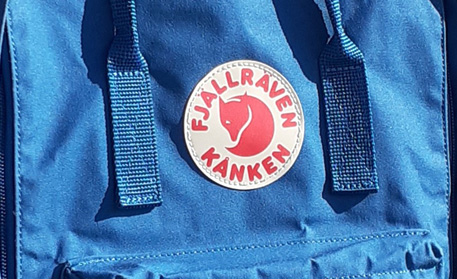 Fjällräven logo on the Kanken backpack
Fjällräven is a renowned Swedish company that specializes in outdoor gear and clothing. Its primary focus is on making nature accessible to everyone.
In 1960, the founder Åke Nordin designed a backpack that was both roomy and comfortable to carry, featuring an aluminum frame, which was a unique feature at that time.
Nowadays, Fjällräven is committed to producing a wide range of gear to meet all customer needs while maintaining sustainability and safety. The brand's products are designed to ensure that customers feel comfortable while exploring nature.
Fjällräven's jackets have a timeless and minimalist design, and they are highly durable, making them ideal for outdoor adventures in the mountains and out in nature.
Read also:
Why is Fjällräven so Expensive? Are Its Products Worth It?
9 Swedish Outdoor Clothing and Jackets Brands: Our Favorites
8. The North Face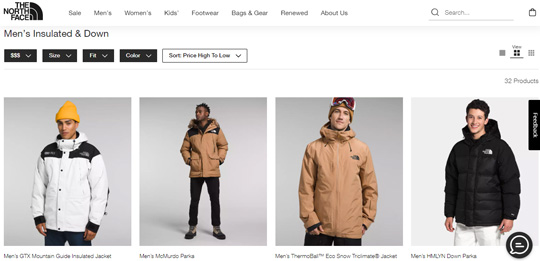 The North Face Men's Insulated and Down jackets: official website
The American brand, The North Face, was established in 1966, with a focus on providing outdoor gear for backpackers and climbers.
Over time, the company expanded its product line to include skiwear and camping equipment. Currently, The North Face offers a comprehensive range of products for outdoor enthusiasts, catering to activities such as trekking, backpacking, camping, and extreme sports.
The brand's insulated jackets are highly regarded worldwide for their exceptional performance and durability, making them a popular choice among customers. The North Face has also gained popularity in the fashion and streetwear sectors, collaborating with celebrities and other fashion brands such as Supreme.
When it comes to sustainability, The North Face is committed to social responsibility and has launched campaigns and donations to support environmental causes. The company is owned by VF Corporation and continually invests in research and development to improve its products.
Read next:
The North Face vs Berghaus Outdoor Equipment: A Comparison
11 Brands like The North Face: Our Top Alternatives