While Mackage is a popular Canadian brand known for producing high-quality jackets and parkas, there are several other brands that offer similar products.
Today we've compiled a list of 9 brands like Mackage that offer great-quality coats for winter.
Canada Goose, for example, has been producing premium outerwear since 1957. Moncler, Woolrich, Herno, Moose Knuckles, Marmot, Eddie Bauer, Rudsak, and Fjällräven are other brands that offer exceptional quality winter jackets.
Each of these companies has its own unique history and style and offers a range of products designed to withstand even the harshest winters.
From parkas to down-insulated coats, these brands are committed to using only the finest materials. So, whether you're looking for a stylish and fashionable coat or a practical and functional jacket, we're sure you'll find it in this selection!
Let's begin!
Contents:
1. Canada Goose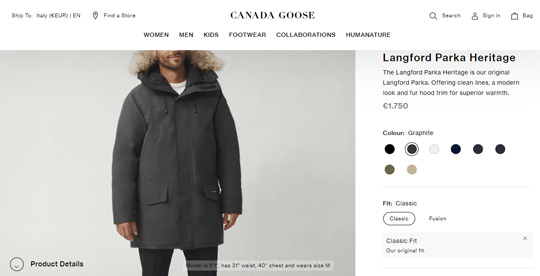 Canada Goose men's Langford Parka Heritage: official website
Since 1957, Canada Goose has been a brand that specializes in producing high-quality outerwear for extreme weather. The Canadian company has expanded its reach to include retail locations in other countries and an online shop.
Their product line includes parkas, jackets, down coats, and accessories for women, men, and children. All of their products are made from premium materials like Duck and Goose Down, designed to withstand cold winters like those experienced in Canada.
Canada Goose products are renowned for their stylish designs, making them a popular choice among both fashion enthusiasts and outdoor enthusiasts. The brand has achieved worldwide recognition, with its iconic logo serving as a status symbol.
The Expedition Parka is one of Canada Goose's most sought-after products, specifically designed to provide warmth in extreme temperatures. The parka is made from durable, water and wind-resistant fabric, and features warm down insulation, protecting you in temperatures as low as -30°C (-22°F). Canada Goose winter jackets typically range from $1000 to $2000.
Canada Goose is also committed to ethical and sustainable practices. The company sources its natural down insulation from responsible sources and ensures that it's fully traceable. The Canadian brand has also collaborated with other organizations, such as Polar Bears International, to support conservation programs.
Don't miss:
Why is Canada Goose so Expensive and Popular? Is It Worth It?
Jacket Brands like Canada Goose: 10 Alternatives for Winter
2. Moncler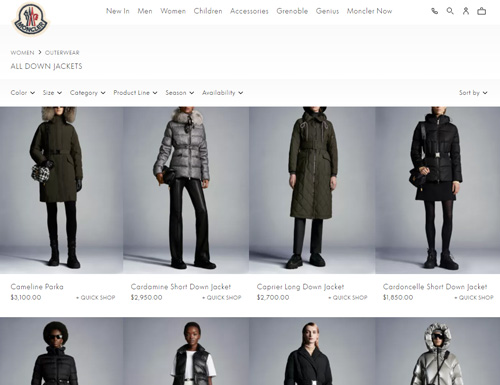 Moncler official website
Moncler is a premium Italian label that was established back in 1952 in Monestier-de-Clermont, located in the mountains near Grenoble, France. Since its inception, the brand has been exclusively focused on producing high-quality outerwear.
What sets Moncler apart from its competitors is its unwavering commitment to sourcing only the finest and most luxurious materials. The brand spares no expense in crafting garments that are not only durable and weather-resistant but also comfortable and easy to move in.
Each piece is meticulously designed to exude elegance and sophistication, with a unique aesthetic that caters to even the most discerning tastes.
Related: 7 Best Italian Down Jacket Brands for Winter
3. Woolrich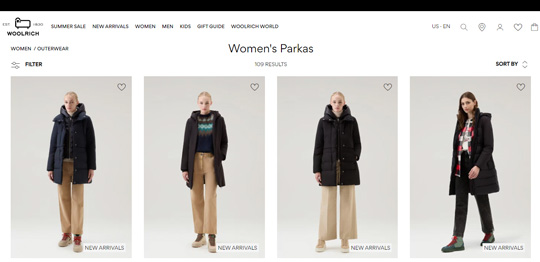 Woolrich women's parkas: official website
Woolrich, a highly praised American heritage brand, was founded in 1830 and is known as the oldest producer of outdoor clothing in the United States.
The company's initial focus was on woolen fabrics and clothing production. But, in the 1850s, Woolrich introduced the famous Buffalo Check shirt, which gained global recognition and remains popular even today.
Woolrich is renowned not only for its clothing production history but also for the influential role of the Rich family in their community and US politics.
Despite facing challenges, Woolrich is still one of the most reputable brands in the outdoor clothing market due to its high-quality products and innovative winter jackets, which range in price from $400 to $1500.
Woolrich's headquarters were previously in Woolrich, Pennsylvania, but have since relocated to Bologna, Italy, after being acquired by various companies and private equity firms. The majority of Woolrich stores are now located in Europe.
Read also:
8 Brands like Woolrich: Best Alternatives for Winter Jackets
12 Best American Jackets and Outdoor Clothing Brands
4. Herno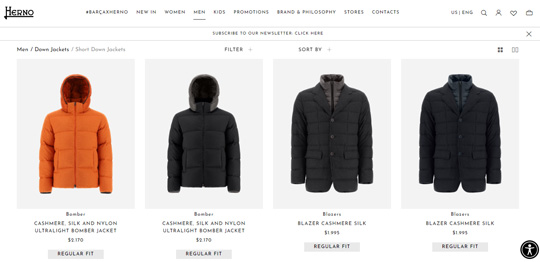 Herno men's down jackets: official website
Herno is a renowned Italian brand that focuses on producing high-end down jackets, parkas, and coats. The company was established by Giuseppe Marenzi and Alessandra Diana in 1948 and has since been dedicated to creating products that shield against harsh winter conditions, rain, northern winds, and humidity.
Herno derives its inspiration from water and continually strives to innovate and experiment, resulting in jackets that exhibit exceptional craftsmanship and quality. Herno jackets are available at different price points ranging from $500 to $3000.
Read next: 10 Italian Clothing and Jacket Brands for Outdoor Activities
5. Moose Knuckles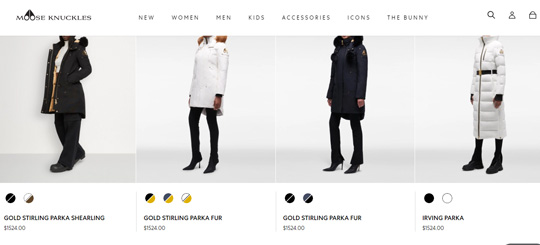 Moose Knuckles women's parkas: official website
Moose Knuckles, established in 2009, has a rich history dating back to 1921. It's a Canadian brand that prides itself on creating premium outdoor wear using high-quality materials.
The brand is renowned for its meticulous attention to detail in both design and safety, ensuring that each product provides optimal protection against cold weather, making its jackets ideal for even the most extreme temperatures, wind, and rain.
All of Moose Knuckles' high-end jackets are expertly crafted and produced in Canada, ensuring exceptional quality that you can rely on. The company offers a wide range of jackets with prices ranging from $300 to over $1500.
Don't miss: 10 Best Expensive and Luxury Winter Jacket Brands
6. Marmot

Marmot official website
Marmot was founded in 1974 by Tom Boyce in Colorado, USA, and was assisted in its creation by two California college students, Eric Reynolds and David Huntley. Initially, the company specialized in mountaineering equipment under the name "Marmot Mountain Works".
Today, it has become a prominent brand in outdoor wear. Marmot is known for its unique and distinctive products, including jackets and other clothing items that provide protection from cold and rainy weather. Also, all Marmot products are known to be lightweight and comfortable.
Related: 9 Outdoor Brands like Marmot: Best Alternatives
7. Eddie Bauer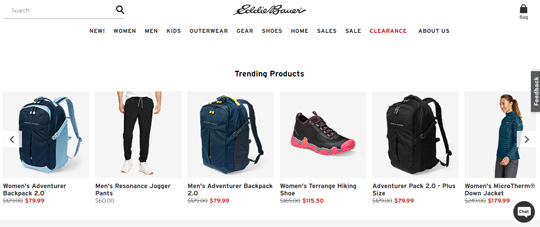 Eddie Bauer official website
In 1920, a reputable American brand was established in Seattle, Washington, named after its founder. Eddie Bauer began with a patent for a quilted down jacket but later expanded its offerings to include a range of clothing options.
The brand has earned a loyal following for its casual and outdoor wear and is known for its dedication to innovation. Eddie Bauer products are characterized by their distinctiveness and uniqueness, with particular attributes that distinguish them from others.
Despite their simple designs, each item possesses its own unique qualities and rich features that contribute to the brand's widespread appeal.
Read also:
10 Oldest Outdoor Clothing and Gear Brands
9 Outdoor Brands like Eddie Bauer: Our Favorites
8. Rudsak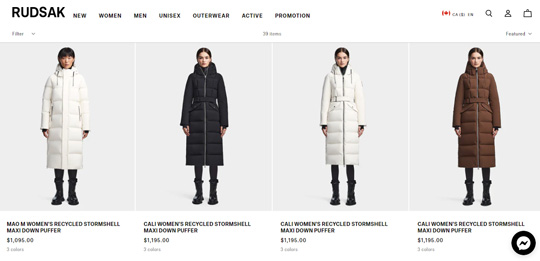 Rudsak women's down parkas: official website
Rudsak, a famous producer of outdoor clothing, was established in Canada by Evik Asatoorian in 1994. The brand prides itself on its commitment to sourcing only the highest quality materials for its products.
Its unique designs are both simple and comfortable, yet effective in protecting you from the elements. Rudsak offers a wide variety of designs to cater to the preferences of every customer. The company is also environmentally conscious and frequently employs eco-friendly materials in its production processes.
Read next: 8 Best Sustainable Outdoor Clothing Brands: Our Top Picks
9. Fjällräven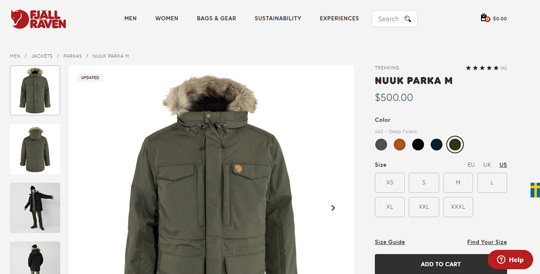 Fjällräven Men's Nuuk Parka: official website
Fjällräven is a well-known company that specializes in producing high-quality outdoor gear, clothing, and accessories.
Founded in 1960 by Åke Nordin, this Swedish brand has gained worldwide recognition for its innovative designs for both men and women. Fjällräven's primary focus is on creating top-notch products using premium materials while promoting access to nature.
Each item is designed to be both practical and comfortable, with the Nuuk Parka being one of their most popular products, available in various versions and priced at around $500.
Don't miss:
Why is Fjällräven so Expensive? Are Its Products Worth It?
9 Swedish Outdoor Clothing Brands: Our Favorites