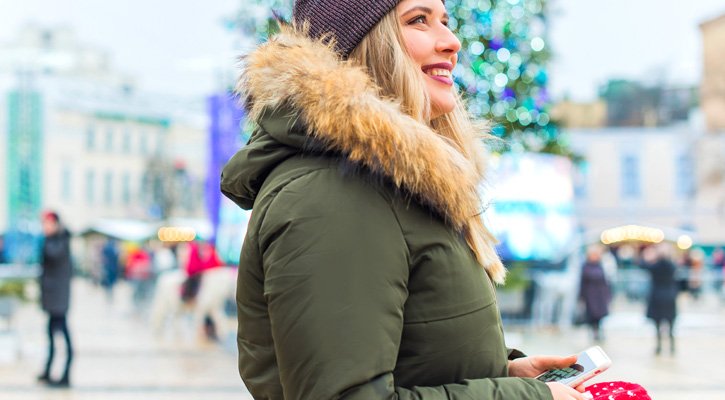 Moose Knuckles is a famous Canadian brand that specializes in producing high-quality jackets and parkas for extreme weather. A great choice to keep you warm and protected from the cold and the snow this winter!
But what if you wanted more options?
Well, in today's article, we'll do just that! We'll provide you with 9 jacket brands like Moose Knuckles to help you find the perfect alternative.
From Canada Goose to The North Face, these brands are renowned for their exceptional ability to blend style with practicality, using premium materials to create functional garments for low temperatures.
Whether you're looking for a jacket to keep you warm on your next outdoor adventure or a stylish coat to wear during cold winters in the city, we're sure you'll find it in this selection!
Contents:
1. Canada Goose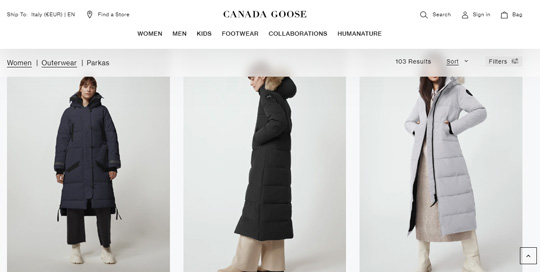 Canada Goose official website: women's parkas
Since 1957, Canada Goose has been a famous brand specializing in outdoor clothing, producing high-quality outerwear for extreme weather. The company is based in Canada and also has many stores in other countries and of course an online presence.
Their line of products includes parkas, coats, different types of jackets, and accessories for women, men, and kids, all made from quality materials and insulated with natural down from ducks and geese. These products are designed for cold temperatures, like those of Canadian winters.
Canada Goose products are also popular for their fashionable designs, making them a favorite among both fashion enthusiasts and outdoor adventurers. The brand's iconic logo has gained global recognition also thanks to marketing campaigns and presence in many popular movies.
One of the popular Canada Goose jackets is the Expedition Parka, specifically made to keep you warm in extreme cold. This parka is made from durable fabric, it's water-resistant and wind-resistant, and features quality down insulation for use in temperatures that go as low as -30°C (-22°F).
Canada Goose winter jackets usually retail for a price that goes from $1000 and $2000. In addition, Canada Goose is focused on ethical practices, sourcing its down responsibly, and partnering with conservation organizations, such as Polar Bears International, to support sustainable and conservation programs.
Don't miss:
Why is Canada Goose so Expensive and Popular? Is It Worth It?
Jacket Brands like Canada Goose: 10 Alternatives for Winter
2. Mackage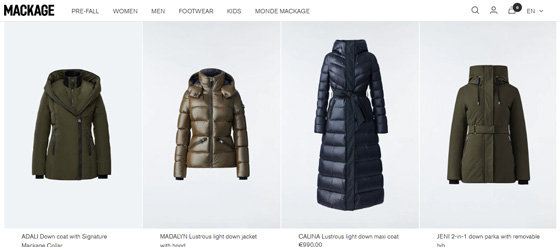 Mackage official website
Mackage is a well-known Canadian name that specializes in producing winter wear, jackets, and coats. Eran Elfassy and Elisa Dahan founded the business in 1999, and it achieved notable success within two years.
Mackage is renowned for its exceptional ability to blend style with practicality. Their aim is to create functional garments with distinctive aesthetic lines, setting them apart from other labels.
The brand is acknowledged for its use of premium materials, and its collection of designs for each category is extensive, ensuring that every customer can find what they require.
Mackage coats are designed to be water-resistant, providing protection against difficult winter weather. The prices of their products range from $500 to $1800.
Related: 9 Brands like Mackage for Winter Jackets and Coats
3. Moncler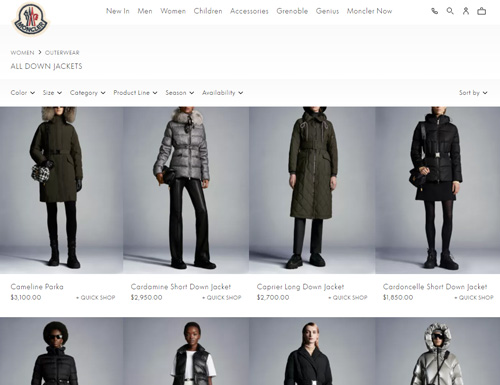 Moncler official website
The luxury brand Moncler was founded in France in 1952 and is now based in Italy. The company specializes in producing top-quality outdoor clothing, particularly its iconic down jackets that offer warmth and protection in cold winters.
Moncler's products are made from premium materials that blend fashion and functionality, making them a popular choice for fashion-conscious individuals and celebrities alike, whether they're exploring the city or hitting the slopes.
Recently, Moncler has created a wide collection that includes different types of outdoor clothing and accessories for all outdoor adventurers and enthusiasts around the world.
Moncler is also dedicated to promoting sustainability by employing eco-friendly materials and production methods, as well as implementing various initiatives aimed at reducing their environmental footprint.
Moncler's jackets are renowned for their shiny and luxurious texture and are priced between $700 and $5000.
Read also: 7 Best Italian Down Jacket Brands for Winter
4. Marmot

Marmot official website
Marmot has become a significant point of reference in the production of outdoor clothing. Although it initially focused on creating equipment for mountaineers, the company has since expanded its offerings.
Founded in 1974 by Tom Boyce and two students from California, David Huntley and Eric Reynolds, Marmot prioritizes innovation and quality.
The brand's primary objective is to provide safe and durable products, with a focus on lightness and comfort. Marmot's jackets, for example, are not only practical and comfortable but also offer protection from rain, snow, and low temperatures.
Read next:
9 Outdoor Brands like Marmot: Best Alternatives
12 Best American Jackets and Outdoor Clothing Brands
5. Fjällräven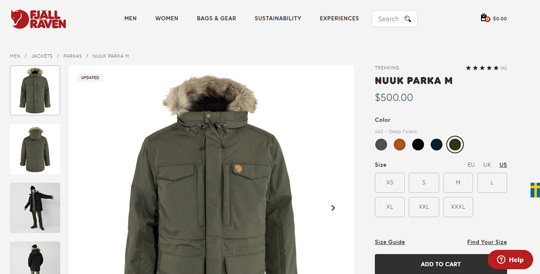 Fjällräven official website: Men's Nuuk Parka
Fjällräven is a renowned company from Sweden that specializes in manufacturing premium outdoor equipment, clothes, and accessories.
The company was established in 1960 by Åke Nordin and has gained global recognition for its inventive designs for all customers. Fjällräven's primary objective is to produce exceptional gear using top-quality resources while encouraging accessibility to the environment.
Every product is created to be practical and comfortable, with the Nuuk Parka being one of their most popular items, sold in multiple variations and priced at approximately $500.
Don't miss:
Is Fjällräven Ethical and Sustainable?
9 Swedish Outdoor Clothing and Jacket Brands: Our Favorites
6. Woolrich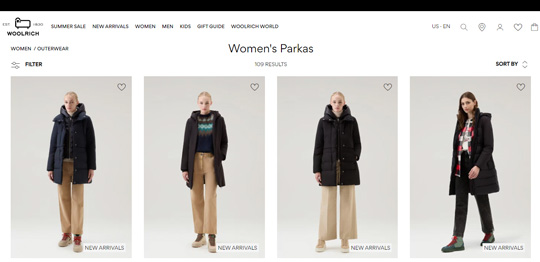 Woolrich official website: women's parkas
Woolrich, an esteemed American heritage brand, born in 1830, is considered to be the oldest manufacturer of outdoor clothing in the United States.
Woolrich began by producing woolen fabrics and clothing, but in the 1850s, it introduced the world-famous Buffalo Check shirt, which remains popular to this day. In addition to its clothing production history, Woolrich is also recognized for its significant role in the community.
Despite facing difficulties, Woolrich remains one of the most reputable brands in the outdoor clothing market, thanks to its high-quality products and winter jackets, which are priced between $400 and $1500.
Woolrich's headquarters have moved from Pennsylvania, USA, to Bologna, Italy, following its acquisition by various companies. Most Woolrich physical stores are now based in Europe.
Related:
8 Brands like Woolrich: Best Alternatives for Winter Jackets
10 Oldest Outdoor Clothing and Gear Brands
7. Parajumpers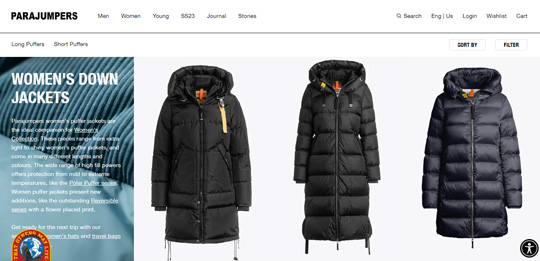 Parajumpers official website: women's down jackets
Parajumpers is an Italian brand that strives to provide its customers with outdoor clothing that is perfectly suited for their adventures in nature, ensuring maximum comfort.
The company's focus is on creating innovative, practical, and durable products. Founded in 2006 by designer Massimo Rossetti, Parajumpers has gained increasing popularity over the years.
Today, the brand's products, particularly its jackets, are highly sought after. Parajumpers aims to deliver jackets that offer protection from the elements while also featuring multiple functional pockets and allowing for ease of movement.
Read also: 10 Italian Clothing and Jacket Brands for Outdoor Activities
8. The North Face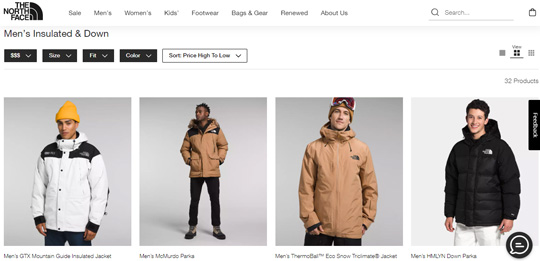 The North Face official website: Men's Insulated and Down jackets
The North Face was established by Douglas Tompkins and Susie Tompkins Buell in San Francisco, California in 1966. The brand's logo has now gained global recognition.
The North Face is owned by VF Corporation and offers a diverse range of outdoor products, including shoes, boots, backpacks, insulated jackets, parkas, sleeping bags, and tents. The brand has also developed advanced technologies such as FUTURELIGHT™ and DryVent, which offer waterproof and breathable properties to its jackets.
As for sustainability, the company has implemented measures to reduce its environmental impact by utilizing recycled materials and to promote sustainable programs.
The Thermoball jacket is a popular lightweight and packable product by The North Face with synthetic insulation that keeps you warm even in wet conditions. The Nuptse down jacket is another iconic product that is great for winter.
The North Face's jackets range in price from $200 to $600.
Read next:
Why Is The North Face So Expensive and Popular? Are Its Jackets Worth It?
11 Brands like The North Face: Our Top Alternatives
9. Kanuk

Kanuk official website
Kanuk, a Canadian brand born in 1970, has always focused on producing winter clothing. Its core values are simplicity, safety, comfort, and high-quality materials.
Their jackets are not only stylish but also practical, ensuring warmth and protection against cold, rain, and snow. Kanuk offers a diverse selection of models with attractive designs, made from materials like recycled polyester and down insulation. This results in exceptional warmth and unmatched comfort.
Don't miss: 10 Best Expensive and Luxury Winter Jacket Brands