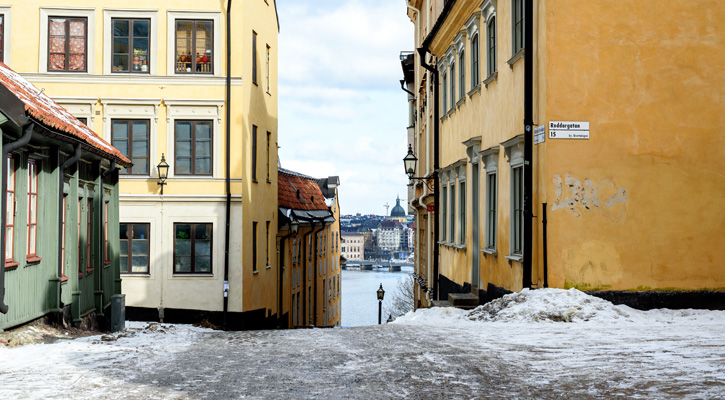 Have you been thinking about getting yourself a new pair of boots? If yes, then you've probably been scouring the sites looking for the best place to purchase those boots.
To help you with that, today we have researched 8 brands from Sweden that make great shoes and boots.
What makes these brands some of the best? Read on to find out!
Contents:
1. Stutterheim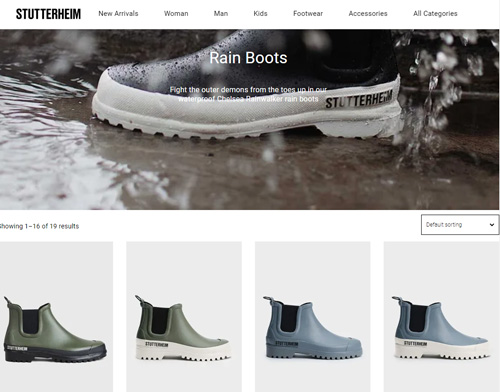 Stutterheim official website
Stutterheim was founded by Alexander Stutterheim in 2011, in Stockholm. Stutterheim wanted to focus on how far proper clothing can get you, especially in the weather conditions of Sweden.
They wanted to revolve their brand mainly around the rain and how to combat it. That is why they create different types of rain boots and water-resistant sneakers.
Stutterheim makes their boots and sneaker soles out of 100% natural rubber and their sneakers out of organic cotton.
Their shoes are perfect for rainy days and are eco-friendly. For the quality you get, their prices are not too high or too low – just right.
Don't miss: 9 Swedish Outdoor Clothing and Jackets Brands: Our Favorites
2. Haglöfs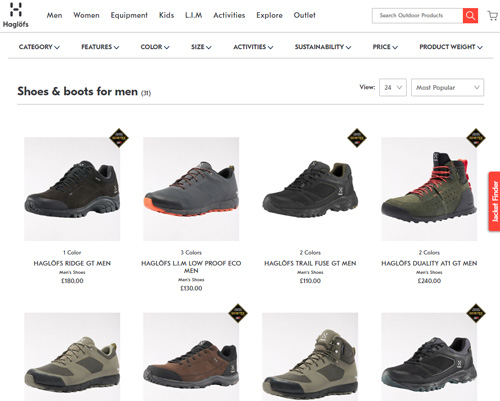 Haglöfs official website
Founded by Wiktor Haglöf in 1914 in Sweden, Haglöfs set out to push the limits by creating sustainable clothes, equipment, and footwear for the outdoors.
The Haglögs brand focuses mainly on the aesthetics of nature and the outdoors. With a huge demographic, Haglöfs cater to all kinds of outdoor enthusiasts.
They produce hiking boots and shoes, waterproof shoes, and everyday shoes! Haglöfs also uses Gore-Tex technology, which helps repel water without adding much weight to the shoe.
In addition to that, many of their materials are recycled and fluorocarbon-free. Their prices are on the more affordable side considering the sophisticated technology their shoes are made from.
Read also: 13 Scandinavian Jacket and Clothing Brands that You'll Love
3. Vagabond Shoemakers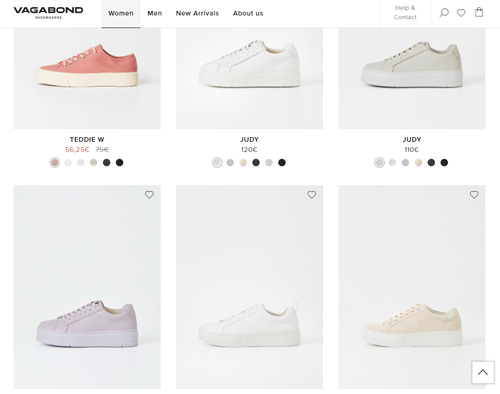 Vagabond Shoemakers official website
Vagabond Shoemakers was founded in 1973, in Sweden. The founders first invested in learning the art of producing shoes in the best possible way. Their aesthetic revolves around neutral, chic tones that create a sophisticated look.
One of Vagabond's priorities is sustainability. They mainly use recycled polyester and organic cotton to create their shoes. Their main goal is to decrease emissions as much as possible.
They make different types of shoes for men and women: loafers, sandals, dress shoes. So if you're shopping for a fancy event, Vagabond is the place for you.
For the type of products they make, Vagabond is considered to be on the more affordable side.
Read next: 8 Finnish Shoes and Boots Brands to Try this Year
4. Arket

Arket official website
Arket is a modern-day market-based company founded recently, in Stockholm. Arket uses the Scandinavian aesthetic of minimalism in its products.
They offer all different types of shoes including, sandals, boots, and trainers for men and women. If you enjoy the minimalistic aesthetic, then Arket is the place for you.
Arket has majorly contributed to saving the environment by creating a sustainability fact sheet that notes all their efforts into the environment.
90% of Arket's materials are sustainable, and by 2030, they plan to use 100% more sustainable materials. Their materials are long-lasting and durable so that the product stays with customers for a long time.
Arket's prices are not too high or too low. For the materials they use, Arket is reasonably priced.
You might also like: 6 Norwegian Boots and Shoes Brands: Our Top Picks
5. Didriksons

Didriksons official website
Julius and Hanna Didrikson created Didriksons in 1913, in Grundsund. The first product they ever sold was raincoats to fishermen in their hometown.
The Didriksons began their company with the hopes of getting people to love the rain as much as they do. That is why their products revolve around staying safe and comfy in the rain.
They make rain boots that are waterproof because they're made out of 100% natural rubber. Didriksons' materials are sustainable and they are consistently working on projects to make their company even more sustainable.
Didriksons' boots and shoes are affordable with most of their boots being below 100 euros.
Don't miss: 8 European Hiking Boots and Shoes Brands: Our Favorites
6. Myrqvist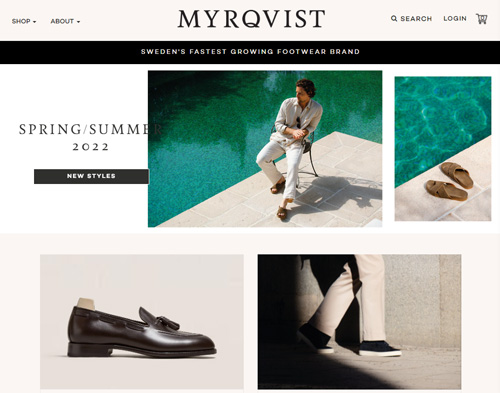 Myrqvist official website
If you're looking to spoil yourself, then Myrqvist is the place to go. Myrqvist bases its brand on the importance of fine craftsmanship. Many of their products are handcrafted in Portugal and made from premium French calfskin.
Since Myrqvist is a Swedish company, they make their products to withstand the harsh rainy weather by using rubber soles.
Although not all of their materials are sustainable, Myrqvist aids the environment by avoiding the use of harmful machinery.
Because of the amount of effort and detail that goes into their production, Myrqvist is quite pricey.
Read also: 10 Italian Hiking Boot Brands: Our Favorites
7. Tretorn

Tretorn official website
Tretorn has been manufacturing rubber shoes since 1891 in Helsingborg. Although they specialize in rubber boots, they make winter boots and sneakers as well.
Tretorn also makes hybrid boots that are water-resistant and suitable for most daily activities. So, if you're looking for a nice pair of long-lasting boots, Tretorn is the place for you.
Tretorn products are quite sustainable since they are made out of recycled materials to decrease their waste production as much as possible.
The aesthetic of their products revolves around the beauty of city life. Tretorn offers the perfect balance between city life designs and sustainable clothing. Best of all, Tretorn's shoes are pretty wallet-friendly.
You might also like: 10 of the Best Norwegian Jackets and Clothing Brands
8. Acne Studios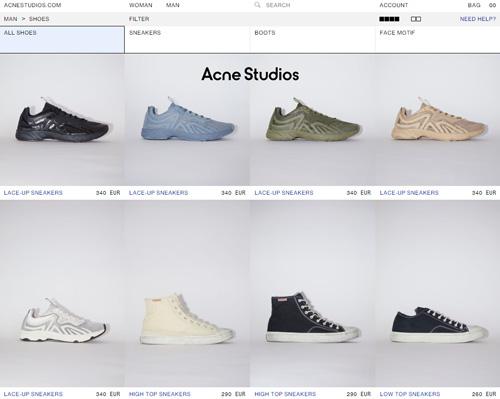 Acne Studios official website
Acne Studios prioritizes using premium materials such as calf leather or suede. Acne Studios was established by Jonny Johansson. In fact, all Acne Studios products are designed by Johansson with ultimate care and attention to detail.
They prioritize sustainability by creating long-lasting products that don't need renewing after a substantial amount of time.
Acne Studios is the most expensive brand on our list, so if you're looking to splurge on a worthy pair of boots, they're perfect for you.
Read next: 7 German Hiking and Winter Boot Brands: Our Top Picks
Conclusion
That's all for this selection! We hope that these Swedish footwear brands inspired you and gave you some new ideas for your next pair of shoes.