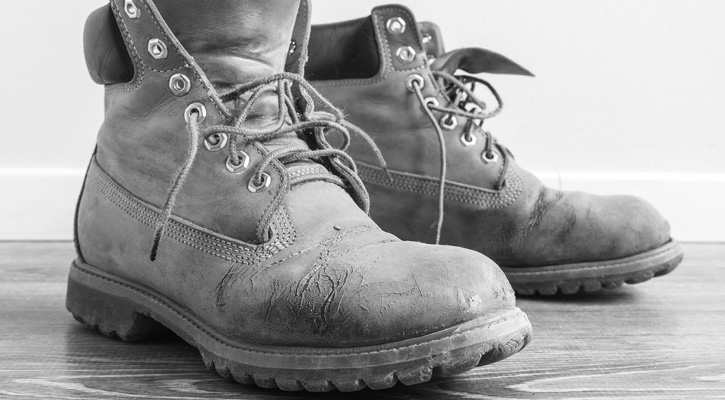 If you've ever wondered why Timberlands are so expensive, and whether they're worth the investment, this is the article for you.
Timberlands are classic boots that have been around for decades, and their popularity only seems to be increasing. But what makes these boots so special, and why do they come with such a high price tag?
In today's article, we'll explore the history of Timberland, its rise to popularity, and whether or not it's worth the investment.
So, if you're a fan of Timberlands or just curious about the brand, read on to find out more.
Key Points:
Timberland is committed to sustainability, community building, and social responsibility.
Timberland boots are known for their durability, water resistance, and versatility.
They are expensive because of their quality, popularity, and the company's focus on social and environmental programs.
While Timberlands can be expensive, they are comparable in price to other high-quality footwear options. They're worth the investment due to their longevity, protection, and customization options.
They range in price from $150 to $220.
Many people report that their Timberlands have lasted 4-5 years or longer.
They can be worn for work, short hikes, or city life.
Table of Contents:
1. The Timberland Company
The origins of the company can be traced back to 1952 when Nathan Swartz acquired a 50% stake in the Abington Shoe Company. Over time, Swartz transformed the company into a family business and relocated it to Newmarket, New Hampshire.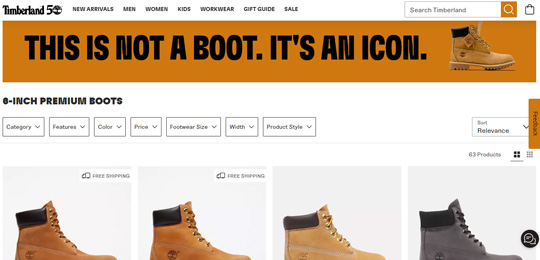 Timberland official website
This area is renowned for its rugged terrain and unpredictable weather, ranging from harsh winters to scorching summers. Timberland was designed to withstand any kind of weather that the challenging New England climate could throw at it.
In 1973, Timberland introduced its original waterproof Yellow boots, which were instantly popular with outdoor enthusiasts, tradespeople, and anyone seeking a stylish and functional pair of boots. The boots were so innovative and successful that the company eventually adopted the Timberland name.
Since its inception and subsequent rebranding, Timberland has been committed to making a positive impact on the world. The company's mission is to create better products, stronger communities, and a greener planet.
Don't miss: 10 Boot Brands like Timberland that You'll Love
Innovative Boots
When Timberland designs a product, they don't just focus on aesthetics. They also prioritize the product's impact on the environment. As a company that encourages people to get outdoors, minimizing their environmental impact is crucial. Over the years, Timberland has made significant efforts to create more sustainable products.
Their iconic waterproof boot, introduced in 1973, remains a cornerstone of the company. However, Timberland has continued to innovate and prioritize sustainability.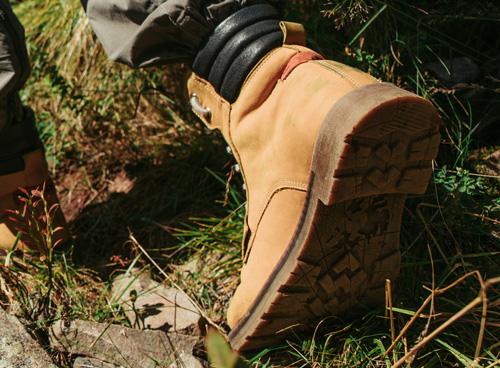 Timberland Yellow Boot
For example, they have recycled millions of plastic water bottles into their footwear, with over 345 million bottles recycled by 2018. They have also introduced the ReBotl™ material, which is made from recycled plastic.
Timberland remains committed to sustainability while also creating high-quality, functional products.
Helping Communities
At Timberland, community involvement is a vital part of their mission to effect positive change on a global scale. The company offers full-time employees up to 40 hours of paid time off to volunteer in their local communities.
Timberland's goal was to reach 1.5 million total volunteer hours by 2020, recognizing that a stronger community leads to a stronger company.
In 1989, Timberland partnered with City Year, a national youth service group dedicated to community strengthening. This partnership was just the beginning of Timberland's ongoing commitment to community involvement. In 2019, the company signed the Generation T pledge, which supports students and graduates in skilled trades.
Through programs like these, Timberland can build stronger communities and make a positive impact on the world. (source)
Sustainability Efforts
Sustainability is a core value at Timberland, and the company is dedicated to making the world a greener place. One of their key initiatives is tree planting. Trees are critical to our planet's health and well-being, as they improve air quality, prevent erosion, and reduce stress levels.
Recognizing the importance of trees, Timberland has planted over 10 million trees since 2001 and has set a goal to plant an additional 50 million trees by 2025.
In addition to its tree-planting efforts, Timberland is committed to using recycled materials in its boots. As a company that encourages outdoor exploration, protecting the environment is an essential part of its mission.
By using recycled materials, they can create high-quality products while minimizing their impact on the environment.
Read also: 8 Scandinavian Boot Brands for Hiking and Outdoor Wear
2. Why are Timberland Boots Expensive?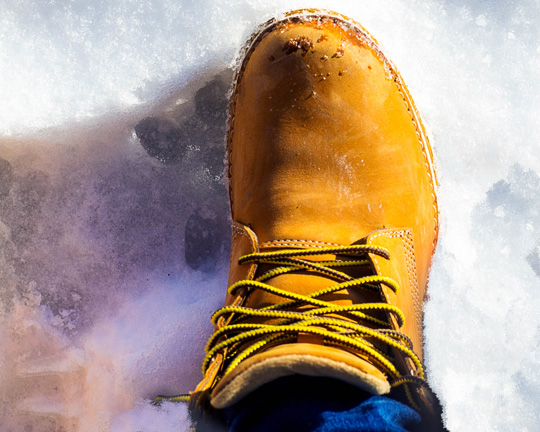 Timberland Yellow Boot
Timberland boots are known for their iconic style, but they also come with a significant price tag. This is due in part to the fact that many of the boots are made with recycled and sustainable materials, aligning with the company's mission of sustainability and community building.
When a company has a mission beyond simply creating and producing a product, that can result in a higher price tag for consumers.
Another factor contributing to the price of Timberland boots is their popularity. As a highly sought-after brand, the company can command a higher price for its products. When you purchase Timberland boots, you are not only paying for the product itself but also supporting the company's social and environmental initiatives.
By investing in Timberland, you are also supporting their efforts to build stronger communities and protect the environment.
Timberlands' Popularity
Although Timberland boots were popular from their inception in the 1970s, their sales skyrocketed in the 1990s, largely due to their popularity in the rap and hip-hop communities. Famous rappers began wearing the boots in their music videos, increasing their reputation and popularity.
Today, Timberlands are a staple in many different wardrobes, particularly in urban areas like New York City. The iconic Timberland yellow boot is made from premium leather and features PrimaLoft® insulation, making them durable and resistant to wear and tear.
With seam-sealed waterproof protection, warm insulation, and rubber lug outsoles for rugged terrain, these boots are perfect for both outdoor adventures and city sidewalks during cold winter days.
Read next: 7 German Hiking and Winter Boot Brands: Our Top Picks
3. Are They Worth It?
Having considered the popularity and pricing of Timberland boots, the question remains: are they worth the investment?
While Timberland boots can be expensive, with prices ranging from $150 to $220 for a pair, they are reasonable for high-quality boots. It's worth noting that these boots were originally designed for working-class people, so it's interesting to see how they've become an almost luxury item.
There are many different types of Timberland boots available, including the classic 6-inch Premium Waterproof Boot, which comes in a variety of colors. The ability to customize the boots to your liking is another factor that justifies the cost.
Most importantly, Timberland boots are known for their durability and water resistance, making them suitable for a variety of weather conditions and long-lasting wear.
In the end, we believe that Timberland boots are worth the price, given their quality, durability, and customization options.
Don't miss: 6 Norwegian Boots and Shoes Brands: Our Top Picks
4. How Long Do Timberland Boots Last?

A pair of Timberland work boots
Timberland boots are renowned for their durability and longevity. Many people report that their Timberland boots have lasted for 4-5 years or even longer.
Given the high price of these boots, it's reasonable to expect them to last a long time. With proper care and maintenance, you can ensure that your boots will last for years to come.
5. What Are Timberlands Good For?
Timberland boots are suitable for a variety of activities. Originally designed for outdoor workers to keep them warm and protected, these boots have evolved to become a versatile footwear option.
While some people associate Timberlands with a classic lumberjack style, they are now worn for a wide range of activities. Many people living in cities around the world wear them for their excellent grip and ability to keep feet warm and dry in snowy or icy conditions.
They can be worn for work, for short hikes, or casually for day-to-day city life.
6. Conclusions
In conclusion, while Timberland boots are undeniably expensive, they are comparable in price to other high-quality footwear options such as sneakers or other types of boots. However, Timberlands are known for their exceptional durability and longevity, often lasting just as long if not longer than other types of footwear.
If you're in the market for a good pair of boots, Timberlands are an excellent choice. They offer both durability and high performance while also being stylish. It's clear that these boots have earned their reputation as a top-quality footwear option.
Beyond the quality and popularity of Timberland boots, the company also has a strong focus on social responsibility. Their core values include a dedication to the community, the environment, and their products.
Read next: 12 Boot Brands like Red Wing for Work and Outdoor Wear