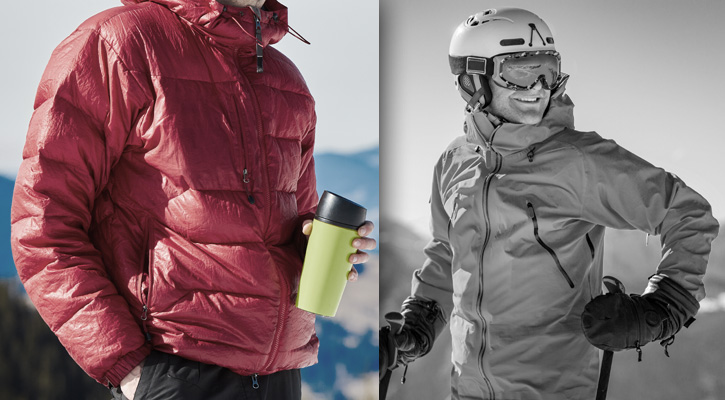 Did you know that Mammut is a company that was founded more than 150 years ago? Yes, we know, incredible!
And in today's article, you'll learn a lot about this brand as we compare it to RAB, another famous outdoor gear brand.
Both have a loyal following, but which one is better?
In this comparison, we'll take a look at these companies' histories, products, features, and prices to help you decide which is right for you.
Let's begin!
Contents:
1. Mammut Outdoor Gear
History of the Brand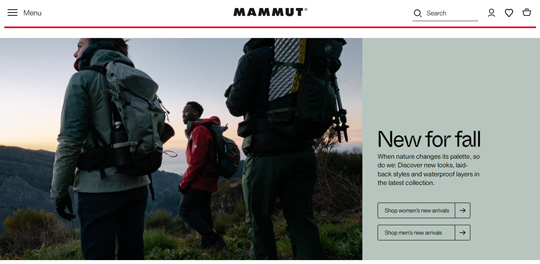 Mammut official website
Mammut is a renowned brand in the outdoor clothing sector, hailing from Switzerland and established in 1862 by Kaspar Tanner as a ropeworks.
With time, the brand expanded to become a global leader in the outdoor clothing and gear industry. Despite its 150-year history, Mammut still employs cutting-edge techniques to manufacture ropes, which contribute significantly to its revenue.
The company's product range includes insulated jackets, backpacks, hardshell jackets, fleece jackets, softshell pants, rain pants, etc.
Mammut is deeply committed to sustainability, and it prioritizes the use of premium materials for both clothing and rope production, reflecting its core values.
Don't miss:
8 Outdoor Brands like Mammut: Our Best Alternatives
7 Swiss Jacket and Outdoor Clothing Brands: Our Favorites
Materials, Fabrics, and Production Process
Mammut is committed to sustainability and follows the Bluesign® standard for its product range. The company uses environmentally friendly techniques and is careful in its production methods.
One of its initiatives is to recycle old outdoor equipment and replace PFCs (perfluorinated and polyfluorinated chemicals). Mammut also avoids animal cruelty and uses non-harmful techniques. This ethical approach showcases Mammut's values and dedication to sustainable practices.
The company uses materials with a reduced carbon footprint for rope production and clothing that meets the Fair Wear Foundation's criteria. Mammut's commitment to sustainability makes it an ideal choice for eco-conscious outdoor enthusiasts.
Some of Mammut's products use Gore-Tex, a high-end waterproof fabric technology.
Other materials and fabric technologies include: nylon, polyester, Mammut DRYtechnology™ waterproof and breathable membrane, Pertex® Quantum® Pro water-resistant and breathable fabric, goose down insulation, PrimaLoft® Black synthetic insulation, etc.
The video will be loaded from YouTube.com, a third party. If you play it, you accept their terms of service, and their use of cookies.
Read also: Mammut vs Arc'teryx Outdoor Gear: A Comparison
Where is Mammut outdoor gear made?
Mammut manufactures its outdoor gear and clothing mainly in Asian countries such as China, Bangladesh, and Vietnam.
Recommended Products
Mammut Nordwand Advanced HS Hooded Men's Jacket

Image: mammut.com
Check it out at Mammut.com
If you're looking for a versatile jacket for your mountain expeditions, the Nordwand Advanced hardshell jacket is a great option. It offers an innovative cut and GORE-TEX® PRO fabric technology, which makes it lightweight, durable, and breathable.
This jacket is designed to provide reliable and long-lasting protection from the elements while also maintaining excellent breathability. It strikes the perfect balance between protection, features, and pack volume, making it an ideal choice for anyone seeking a jacket for their alpine activities.
Mammut Trion Nordwand 28 Backpack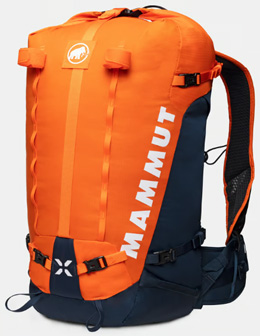 Image: mammut.com
Check it out at Mammut.com
Mammut's Eiger Extreme Collection includes the Trion Nordwand 28, a sturdy and adaptable alpine backpack. The pack is made with high-quality Cordura material, ensuring lightness and durability.
It is not only long-lasting but also comfortable to wear. The backpack's development involved elite athletes, such as Dani Arnold, Nico Hojac, and Stephan Siegrist, who shared their knowledge and experience.
The Trion Nordwand 28 is intended for those who expect the best from their gear. Whether you're climbing a mountain or taking on a challenging hike, this pack is a good choice.
Prices
Mammut offers a wide variety of products that cater to different budgets, making it accessible to a broad range of customers. The company offers both affordable and high-end products that feature advanced technology and high-performance designs.
For example, Mammut's jackets are typically priced between $200 and $300, but the company also offers some technical designs that cost $900 or more. Similarly, Mammut's backpacks range in price from $70 to $800.
Are Mammut products worth the price?
The high prices of Mammut reflect the use of premium materials and state-of-the-art technology. The Swiss brand has established itself as a reputable manufacturer with more than 150 years of experience in the industry.
We believe that Mammut's gear is worth it because of its superior quality and durability, making it a good investment for individuals in search of high-performance equipment for demanding activities.
Must read: 9 High-End, Expensive Hiking Brands for Clothing and Footwear
2. RAB Outdoor Gear
History of the Brand

RAB official website
The origins of RAB can be traced back to 1981, when Rab Carrington, a well-known Scottish climber, founded the brand in Sheffield, South Yorkshire, England, naming it after himself.
Having a passion for nature, climbing, and adventure, Rab Carrington quickly gained recognition among his peers as a prominent mountaineer.
In 1973, while stranded in Buenos Aires due to a UK strike and without equipment, Rab began making his own gear with the help of a friend, Hector Vieytes, who taught him how to create high-quality sleeping bags.
This experience inspired Rab to establish his own company, which he envisioned as being "by climbers for climbers." Over the years, Rab has developed numerous products that have become iconic among mountaineers and climbers.
In 2001, the brand entered into a partnership with Polartec, whose materials continue to be used in Rab's gear today.
Since 2003, Rab has been owned by Equip Outdoor Technologies Ltd, which has maintained the brand's ethos of designing world-renowned jackets such as the Microlight Alpine and has earned the company a reputation as one of Europe's fastest-growing providers of specialist outdoor clothing and equipment.
Don't miss:
7 Brands like RAB for Outdoor Adventures
8 British Outdoor Clothing Brands that You'll Love
Materials, Fabrics, and Production Process
Rab is committed to eco-friendly production methods by ethically sourcing materials, using PFC-free water-repellent treatments, and incorporating recycled materials into its products.
Although polyester and nylon are the brand's primary materials, Rab employs various fabric technologies, including Gore-Tex, Pertex Shield, Proflex, and Pertex Shield+, to ensure waterproof and breathable outerwear.
These waterproof fabrics come in 2, 2.5, and 3 layers, depending on their intended use, and employ Hydrophilic and Microporous technologies for breathability.
Rab offers both natural down and synthetic insulation for its jackets and sleeping bags, with a focus on responsible sourcing and recycled materials.
Synthetic insulation, such as Stratus and Cirrus, is also frequently used in Rab's products. Pyrotec synthetic insulation is used in the brand's sleeping bags, and PrimaLoft is commonly used in its gloves.
Rab Microlight Alpine Jacket | Masters of Insulation
The video will be loaded from YouTube.com, a third party. If you play it, you accept their terms of service, and their use of cookies.
Read also:
RAB vs Patagonia Outdoor Equipment: A Comparison
Haglöfs vs RAB: Which is Better for Outdoor Gear?
Where is RAB outdoor gear made?
Rab's outdoor gear is produced both in the United Kingdom, where the company is headquartered and in Asia, particularly in China.
Recommended Products
RAB Men's Microlight Alpine Down Jacket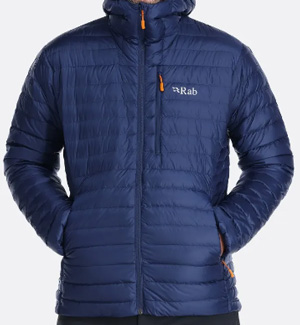 Image: rab.equipment
Check it out at rab.equipment
The Microlight Alpine is a winter jacket that is lightweight and features 700 fill-power hydrophobic down for warmth. The jacket is water-resistant in wet conditions due to this insulation.
The jacket is constructed with Pertex Quantum technology, which provides breathability and durability in various weather conditions, making it suitable for a wide range of activities.
The design includes two hand pockets and a chest pocket on the exterior. The Microlight Alpine is available in both men's and women's sizes and is highly packable for easy transportation.
RAB Aeon 35L Daypack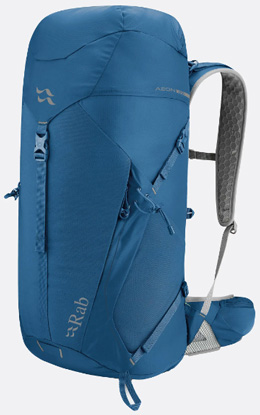 Image: rab.equipment
Check it out at rab.equipment
The RAB Aeon 35L Daypack is a versatile backpack that is perfect for a variety of mountain excursions. Equipped with the Air Contour X carry system, it can securely accommodate heavy loads while maintaining balance on steep trails.
The back panel is semi-rigid and vacuum-formed to promote airflow and conform to the user's body. The wrap-around stretch yoke is comfortable and the back length and forward pull hip belt can be adjusted for a customized fit.
The backpack has a 35-liter capacity, making it suitable for camping, hiking, etc., and features two TipGripper walking pole attachments, a walking axe loop, and easily accessible stretch pockets for storing equipment.
The hip belt pockets are zippered and can hold small items like food or a compass. Made from 50% recycled nylon fabric, the daypack also comes with a rain cover for protection in rainy weather.
Prices
Rab is a brand that falls in the mid-to-high price range. Their jackets range from approximately $80 for windbreakers and lighter styles to $850 for down jackets and technical designs. The cost of their backpacks ranges from $60 to $250, depending on the design.
Prices for other gear and accessories available at Rab vary significantly.
Are RAB products worth the price?
We think they're worth it. Rab is a reputable brand that makes durable and high-quality designs. But it also depends on whether or not their products meet your expectations.
3. Which is Better? Mammut or RAB?
In this case, in our opinion, we have a draw. Both Mammut and RAB are masters of mountain activities and are highly renowned among outdoor enthusiasts.
Both have great products for hiking, mountaineering, snow sports, trail running, and expeditions. They also have a few casual products to use every day.
The technologies are some of the most innovative: from Gore-Tex to their own developed technologies.
The prices are similar, too. They're placed in the mid-to-high range.
Sustainability is also another field where both companies have their programs in place, striving to reduce their environmental impact.
We tried to find differences between these two brands, but they're very similar, apart from a few collections. For example, RAB offers a biking collection, while Mammut offers quite a wide range of footwear.
So, in the end, you have to decide based on the specific product and features you're looking for.
Let us know in the comments what you think.
Read next: 11 European Brands for Outdoor Enthusiasts: Our Top Picks