If you're an outdoor enthusiast looking for high-quality and reliable gear for mountaineering, camping, hiking, or backpacking, RAB is a great option where you can buy your clothing and equipment.
The British brand has a rich and interesting history and is highly regarded in the outdoor community.
But if you're looking for other options, today's article will provide you with even more brands to look at.
We've selected 7 companies that are similar to RAB for their types of products, prices, and quality.
From Berghaus to Jack Wolfskin to Marmot, these brands are great RAB alternatives and will take your outdoor experience to the next level!
Contents:
1. Berghaus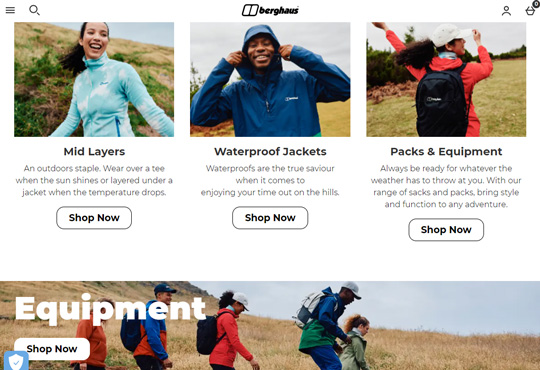 Berghaus official website
Berghaus was born in 1966 by two mountaineers as a distributor of premium outdoor equipment. The company's inaugural store was situated in Newcastle, England, and rapidly gained recognition for introducing iconic gear to the UK market.
The brand's name is derived from German and signifies "mountain house." In 1971, the founders set up a new factory and produced the first Berghaus rucksack, the Berg 172. Three years later, they launched the pioneering Cyclops rucksack, which was the first rucksack worldwide to feature an internal frame.
The Cyclops rucksack is still a popular choice today. Berghaus employs Gore-Tex as its primary waterproofing material for clothing and was among the initial European outdoor brands to adopt this fabric technology.
The company has also implemented other material innovations such as Hydroshell, Freeflow, and Argentium. Berghaus provides a variety of products including jackets, shoes, and backpacks. While some of their jackets may be expensive, we think that the quality of Berghaus products is worth the price.
Don't miss: 8 Outdoor Brands like Berghaus: Our Favorites
2. Arc'teryx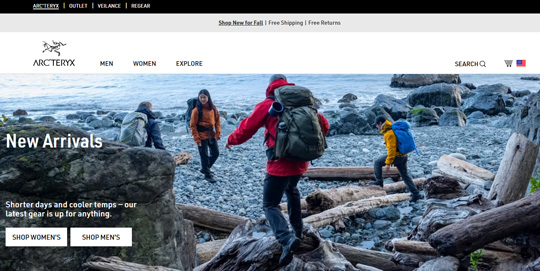 Arc'teryx official website
Arc'teryx' inspiration for its products comes from the vast Canadian wilderness and mountains. It was founded in 1989 by Dave Lane, a mountaineer who recognized the need for better outdoor clothing.
Over the years, the brand has grown from a small Vancouver factory to become one of Canada's largest companies, with a global presence.
The brand's unique logo and name are inspired by the Archaeopteryx, the oldest known bird and a pivotal moment in the evolution of dinosaurs. This is a symbol of the company's focus on innovation.
The Arc'teryx design center is the place where outdoor simulations are used to extensively test their products. The Canadian brand's products are made to be comfortable, long-lasting, and environmentally friendly, with many recycled materials and eco-friendly manufacturing processes.
Arc'teryx uses the latest technology from leading producers, like Gore-Tex, and has also launched its own technologies, like AC2 and Coreloft. These technologies make Arc'teryx jackets and other gear waterproof, durable, and breathable.
Related:
Why is Arc'teryx so Expensive and Popular? Is It Worth It?
Is Arc'teryx Sustainable? A Look at their Environmental Practices
3. Mammut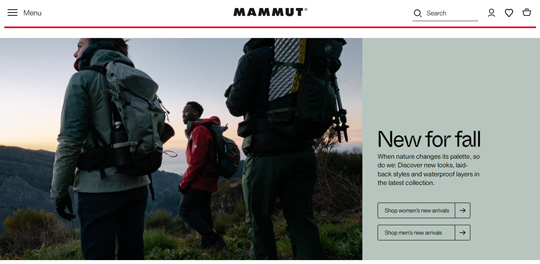 Mammut official website
Mammut, a Swiss company that specializes in outdoor gear, has been in operation for more than 100 years. Founded by Kaspar Tanner in 1862, the company originally produced ropes.
Today, Mammut has expanded its product line to include a variety of items suitable for mountaineering, camping, and hiking. These products range from casual to technical, encompassing footwear, clothing, and equipment.
Although Mammut products are expensive, they are renowned for their advanced technology and fashionable designs that perform exceptionally well.
Among the brand's most popular products are the Mammut Eiger Speed ML Hybrid Hooded jacket, which is ideal for mountaineering, trail running, and ski touring, and the Mammut Nordwand Pro Gloves, which are made for skiing and mountain activities. These gloves are water-resistant and offer great protection as they use Gore-Tex Grip and PrimaLoft Gold insulation.
Read also: 7 Swiss Jacket and Outdoor Clothing Brands: Our Favorites
4. Marmot

Marmot official website
Marmot was founded in 1974 in the United States by three friends who shared a love for the outdoors. Their initial objective was to design a jacket that would be appropriate for their outdoor activities.
One of their puffer jackets, the Golden Mantle, became famous after being showcased in Clint Eastwood's movie The Eiger Sanction in 1975.
Marmot is recognized for its incorporation of Gore-Tex into its products, which has had an impact on many other outdoor clothing brands. Marmot also provides high-quality sleeping bags and tents.
The brand primarily employs nylon and polyester in its products and is dedicated to sustainable sourcing methods to reduce environmental impact. They utilize PFC-free coatings in many of their gear and have created their own technologies such as Eco Featherless and EvoDry to promote sustainability.
Marmot has also developed the NanoPro and MemBrain technologies, allowing them to manufacture lightweight, long-lasting, and breathable products.
Read next:
9 Outdoor Brands like Marmot: Best Alternatives
12 Best American Jackets and Outdoor Clothing Brands
5. The North Face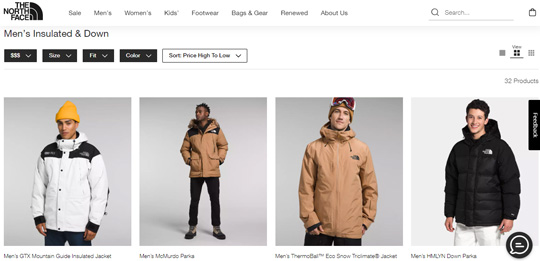 The North Face Men's Insulated and Down jackets: official website
The North Face, a globally recognized brand, was founded in 1966 by Douglas Tompkins and Susie Tompkins Buell in San Francisco, California.
The brand's logo has become an icon for its stylized depiction of Half Dome in Yosemite National Park.
Presently, The North Face operates under VF Corporation, the parent company of various outdoor brands. The North Face offers a broad range of products for outdoor activities, including backpacks for hiking or school, down-insulated jackets, sleeping bags, camping tents, and hiking footwear.
The brand has developed numerous technologies, such as DryVent and FUTURELIGHT™, which are waterproof and breathable fabrics. Despite being viewed as a high-end brand, The North Face also provides reasonably priced items.
Recently, The North Face has taken significant steps to lower its environmental impact and utilize recycled materials, as part of its focus on sustainability.
Among The North Face's popular products, we can mention the Thermoball jacket. It is a lightweight and packable synthetic-insulated jacket that provides warmth even when wet. Also, the Nuptse down jacket is another iconic product, ideal for winter weather.
Don't miss:
11 Brands like The North Face: Our Top Alternatives
Why Is The North Face So Expensive and Popular? Are Its Jackets Worth It?
6. Montane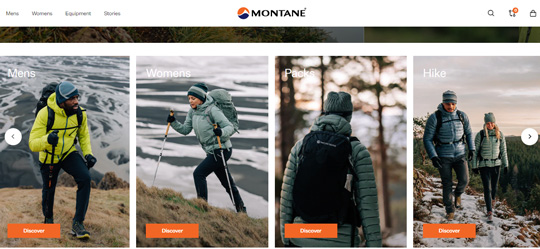 Montane official website
Montane is a famous English brand that has been operating since 1993. It specializes in creating excellent outdoor clothing and equipment. Its innovative designs and technical expertise have made it a leading name in the outdoor clothing market all over the world.
Montane produces lightweight and durable products that can withstand difficult weather conditions. Its product range includes jackets, pants, base layers, and accessories, all made from premium materials such as Gore-Tex and PrimaLoft technologies, providing you with excellent insulation and protection while you're out in nature.
Montane is committed to reducing its environmental impact by utilizing eco-friendly materials like recycled polyester. Its products are practical and versatile, suitable for various outdoor activities such as hiking, camping, and mountain activities.
Moreover, Montane's products are stylish and can be worn on different occasions even daily in your city. Despite using the latest technologies, the brand has many cost-effective products in its collections.
Related: 8 British Jackets and Outdoor Clothing Brands that You'll Love
7. Jack Wolfskin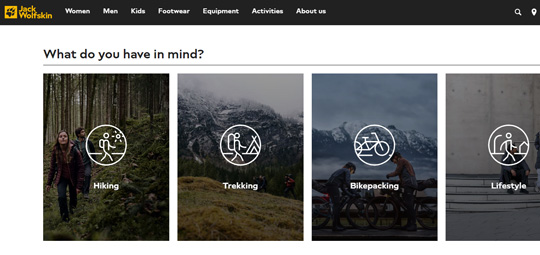 Jack Wolfskin official website
The German outdoor clothing and equipment company, Jack Wolfskin, was established in 1981 and is renowned for its exceptional outdoor gear suited for various types of weather. Its product line includes jackets, pants, shirts, shoes, and accessories.
Jack Wolfskin is dedicated to utilizing eco-friendly materials, such as the Texapore Ecosphere membrane, which is made from recycled materials and reduces waste during production.
Innovation is a significant focus for Jack Wolfskin, and the brand has developed several technologies, including the Texapore fabrics, which enhance its products' performance.
Texapore is a waterproof and breathable membrane used in numerous jackets and pants, available in various versions with different performance levels.
For those seeking sustainable and innovative outdoor gear, Jack Wolfskin is a reliable alternative to RAB, and its products are reasonably priced.
Read also: 9 German Jackets and Outdoor Clothing Brands that You'll Love