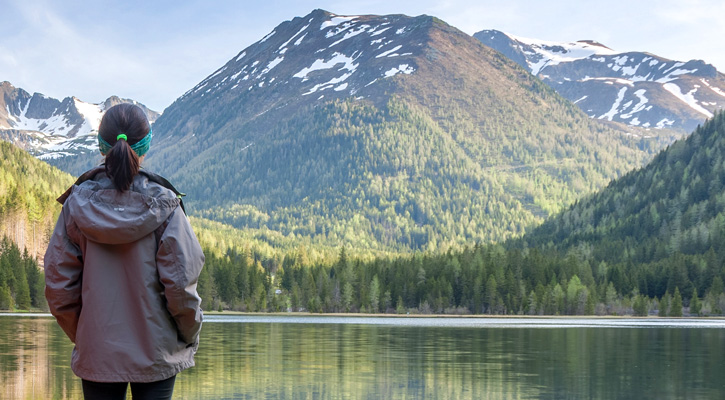 If you're passionate about outdoor sports and activities, and like being out in nature as much as possible, you understand the importance of having durable and sustainable clothing that can withstand bad weather.
Fortunately, in today's outdoor market, there are several brands that specialize in creating high-quality outdoor clothing that is both stylish and eco-friendly.
One of them is Cotopaxi, the American brand that is famous for offering sustainable apparel with vivid patterns and beautiful, bold colors.
But there are also many other outdoor brands like Cotopaxi offering a wide range of eco-friendly clothes. And that's where we'll be focusing on in today's article!
The brands we've selected include Passenger Clothing, Tentree, Patagonia, Fjällräven, and many more, and are great alternatives to Cotopaxi for their quality and sustainability.
So, let's take a look!
Contents:
1. Passenger Clothing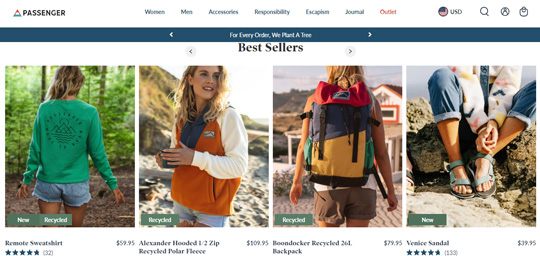 Passenger Clothing official website
Passenger Clothing is a fashion company based in the UK that specializes in creating outdoor clothing for those who enjoy spending time outside. Their products cater to hikers, backpackers, and those who just like to walk in their city park.
Founded in 2013 in the New Forest, UK, the brand is perfect for adventure-seekers and travelers. They focus on producing high-quality, stylish, and comfortable clothing that ensures customers look and feel great while enjoying the natural landscapes.
One of the company's noteworthy features is its commitment to the environment. For each order received, Passenger Clothing plants a tree, demonstrating their dedication to preserving the environment.
Don't miss: 7 Brands like Passenger Clothing: The Best Alternatives
2. Finisterre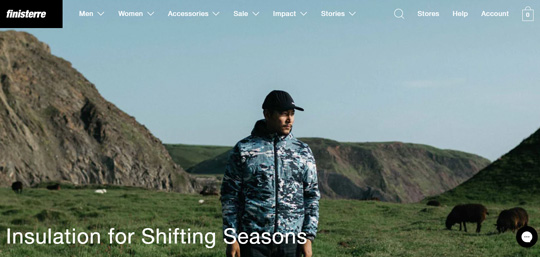 Finisterre official website
Finisterre is another British adventure-wear brand that has been providing sustainable and long-lasting clothing for outdoor enthusiasts since 2003.
The company is committed to using eco-friendly materials, including recycled polyester and organic cotton, and works with suppliers who share their values of sustainability and ethical practices.
One of Finisterre's notable products is its jackets, which now come with a fluorocarbon-free durable water repellent (DWR) finish. This means that the jackets are both water-resistant and environmentally friendly. Finisterre also offers a range of other outdoor clothing, such as base layers, fleece jackets, and accessories.
Aside from their dedication to sustainability, Finisterre is also committed to community and education. They host events and workshops to educate people about sustainable living and outdoor activities and collaborate with organizations such as Surfers Against Sewage to help preserve the environment.
All in all, Finisterre is an excellent choice for those seeking sustainable and long-lasting outdoor apparel. With their commitment to eco-friendly and ethical materials, Finisterre is a name that you can be happy to support.
Related: 8 Brands like Finisterre: Best Alternatives for Outdoor Wear
3. Montane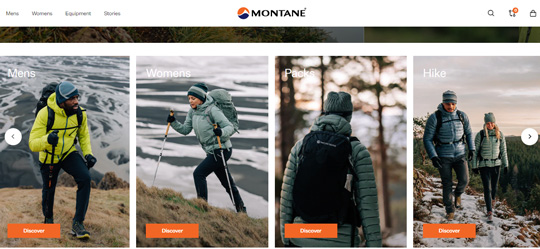 Montane official website
Montane is an outdoor clothing and equipment brand based in the UK, founded in 1993. The brand is renowned for its technical expertise and innovative designs, which have earned it a position as one of the leaders in the outdoor clothing market.
One of the key features of Montane is that its products are designed to be lightweight, durable, and capable of protecting you from bad weather, making them ideal for outdoor activities.
Montane offers a wide range of products, including jackets, pants, base layers, and accessories, all made from high-quality materials such as PrimaLoft, Gore-Tex, etc., which provide superior insulation and protection.
Also, Montane is committed to sustainability and uses environmentally friendly materials such as recycled polyester to minimize its environmental footprint.
The brand's equipment is designed to be functional and versatile, making it suitable for various activities such as hiking, mountaineering, backpacking, skiing, etc. Montane's products are also fashionable, making them a great option for casual wear.
This company offers a range of accessible pricing options that all come with innovative technologies.
Read also: 8 British Outdoor Clothing Brands that You'll Love
4. Patagonia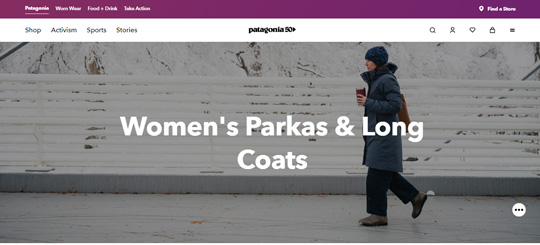 Patagonia women's parkas and coats: official website
Patagonia is a highly regarded American brand that specializes in outdoor apparel, known for its exceptional quality, longevity, and eco-friendliness. Founded by Yvon Chouinard in 1973, Patagonia is a trailblazer in the outdoor industry, offering top-notch products that are built to last.
Patagonia's product line includes an extensive selection of items such as jackets, pants, hats, shirts, etc. The company is renowned for its unwavering dedication to sustainability, incorporating recycled materials into many of its products and contributing a portion of its revenue to environmental causes.
The company has also implemented strict guidelines for its suppliers, ensuring that workers are treated fairly and compensated with a living wage.
Patagonia's products are designed with functionality and durability in mind, making them ideal for outdoor enthusiasts. The company's jackets, in particular, are highly regarded for their quality and performance, with a wide range of options available to suit various weather conditions.
Some of Patagonia's most popular jackets include the Nano Puff and Torrentshell.
Read next:
9 Sustainable Brands like Patagonia for Outdoor Clothing
Why Is Patagonia So Expensive and Popular? Are Its Jackets Worth It?
5. Fjällräven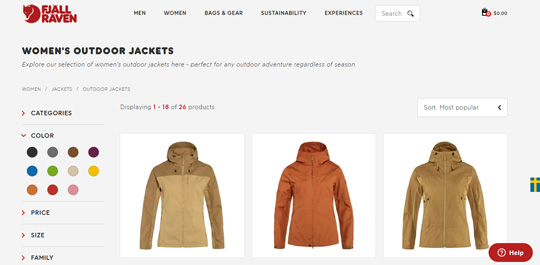 Fjällräven women's outdoor jackets: official website
Fjällräven is a well-known Swedish outdoor brand that has been in operation since 1960. The brand is renowned for its exceptional outdoor gear and clothing, with a particular focus on backpacks and jackets.
Fjällräven is committed to using eco-friendly materials such as G-1000, which is a blend of recycled polyester and organic cotton, as well as Eco-Shell in its production process.
One of Fjällräven's most popular products is the Kånken backpack, which is available in various sizes and colors. The backpack is crafted from Vinylon F material, which is very durable, and boasts a spacious main compartment and front pocket. It also has comfortable shoulder straps and a top handle for easy carrying. The Kånken is very popular among school kids, but also as an everyday accessory.
Fjällräven offers a range of clothing, including jackets, pants, and shirts, designed to withstand harsh outdoor conditions while keeping you comfortable and protected.
If you're looking for high-quality, eco-friendly outdoor gear and clothing, Fjällräven is an excellent choice. Their products are stylish, with a minimalist design, and built to last for years to come.
Don't miss:
Why is Fjällräven so Expensive? Are Its Products Worth It?
9 Swedish Outdoor Clothing Brands: Our Favorites
6. Tentree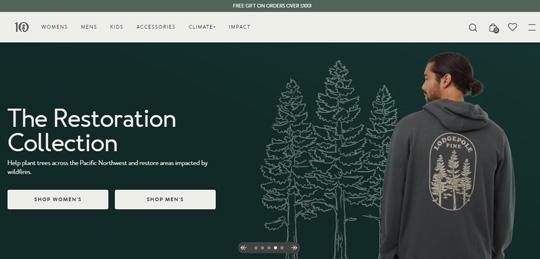 Tentree official website
Tentree is a Canadian company established in 2012 that places great emphasis on sustainability and ethical labor practices. Their manufacturing process employs the use of organic or recycled materials to minimize waste water and emissions.
They ensure compliance with ethical labor standards through factory audits and provide fair wages and equal employment opportunities to their workers.
Tentree has been certified as a Sustainable B Corporation and has received a Climate Neutral label, which indicates that they offset all emissions and measure them. Their products are designed with the environment in mind, and they have already planted over 100 million trees.
Their product range includes jackets, activewear, and other clothing made from sustainable textiles like organic cotton, TENCEL™ lyocell, and REPREVE® recycled polyester. They are continually exploring new materials and techniques, such as recycled nylon and naturally dyed fabrics, to stay ahead of the curve.
Related: 11 European Brands for Outdoor Enthusiasts: Our Top Picks
7. Arc'teryx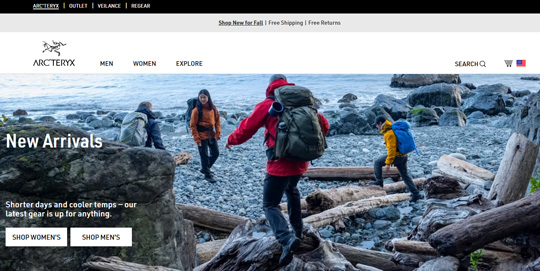 Arc'teryx official website
Arc'teryx finds its inspiration for its product line from the vast Canadian wilderness and mountains. Dave Lane, a mountaineer, founded the company in 1989, recognizing the need for better outdoor clothing.
Since then, the brand has grown substantially, expanding from a small Vancouver factory into one of Canada's largest companies with a global presence.
The distinctive logo and name of the brand are derived from the Archaeopteryx, the oldest bird known to man, and a significant moment in the evolution of dinosaurs. This symbolizes the company's emphasis on innovation.
The Arc'teryx design center is the hub for testing its products, using outdoor simulations extensively. The Canadian brand's products are designed to be long-lasting and comfortable, with many recycled materials and eco-friendly manufacturing processes.
Arc'teryx employs the latest technology from leading producers, such as Gore-Tex, and has also developed its own technologies, such as AC2 and Coreloft, to make its jackets and other gear waterproof, breathable, and durable.
Read also:
Is Arc'teryx Sustainable? A Look at their Environmental Practices
Why is Arc'teryx so Expensive and Popular? Is It Worth It?
8. Columbia Sportswear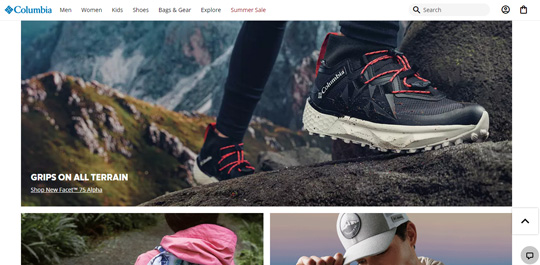 Columbia Sportswear official website
In 1938, an American outdoor brand named Columbia Sportswear was established by a family that fled Germany. The company specializes in providing a diverse range of outdoor clothing and equipment, comprising jackets, pants, shirts, and shoes.
Columbia Sportswear is distinguished for its high-quality products that are designed for difficult weather conditions, while still being reasonably priced. The company's clothing is crafted for comfort, warmth, and breathability in all types of weather, and it offers a variety of sizes and styles to cater to all body types.
As for sustainability, Columbia Sportswear is focused on incorporating recycled materials into many of its products and is constantly striving to reduce its environmental impact.
Read next:
10 Brands like Columbia Sportswear: Our Top Alternatives
Columbia vs Patagonia: Which Brand Offers the Best Outdoor Gear?
9. Prana

Prana official website
Prana is a US-based clothing brand, which is a subsidiary of Columbia Sportswear. It specializes in producing practical and sustainable clothing for travelers and adventurers.
The company uses eco-friendly materials, such as recycled fabrics and organic cotton, to manufacture its products. These items are designed to be functional, comfortable, and stylish, making them suitable for various outdoor activities.
Prana's Stretch Brion and Zion pants are two of the brand's most popular products, made from durable and stretchy fabric. The company also offers a range of jackets, shirts, and tops that are perfect for layering and outdoor activities, including trekking, yoga, and rock climbing.
Prana is dedicated to sustainability, including packaging, through its Responsible Packaging Movement program, which aims to reduce the environmental impact of packaging materials. Additionally, the brand partners with other organizations and companies to promote environmental causes and sustainable programs.
If you're searching for sustainable and versatile clothing for travel, work, and outdoor activities, Prana is a great option. The company's focus on sustainability is similar to that of Cotopaxi.
Don't miss: 12 Best American Jackets and Outdoor Clothing Brands
10. Helly Hansen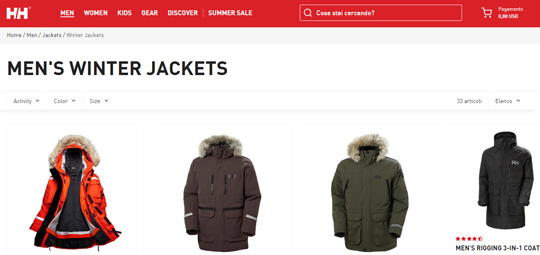 Helly Hansen men's winter jackets: official website
Helly Hansen is a well-known brand that specializes in waterproof clothing. But it also offers jackets that are breathable, functional, and comfortable. These jackets are lightweight and provide protection from cold and rainy weather while keeping you warm.
The company was founded by Helly Juell Hansen, a Norwegian sea captain, in 1877. Initially, it focused on producing sailing equipment, but it later expanded to include outdoor clothing, particularly outerwear suitable for mountain activities.
Today, Helly Hansen offers a wide range of products for various sports and activities, including skiing, snowboarding, trekking, mountaineering, and water sports. They also offer clothes to wear casually every day. Their products are available at different price points, making them accessible to everyone.
The Scandinavian brand has also different sustainability programs that focus on protecting the natural environment, including its materials, manufacturing processes, and working conditions.
Related:
9 Brands like Helly Hansen: Our Top Alternatives
10 Norwegian Jackets and Clothing Brands that You'll Love