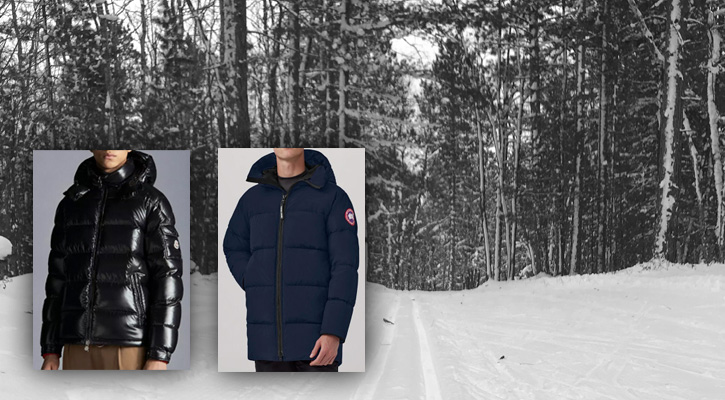 If you're looking for a high-end jacket that will keep you warm during the coming winter months, you probably know Canada Goose and Moncler, two of the most expensive jacket brands on the market!
In this article, we'll take a closer look at each of these brands individually and then compare them to determine which one is the better option.
We will explore the materials used, the level of warmth provided, the style and design of each brand, and their prices and history.
So, without any further ado, let's dive into this comparison!
Key Points:
Canada Goose is ideal for people who value performance over style, while Moncler is a good choice for those looking for high-quality winter coats with beautiful patterns, fits, colors, and excellent craftsmanship.
Canada Goose jackets range from around $1000 to $2000, while Moncler jackets are priced from $700 to $5000.
Canada Goose was founded in 1957 in Canada.
Moncler was founded in 1952 in France. Today it's based in Italy.
Canada Goose coats are mainly manufactured in Canada. They're made from top-quality Nylon, Polyester, Cotton, and down insulation.
Moncler makes its jackets in Europe (countries listed below). It uses Japanese nylon and goose-down insulation among others.
1. Canada Goose Jackets
History of the Brand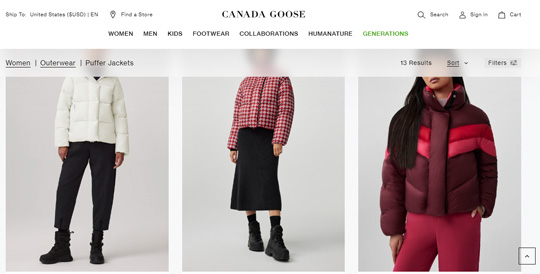 Canada Goose women's puffer jackets: official website
Canada Goose is a popular brand in North America, known for its durable and high-quality down jackets. The brand was founded in 1957 in Toronto, Canada, under the name Metro Sportswear Ltd. It later adopted the name Canada Goose after expanding its market in Europe.
Initially, the brand focused on producing woolen vests and raincoats but eventually expanded into other functional outdoor wear. In the 1970s, Canada Goose created its first down jacket, which quickly became a hit.
The brand is renowned for its winter garments, which provide superior insulation compared to other brands that use specialized fabric technologies. This is due to the high-quality down insulation, which is considered to be the best available.
Don't miss: Jacket Brands like Canada Goose: 10 Alternatives for Winter
Materials, Fabrics, and Production Process
Canada Goose jackets and coats are mainly manufactured in Canada through a meticulous 13-step process to ensure that the final product is a perfectly insulated, weather-resistant, and comfortable jacket.
The brand places great emphasis on quality and ensures that all products meet their high standards.
The jackets are made from top-quality materials such as Nylon, Polyester, and Cotton, which can be used as they are or as part of the brand's proprietary fabric technologies such as Arctic Tech®.
The jackets' shells are often treated with DWR (Durable Water Repellent) to prevent the down insulation from getting wet, as wet down loses its loft and insulating properties.
Canada Goose sources its down from Ducks and Geese, which are ethically sourced as per the RDS standard and are a byproduct of the meat industry. The down's fill power is also considerably high in many jackets.
Some Canada Goose jackets come with a natural fur trim around the hood to protect the face against cold winds, especially during storm blizzards, and not simply as a decorative accessory. However, recently the brand has been leaving the fur trim behind or is using synthetic fur.
Striving For Excellence | Canada Goose
The video will be loaded from YouTube.com, a third party. If you play it, you accept their terms of service, and their use of cookies.
Must read: 10 Best Canadian Winter Jacket Brands: Our Favorites
Recommended Products
Canada Goose Men's Lawrence Puffer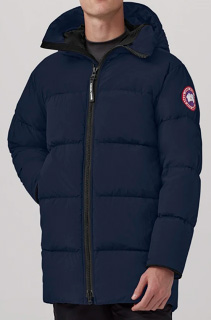 Image: canadagoose.com
The Canada Goose Men's Lawrence Puffer jacket is a timeless piece that offers great protection for everyday activities. It is crafted from Recycled Enduraluxe, a water-resistant fabric with a durable soft finish.
The jacket boasts a quilted body and an adjustable hood. The two-way front zipper provides an additional range of motion and ventilation. The back hem is longer for extra protection, and there is a reflective double-stripe grab strap on the back.
There are two exterior fleece-lined pockets and three interior pockets for storage. The jacket is filled with 750 Fill Power Responsibly Sourced Duck Down and is made in Canada.
Canada Goose Women's Expedition Parka Heritage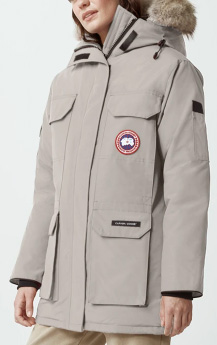 Image: canadagoose.com
The women's Expedition Parka Heritage is a classic and unique parka design that is ideal for cold climates and extreme weather conditions. It features a fur hood trim that enhances its appeal.
The parka was initially designed for scientists stationed at McMurdo Station, Antarctica, and has been proven effective in harsh weather. It comes with a fleece-lined chin guard, a detachable fur ruff, and interior backpack straps for hands-free carrying.
The parka is insulated with 625 Fill Power Responsibly Sourced Duck Down and is made from an iconic heritage textile called Arctic Tech®, which is a mix of 83% Polyester and 17% Cotton.
It is produced in Canada and has a mid-thigh length, a nylon elasticized snow skirt, an adjustable waist, a 2-way zipper with Velcro® closures, and 6 exterior pockets.
Read also: 10 Best Expensive and Luxury Winter Jacket Brands
Prices
A Canada Goose winter jacket can range from around $1000 to $2000, depending on the jacket or parka style you are interested in purchasing.
While purchasing a single winter coat at such a high price may seem unreasonable, the question is whether the purchase is worth it.
Are Canada Goose jackets worth the price?
In short, we think they are! In terms of quality, warmth, and performance, few other products on the market can match Canada Goose, and the craftsmanship is exceptional. Considering that you seldom need to purchase a Canada Goose coat twice, we believe the price is more than justified.
Learn more: Why is Canada Goose so Expensive and Popular? Is It Worth It?
2. Moncler Jackets
History of the Brand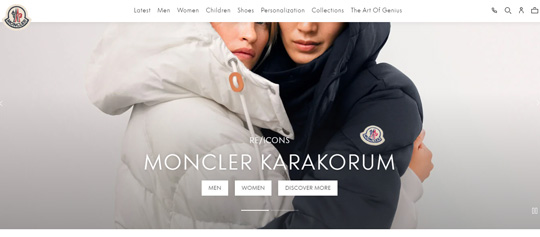 Moncler official website
Moncler is an Italian brand founded in 1952 in Monestier-de-Clermont, Grenoble, France, by René Ramillon.
Although it was initially a French brand, it was acquired in 2003 by Remo Ruffini, an Italian entrepreneur, and its headquarters are now in Milan, Italy.
The brand began by producing sleeping bags and tents before transitioning to quilted jackets, initially designed for outdoor workers during winter. Over the years, the brand has established itself as a luxury brand creating some of the best high-end fashion pieces for outdoor winter wear.
Moncler products come with a price tag that rivals and exceeds that of Canada Goose.
Don't miss: 9 Jacket Brands like Moncler: Best Alternatives for Winter
Materials, Fabrics, and Production Process
Moncler manufactures its jackets in Europe, specifically in countries such as Bulgaria, Romania, Armenia, Moldova, Hungary, and Georgia.
Despite being an Italian brand that originated in France, it does not manufacture products in either of these countries, except for small and limited collections produced in Italy.
One of their primary fabrics is Japanese nylon, which has mild weather protection qualities and is highly durable.
Since this is a brand comparison, we will focus on comparing similar products. Therefore, we will primarily compare their down jackets and parkas.
Moncler uses white goose down for many of its down products, typically with a 90% down to 10% feathers ratio.
Another similarity is the use of removable fur trim in some of their parkas and jackets. However, Moncler is recently becoming a fur-free company because of ethical concerns with animal-based products.
The beauty of Antarctica | The Expedition
The video will be loaded from YouTube.com, a third party. If you play it, you accept their terms of service, and their use of cookies.
Must read: 7 Best Italian Down Jacket Brands for Winter
Recommended Products
Moncler Men's Maya Short Down Jacket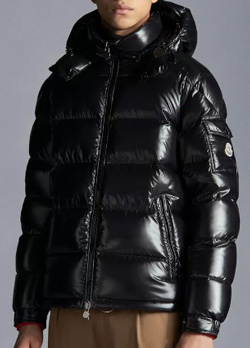 Image: moncler.com
The Moncler Maya Down Jacket is a renowned jacket for men available in various sizes and colors. It features a quilted design with a detachable hood.
The jacket is made of Nylon and is filled with down insulation for warmth. It has zippered pockets and a two-way front zipper. This is a durable product suitable for men who prefer high-quality and stylish outerwear.
Moncler Women's Bondree Long Down Jacket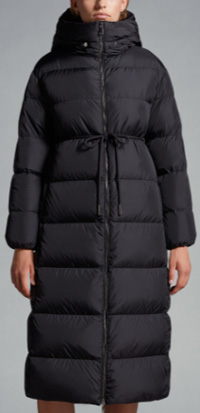 Image: moncler.com
The Moncler Women's Bondree Long Down jacket takes a contemporary approach to the classic puffer coat. It is made from recycled rainwear, a compact nylon fiber known for being water-repellent.
The hood is adjustable and the long design is versatile, suitable for layering over workwear or casual weekend outfits.
The jacket is filled with down for warmth and has a recycled nylon laqué lining. It features a zipper closure, zipped pockets, and an elasticized waistband. The jacket is completed with a logo patch.
Prices
Moncler is not affordable. Their jackets can range from $700 to $5000, exceeding Canada Goose's prices. So, the next question becomes very crucial!
Are Moncler jackets worth the price?
Moncler's winter coats are primarily focused on style, particularly the modern designs. The previous designs, which were intended to provide protection from low temperatures, seem to have been left behind in some ways.
This is not to suggest that these jackets do not perform well in cold weather, but at such high prices, you're primarily purchasing the brand name and style rather than the insulation and performance.
Learn more: Why are Moncler Jackets so Expensive? Are They Worth It?
3. Which is Better? Canada Goose or Moncler?
Canada Goose and Moncler are two of the most expensive and high-end jacket brands on the market. Both have unique features that make them stand out.
Canada Goose is renowned for its superior insulation, comfortable jackets, and meticulous production process. However, its jackets have a simple design making the brand ideal for people who value performance over style.
On the other hand, Moncler is primarily focused on style and trendiness, at least, in the recent years of its history. It's pricier and its designs are some of the best on the market, but the performance when it comes to insulating and weather resistance is not on the same level as Canada Goose.
This makes Moncler a good choice if you don't mind the price tag and are looking for a high-quality winter coat that comes in beautiful patterns, fits, and colors, and excellent craftsmanship.
Read next:
Pajar vs Canada Goose Jackets: Which Brand is Better?
Canada Goose vs Kanuk Winter Jackets: A Comparison