If you appreciate good outdoor brands like us, especially if these brands have a long and rich history, today's article is for you!
In this selection, we'll go through some of the oldest outdoor clothing and gear brands that have stood the test of time. These companies have been in operation for over a century and have established themselves as industry leaders.
Meindl, Woolrich, Aigle, Ferrino, Filson, Blundstone, and many others that we'll explore below, are renowned for their innovative designs, exceptional quality, and attention to detail.
From artisan footwear to durable tents and winter coats, these brands offer a wide range of products suitable for various outdoor activities.
So, continue reading as we take a closer look at the history, philosophy, and products of these iconic outdoor gear brands!
Contents:
1. Meindl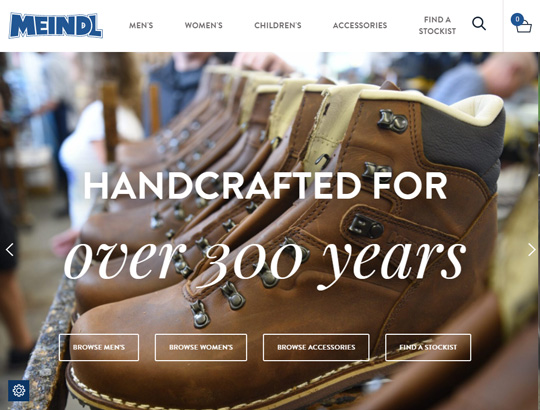 Meindl official website
Meindl, a renowned German brand, is widely recognized for being one of the oldest artisan footwear manufacturers. The brand's origins can be traced back to 1683, courtesy of Petrus Meindl. However, the present-day company was established in 1928.
Meindl's philosophy is rooted in the art of craftsmanship, which is still followed in various stages of shoe production, although modern tools may assist in the manufacturing process. Meindl takes immense pride in its attention to detail.
The hiking and mountain boots offered by this brand are not only suitable for extended periods of walking but also provide stability on various terrains, thanks to their outsoles that offer excellent grip.
Don't miss:
Meindl vs Hanwag Boots: A Comparison
7 German Hiking and Winter Boot Brands: Our Top Picks
2. Woolrich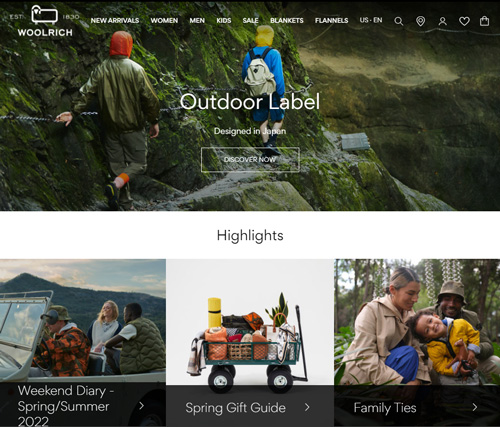 Woolrich official website
Woolrich, founded in 1830, is a well-known American heritage brand and holds the title of the oldest producer of outdoor clothing in the United States.
The brand initially concentrated on producing woolen fabrics and clothing, but in the 1850s, it introduced the famous Buffalo Check shirt, which became a global sensation and remains popular to this day.
Woolrich is not only recognized for its clothing production history but also for the influential role the Rich family played in their community and US politics.
Despite facing several challenges over the years, Woolrich remains one of the most reputable brands in the outdoor clothing market, thanks to its high-quality products and innovative designs.
Although Woolrich's headquarters were located in Woolrich, Pennsylvania for many years, they have now moved to Bologna, Italy, after being acquired by various companies and private equity firms in recent years. Today, most Woolrich stores are located in Europe.
Related: 12 Best American Jackets and Outdoor Clothing Brands
3. Aigle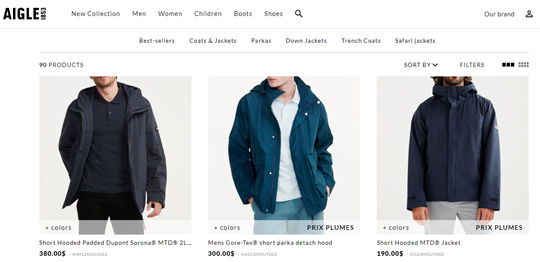 Aigle men's jackets: official website
Our next brand of choice is Aigle, which was founded in Montargis, France in 1853.
Although they are widely known for their Wellington boots, Aigle has expanded their product line to include a diverse range of clothing suitable for different seasons and activities, including winter wear. Their raincoats are particularly popular due to their robustness and superior craftsmanship.
Aigle's jackets are also impeccably designed and of exceptional quality. They also offer a wide range of accessories and footwear suitable for individuals of all ages and genders.
Read also: 8 French Jackets and Outdoor Clothing Brands: Our Favorites
4. Birkenstock

Birkenstock official website
Birkenstock, a German footwear manufacturer, was established in Neustadt by Johann Adam Birkenstock in 1774. It is one of the oldest companies of its kind in the world.
The brand is well-known for its unique cork insoles that readily mold to your foot's shape, making it a favorite in the footwear industry. The products are highly regarded for their exceptional comfort and the superior quality of materials utilized, resulting in a durable structural design.
The collection caters to men, women, and kids, and includes a variety of footwear such as sandals, sneakers, leather boots, Chelsea boots, etc. The prices of Birkenstock products range from around $70 for simple sandals to over $200 for leather footwear.
Read next: 9 German Jackets and Outdoor Clothing Brands that You'll Love
5. Ferrino

Ferrino official website
Ferrino is a well-known name in the outdoor industry, originating from Italy. Founded in Turin in 1870, the brand has always been committed to finding new and innovative solutions.
In 1890, Ferrino revolutionized the camping industry by introducing waterproof and durable tents, which quickly gained popularity. The brand's clothing line is also highly regarded by customers, and it offers a diverse range of models to cater to varying consumer preferences.
Ferrino is renowned for its extensive collection of backpacks, tents, jackets, and other outdoor apparel.
Don't miss:
9 Italian Clothing and Jacket Brands for Outdoor Activities
8 Italian Backpack Brands for Outdoor, Travel, and Casual Wear
6. Orvis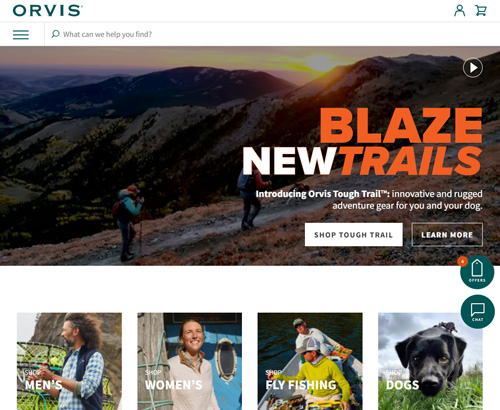 Orvis official website
Orvis is a respected brand that produces fishing and outdoor clothing and accessories. It is recognized as the oldest mail-order company in the United States. While they are most known for their line of fly-fishing clothing, their apparel is versatile enough for any outdoor activity.
The company was founded in 1856 in Manchester, Vermont, and has since grown into a fashionable clothing company. Orvis prides itself on providing excellent customer service, professional care, and high-quality clothes inspired by nature.
Orvis offers a variety of outdoor clothing and accessories for both men and women, as well as quality pet accessories. Due to their love for dogs, Orvis also provides a range of dog products.
From the beginning, Orvis has been committed to producing quality clothing at reasonable prices and creating products they can be proud of.
Related: 10 Brands like Orvis: Top Alternatives for Outdoor Adventures
7. Blundstone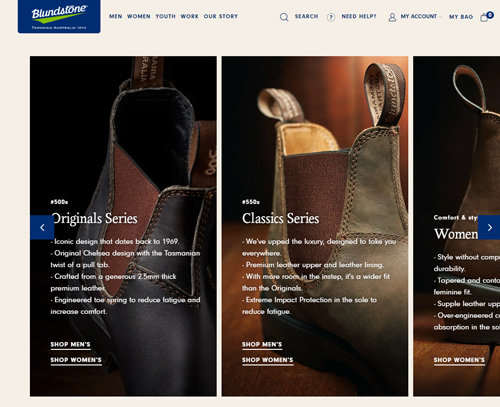 Blundstone official website
Blundstone is a famous Australian brand headquartered in Hobart, Tasmania. The company is famous for its high-quality boots, especially its Chelsea boots.
While the brand focuses on classic models, it also introduces unique designs that impress its customers.
Blundstone products are recognized for their quality materials, comfort, intricate details, and practicality. The brand was founded in 1870 by John Blundstone in Tasmania with the aim of producing shoes that could easily navigate rough terrain.
Today, Blundstone offers various categories of boots, including those suitable for workers, everyday wear, and formal occasions. All products meet high safety standards. Many of the boots designed for workers can withstand extreme temperatures, protecting from both heat and cold.
Blundstone boots are flexible and practical, making them ideal for extended periods of wear, even during outdoor activities.
Read also: 10 Best Australian Outdoor Gear and Clothing Brands
8. Mammut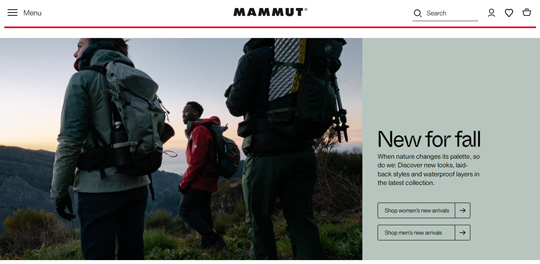 Mammut official website
Mammut, a Swiss brand that has been in existence for more than 150 years, was established by Kaspar Tanner as a rope manufacturer in 1862.
The company has since grown into a global outdoor brand that specializes in the sale of mountain and hiking equipment, shoes, and clothing. Aside from technical gear, Mammut also offers casual products that are ideal for urban use.
Although their products may be relatively pricey, they are equipped with cutting-edge technologies and boast exceptional designs that provide excellent performance.
Read next: 7 Swiss Outdoor Clothing Brands: Our Favorites
9. Helly Hansen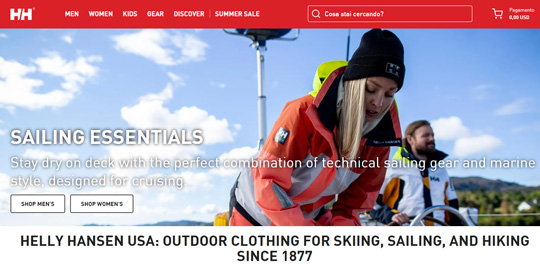 Helly Hansen official website
The origin of Helly Hansen can be traced back to Norway in 1877. The company was initially established by Captain Helly Juell Hansen and his wife as a supplier of sailing gear and clothing.
Today, Helly Hansen offers a wide range of outdoor equipment, clothing, and accessories for activities such as skiing, sailing, trekking, and mountaineering. The brand prioritizes the use of durable materials to create sustainable products with minimal environmental impact.
One of the brand's signature features is its LIFA technology, which serves as a base layer that wicks moisture away while providing warmth and comfort.
Helly Hansen is also known for its H2Flow technology, which utilizes warm air pockets and zippers to regulate body temperature. Also, the brand's Helly Tech fabric technology offers both breathability and waterproofness.
Helly Hansen's winter jackets and parkas are among its most popular products, thanks to their superior insulation and stylish designs.
Don't miss:
10 Norwegian Jackets and Clothing Brands that You'll Love
9 Brands like Helly Hansen: Our Top Alternatives
10. Filson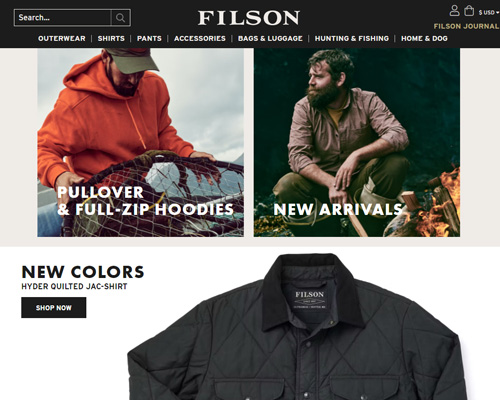 Filson official website
Filson, a well-known manufacturer of clothing, accessories, and shoes for both men and women, has been in operation in the United States since 1897. In addition to its popular products, the company also offers a range of dog accessories.
Originally called "CC Filson's Pioneer Alaska Clothing and Blanket Manufacturers," Filson has gained worldwide recognition for its high-quality merchandise. Their winter coats are particularly noteworthy for their ability to provide excellent protection against cold weather.
The company takes customer preferences into account and offers a variety of designs, including rainwear and durable options.
Filson is committed to using carefully selected fabrics to create functional clothing with useful features for outdoor enthusiasts. The company is environmentally conscious and incorporates sustainable and recycled materials in some of its apparel.