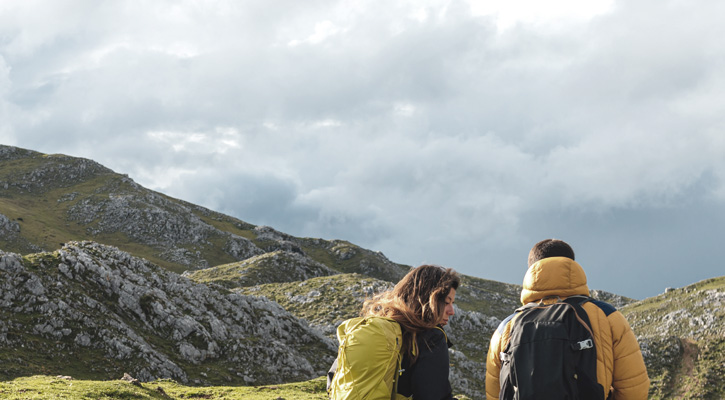 Today's article is for those who like wearing sustainable clothing on their outdoor adventures. A famous brand that offers sustainable outdoor clothing is the Canadian, Tentree.
But in this article, we'll give you even more options because we've put together a selection of 9 brands that are similar to Tentree for their quality apparel and the use of eco-friendly materials.
We'll explore PrAna which is dedicated to creating practical and eco-friendly clothing, Cotopaxi which creates top-quality outdoor gear while also supporting the community, Finisterre a well-known company from the UK, and many more.
These brands are perfect if you're looking for versatile and sustainable clothing for outdoor activities and sports, travel, or work.
Contents:
1. PrAna

PrAna official website
PrAna is a clothing brand based in the United States and is part of Columbia Sportswear. The company is dedicated to creating practical and eco-friendly clothing for outdoor activities, travel, and yoga.
PrAna uses sustainable materials, such as recycled fabrics and organic cotton, to manufacture its products. Their clothing is designed to be stylish, comfortable, and functional, making it ideal for a variety of outdoor activities.
Among their best-selling products are the Zion and Brion pants, which are made from durable and flexible materials. Additionally, PrAna offers jackets, tops, and shirts that are perfect for layering and outdoor activities like hiking, yoga, and mountain climbing.
PrAna is committed to sustainability, including its packaging, through its Responsible Packaging Movement program, which seeks to reduce the environmental impact of packaging materials. The brand also collaborates with other companies to promote sustainable initiatives.
If you're looking for versatile and sustainable clothing for outdoor activities, travel, or work, PrAna is an excellent choice.
Don't miss: 9 Brands like prAna: Our Best Alternatives
2. Passenger Clothing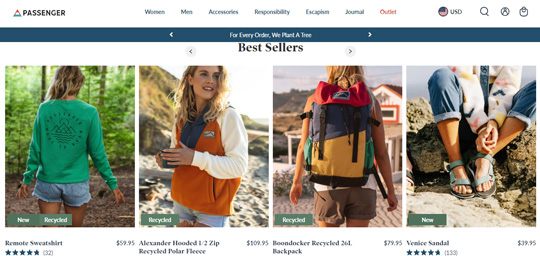 Passenger Clothing official website
Passenger Clothing, a well-known fashion store established in 2013 in the New Forest, United Kingdom, specializes in producing outdoor garments for people who enjoy spending time outside.
One of the remarkable features of Passenger Clothing is their unwavering commitment to protecting the environment, which they demonstrate by planting a tree for every order they receive. The company caters to people who lead an active lifestyle, including hikers, backpackers, and those who live in the city.
They provide top-notch, fashionable, and comfortable clothing that ensures a great experience while enjoying the beauty of nature.
Related:
7 Brands like Passenger Clothing: The Best Alternatives
8 British Jackets and Outdoor Clothing Brands that You'll Love
3. Columbia Sportswear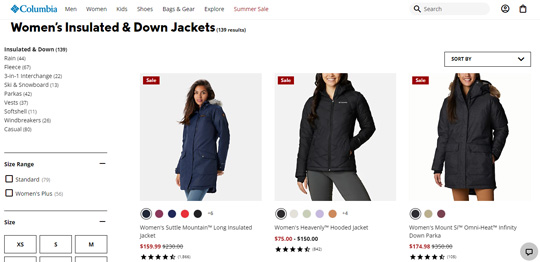 Columbia Sportswear women's insulated down jackets: official website
In 1938, a family who had fled Germany founded the outdoor brand Columbia Sportswear in the United States. Originally focused on hats, the company has since expanded to offer a diverse range of outdoor clothing and equipment, including jackets, pants, shirts, and shoes.
Columbia is known for producing high-quality products that are both affordable and able to withstand various weather conditions. The company prioritizes comfort, warmth, and breathability when designing its clothing, making it suitable for any outdoor activity. Additionally, Columbia offers a wide range of sizes and styles to cater to different body types.
Columbia Sportswear is also committed to sustainability and employs recycled materials in many of its products. The company is consistently working to reduce its environmental impact.
Read also: 10 Brands like Columbia Sportswear: Our Top Alternatives
4. Patagonia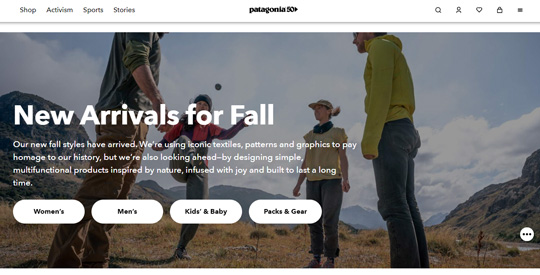 Patagonia official website
Patagonia is a well-known American brand that specializes in outdoor clothing and gear. The company is famous for producing high-quality and durable products that are also environmentally friendly.
It was established by Yvon Chouinard in 1973 and has since become a pioneer in the outdoor industry.
Patagonia offers a broad range of products that cater to outdoor enthusiasts, including jackets, pants, hats, shirts, etc. The company is focused on sustainable production methods and uses recycled materials in its products. It also donates a portion of its revenue to environmental causes.
Patagonia has strict guidelines for its suppliers to ensure that workers are treated fairly and receive a fair wage. Its products are designed to be versatile and long-lasting, suitable for all types of outdoor activities.
The Nano Puff and Torrentshell are two highly regarded Patagonia jackets, famous for their quality and performance, and are available in a variety of weather-resistant designs.
Read next: Why Is Patagonia So Expensive and Popular? Are Its Jackets Worth It?
5. Cotopaxi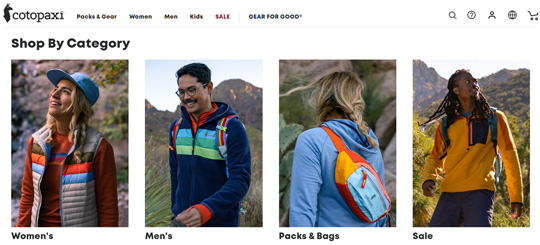 Cotopaxi official website
Cotopaxi is an outdoor gear and apparel brand from the USA that was born in 2014 in Salt Lake City, Utah. The brand derives its name from the Cotopaxi volcano situated in Ecuador and is dedicated to creating top-quality outdoor gear while simultaneously supporting the community.
Cotopaxi adheres to stringent standards for social and environmental performance, accountability, and transparency. The brand places a high priority on sustainability in its product development and strives to use recycled materials whenever possible. Also, it collaborates with other organizations to promote humanitarian and environmental initiatives.
Cotopaxi boasts an extensive range of outdoor gear, including insulated coats, backpacks, fleece jackets, pants, and more. One of its most popular products is the Teca Fleece, made entirely from recycled fleece and repurposed water-resistant polyester. It is available in various colors and is ideal for layering in the winter.
Apart from its sustainability initiatives, Cotopaxi is recognized for its unique and vivid designs. Its products feature striking patterns and bright colors that are guaranteed to make a statement on any mountain trail.
Don't miss: 10 Brands like Cotopaxi for Sustainable Outdoor Clothing
6. Finisterre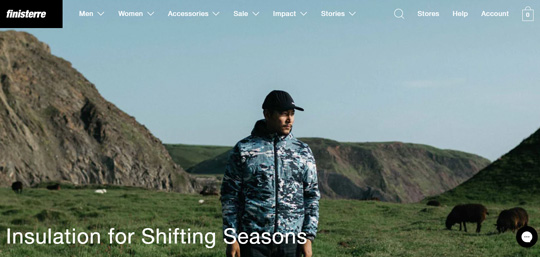 Finisterre official website
Finisterre is a popular British adventure-wear brand that has been around since 2003. They are well-known for providing sustainable and long-lasting outdoor clothing, and they achieve this by using eco-friendly materials such as organic cotton and recycled polyester.
They also partner with suppliers who share their values of ethical manufacturing.
One of the ways they ensure their products are environmentally friendly is by equipping their jackets with a fluorocarbon-free durable water repellent (DWR) finish, making them water-resistant and eco-friendly. They offer a wide range of outdoor apparel, including fleece jackets, base layers, and different accessories.
Aside from the commitment to sustainability, Finisterre is focused on community and education. They organize various events to educate people about sustainable living and outdoor activities and they collaborate with organizations like Surfers Against Sewage to help preserve the natural environment.
If you're looking for sustainable clothes, Finisterre is an excellent option that you can confidently support!
Related: 8 Brands like Finisterre: Best Alternatives for Outdoor Wear
7. Rhone

Rhone official website
Rhone is a company based in the United States that specializes in producing and distributing athletic and sportswear for men. The company was established in 2014 in New Canaan, Connecticut.
Rhone's clothing line is designed for active men and incorporates environmentally friendly fabrics such as organic cotton, recycled polyester, and merino wool. Rhone takes pride in using high-quality materials to create garments that have a longer life than the average product.
Also, from time to time, Rhone adds motivational phrases to its merchandise. The company has achieved significant growth within a short period. Their pricing varies, but they are generally considered to be on the more expensive side of the market.
Read also: 8 Best Sustainable Outdoor Clothing Brands: Our Top Picks
8. Lands' End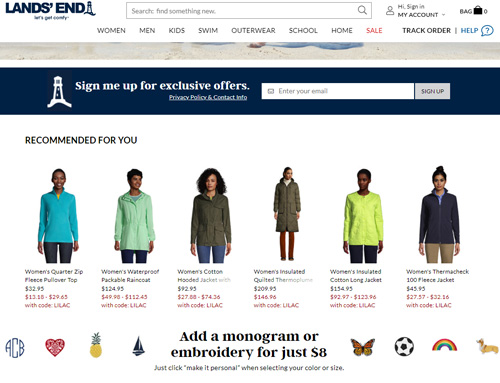 Lands' End official website
The apparel brand, Lands' End, is well-known for its emphasis on comfort and simplicity in its collections for men, women, and children.
The company was established in Chicago in 1963 by Gary Comer, who initially focused on selling sailing gear. Over time, Lands' End expanded its product line to encompass a wide variety of clothing items.
Originally called "Land's End," a mistake in the first catalog and insufficient funds to rectify the error led to the current name, "Lands' End." Today, it's a worldwide renowned brand that provides a diverse selection of styles and designs.
Read next: 9 Brands like Lands' End: Our Favorite Alternatives
9. Orvis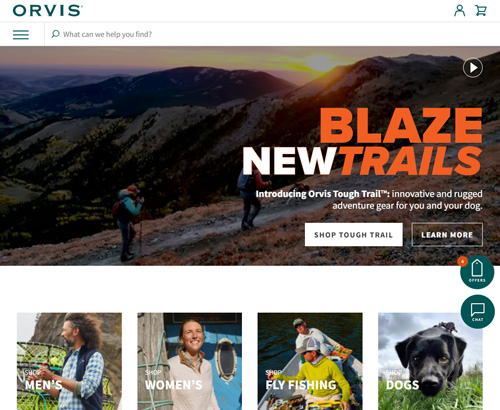 Orvis official website
Orvis specializes in creating outdoor clothing and accessories for fishing and outdoor enthusiasts. The company has a long and rich history, having been established in 1856 in Manchester, Vermont, and is known as the oldest mail-order company in the United States.
Although Orvis is best known for its line of fly-fishing clothing, their apparel is multi-functional and suitable for any outdoor activity.
Orvis is dedicated to providing exceptional customer service, expert care, and high-quality clothing inspired by nature. The company has evolved into a trendy clothing brand, offering a variety of outdoor clothing and accessories for both men and women. Orvis is also passionate about dogs and offers a range of premium pet accessories.
From the beginning, Orvis has been committed to producing top-quality clothing at accessible prices and developing products they can be proud of.
Don't miss: 10 Brands like Orvis: Top Alternatives for Outdoor Adventures