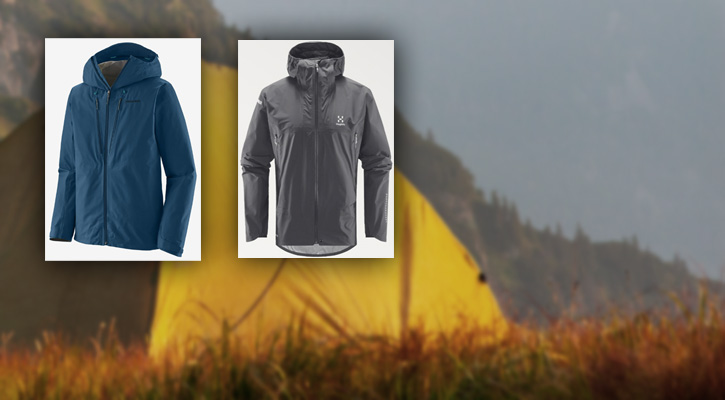 Haglöfs and Patagonia are two famous names in the outdoor industry. Haglöfs is based in Sweden, while Patagonia is an American brand.
Both of them are great if you're looking for the best gear for your next outdoor adventure. But which is better? Which one should you choose and for what type of activity or sport?
These are the questions that we'll answer in this article.
These two companies are renowned for their commitment to sustainability, high-quality materials, and innovative designs.
So, let's dive in and compare and explore their history, materials, production process, and prices, to help us understand which is the better option and when.
Comparison Table:
| | Haglöfs | Patagonia |
| --- | --- | --- |
| Founded | 1914, in Sweden | 1973, in the USA |
| Materials | Recycled Nylon and Polyester, Organic cotton, RDS down insulation, synthetic insulation, Gore-Tex membrane. | Recycled Polyester, Nylon, Organic cotton, recycled traceable down insulation, PrimaLoft synthetic insulation, H2No and Gore-Tex membranes. |
| Sustainability | Uses lower-impact materials, renewable energy, and responsible chemical, water, and energy management. Dedicated to reducing carbon footprint and preserving the environment. | Uses recycled materials and advocates for environmental conservation. Donates a portion of revenue to environmental causes. |
| Production | Asia (China, Vietnam, etc.), Europe (Romania, Poland, etc.). | Asia (Vietnam, China, Sri Lanka, Thailand, etc.), Mexico, USA (small part of products) |
| Prices | Mid to high: jackets $100-$600, backpacks $60-$300. | High: jackets $130-$700, backpacks $70-$300. |
| Decision | Better for those who prioritize lower prices and functionality. | More suitable for those who want premium quality and value environmental activism. |
1. Haglöfs Outdoor Gear
History of the Brand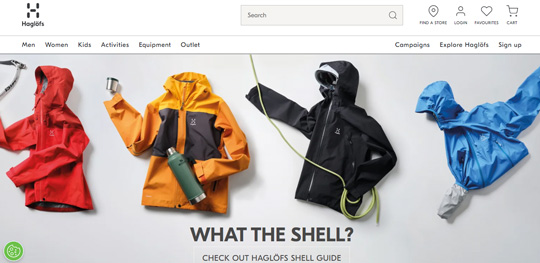 Haglöfs official website
Wiktor Haglöf established the Haglöfs brand in 1914 in Sweden with the goal of designing a durable backpack that could withstand various conditions during travel.
Since then, the company has expanded its product line and remains committed to innovation and setting new standards in craftsmanship.
Haglöfs is passionate about preserving the environment for future generations and encourages people to explore the outdoors, regardless of weather conditions, both physically and mentally.
Don't miss:
9 Swedish Outdoor Clothing and Jackets Brands: Our Favorites
7 Backpack Brands from Sweden: Our Favorites
Materials, Fabrics, and Production Process
Haglöfs has set a goal to decrease their carbon footprint by 50% by 2030. They are focusing on implementing sustainable practices such as using lower-impact materials, renewable energy, and improving energy efficiency.
The company is also engaging with consumers to reduce their impact. Haglöfs is committed to using recycled and natural materials like organic cotton, hemp, and lyocell/tencel to make new products for outdoor activities and sports.
They are also reducing plastic bag usage and utilizing low-impact dyeing techniques. The brand is dedicated to responsible chemical, water, and energy management in their factories and uses the Higg Index to evaluate the sustainability of their products throughout their life cycle.
Haglöfs obtains animal-based materials from suppliers that follow best practices for animal welfare and ecosystem and biodiversity protection.
The brand's natural down is certified by the Responsible Down Standard (RDS) to ensure no live-plucking or force-feeding of the birds occurs in the supply chain.
Haglöfs uses various technologies and fabrics in their products for protection, warmth, and breathability, such as Recycled Polyamide (Nylon), Recycled Polyester, Mimic PLATINUM Ultracluster Graphene insulation, and GORE-TEX membranes.
Haglöfs L.I.M - As Light as We Can Go
The video will be loaded from YouTube.com, a third party. If you play it, you accept their terms of service, and their use of cookies.
Read also: Haglöfs vs Arc'teryx Outdoor Gear: Which Brand is Better?
Where is Haglöfs outdoor gear made?
Haglöfs items are primarily produced in Asian countries like China and Vietnam, and in Europe in countries such as Romania and Poland. The brand's dedication to upholding high-quality standards has played a role in its widespread appeal in numerous countries, particularly in Scandinavia.
Recommended Products
Haglöfs L.I.M GTX Active Men's Jacket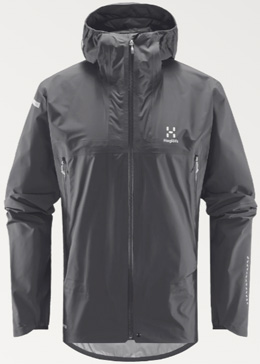 Image: haglofs.com
Check it out at Haglofs.com
The lightweight technical shell, Haglöfs L.I.M GTX Active Jacket, is ideal for summer activities as it offers weather protection, breathability, and comfort. The jacket is made of a durable blend of GORE-TEX Active 3 layer and GORE-TEX Paclite® Plus 2.5 layer fabric.
It features an athletic fit, an adjustable hood, elastic cuffs, and a bottom hem to ensure an improved fit, reflective trim for safety, and two zippered hand pockets with mesh ventilation. The jacket is suitable for trekking and hiking and can be easily cleaned as it is machine washable.
Haglöfs L.I.M 35 Hiking Backpack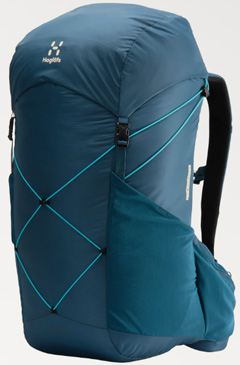 Image: haglofs.com
Check it out at Haglofs.com
The Haglöfs L.I.M 35 Hiking Backpack is an ideal pack for hiking and trekking that is both lightweight and durable. With a capacity of 35 liters and a weight of only 920 grams, it is perfect for long hikes and treks.
This backpack features an innovative Airback suspension system that provides exceptional ventilation and airflow through the back contact zone, ensuring maximum comfort during intense activities. The backpack also includes elastic side pockets, zippered elastic hip belt pockets, and an elastic cord for compression and gear attachment.
It's also compatible with hydration systems and comes with a fixed top lid with a pocket, an adjustable sternum strap, a padded hip belt, and load lifters. Made from bluesign® approved 70D*140D Diamond Rip-stop Polyamide, this backpack is both durable and eco-friendly.
Prices
Haglöfs offers outdoor gear at mid to high prices. Their jackets range from $100 to above $600 for the most advanced models. The bags and backpacks are priced between $60 and $300.
Are Haglöfs products worth the price?
We believe that this brand is worth investing in due to its numerous technologies, emphasis on sustainability, and wide selection of outdoor gear.
Read next: 11 European Brands for Outdoor Enthusiasts: Our Top Picks
2. Patagonia Outdoor Gear
History of the Brand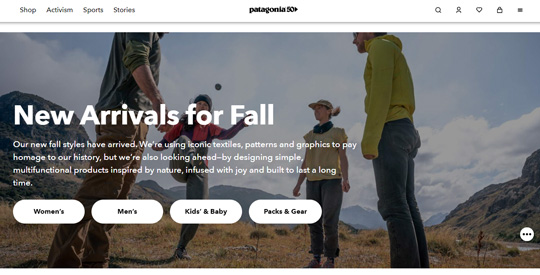 Patagonia official website
In 1957, Yvon Chouinard, a climber and the founder of the brand, wanted to become a blacksmith. During this same year, he created his first pitons and began selling them to other climbers.
Chouinard later opened a small workshop in Burbank where he made his climbing products. He would then transport these items in his vehicle and travel throughout California to sell them. In 1965, Chouinard partnered with Tom Frost, leading to the formation of Chouinard Equipment.
After the Chouinard Equipment company's division, Chouinard established Patagonia as an apparel brand in 1973.
Don't miss:
9 Brands Like Patagonia for Sustainable Outdoor Clothing
12 Best American Jackets and Outdoor Clothing Brands
Materials, Fabrics, and Production Process
According to Patagonia, individual actions have a global impact on others. As such, the company uses recycled materials in the production of its high-quality clothes, sourcing them from various used items such as fishing nets, cashmere, wool, polyester, and cotton.
Also, Patagonia uses Nylon and Polyester in its jackets and other gear, and advanced fabric technologies like H2No and Gore-Tex. Recycled down is also used for insulation against low temperatures.
These fabrics and materials undergo strict testing before being used in the final product. You can learn more about Patagonia's materials on its official website.
Patagonia is renowned for its commitment to sustainability, fair labor practices, and donation of a portion of its revenue to environmental causes, making it a popular brand in the outdoor community.
Why Waste It? | Powder Bowl
The video will be loaded from YouTube.com, a third party. If you play it, you accept their terms of service, and their use of cookies.
Read also: Patagonia vs Helly Hansen: Which Brand is Better?
Where is Patagonia outdoor gear made?
Patagonia produces most of its outdoor gear in countries such as Vietnam, China, Sri Lanka, Mexico, Thailand, and others. Only a small portion of their products is manufactured in the United States.
Recommended Products
Patagonia Triolet Men's Jacket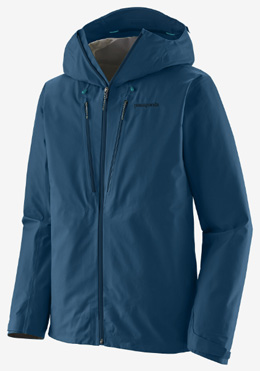 Image: patagonia.com
Check it out at Patagonia.com
The Patagonia Triolet Men's Jacket is intentionally designed to endure cold and snowy weather conditions. It is constructed from a 3-layer GORE-TEX material that is both waterproof and windproof, while its 100% recycled polyester exterior adds to its toughness.
The jacket is PFC-free and is made in a Fair Trade certified factory. It features a helmet-compatible hood, two chest pockets with watertight zips, two welted front pockets, and an interior drop-in pocket.
The jacket is also outfitted with watertight two-way pit zips for added ventilation and a dual-adjust drawcord hem that effectively keeps out weather elements. It has a concealed RECCO® reflector to help locate you. The jacket is made in Vietnam.
Patagonia Terravia 28L Pack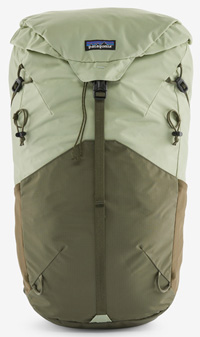 Image: patagonia.com
Check it out at Patagonia.com
The Patagonia Terravia 28L Pack is a multi-functional backpack that is perfect for day trips or slightly longer hikes. It has a capacity of 28 liters and is made from 100% recycled nylon, which makes it both durable and environmentally friendly.
The backpack includes a highly breathable back panel and shoulder straps, a front-loading stuff pocket, and a lid that closes automatically when the drawstring is pulled. The suspended mesh back panel design ensures optimal airflow and prevents moisture for maximum comfort.
The Regulator® airmesh shoulder straps and hip belt provide a comfortable fit. The backpack also has easy-to-access side pockets for storing small items and is compatible with hydration systems. It comes with a rain cover and has a zippered lid and internal security pockets for protecting your belongings.
Prices
Patagonia is widely recognized as an expensive and high-end brand within the outdoor community. The price range of their jackets starts from $130 and goes up to $700, while their backpacks range from $70 to $300.
Are Patagonia products worth the price?
We think that Patagonia's gear is a good investment. The company prioritizes the use of sustainable materials, advocates for environmental conservation, and offers long-lasting, technical, and high-performance items.
Learn more: Why Is Patagonia So Expensive and Popular? Are Its Jackets Worth It?
3. Which is Better? Haglöfs or Patagonia?
Both offer high-quality gear and focus on sustainability.
Haglöfs offers a wide range of outdoor gear at slightly lower prices. They offer different materials and advanced technologies, many of which are sustainable. They produce in Asia and Europe.
Patagonia, on the other hand, is known for its premium quality, rigorous testing process, and environmental activism. They manufacture their products mainly in Asia, and a small part in the USA.
We think Haglöfs is better if you prioritize lower prices and functionality, while Patagonia may be more suitable if you want premium quality and value environmental activism.
There are many online reviews on different forums and communities from those who choose Patagonia mainly for this reason (environmental activism).
In the end, since the choice will depend on personal preferences and on the particular piece of gear you're looking for, we recommend you try a few products from each brand in a physical store. This way you'll touch the product with your hands and evaluate its small details.
Read next: 8 Best Sustainable Outdoor Clothing Brands: Our Top Picks