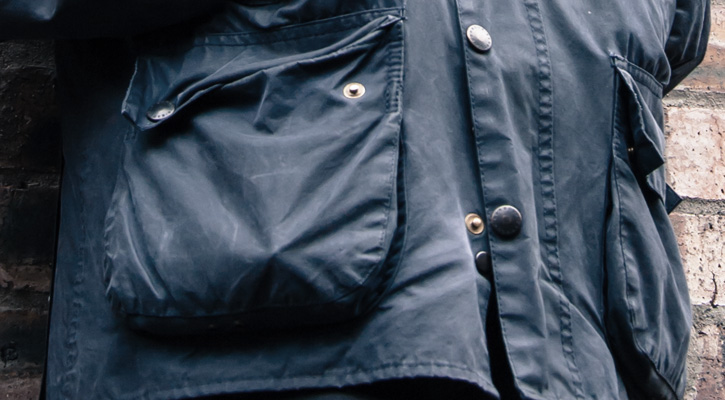 When it comes to rugged outdoor jackets, Belstaff is a brand that immediately comes to mind. But, there are many other brands that offer similar quality and style that you might be interested in.
And today's article is all about brands that are similar to Belstaff. We'll explore 9 of them!
From Barbour, a British company with over a century of experience known for its waxed jackets, to Woolrich an American heritage brand, in this selection, there is a brand for everyone.
So, let's take a look at their history, main products, and particular characteristics!
Contents:
1. Barbour

Barbour official website
Barbour, a British apparel company, has been in business since 1894. With over a century of experience, the family-owned brand has been offering a range of outdoor clothing. Barbour has provided Ursula suits to submarine service members and motorcycle suits to British International teams, among other products.
In 2014, Barbour collaborated with Land Rover to create luxury clothing for both men and women. This partnership has resulted in increased popularity and higher prices for the company. Barbour also began showcasing its products at London Fashion Week in 2015, and social media has played a significant role in boosting its popularity.
Barbour's waxed jackets are among the most sought-after products. These all-weather jackets are made from heavyweight Sylkoil waxed cotton and are ideal for outdoor activities. Barbour's use of this authentic and unique material distinguishes them from other brands, allowing them to charge a premium for their jackets. Barbour jackets range in price from $300 to $600.
Don't miss:
12 Brands like Barbour for Heritage Outdoor Jackets
8 British Jackets and Outdoor Clothing Brands that You'll Love
2. Filson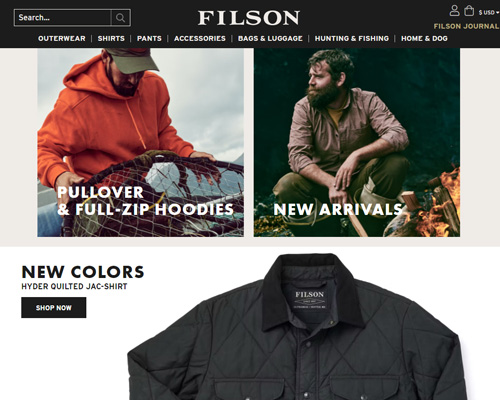 Filson official website
Filson was established in 1897 by C. C. Filson in Seattle. Currently, the company specializes in producing clothing, shoes, and various accessories for both genders, with a focus on outdoor activities.
The brand is recognized for its exceptional comfort, durable products, and waterproofing, and a number of its clothes are specifically designed to protect you from harsh weather.
Related: 10 Brands like Filson: Our Best Alternatives
3. Woolrich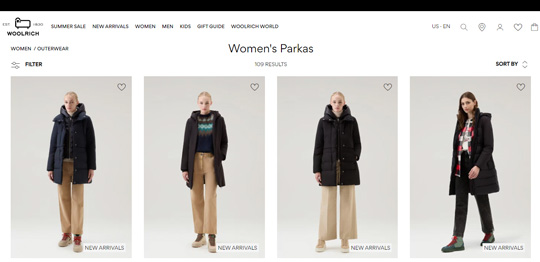 Woolrich official website: Women's Parkas
Woolrich, an American brand with a rich heritage dating back to 1830, is widely recognized as the oldest producer of outdoor clothing in the United States.
The company initially focused on woolen fabrics and clothing production, but in the 1850s, it gained global recognition with the introduction of the Buffalo Check shirt, which remains popular to this day.
Woolrich is renowned not only for its clothing production history but also for the influential role of the Rich family in their community and US politics.
Despite facing numerous challenges, Woolrich maintains its reputation as one of the most reputable brands in the outdoor clothing market, thanks to its high-quality products and innovative winter jackets. Woolrich winter jackets range in price from $400 to $1500.
While Woolrich's headquarters were previously located in Woolrich, Pennsylvania, the company has since been acquired by various companies and private equity firms and relocated to Bologna, Italy. As a result, most Woolrich stores are now situated in Europe.
Read also:
8 Brands like Woolrich: Best Alternatives for Winter Jackets
10 Oldest Outdoor Clothing and Gear Brands
4. Orvis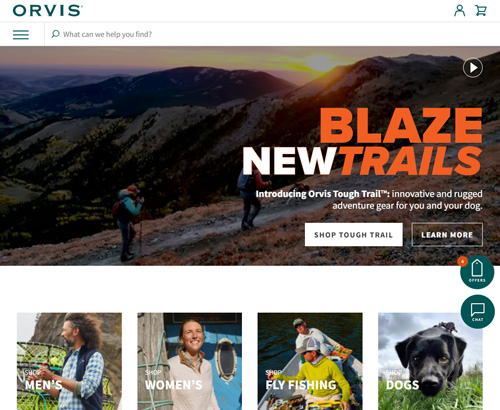 Orvis official website
Orvis is an outdoor clothing and accessories brand that was established in Manchester, Vermont in 1856 by Charles F. Orvis. It started out producing fishing equipment but eventually diversified into outdoor gear and products for dogs.
The company is dedicated to nature conservation and animal welfare, with a portion of its profits being donated to these causes. Their jackets are designed for outdoor activities and are known for being durable, lightweight, practical, and comfortable.
Read next: 10 Brands like Orvis: Top Alternatives for Outdoor Adventures
5. Fjällräven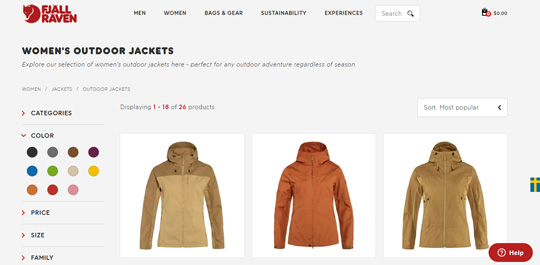 Fjällräven official website: Women's Outdoor Jackets
Fjällräven, a Swedish brand, is known for its production of outdoor clothing, outdoor gear, and accessories. The company's main objective is to make nature accessible to all.
Åke Nordin founded the company in 1960. He wanted to create a backpack that was practical and spacious enough to carry his equipment. The Greenland Jacket is one of the brand's most famous products. It has a timeless and minimalist design.
Don't miss:
Why is Fjällräven so Expensive? Are Its Products Worth It?
9 Outdoor Brands like Fjällräven: Our Favorites
6. Carhartt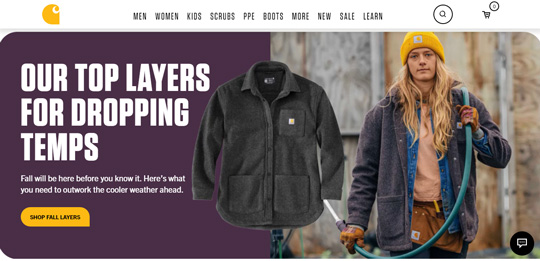 Carhartt official website
In 1889, Hamilton Carhartt founded Carhartt in Michigan, USA, and it has remained a family-owned business ever since. The brand is renowned for its extensive range of durable clothing, accessories, and footwear, which have been designed to cater to a wide variety of customer preferences.
The company's owners have consistently strived to create unique and innovative designs to satisfy their customers. Carhartt is also well-known for using high-quality, durable materials in its products.
Initially, the company used denim and duck canvas, but it has since expanded its range to include other materials that provide maximum comfort.
Carhartt's jackets are designed with multiple pockets to enhance practicality and durable materials, and the range caters to various work sectors and outdoor activities. The prices are accessible.
Related: 11 Brands like Carhartt for Work and Outdoor Activities
7. Rogue Territory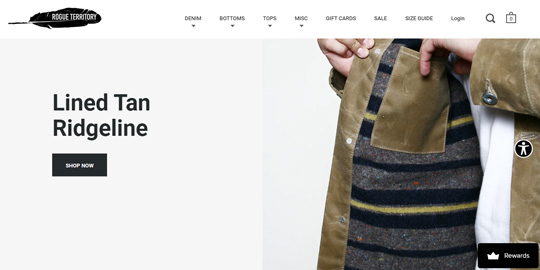 Rogue Territory official website
Rogue Territory is an interesting apparel brand that distinguishes itself from others by blending traditional and contemporary design features.
Their clothing range is made using only superior quality materials, catering to those who value meticulous craftsmanship and seek sophisticated and refined clothing.
The brand was born in Los Angeles in 2008 and is recognized by its black feather logo, which symbolizes its commitment to producing elegant, comfortable, and practical apparel.
Read also: 12 Best American Jackets and Outdoor Clothing Brands
8. Dubarry of Ireland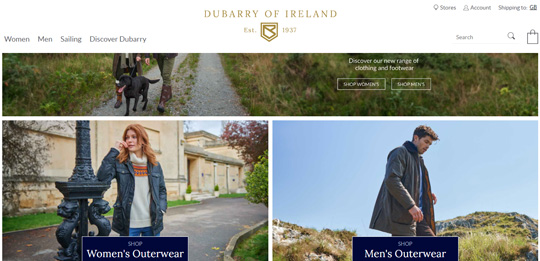 Dubarry of Ireland official website
Dubarry of Ireland, established in 1937, specializes in providing clothing for men and women. The brand has a also unique category dedicated to the sailing industry.
The company's core values revolve around merging Irish characteristics with European customs. The brand name, "Dubarry of Ireland," is derived from the name of Louis XV's mistress, Madame du Barry.
Dubarry of Ireland gained fame initially for its remarkable leather products, which aided in its increasing prestige. The brand's jackets are recognized for their durability and sophistication, offering excellent protection from bad weather conditions while remaining fashionable.
Read next: 11 European Brands for Outdoor Enthusiasts: Our Top Picks
9. L.L. Bean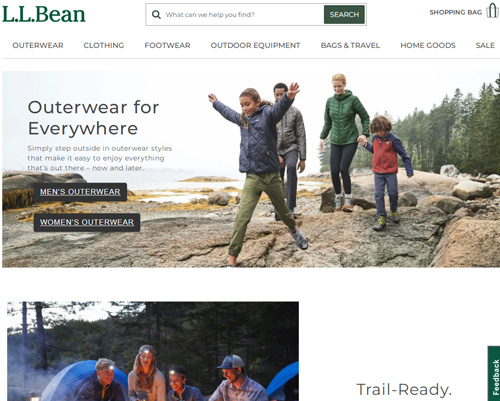 L.L. Bean official website
L.L. Bean was founded in 1912 by Leon Leonwood Bean and is renowned for producing outdoor clothing and gear. The company's founder aimed to create a brand that utilized high-quality materials and incorporated unique features to distinguish it from other brands.
Durability and functionality are a top priority for L.L. Bean, and they offer a diverse selection of products to cater to their customers' needs. Their jackets are highly regarded for their durability, comfort, and style, making them the perfect choice for outdoor adventures.
Don't miss: 9 Quality Brands like L.L. Bean: Our Top Picks