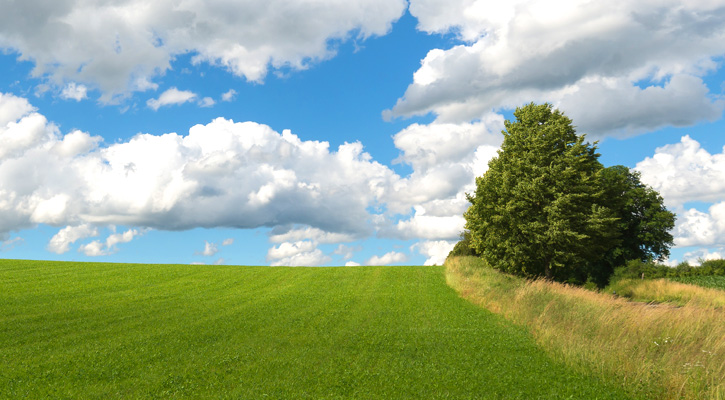 Sustainable outdoor clothing brands usually prioritize both quality and eco-friendliness. It's a combo that's not very easy to obtain, but some companies are making great steps forward in recent years.
And that will be our focus for today's article! We've researched some of the best outdoor gear brands that focus on sustainability and we'll explore them all today.
We'll learn about their eco-friendly materials, their educational programs, and a lot more.
We'll explore famous names like Arc'teryx, Cotopaxi, Patagonia, and Fjällräven, all of which offer excellent outdoor products while trying to reduce their environmental footprint as much as possible.
So, let's begin!
Contents:
1. Fjällräven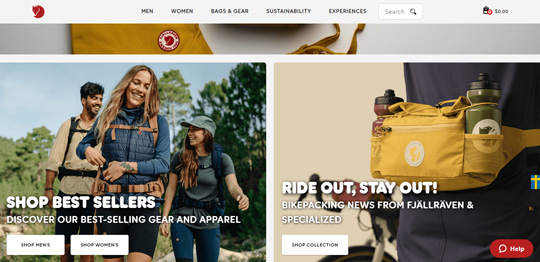 Fjällräven official website
Fjällräven is a Swedish outdoor clothing and gear company that was founded in 1960 by Åke Nordin. The company is known for its high-quality and durable products designed to withstand difficult outdoor conditions.
Recently, Fjällräven has been pursuing eco-friendly, ethical, and sustainable practices, including the use of organic, recycled, and sustainable materials, reducing energy consumption, and partnering with organizations to promote environmental conservation programs.
The company has also developed sustainable materials such as Eco-Shell and Eco versions of all its G-1000 fabrics. Fjällräven also provides educational materials and repair services to extend the lifetime of its products.
While the company incorporates animal-derived materials in many of its products, it has taken steps to ensure humane treatment and complete traceability in its animal-based supply chains.
Learn more:
Is Fjällräven Ethical and Sustainable?
Why is Fjällräven so Expensive? Are Its Products Worth It?
2. Passenger Clothing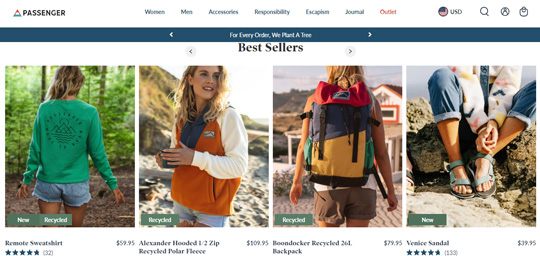 Passenger Clothing official website
Passenger Clothing is a UK-based fashion company that specializes in creating outdoor clothing for individuals who enjoy spending time outside.
The brand, born in 2013 in the New Forest, UK, caters to hikers, backpackers, and those who enjoy walking in the city. They are the perfect choice for adventure-seekers and travelers, producing high-quality, stylish, and comfortable clothing that ensures customers feel great while enjoying nature.
Passenger Clothing's commitment to the environment is noteworthy, as they plant a tree for every order received, showcasing their dedication to preserving the environment.
Related:
7 Brands like Passenger Clothing: The Best Alternatives
8 British Outdoor Clothing Brands that You'll Love
3. Arc'teryx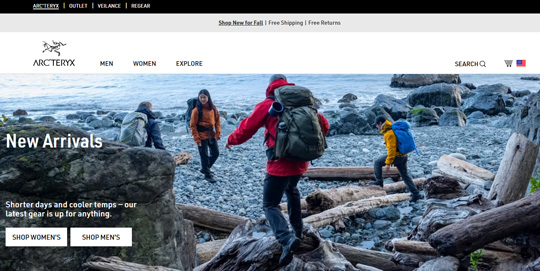 Arc'teryx official website
Arc'teryx is a widely recognized Canadian company that specializes in producing high-quality outdoor gear and apparel. The company was originally called Rock Solid when it was founded in 1989.
In 1991, the company rebranded as Arc'teryx with a focus on creating outerwear and climbing gear inspired by Canada's Coast Mountains. The company is headquartered in North Vancouver, British Columbia, and is well-known for its technical apparel for mountaineering and outdoor sports, as well as accessories.
The company's name and logo are inspired by the Archaeopteryx, the oldest known bird, and an important moment in dinosaur evolution, representing the company's commitment to innovation.
Arc'teryx's products are categorized into various product lines, each named using the Greek alphabet, for example, Alpha, Beta, Delta, etc. The brand is famous for its waterproof Gore-Tex jackets, down-insulated parkas, shoes, and backpacks.
In addition, Arc'teryx has two other divisions: Veilance, a streetwear retailer, and LEAF, for technical gear for law enforcement and military forces.
The company has over 80 branded stores and over 3,000 retailers worldwide. Their prices vary depending on the product, but they generally fall into the high-end range due to the brand's emphasis on technical performance, sustainability, and quality.
Read also:
Is Arc'teryx Sustainable? A Look at their Environmental Practices
9 Outdoor Brands like Arc'teryx: Our Favorites
4. Patagonia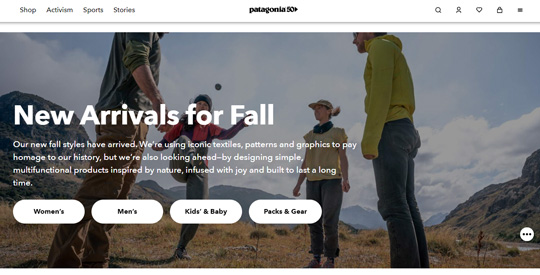 Patagonia official website
Patagonia is an American brand that specializes in outdoor apparel. The company is renowned for its exceptional quality and durability while being eco-friendly.
Founded in 1973 by Yvon Chouinard, Patagonia is a pioneer in the outdoor industry, offering great products that are built to last for years.
Patagonia's product line includes insulated and rain jackets, pants, hats, shirts, and more, catering to a wide range of outdoor enthusiasts. The company is committed to sustainability, using recycled materials in many of its products, and it donates some of its revenue to environmental causes.
Also, Patagonia has strict guidelines for its suppliers, ensuring that workers are treated fairly and receive a fair wage. Patagonia's products are designed to be durable and versatile, suitable for all types of outdoor activities.
The company's jackets, such as the Nano Puff and Torrentshell, are highly praised for their quality and performance and are available in various weather-appropriate designs.
Read next:
Why Is Patagonia So Expensive and Popular? Are Its Jackets Worth It?
12 Best American Jackets and Outdoor Clothing Brands
5. Cotopaxi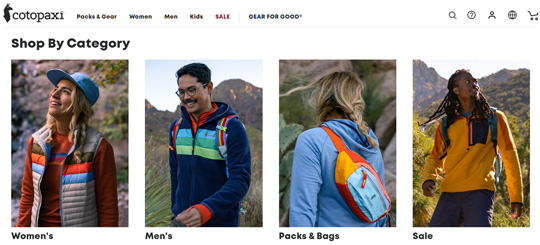 Cotopaxi official website
Cotopaxi is an outdoor gear and apparel brand that was founded in Salt Lake City, Utah, USA, in 2014. The brand is named after the Cotopaxi volcano in Ecuador and is committed to producing high-quality outdoor gear while also supporting the community.
Cotopaxi follows strict standards for social and environmental performance, transparency, and accountability. The brand prioritizes sustainability in its product development and uses recycled materials as much as possible. It also partners with global organizations to promote environmental and humanitarian initiatives.
Cotopaxi offers a range of outdoor gear, including backpacks, winter coats, fleece jackets, pants, and more. Its Teca Fleece is a popular product made from 100% recycled fleece and repurposed water-resistant polyester. It comes in various colors and is perfect for layering in winter.
Along with its sustainability efforts, Cotopaxi is known for its unique and vibrant designs. Its products feature bold patterns and bright colors that are sure to stand out on any mountain trail.
Don't miss: 10 Brands like Cotopaxi for Sustainable Outdoor Clothing
6. Finisterre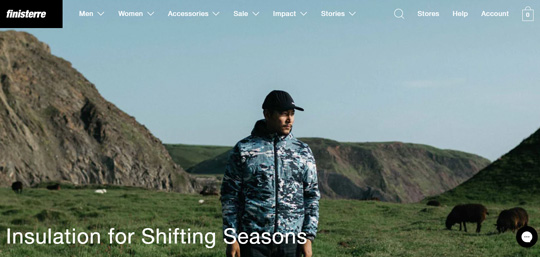 Finisterre official website
Since 2003, Finisterre has been a well-known British adventure-wear brand that provides sustainable and durable outdoor clothing.
They are dedicated to using eco-friendly materials, such as organic cotton and recycled polyester, and work with suppliers who share their values of sustainability and ethical practices.
For example, their jackets are now equipped with a fluorocarbon-free durable water repellent (DWR) finish, making them both water-resistant and environmentally friendly. In addition to jackets, Finisterre offers a wide range of outdoor apparel, including fleece jackets, base layers, and accessories.
Apart from their commitment to sustainability, Finisterre is also focused on community and education. They organize many events to educate people about sustainable living and outdoor activities and collaborate with organizations such as Surfers Against Sewage to help preserve the natural environment.
Finisterre is an excellent option if you want sustainable clothes! With its dedication to ethical materials, this is a brand that you can be happy to support.
Related: 8 Brands like Finisterre: Best Alternatives for Outdoor Wear
7. Columbia Sportswear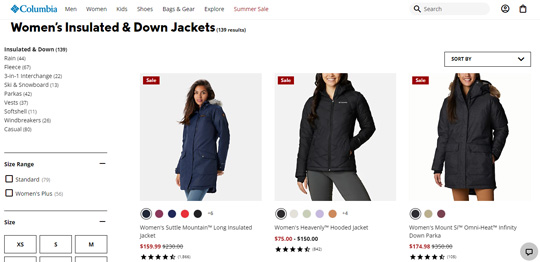 Columbia Sportswear women's insulated down jackets: official website
It was the year 1938 when a family that fled Germany established an outdoor brand called Columbia Sportswear in the United States. Initially a hat company, it now specializes in providing a wide range of outdoor clothing and equipment, including jackets, pants, shirts, and footwear.
Columbia is renowned for its high-quality products, which are designed to withstand all types of weather, while still being affordable. The company's clothing is created with comfort, warmth, and breathability in mind, making it suitable for all outdoor conditions. Additionally, it offers a variety of sizes and styles to accommodate different body types.
In terms of sustainability, Columbia Sportswear is committed to integrating recycled materials into many of its products and is continually striving to reduce its environmental footprint.
Read also: 10 Brands like Columbia Sportswear: Our Top Alternatives
8. Marmot

Marmot official website
In 1974, a trio of American outdoor enthusiasts established Marmot. Their goal was to create a jacket that would satisfy their outdoor needs.
One of the brand's puffer jackets, the Golden Mantle, gained popularity after being featured in Clint Eastwood's 1975 film The Eiger Sanction.
Marmot is well-known for being one of the first outdoor brands to integrate Gore-Tex into its products. They also provide excellent sleeping bags and tents.
The brand primarily employs polyester and nylon and is dedicated to implementing sustainable methods to reduce its environmental impact.
For example, they have developed their own technologies, such as Featherless and EvoDry, to promote sustainability, and use PFC-free coatings in many products.
Marmot has also developed NanoPro and MemBrain technologies that allow the brand to produce lightweight, waterproof, and breathable products that last for many seasons.
Read next: 9 Outdoor Brands like Marmot: Our Favorites