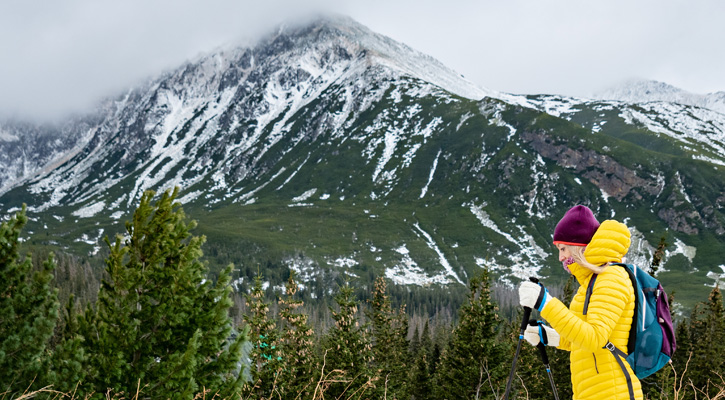 New Zealand-based company Kathmandu is famous among outdoor enthusiasts for its gear, especially its jackets. So, if you're planning a new outdoor adventure, a visit to one of this brand's stores or online shop, can cover all your equipment needs.
But today we thought to give you some more ideas and brand options! We've researched and compiled a list of 8 brands that are similar to Kathmandu for their excellent outdoor gear.
Some of the companies we have selected are Macpac, another name originating in New Zealand, Patagonia, which is committed to sustainable manufacturing, and Berghaus, a British brand.
There are other popular names in this selection known for their innovative designs, technical expertise, and use of premium materials.
Whether you're a hiker, climber, backpacker, or just want a jacket for everyday use, take a look at these brands and we're sure you'll find what you need!
Contents:
1. Macpac

Macpac official website
In 1973, Bruce McIntyre established Macpac in Christchurch, New Zealand. He started creating his own outdoor gear and manufacturing backpacks in his family's garage.
McIntyre's goal was to produce high-quality equipment that could withstand New Zealand's extreme conditions. The company's founding principle was to design and construct technical, durable, and customized equipment for outdoor activities.
Macpac's products are tested and proven in New Zealand, known as the ultimate outdoor test laboratory. The company's product lines cater to campers, hikers, mountain climbers, and adventure enthusiasts. It has become a global adventure brand, with products that serve as adventure vehicles.
Macpac's headquarters is in Christchurch, New Zealand, where every product concept is created, and its skilled manufacturing partners bring the design team's visions to life. Macpac produces its jackets in Vietnam, China, and the Philippines. Presently, the Australian company Super Retail Group owns Macpac.
Don't miss: 11 European Brands for Outdoor Enthusiasts: Our Top Picks
2. Patagonia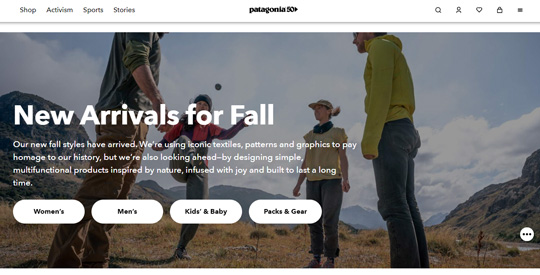 Patagonia official website
Patagonia was born in 1973 in California as a subsidiary of Chouinard Equipment, a climbing gear producer. Later, it became an independent brand of outdoor gear.
The company is committed to manufacturing exceptional products with minimal negative environmental impact. Patagonia's primary materials for outdoor gear include nylon, polyester, and Gore-Tex.
Also, the company has its patented technologies, such as Deluge DWR finish and H2No technology, which contribute to the durability and breathability of its waterproof clothing.
Patagonia uses fabrics that can withstand bad weather, which are tested through extreme weather simulations.
The company's primary source of materials is recycling, and it uses alternative ethical and sustainable sources when recycling is not feasible. Patagonia avoids non-biodegradable materials, aligning with its sustainability mission.
Related:
Why Is Patagonia So Expensive and Popular? Are Its Jackets Worth It?
9 Brands Like Patagonia for Sustainable Outdoor Clothing
3. Berghaus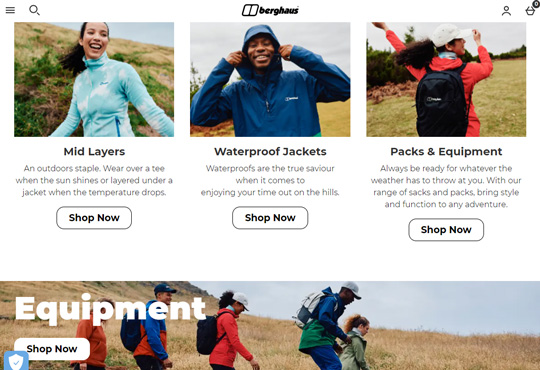 Berghaus official website
Berghaus was founded in 1966 by two mountaineers as a distributor of high-quality outdoor equipment. The company's first shop was located in Newcastle, England and quickly became known for introducing iconic gear to the UK market.
The brand's name is of German origin and means "mountain house." In 1971, the founders established a new factory and created the first Berghaus rucksack, the Berg 172. Three years later, they introduced the revolutionary Cyclops rucksack, which was the first rucksack in the world to have an internal frame.
The Cyclops rucksack remains popular and is still featured as a popular choice. Berghaus uses Gore-Tex as its primary waterproofing fabric for clothing and was one of the first European outdoor brands to use this technology.
The company has also implemented other material innovations including Hydroshell, Freeflow, and Argentium. Berghaus offers a range of products including jackets, backpacks, and footwear. While their waterproof jackets may be expensive, we believe that the quality of Berghaus products justifies the price.
Read also: Berghaus vs The North Face Outdoor Equipment: A Comparison
4. The North Face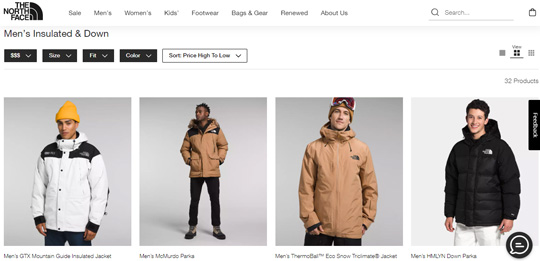 The North Face Men's Insulated and Down jackets: official website
The North Face, an American brand, was founded in 1966 and specialized in selling outdoor gear for backpackers and climbers.
With time, the brand diversified its product range to include camping equipment and skiwear. Currently, The North Face provides a broad spectrum of products for outdoor activities, such as camping, trekking, and extreme sports.
The brand's insulated jackets are globally renowned and highly favored by many customers due to their exceptional performance and durability. The North Face has also gained popularity in the fashion and streetwear scenes, collaborating with other fashion brands like Supreme and celebrities.
Moreover, The North Face is committed to social responsibility and has initiated campaigns and donations to support environmental causes. The brand is owned by VF Corporation and continuously invests in research and development to enhance its products.
Read next:
Kathmandu vs The North Face Outdoor Gear: A Comparison
Why Is The North Face So Expensive and Popular? Are Its Jackets Worth It?
5. Millet

Millet official website
Millet is a French company that specializes in the production of mountain gear, footwear, and clothing. The company was founded by Marc Millet and his spouse in Saint-Fons, a location near Lyon, in 1921.
Millet products are designed to withstand extreme weather conditions such as rain, wind, and cold temperatures, all while being highly durable. The brand prioritizes safety and sustainability, with a meticulous selection process for the materials used in their products.
Millet products offer exceptional comfort and flexibility while also providing protection from the elements. The brand is highly respected by outdoor enthusiasts and is recognized for producing great products.
Millet is a premium brand that utilizes the best materials and technologies, which is reflected in their pricing. In fact, some of their products are priced at over $200!
Don't miss: 8 French Jackets and Outdoor Clothing Brands: Our Favorites
6. Columbia Sportswear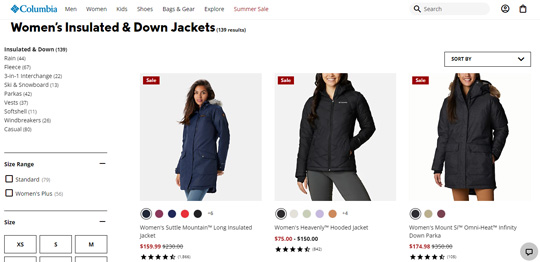 Columbia Sportswear women's insulated down jackets: official website
Paul Lamfrom founded Columbia Sportswear, a family-owned American outdoor apparel company, in 1938. While it began as a hat company, Columbia has since expanded to include a broad range of outdoor clothing and accessories.
The current head of the company is Tim Boyle, the nephew of the founders.
Columbia is renowned for its pioneering technology, which includes its Omni-Heat thermal reflective technology and Omni-Tech waterproof and breathable fabric. The company offers a vast selection of clothing and accessories for outdoor activities such as skiing, hiking, camping, and fishing.
Columbia is dedicated to sustainability and has pledged to implement various measures to reduce waste and improve energy efficiency in its operations.
Related:
10 Brands like Columbia Sportswear: Our Top Alternatives
Patagonia vs Columbia: Which Brand Offers the Best Outdoor Gear?
7. Fjällräven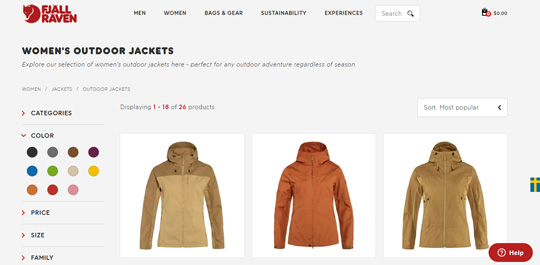 Fjällräven women's outdoor jackets: official website
Fjällräven is a well-known Swedish company that specializes in outdoor equipment and clothing. The brand has a mission to make nature accessible to everyone.
In 1960, the founder Åke Nordin created a backpack that was both spacious and comfortable to carry. This backpack was unique at the time because it featured an aluminum frame. Today, Fjällräven is dedicated to sustainability and safety while producing a wide range of gear to meet all customer needs.
The brand aims to ensure that its customers feel comfortable exploring nature with its products. Fjällräven's jackets have a classic and simple design, and they are very durable, making them perfect for outdoor adventures in harsh conditions and cold temperatures.
Read also:
9 Outdoor Brands like Fjällräven: Our Favorites
Why is Fjällräven so Expensive? Are Its Products Worth It?
8. Montane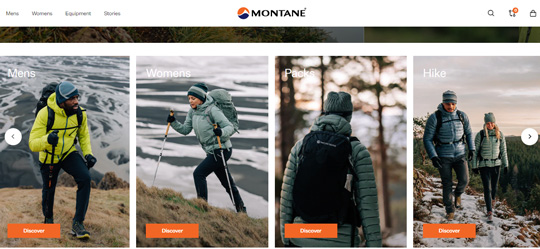 Montane official website
Montane is a renowned English brand that has been in operation since 1993, specializing in creating top-quality outdoor clothing and equipment.
Montane is widely recognized for its innovative designs and technical expertise, which has made it one of the leading brands in the global outdoor clothing industry.
Montane produces lightweight, durable products that are capable of withstanding the elements. The brand offers an extensive range of items, including jackets, pants, base layers, and accessories, all crafted from premium materials such as PrimaLoft and Gore-Tex fabric technologies, offering you excellent insulation and protection when you're out in nature.
Moreover, Montane is committed to reducing its environmental footprint by utilizing eco-friendly materials such as recycled polyester. The brand's gear is practical and versatile, suitable for various activities in the outdoors be it trekking, backpacking, or mountaineering.
Montane's products are also stylish and perfect for everyday wear in your city. Despite incorporating the latest technologies, the brand offers many affordable options.
Read next: 8 British Jackets and Outdoor Clothing Brands that You'll Love