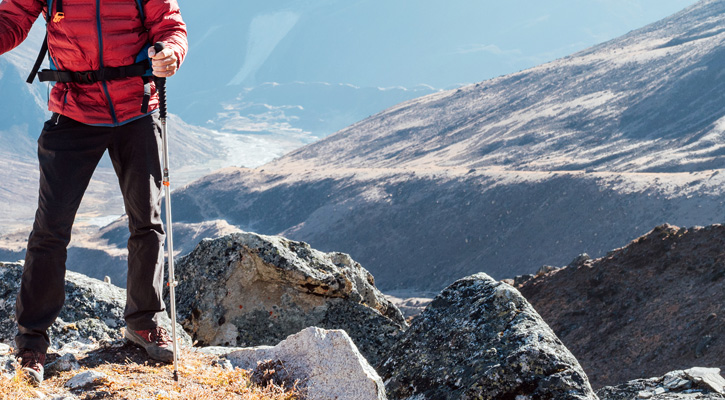 If you're an outdoor enthusiast, you know that the right shoes or boots can make or break your experience.
Merrell is a famous American brand that makes excellent shoes and boots for hiking and outdoor activities, but what if you're looking for more options?
Luckily, there are plenty of other footwear brand options available. Today we'll explore 8 of these brands.
From KEEN to Salomon to La Sportiva we've picked companies from various countries, from Europe to the USA. Each of these brands has its unique features, making them excellent alternatives to Merrell.
So, let's learn more about them!
Contents:
1. KEEN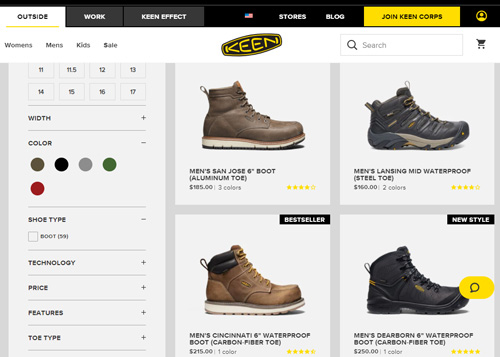 KEEN official website
KEEN is a renowned footwear manufacturer that offers a wide range of shoes. The company's primary objective is to make outdoor activities accessible to everyone by producing shoes that cater to this need.
Martin Keen and Rory Fuerst founded Keen in 2003 in Oregon, USA. Their target audience is primarily outdoor enthusiasts, including workers and athletes.
Keen's boots come equipped with various technologies and features, such as waterproofing, insulation, lightness, and flexibility, to ensure the perfect fit.
One of Keen's flagship products, the Keen ReGEN, features midsoles that return 50% of the energy with each step, making the shoes more durable and long-lasting.
Keen is also committed to sustainability and uses eco-friendly and recycled materials in its products.
While Keen's shoes and boots are relatively expensive, the company frequently offers sales and promotions, making its products more affordable. During these sales, the shoes' prices range from $60 to $80.
Don't miss: Merrell vs Salomon Hiking Boots: Which is Better?
2. Salomon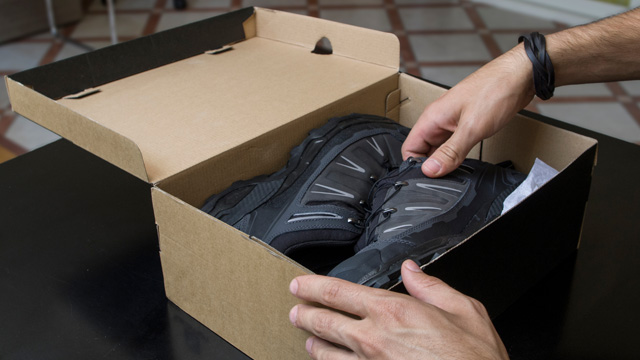 Unboxing a pair of Salomon boots
In 1947, Georges Salomon established Salomon in Annecy, France, initially as a workshop for wood saws and ski edges. Later, the company diversified its product range and recently it has also included athleisure.
Salomon caters to all athletes, including men, women, and children, by producing a range of shoes for running, snow sports, trekking, and other outdoor activities. The brand employs Gore-Tex technology in many of its boots, which ensures waterproofness and breathability, providing a comfortable walking experience.
Also, Salomon uses lightweight materials, making movement easier. The company has incorporated sustainability programs in many of its projects.
Salomon's products are relatively expensive, with some high-quality shoes costing over $200. However, if you're looking for a good investment, Salomon is the right choice.
Related:
9 Shoes and Boot Brands like Salomon for Outdoor Activities
5 Best French Hiking Boots and Shoe Brands
3. La Sportiva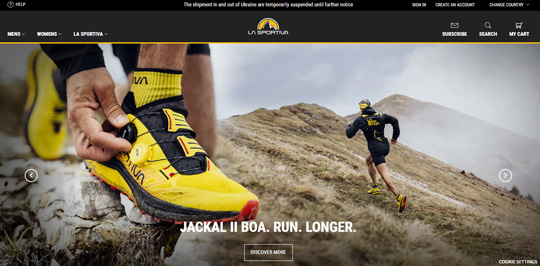 La Sportiva official website
La Sportiva is an Italian company that specializes in producing outdoor gear.
The company's focus is on shoes and boots that are designed for mountain terrain, with the aim of encouraging customers to appreciate the beauty of nature and become more environmentally conscious.
La Sportiva uses high-quality leather in the production of its footwear, which provides both flexibility and style. The company is committed to eco-friendly and biodegradable materials, and its facilities operate by reducing waste.
La Sportiva offers a range of products at different price points, with shoes and boots priced between $100 and $200.
Read also: 10 Italian Hiking Boot Brands: Our Favorites
4. Columbia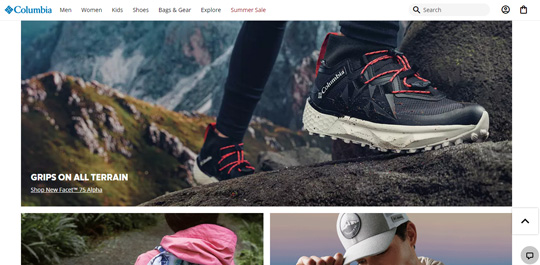 Columbia official website
Columbia was established in Portland, Oregon, in 1938, as a hat company by a family who fled Germany. The company later expanded its focus to outdoor products.
Columbia now specializes in innovating outdoor gear and technology, producing various outdoor recreation products for adventurers, skiers, campers, backpackers, and more. To enhance the quality of their boots, Columbia makes various tests on its products before releasing them to the market.
Many of their shoes and boots feature Omni-Heat, which uses thermal reflective technology to keep your feet warm in sub-zero temperatures. Also, Columbia's shoes are water-resistant or waterproof, and durable, making them ideal for rainy days.
Columbia also prioritizes sustainability and is committed to reducing carbon emissions and conserving water during production. Despite the high quality of its boots, Columbia offers affordable prices ranging from approximately $80 to $130.
Read next: 10 Brands like Columbia Sportswear: Our Top Alternatives
5. Lowa

Hikers wearing Lowa boots
The popular German brand, Lowa, was born in 1923 near Munich. The company currently operates several factories across Germany, Slovakia, and Italy. Lowa is committed to sourcing materials exclusively from Europe, including leather and fabrics, and enforces stringent regulations to ensure compliance.
Lowa is renowned for producing sturdy and supportive footwear suitable for hiking and mountaineering. The shoes are meticulously crafted from high-quality materials, including split leather, Nubuck leather, and recycled fabrics.
All midsoles are produced using recyclable polyurethane or Dyna PU, which is a lighter, more supportive, and eco-friendly alternative.
For the most challenging trails and technical terrains, Lowa's Renegade GTX boots are an excellent choice. For less demanding hikes, the Taurus Pro GTX Mid is a more suitable option.
These boots are reasonably priced, with most models available for less than $250, offering exceptional value for the money you spend.
Don't miss:
7 German Hiking and Winter Boot Brands: Our Top Picks
Lowa vs Salomon Hiking Boots: A Comparison
6. Scarpa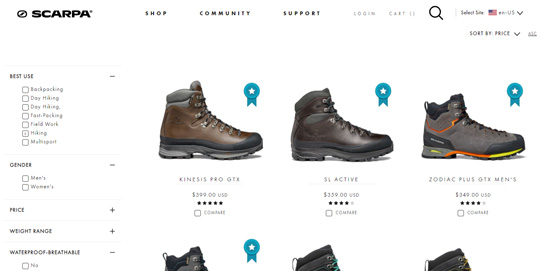 Scarpa hiking boots: official website
Scarpa, an Italian footwear brand, has been operating in the industry since 1938. The company is family-owned and produces its outdoor and hiking boots in Italy.
Scarpa was the first company to export its footwear to the US in 1956, recognizing the needs of the mountaineering culture in Northern Italy.
Scarpa offers a variety of footwear models for different outdoor activities such as hiking, mountaineering, climbing, skiing, and trail running. The company is committed to sustainability and employs both synthetic and natural rubber in most of its footwear. Scarpa also reduces waste during production by utilizing various advanced techniques.
The Zodiac Plus GTX for men is one of Scarpa's popular boots, made of suede and leather and providing waterproof and breathable protection. The Rush Women's Boots, on the other hand, are constructed from polyester, mesh, PU, and Nubuck, making them ideal for day hikes due to their light weight.
Scarpa's boots are fairly priced when considering their quality, and are appropriate for hiking in challenging terrains.
Related: Scarpa vs La Sportiva Shoes: A Comparison
7. Helly Hansen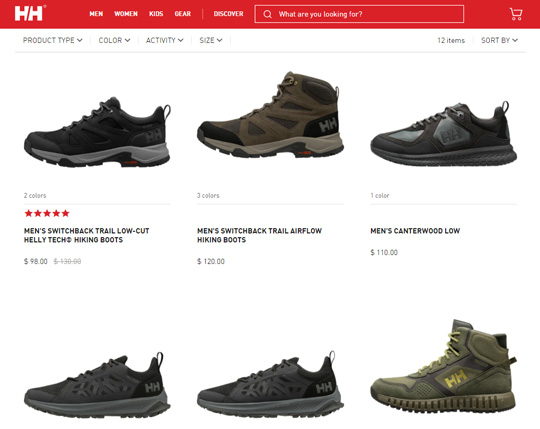 Helly Hansen official website
In 1877, the Norwegian brand, Helly Hansen, was established with a focus on the production of sailing and outdoor gear.
Since then, the company has expanded its range to include premium casual and hiking footwear for men, women, and children, as well as outdoor accessories and outerwear.
Helly Hansen is dedicated to carefully selecting suppliers and thoroughly testing materials to ensure the highest quality. The brand sources from manufacturers in Europe and Asia, with the majority of products being manufactured in China, Bangladesh, and Vietnam.
To cater to the intended use of their hiking boots, Helly Hansen employs a variety of materials such as suede and the Helly Tech membrane, which provide durability, waterproofing, and breathability.
Read also:
9 Brands like Helly Hansen: Our Top Alternatives
6 Norwegian Boots and Shoes Brands: Our Top Picks
8. Haglöfs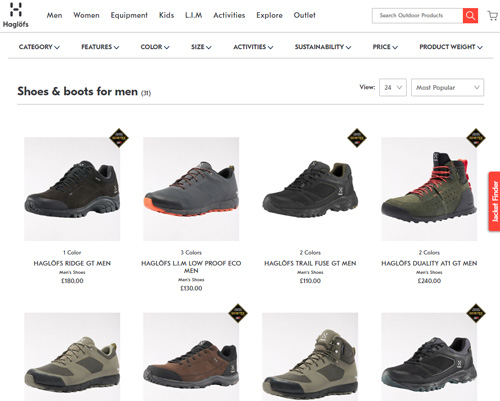 Haglöfs official website
Haglöfs places a great emphasis on innovation and nature's beauty, prioritizing them above all else. The company's origins date back to 1914 when Wiktor Haglöf founded a backpack business in Sweden.
Since then, the company has expanded its product line to include a vast array of outdoor activity clothing and equipment.
Haglöfs utilizes Gore-Tex technology and other waterproof and windproof materials to create highly durable boots and shoes. Additionally, the company is committed to reducing its environmental impact by using eco-friendly materials and products.
The shoes and boots offered by Haglöfs are fairly priced, falling within the $150 to $200 range.
Read next: 8 Swedish Boots and Shoes Brands that You'll Love