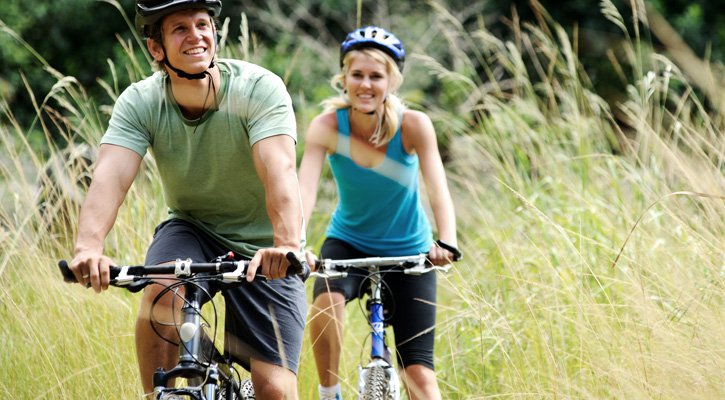 Activewear has become an essential part of our daily wardrobe, and with so many brands on the market, it can be challenging to find the perfect one for your needs.
Vuori is one brand that comes to mind when you think of athletic clothing and outdoor apparel. But there are many other similar companies.
In today's article, we will explore 9 brands like Vuori that are excellent options for activewear.
From PrAna's eco-friendly and practical clothing to Lululemon which continues to dominate the market, to Under Armour's durable and affordable sportswear, we'll cover it all.
Whether you're a yoga enthusiast or an outdoor adventurer, there is a brand out there that caters to your needs.
So, let's dive in and discover these perfect alternatives to Vuori's athletic and active wear.
Contents:
1. Lululemon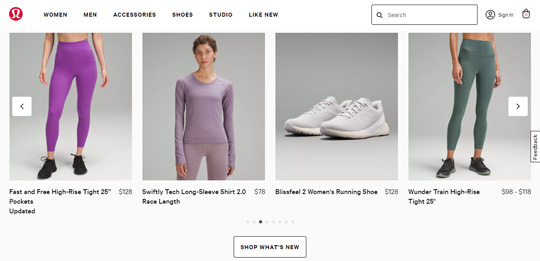 Lululemon official website
Lululemon Athletica is a global athletic apparel retailer headquartered in Vancouver, Canada. The company was founded by Chip Wilson in 1998 and initially focused on selling yoga clothes.
Over time, Lululemon expanded its product lines to include lifestyle apparel, accessories, and personal care items. The brand is best known for its leggings, which have helped to establish its popularity. The company also operates a research and development lab called "Whitespace" at its headquarters.
Lululemon has a global presence with over 600 retail locations and an online store. Its success can be attributed to its popularity among the yoga community and its expansion into athletic wear.
Lululemon produces a variety of fabrics, including compression and moisture-wicking designs. While the prices of their products vary, they are generally considered to be on the higher end of the price spectrum.
Don't miss: 12 Best American Outdoor Clothing Brands
2. prAna

prAna official website
PrAna is a US-based clothing brand that is a part of Columbia Sportswear. The company specializes in creating eco-friendly and practical clothing for outdoor activities, yoga, trekking, and travel.
PrAna uses sustainable materials, including recycled fabrics and organic cotton, to manufacture its products. Their clothing is designed to be functional, comfortable, and stylish, making it perfect for a range of outdoor activities.
Among PrAna's most popular products are the Zion and Brion pants, which are made from durable and flexible materials. The company also offers jackets, tops, and shirts that are ideal for layering and outdoor activities, such as hiking, yoga, and mountain climbing.
PrAna is focused on sustainability, including its packaging, through its Responsible Packaging Movement program, which wants to reduce the environmental footprint of packaging materials. The brand also works with other companies to promote sustainable programs.
If you're searching for adaptable and sustainable clothing for outdoor activities, travel, or work, PrAna is an excellent option.
Related: 9 Brands like prAna: Our Best Alternatives
3. Under Armour

Under Armour official website
Under Armour was founded in Washington, D.C. in 1996 and is now headquartered in Baltimore, Maryland. The company has since expanded its offerings to include a broad range of outdoor apparel, shoes, and athletic wear for football, basketball, and golf, many of which are eco-friendly.
Initially, Under Armour's product line was limited to basic T-shirts, but it has since evolved to include innovative materials that prioritize durability and sustainability in various weather conditions while remaining affordable.
Under Armour has made a commitment to using long-lasting and recyclable materials, and has reduced its use of elastane in recent years. Additionally, the company incorporates recycled materials into some of its garments to minimize environmental waste.
What sets Under Armour apart is its extensive selection of reasonably priced sports equipment.
Read also: Cheap Outdoor Clothing: 9 Best Affordable Brands
4. Nike

A Nike store
Nike is a multinational corporation headquartered in the United States that specializes in athletic footwear and apparel.
Established in 1964 as Blue Ribbon Sports, the company officially rebranded as Nike, Inc. in 1971, taking its brand name from the Greek goddess of victory. Nike markets its products under its own brand, as well as subsidiaries such as Converse and Air Jordan.
The company is renowned for its dominant position in the athletic footwear and apparel market, as well as its successful marketing campaigns featuring high-profile athletes and sports teams worldwide.
Nike offers a wide range of products, including athletic shoes, apparel, sports clothing, and accessories. Prices for Nike products vary, but the brand is generally placed at the expensive end of the pricing spectrum.
Read next: Why is Nike so Expensive and Popular? Are Their Products Worth It?
5. Finisterre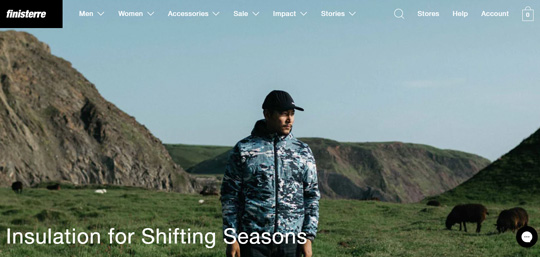 Finisterre official website
Finisterre, an adventure-wear brand from the UK, has been providing outdoor enthusiasts with quality products since 2003. The brand is committed to using eco-friendly materials, such as organic cotton and recycled polyester, and collaborates with suppliers who share their values of ethical practices.
One of Finisterre's most noteworthy products is its jackets, which now feature a durable water-repellent (DWR) finish that is free of fluorocarbons, making them environmentally friendly and water-resistant. The brand also offers a wide range of outdoor clothing, including base layers, fleece jackets, and accessories.
In addition to their dedication to sustainability, Finisterre is also passionate about community and education. They regularly host workshops to educate people on sustainable living and outdoor activities and partner with organizations like Surfers Against Sewage to help preserve the environment.
For those seeking sustainable outdoor apparel that lasts for years, Finisterre is a great alternative to Vuori.
Don't miss:
8 Brands like Finisterre: Best Alternatives for Outdoor Wear
8 British Outdoor Clothing Brands that You'll Love
6. Rhone

Rhone official website
Rhone Apparel is a US-based enterprise that specializes in the production and distribution of athletic wear and sportswear for men. The business was born in 2014 in New Canaan, Connecticut.
Rhone's clothing line is designed for men who lead an active lifestyle and incorporates eco-friendly fabrics such as recycled polyester, organic cotton, and merino wool, among others. The corporation affirms that it uses premium-quality materials to manufacture garments that have a longer lifespan than the average product.
Additionally, Rhone occasionally embroiders motivational phrases onto its merchandise. Rhone's significant achievements include its remarkable growth within a short period. Rhone product pricing varies, but they are typically considered to be on the pricier end of the market.
Related: 8 Best Sustainable Outdoor Clothing Brands: Our Top Picks
7. Passenger Clothing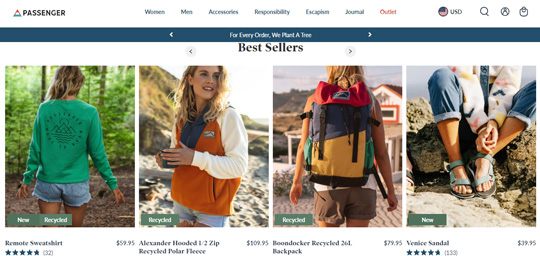 Passenger Clothing official website
Passenger Clothing, a renowned fashion retailer born in 2013 in the New Forest, UK, specializes in creating outdoor clothing for individuals who love spending time outside.
A notable aspect of Passenger Clothing is its dedication to safeguarding the environment. They exhibit their commitment by planting a tree for every order they receive.
The brand caters to hikers, backpackers, and urban dwellers who lead an active lifestyle. They offer high-quality, trendy, and cozy clothing that guarantees a remarkable experience while enjoying the great outdoors.
Read also: 7 Brands like Passenger Clothing: The Best Alternatives
8. ASICS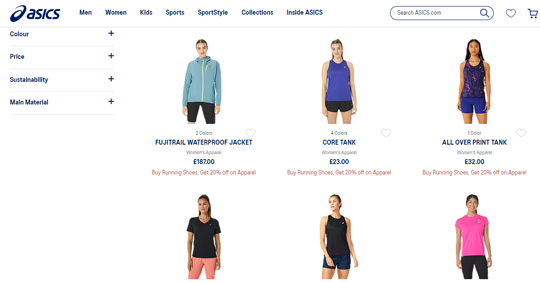 ASICS women's tops: official website
The globally renowned sports shoe and clothing Japanese brand, ASICS, has gained immense popularity in North America and Europe since its establishment in 1949. Initially, the brand focused on manufacturing basketball shoes but later expanded into outdoor fitness products in 1977.
ASICS derives its name from the Latin phrase "Anima Sana In Corpore Sano," which translates to "a sound mind in a sound body," reflecting their philosophy of creating resilient products.
ASICS prides itself on its comprehensive research facilities, which enable high-quality testing of its products, including shoes and clothes. Their shoes feature excellent shock absorption, Wet Grip Rubber outsoles, and designs that prioritize comfort and balance.
ASICS running shoes are available in a range of prices, from $150 to $230, with budget options available for around $100. The brand also offers a variety of clothing for outdoor sports and activities.
Read next:
ASICS vs Nike Running Shoes: Which Brand is Better?
8 Japanese Outdoor Clothing Brands: Our Favorites
9. Tentree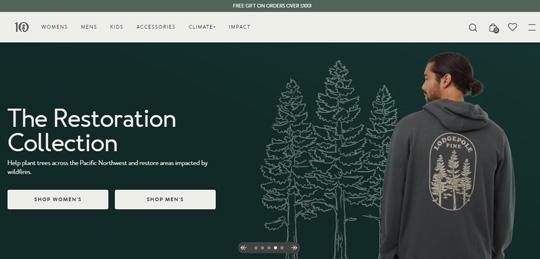 Tentree official website
Tentree is a Canadian company that was established in 2012. The company's primary focus is on sustainability and ethical labor practices. Tentree's manufacturing process involves the use of organic or recycled materials to minimize waste water and emissions.
The company ensures compliance with ethical labor standards through factory audits, fair wages, and equal employment opportunities. Tentree has been certified as a Sustainable B Corporation and a Climate Neutral label, which indicates their measuring and offsetting of all emissions.
Tentree's environmentally conscious design has resulted in the planting of over 100 million trees. The company offers a range of sustainable clothing, including jackets, activewear, and other items made from materials such as organic cotton, REPREVE® recycled polyester, and TENCEL™ lyocell.
To maintain its innovative edge, Tentree continues to explore new materials and techniques, such as recycled nylon and naturally dyed fabrics.