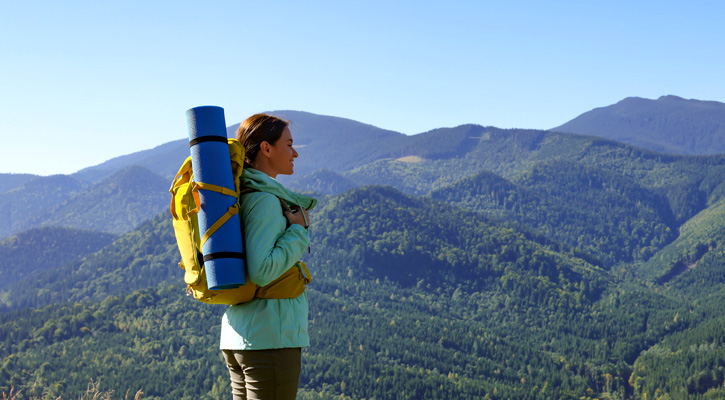 Are you looking for affordable outdoor clothing that doesn't compromise on quality?
The 9 brands we've put together in today's article will give you enough cheap and affordable clothing options to cover all your needs!
Some of these names are very famous and some are less so.
Columbia Sportswear, an American brand founded in 1938, Decathlon, a French brand that covers a wide range of sports and outdoor activities, and Jack Wolfskin, a German company very famous in Europe, along with many others, are all part of this collection.
With these affordable brands, you can enjoy being out in nature while practicing your favorite activity without breaking the bank.
Let's explore them all!
Contents:
1. Columbia Sportswear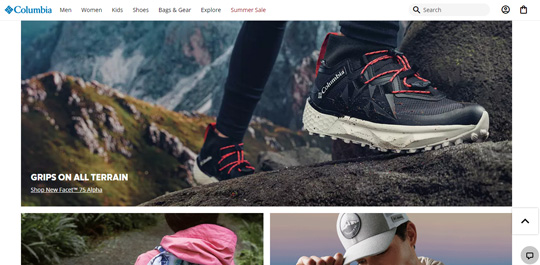 Columbia Sportswear official website
In 1938, a family fled Germany and settled in Portland, Oregon where they established Columbia Sportswear, also known as simply Columbia.
Despite having a global presence, Columbia has always identified as a small, family-owned business. The brand offers a comprehensive range of outdoor products and has gained popularity over the years due to its affordable prices, which cater to a diverse range of customers.
Even though it has lower prices, Columbia is on par with other outdoor brands in terms of materials and technologies. Over the years, the brand has introduced numerous innovations.
For example, the Omni-Tech fabric is both breathable and waterproof, while the Omni-Grip outsoles provide excellent performance for Columbia's hiking footwear.
Columbia's hiking shoes or a good jacket from its collections can be purchased for approximately $70-$80.
Don't miss:
10 Brands like Columbia Sportswear: Our Top Alternatives
12 Best American Jackets and Outdoor Clothing Brands
2. Decathlon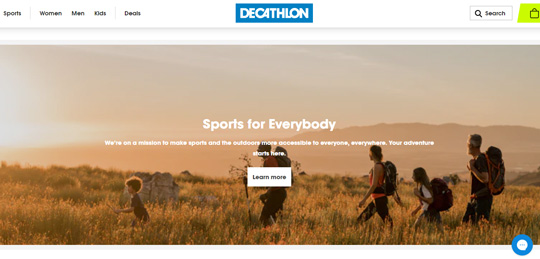 Decathlon official website
Michel Leclercq founded Decathlon in Lille, France in 1976. The company has since expanded globally and currently operates an online store and over 1,500 stores in more than 40 countries.
Decathlon is renowned for its affordable, high-quality products that are durable and suitable for a variety of sports and activities. At the same time, Decathlon has created multiple subsidiary brands that specialize in specific sports such as fishing, golf, fitness, combat sports, etc.
The company is dedicated to promoting an active lifestyle and providing access to sports for all. Its products are designed to meet the needs of both amateur and professional athletes, while still being affordable and of high quality.
Decathlon offers a wide range of products, including jackets that can be purchased for as low as $50.
Related: 8 French Outdoor Clothing Brands: Our Favorites
3. Dickies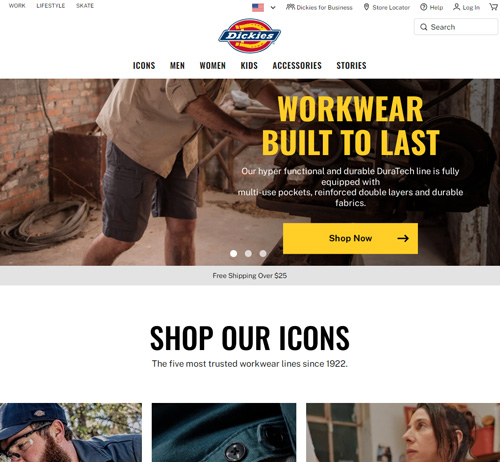 Dickies official website
Dickies was founded in 1922 in Fort Worth, Texas. The brand has become well-known for producing workwear, as well as outdoor clothing and accessories.
Dickies has expanded into Europe and the Middle East and is now available in over 100 countries worldwide. The brand is recognized for its durable clothing made from high-quality materials, all available at affordable prices.
A popular item by Dickies is the Insulated Eisenhower jacket, which combines practicality with a classic design. You can get it for about $80!
Read also: 10 Brands like Dickies for Work and Outdoor Wear: Best Alternatives
4. Jack Wolfskin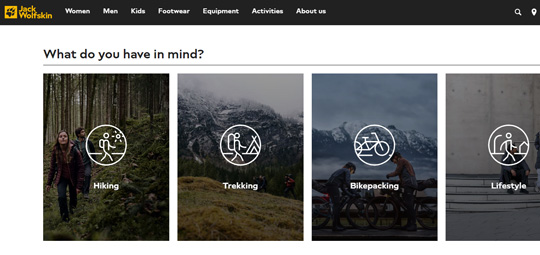 Jack Wolfskin official website
Shifting our attention to Jack Wolfskin, a German company founded in 1981 by Ulrich Dausien. Their objective is to encourage people to explore the outdoors with their loved ones while providing safe and comfortable products to facilitate such activities.
Jack Wolfskin offers a wide range of affordable outdoor apparel and gear, which has gained immense popularity in Europe. This popularity can be attributed to the brand's reasonable pricing, allowing customers to purchase all their essential outdoor equipment from one source.
For instance, their jackets are available for as low as $100, and backpacks for around $70.
Read next: 9 German Outdoor Clothing Brands that You'll Love
5. Carhartt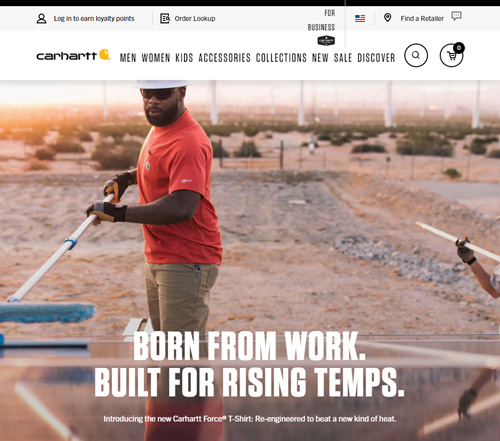 Carhartt official website
Hamilton Carhartt founded Carhartt in 1889 in Detroit, USA, with a focus on producing workwear for railroad workers, soldiers, and marines. As the brand grew, it expanded its offerings to include a line of women's clothing.
Today, Carhartt is renowned for its high-quality workwear and outdoor apparel, catering to all genders and ages with a wide range of sizes. The brand's selection includes jackets, shirts, and pants, as well as accessories.
Despite the exceptional quality of the materials used, Carhartt's prices remain budget-friendly. For instance, a pair of pants can be purchased for approximately $50.
Don't miss:
11 Brands like Carhartt for Work and Outdoor Activities
Dickies vs Carhartt: Which Brand Is Better?
6. Mountain Warehouse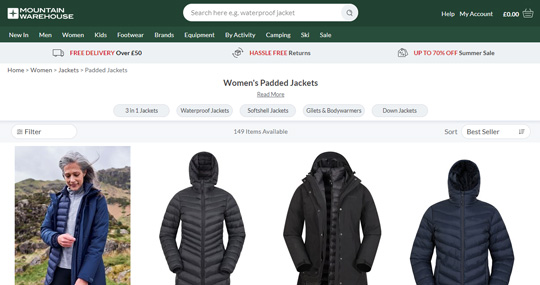 Mountain Warehouse women's padded jackets: official website
The British brand, Mountain Warehouse, is a well-known name to many. Established in the UK in 1997, the company has been producing functional equipment, sportswear, and footwear for outdoor activities such as hiking, cycling, skiing, running, camping, and fitness.
They offer a wide range of products including jackets, shoes, pants, and accessories. Mountain Warehouse has a significant presence in multiple locations such as Europe, the UK, North America, and New Zealand.
One of the reasons for their popularity is their reasonable pricing, as evidenced by their jackets being available for as low as $50.
Related: 11 European Brands for Outdoor Enthusiasts: Our Top Picks
7. Adidas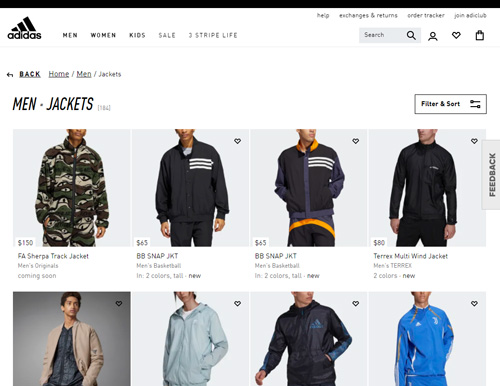 Adidas official website
Adidas, a brand that is famous all over the world, was established in Germany in 1948 by Adolf "Adi" Dassler.
While it primarily specializes in producing high-quality sports footwear, the brand also offers an extensive range of sportswear, including jackets, shirts, pants, shorts, tracksuits, etc. Adidas provides a diverse selection of clothing for women, men, and kids at reasonable prices.
The brand utilizes various materials in its products, such as cotton, recycled polyester, and viscose, among others.
As for prices, Adidas sneakers, for example, are available for purchase at a starting price of $35, while their hoodies are sold for around $30.
Read also: Adidas vs Nike Running Shoes: Which Brand is Better?
8. Trespass

Trespass official website
Trespass is a renowned brand that caters to skiing and outdoor enthusiasts, founded in Glasgow, Scotland in 1984.
They offer a wide range of products for men, women, girls, and boys, including clothing, jackets, equipment, footwear, and essential accessories to ensure a safe and enjoyable outdoor experience.
While the brand specializes in ski wear and waterproof jackets, its other products are equally impressive. Their puffer jackets, for example, which are a great option you can wear every day, will cost you approximately $80.
9. Lands' End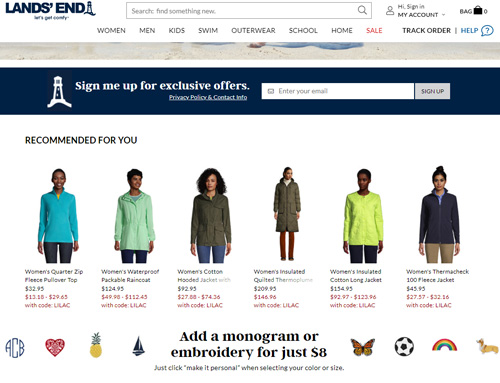 Lands' End official website
Lands' End is a famous clothing brand that prioritizes safety and simplicity for people of all ages. Established in 1963 by Gary Comer in Chicago, it began as a sailboat equipment retailer before broadening its production line to include a diverse range of styles.
The brand was originally called "Land's End," but it was changed to "Lands' End" due to a mistake on the first catalog and financial constraints.
Today, Lands' End is a global brand that offers an extensive selection of clothing styles at varying price points. For example, you can purchase one of their fleece jackets for about $40!
Read next: 9 Brands like Lands' End: Our Favorite Alternatives