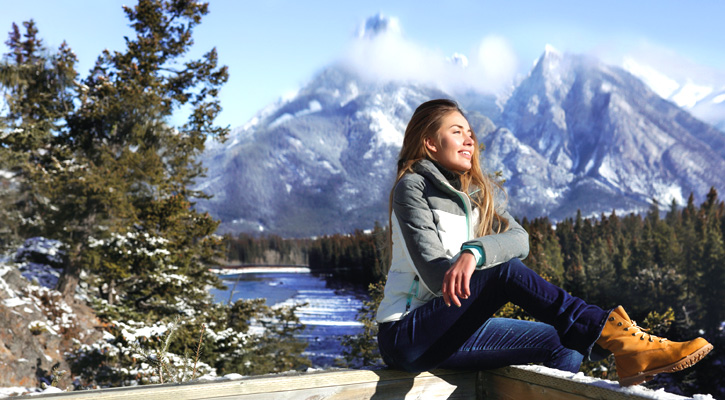 Japanese outdoor clothing companies are known for their high-quality products, innovative designs, minimalist styles, and commitment to sustainability.
In this article, we will explore 8 of our favorite Japanese outdoor clothing brands, including Goldwin, Uniqlo, Montbell, Onitsuka Tiger, and many more.
Each brand has a unique approach to outdoor clothing, from Goldwin's focus on nature-inspired design to Uniqlo's commitment to sustainability.
Whether you're an experienced outdoorsman or a beginner, these brands offer a wide range of products suitable for any outdoor activity, from hiking and camping to skiing and running.
So, let's dive in and explore what makes these brands stand out in the outdoor clothing market.
Contents:
1. Goldwin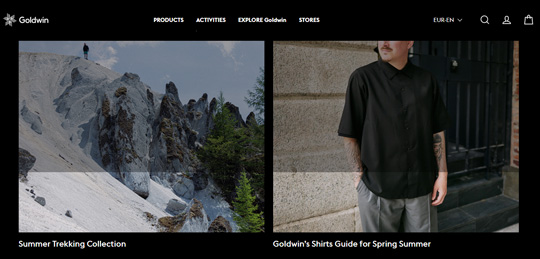 Goldwin official website
Goldwin is a renowned Japanese manufacturer of high-quality clothing and equipment for outdoor activities, such as skiing, running, and other athletic pursuits.
The company originated in 1950 as a knit fabric factory but later ventured into producing its own line of sporting goods in 1958. Goldwin has since broadened its product range to include skiwear, outdoor apparel, athletic wear, and compression gear.
The brand's design principles are based on the belief that the most significant innovations are inspired by nature, and nature's most valuable lesson is harmony. Goldwin offers a wide range of collections, including Ski, Outdoor, Athletic, C3fit, and Lifestyle.
The Ski collection embodies the brand's minimal and sophisticated style, backed by its long-standing history and solid functionality.
The Outdoor collection integrates accessibility with stylishness to cater to unexpected problems that may arise during outdoor activities. The Athletic collection explores the basis of athleticism and versatility to design all-purpose adaptable clothing by combining technologies and functions.
The C3fit collection provides high-performing outfits that effectively aid wearers in recovering from athletic activities and maintaining their body conditions. The Lifestyle collection is tailored to suit fulfilled people who enjoy their lifestyle, linking urban and nature by integrating sports' functionality and stylish looks.
Goldwin's notable successes include being the official uniform supplier of the Swedish National Team since 1987 and sponsoring British Alpine Ski National Team, as well as British Alpine Skier, Dave Ryding, since 2017. In 2018, the brand renewed its logo to focus on skiing as its core brand.
Goldwin's prices vary depending on the product, but they generally fall into the mid to high-end range due to the brand's emphasis on premium quality and design.
Don't miss: Japanese Sneakers: My 5 Favorite Brands
2. Uniqlo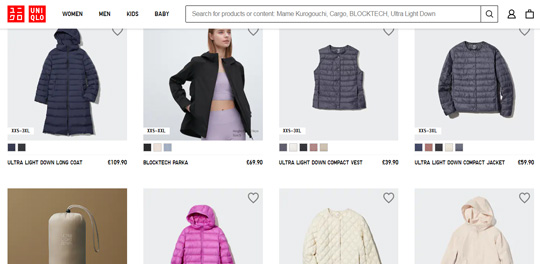 Uniqlo official website
Uniqlo, a Japanese clothing brand born in 1974, has gained popularity in the fashion industry for its reasonably priced yet top-notch products.
Their clothing line includes a diverse range of items, from basic to trendy pieces suitable for any event. Uniqlo is renowned for its minimalistic designs that are both practical and fashionable.
Uniqlo's dedication to sustainability is one of its most outstanding features. They have initiated several programs to reduce their environmental impact, such as utilizing recycled materials and implementing energy-efficient practices in their stores and factories.
As a result, Uniqlo is an excellent option for eco-conscious customers who want to support sustainable fashion.
Uniqlo also provides a wide variety of outdoor clothing options. Their Ultra Light Down jackets, which are both warm and lightweight, are ideal for outdoor activities. They also have a line of Heattech clothing that is specifically designed to keep you warm in cold weather without adding bulk.
Aside from their outdoor clothing, Uniqlo also has a collection of accessories perfect for outdoor enthusiasts. They offer a selection of gloves, hats, and scarves designed to be comfortable during outdoor wear.
Uniqlo is a fantastic choice for anyone seeking affordable, high-quality clothing that is both stylish, practical, and focused on sustainability.
Related:
9 Brands like Uniqlo for Outdoor and Casual Wear
8 Best Sustainable Outdoor Clothing Brands: Our Top Picks
3. Montbell

Montbell official website
Montbell is a brand from Japan that specializes in outdoor clothing and equipment. Since 1975, they have been producing lightweight and high-quality products.
The company was founded by Isamu Tatsuno, an avid outdoor enthusiast who has traveled the world skiing, paddling, and climbing mountains.
Montbell is known for its innovative designs and technologies that enhance the comfort and enjoyment of outdoor activities. Their products are designed with the concept of "Light and Fast" in mind, which means that they are lightweight and easy to pack, while still providing excellent performance.
Montbell offers a wide range of outdoor clothing and equipment for any activity, including trekking, camping, backpacking, climbing, and skiing.
One of Montbell's most praised jackets is the Storm Cruiser Rain Jacket, which has received a very positive feedback from outdoor enthusiasts. The jacket is made with Gore-Tex fabric, providing excellent waterproofing and breathability.
It features a variety of ventilation options, including pit zips and a two-way front zipper, to help regulate body temperature and prevent overheating.
Montbell is committed to sustainability and environmental stewardship. The brand has implemented eco-friendly practices, such as using recycled materials in its products and packaging and reducing waste in its manufacturing processes.
Read also: 13 Scandinavian Jacket and Clothing Brands that You'll Love
4. Snow Peak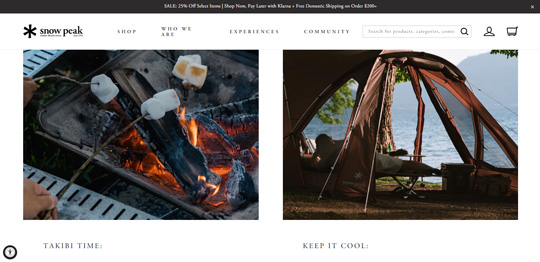 Snow Peak official website
Snow Peak is a renowned brand that specializes in producing great outdoor equipment and apparel. The company has been in operation since 1958 and has established itself as a leading manufacturer of functional and aesthetically pleasing products.
The brand's primary objective is to design camping gear that enables people to slow down, connect with others, and rediscover their connection with nature. Snow Peak values Japanese design and incorporates this philosophy into its products. The company's gear and apparel are designed to create a camping environment that mimics the comfort of home, rooted in Japanese design.
Snow Peak's products are built to last and are perfect for outdoor enthusiasts seeking quality products that can withstand the test of time. The range of camping gear includes sleeping bags, tents, and cooking equipment, while the apparel line features jackets, pants, and accessories that are both stylish and versatile.
Whether you're an experienced outdoorsman or a novice, Snow Peak's products are perfect for anyone who loves spending time out in nature. This brand's dedication to Japanese design and attention to detail make its offering stand out.
Read next:
8 Brands like Snow Peak for Outdoor Clothing and Gear
8 French Jackets and Outdoor Clothing Brands: Our Favorites
5. White Mountaineering

White Mountaineering official website
Yosuke Aizawa established White Mountaineering in 2006. The brand is famous for its exceptional and practical clothing that merges Japanese traditional craftsmanship with contemporary design.
White Mountaineering offers a broad range of streetwear attire and accessories, with some of them being ideal for outdoor activities such as trekking, camping, and mountaineering.
The brand's clothing is created with practicality in mind. Many of their jackets, for instance, are made of waterproof and breathable materials, making them suitable for all weather conditions.
Also, the brand's clothing frequently includes several pockets and compartments, making it easy to carry all necessary equipment.
White Mountaineering's clothing is also recognized for its one-of-a-kind and visually appealing designs. The brand frequently integrates bold patterns and prints into its clothing. They also collaborate from time to time with other businesses and designers to produce exclusive collections.
This is an excellent option for anyone who wants to look good while enjoying nature.
Don't miss: 8 British Outdoor Clothing Brands that You'll Love
6. ASICS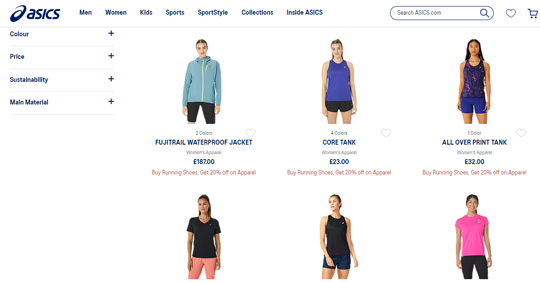 ASICS women's tops: official website
ASICS, a famous sports shoe and clothing brand, has gained immense popularity across the globe, particularly in North America and Europe. The brand, established in 1949, initially manufactured basketball shoes and later expanded into outdoor fitness products in 1977.
The name ASICS is derived from the Latin phrase "Anima Sana In Corpore Sano," meaning "a sound mind in a sound body," reflecting their philosophy of creating robust products.
ASICS boasts of its extensive research facilities that enable high-quality testing of its products, including shoes and clothes. Their shoes offer excellent shock absorption, Wet Grip Rubber outsoles, and designs that prioritize comfort and balance.
ASICS running shoes are available at varying price points, ranging from $150 to $230, with budget options available for around $100. At ASICS, you can also find a range of clothing for outdoor sports and activities.
Related: ASICS vs Nike Running Shoes: Which Brand is Better?
7. Mizuno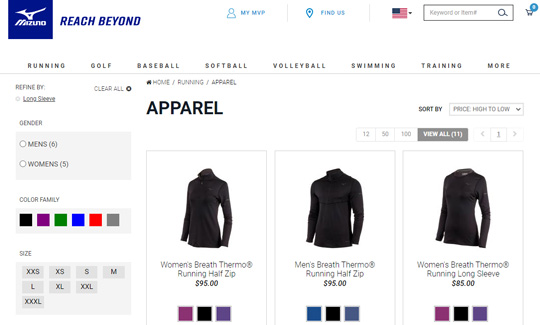 Mizuno running apparel: official website
Mizuno, a well-known sports brand, has been in operation for more than a century since its establishment in 1907. Initially, the company focused on producing baseball gear such as catching mitts and clothing before expanding to include equipment for various sports, such as running.
Mizuno's popularity among athletes of all skill levels, from amateurs to professionals, is attributed to their dedication to innovation and technology. Their product line includes footwear, apparel, and accessories, all designed to enhance athletic performance.
Whether you are jogging, playing volleyball, or training, Mizuno offers a wide range of products to cater to your needs. Additionally, their stylish and modern designs make them a top choice for anyone looking to upgrade their sportswear.
Mizuno is a brand that prioritizes assisting athletes in achieving their full potential, which is why it is highly regarded by many.
Read also:
10 Oldest Outdoor Clothing and Gear Brands
12 Best American Outdoor Clothing Brands
8. Onitsuka Tiger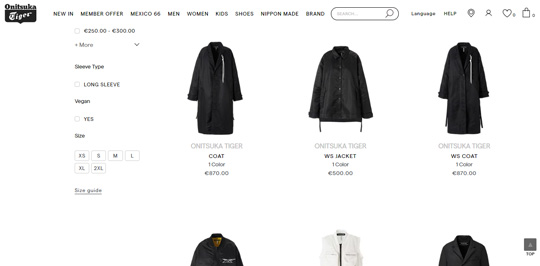 Onitsuka Tiger women's jackets: official website
Onitsuka Tiger is a brand with a rich history in the fashion and athletic worlds. Their sneakers are both stylish and comfortable, making them a favorite among fashion enthusiasts.
The brand's commitment to quality and attention to detail is apparent in every pair of shoes they produce. Onitsuka Tiger offers a range of designs, from classic to unique, ensuring there is a product for everyone.
Their shoes are also exceptionally comfortable, allowing for all-day wear without discomfort. Onitsuka Tiger is dedicated to creating high-quality, fashionable footwear that people enjoy wearing. The company also offers a wide range of sports and casual clothing.
Read next: 10 Italian Clothing and Jacket Brands for Outdoor Activities